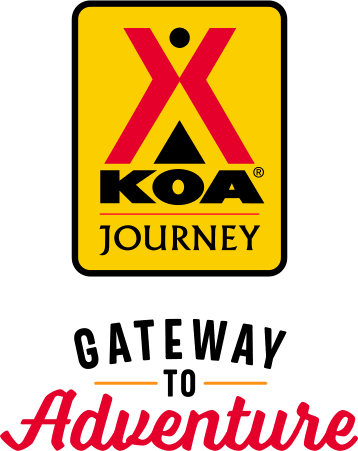 KOA Journey Campgrounds
KOA Journey campgrounds are the perfect oases after a day on the road. Whether it's along the way or a quick getaway, they've got you covered. Located near the highways and byways of North America with long Pull-thru RV Sites, they deliver convenience to the traveling camper. Pull in, ease back and take a load off.
KOA Journeys Feature:
Pull-through RV Sites with 50-amp service
Premium Tent Sites
Well lit after hours check-in service
Directions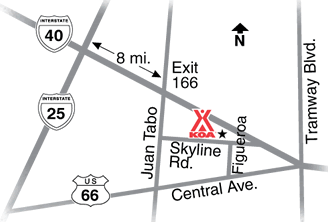 From the West:  Exit on 166 - Juan Tabo.  Use the 2nd to the right lane to make a right on Juan Tabo.  Take the 2nd left, at the Well's Fargo Bank, on to Skyline Road NE.  Follow Skyline to Albuquerque KOA Journey.
From the East: Exit on 166 - Use the far left hand lane to turn left to turn left on Juan Tabo.  Take the 2nd left, at the Well's Fargo Bank, on to Skyline Road NE.  Follow Skyline to Albuquerque KOA Journey.
If you exit on 167 - in 1.28 miles Turn right onto Figueroa St.  We are located at the dead end.
Get Google Directions
Oct 14, 2021
This KOA was very convenient to all the places we wanted to see in Albuquerque. The staff was very friendly and helpful. The pool, spa, and laundry were very much appreciated. The only drawback was the traffic noise. We had a hard time sleeping the first couple of nights.
Oct 09, 2021
Super nice facility and especially good tent sites. Very clean bathrooms and super helpful staff! Thanks.
Sep 30, 2021
Well maintained Campground, friendly helpful staff. Only downside is the traffic noise.
Sep 27, 2021
Fin helped us out so much with our stay at the KOA! He was so helpful and informative. Thank you for your customer service!
Sep 24, 2021
Friendly staff and clean facilities. �
Sep 22, 2021
This KOA was clean and safe, and it had a nice cold pool and games to enjoy. However, it is right next to the freeway and very loud. Bring earplugs to get some sleep.
Sep 21, 2021
Management helpful, Place kept very clean. Location is right next to freeway and noise very loud and constant.
Sep 08, 2021
wonderful amenities including a beautiful pool, luxurious hot tub, absolutely adorable mini golf, and jump pad. staff were very knowledgeable, helpful and seemed happy and like they were treated very well by management which is always such a great sign. also thought the place was impeccably clean, quiet and family-friendly. would definitely recommend and come back!
Sep 06, 2021
I really enjoyed my stay at the Albuquerque KOA, super friendly staff, very well maintained and clean. I stayed in one of the tent sites and was very pleased, the interstate noise was a bit much but all in all I enjoyed my stay and would stay there again.
Sep 01, 2021
Everything was perfect!!!
Aug 24, 2021
Tent site is semi-enclosed with a wood canopy over the dining area: very nice. The grounds are adjacent to the i40, so I recommend earplugs to tamp down the noise. Staff monitor the grounds regularly and were all friendly and helpful. I held out a cup heading to dumpster, and passing staffed looped over and took it for me. That's service! Best of all, it's in Albuquerque, NM.
Aug 24, 2021
Nice tent sites and the pool was nice and cool.
Aug 11, 2021
Facility was ok, location was the issue. I couldn't sleep with all the traffic from the highway right on the other side of the wall
Aug 09, 2021
Ciean Friendly Staff
Aug 08, 2021
Staff was super nice and facility was clean! I was a tent camper and they put me towards the back of the park near the I40...so it was pretty noisy....ear plugs required.
Aug 04, 2021
They were really nice and helped with anything I needed.
Aug 01, 2021
Very well kept sites, clean full bathrooms, and fun activities. The website is very informative and easy to set reservations.
Jul 25, 2021
Loved it until security came into a locked campground and told us we were trespassing with our car tag clearly displayed was so disturbed by the lack of communication abs rudeness I left 10 ten days early and won't go there again
Jul 18, 2021
Beautiful private tent site, clean bathrooms, helpful staff.
Jul 12, 2021
We had a great time! Had a great campsite and enjoyed the atmosphere. Will definitely stay here again if we pass through.
Jul 09, 2021
It was actually nice but there were no vending machines. Only the store which isn't always open. The hot tub was also closed. And the gate is left wide open during the day. Didnt seem like a big deal until some random guy rolled up completely naked and masturbated to me. Shook me up. Glad my kids were at the pool. But it's very clean. Very nice. Friendly staff.
Jul 07, 2021
Very clean, we loved the property and pool and will be back next time we come through ABQ
Jul 06, 2021
Wonderful fireworks in the surrounding neighborhood. Good security at the site. Friendly personal. Shadeless tent site.
Jun 28, 2021
Helpful and friendly staff, clean bathrooms. I did not, however, get much sleep. This is camping less than 100 yards from I-40 and is insainly loud. Coupled with the popping noises late into the evening that I will optomistically call "fireworks". Facilities and staff are good- location is terrible.
Jun 26, 2021
Well, the place is neat and clean, but the restrooms had no a/c and were very hot. Also there was a numeric key lock on the men's restroom door, but it was missing from the ladies door. Other than that, great!
Jun 24, 2021
Enjoyed our visit. Reserved a tent site with a covered area and privacy fencing which ended up being very nice due to the wind that night. Nice pool.
Jun 22, 2021
Right off the highway, so it is extremely loud all night. However, the tent site was fine.
Jun 20, 2021
Clean campground , safety gate surround, great pool
Jun 11, 2021
Arrived late - reservation was made in advance. Checkin was smooth and we were escorted to our sight!
Jun 07, 2021
While the staff was awesome, the freeway and billboard 20 yards from my gravel tent "pad" kept me from sleeping through the night.
Jun 07, 2021
The bathrooms were clean. The showers were hot. The laundry room was nice. But the only bad thing was there was no change machine or laundry soap machines. The campground was full and it was very quiet. The highway noise was loud however.
May 29, 2021
From what I could tell, this KOA was meant more for RVs rather than tents. The facilities were nice, but it was unfortunate that there wasn't a lot of tent sites that weren't on straight rocks/gravel.
Oct 09, 2021
Is now my Albuquerque camper parking location! Next time and everytime im in Albuquerque I'll be using this koa.
- quick cricket on Google
Oct 06, 2021
We stayed in the deluxe cabin for the first weekend of the Balloon Festival. What a great cabin and experience. They had every amenity we could want. Clean, organized, great grill, perfect location. Thank you, KOA and the great staff for welcoming us and treating us so kindly. Oh.. almost forgot... great hot tub.... and the guy on duty checked to make sure that we were all adults. That was a good check.
- MaryJo on Google
Sep 23, 2021
Dog park, swimming pool, hot tub, laundry 24 hrs, showers/bathrooms, tents, cabins, will bring ice to you if you call, 24 gate, miniature golf, picks up garbage all day. Doesn't get any better as far as KOA's go!! Thank you!!
- Terri Huffman on Google