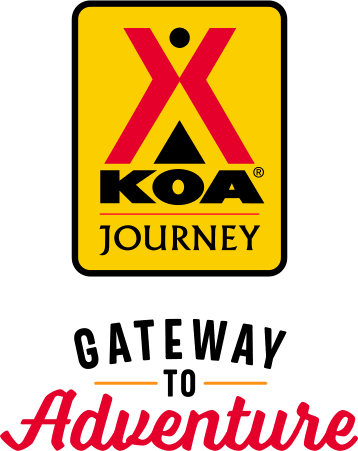 KOA Journey Campgrounds
KOA Journey campgrounds are the perfect oases after a day on the road. Whether it's along the way or a quick getaway, they've got you covered. Located near the highways and byways of North America with long Pull-thru RV Sites, they deliver convenience to the traveling camper. Pull in, ease back and take a load off.
KOA Journeys Feature:
Pull-through RV Sites with 50-amp service
Premium Tent Sites
Well lit after hours check-in service
Directions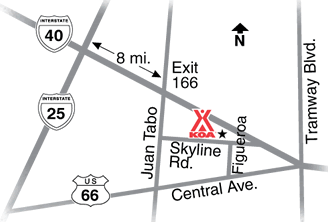 From the West:  Exit on 166 - Juan Tabo.  Use the 2nd to the right lane to make a right on Juan Tabo.  Take the 2nd left, at the Well's Fargo Bank, on to Skyline Road NE.  Follow Skyline to Albuquerque KOA Journey.
From the East: Exit on 166 - Use the far left hand lane to turn left to turn left on Juan Tabo.  Take the 2nd left, at the Well's Fargo Bank, on to Skyline Road NE.  Follow Skyline to Albuquerque KOA Journey.
If you exit on 167 - in 1.28 miles Turn right onto Figueroa St.  We are located at the dead end.
Get Google Directions
Apr 06, 2021
Was a very easy check in and lovely campgrounds with a GREAT dog run for our pups. Really enjoyed the short stay we had.
Apr 06, 2021
I would not recommend this KOA to anyone with a big rig. Sites are small and uneven. Most do not have enough room to keep car behind RV. Very expensive to boot.
Apr 05, 2021
Good kabin. Have stayed in same kabin before and the same top step of entry tripped me up again, it'd be nice to fix that little surprise. The lack of cleanliness of master bed sheets was unexpected.
Apr 05, 2021
Code to site dog park not written on checkin papers. We had a late checkin, no one answered after calling all of the numbers we had. Had to wait until next morning to find someone and get the code. Since we were only there from 11pm - 8am it was practically useless for us to use it once in the morning. Should have been able to use it during night. A lot of people living in RVs at the KOA. Junky.
Apr 05, 2021
Roads are way too narrow. Sites are too short.
Apr 05, 2021
Met our expectations
Apr 05, 2021
Price gouging is big turn off!!!
Apr 04, 2021
We enjoyed the park. We stayed for three days and felt the park was extremely well maintained and the dog park areas were a great bonus for us.
Apr 04, 2021
Very clean. Friendly staff. Very easy to move around. Lots close by. Really enjoyed.
Apr 04, 2021
Super well organized. Clean. Internet quite slow if you need to get work done.
Apr 04, 2021
Easy access and pleasant staff
Apr 04, 2021
Tent camped after a long road trip. Nicely kept up, shower stall was clean and friendly service.
Apr 03, 2021
Great park, very clean and friendly. Love the dog parks. We stay here frequently and for long periods.
Apr 03, 2021
What a wonderful facility, extremely pet friendly. Clean and well maintained. Best part is the price was just right.
Apr 03, 2021
For the price I expected something to be open. I understand covid was a problem but 133 for no amenities is too much
Apr 03, 2021
We were only there for 11 hours so didn't use any amenities. Bathrooms were very clean. After-hours checkin was easy, and the person who assisted us was helpful. nobody was answering the phone, even the after-hours number, so we weren't sure we would get in and took a chance just showing up. Price is high but we were out of options.
Apr 02, 2021
It was quite and clean with lots of walking space inside and out of the park.
Apr 02, 2021
Very nice place to stay.
Apr 02, 2021
Very nice. A little overhead priced. E
Apr 02, 2021
we spent 3 days there as part of a Route 66 trip. The campground was located well, near major highways, and clean and well kept. The staff was friendly and very helpful with a couple of minor problems with the laundry and using our KOA points. Everything was resolved. We enjoyed our stay.. We would stay there again if we are in the area.
Apr 01, 2021
This is a very nice CG. Very friendly staff. The sites are nice and long. Rest rooms and showers clean. Laundry nice. Easy on/off highway. Nice looking grounds. Appears to have large number of seasonal guests. I would come back,
Apr 01, 2021
Very nice property. Friendly staff and convenient location.
Apr 01, 2021
Location is convenient, but being literally right on the edge of the interstate means traffic noise is extreme 24/7. Spaces are fairly tight, as is typical with most KOAs. Facility is clean and neat. Staff are professional. Gate is locked at night and controlled by on-site security staff. Not my first stay here and probably not my last. The positives outweigh the negatives.
Apr 01, 2021
Last night March 31, We arrived about 5:45 excited to watch some NCAA women's basketball, only to discover that I reserved s "no cable site"������. I drove quickly to the office/check in area where the after hours employee helped me switch to deluxe site D3. She was wonderful! So was D3!! Thank you, mystery woman!!
Apr 01, 2021
Very easy and friendly people
Apr 01, 2021
Loud ,noise, rude too muck not worth it
Mar 31, 2021
Very very packed and due to COVID no activities available for the kids. Otherwise looks like a very nice place
Mar 31, 2021
We stay two times a year on our way to and from Arizona. The staff is always helpful and friendly.
Mar 31, 2021
The location is close to a lot of the sights we wanted to see. Nice staff.
Mar 31, 2021
Very expensive. Great location.
Mar 31, 2021
Friendly and he[p full, great place to stay.
Mar 31, 2021
This is a very clean and pleasant site to park an RV. It is convenient to RT. 40. This site is well maintained, flat and convenient hook-ups.
Mar 31, 2021
Small spaces
Mar 31, 2021
Travel across the USA CA>TN>CA several times per year. We discussed for two days how this KOA could justify being so outrageously expensive compared to others. Not justified. You never know what you're you're going to get, and have to ask lots of questions. We're just on a run single nights so we need a pull through 45'+suburban. In Memphis, so close to the freeway, the ground shook all ni
Mar 31, 2021
Only stayed one night. Arrived late, around 10:30pm, and the night person showed us where our site was. Nice quiet stay, too bad it wasn't longer.
Mar 30, 2021
Nice place to stay. clean and nice spots
Mar 29, 2021
During my stay I had troubles with my trailer due to wind. Kay helped me with getting help and also made sure I had fresh coffee. Humbling compared to other camping facilities. Thanks to KOA Albuquerque!
Mar 28, 2021
Friendly staff, clean level site. Only negative: While visiting on March 11, I called the office and requested the site (124) as it was long enough to accommodate our motorhome for our next visit on March 26. Problem solved, except, there was no record of that request. The site we were assigned was too short to accommodate our unit (coach + tow). I expect requests to be handled in a better way.
Mar 28, 2021
Well maintained! Noisy by freeway sites, but we stayed further inside and the noise was fine...
Mar 28, 2021
Clean and nice. Easy access off 40
Apr 19, 2021
First time staying at this KOA and we were only there for about 12 hours but I thought the layout was very nice and the kids enjoyed the playground but I would like to come back In Warmer weather to enjoy the pool.
- Zachery McGavitt on Google
Apr 18, 2021
Its clean. Cement pads for your R. V. Nice dog runs. Has everything you need.
- George Cupa on Google
Apr 14, 2021
We were able to purchase propane quickly and easily. They have a nice dog walking area as well.
- Jennifer Jankovich on Google