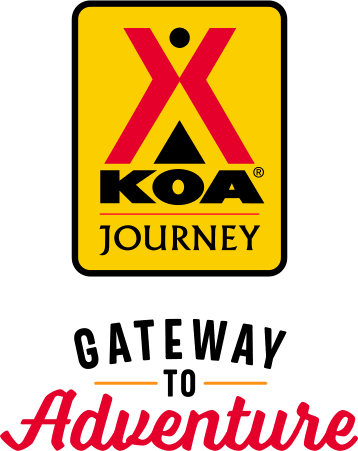 KOA Journey Campgrounds
KOA Journey campgrounds are the perfect oases after a day on the road. Whether it's along the way or a quick getaway, they've got you covered. Located near the highways and byways of North America with long Pull-thru RV Sites, they deliver convenience to the traveling camper. Pull in, ease back and take a load off.
KOA Journeys Feature:
Pull-through RV Sites with 50-amp service
Premium Tent Sites
Well lit after hours check-in service
Directions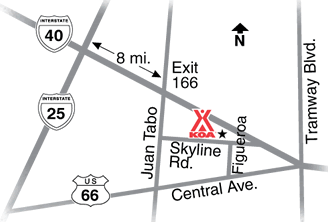 From the West:  Exit on 166 - Juan Tabo.  Use the 2nd to the right lane to make a right on Juan Tabo.  Take the 2nd left, at the Well's Fargo Bank, on to Skyline Road NE.  Follow Skyline to Albuquerque KOA Journey.
From the East: Exit on 166 - Use the far left hand lane to turn left to turn left on Juan Tabo.  Take the 2nd left, at the Well's Fargo Bank, on to Skyline Road NE.  Follow Skyline to Albuquerque KOA Journey.
If you exit on 167 - in 1.28 miles Turn right onto Figueroa St.  We are located at the dead end.
Get Google Directions
Jan 20, 2021
We stayed in a cabin. Everything was perfect. People were friendly and helpful. Cabin was clean and functional. Nice dog park. Everything we needed!
Jan 19, 2021
Very nice and quiet. We intended to stay for 2 nights but had to extend twice for medical reasons and did so without any difficulty. Very nice staff willing to work with us.
Jan 19, 2021
Clean, gated we will use this park anytime we're driving through.
Jan 18, 2021
VERY neat and clean. Friendly, responsive staff. Facilities well maintained including the shower/bathroom.
Jan 18, 2021
Friendly, clean, spacious sites. Frequent trips to Albuquerque to visit family will definitely be staying here.
Jan 17, 2021
Love this KOA
Jan 15, 2021
The dog park is amazing. It is right next to I-40, so what can you say? The heater in the cabin was very small; it didn't heat the space very quickly. The bathrooms are great, and private.
Jan 13, 2021
One of the nicest parks we've stayed at!
Jan 13, 2021
Very clean KOA, great staff, wasn't informed how much extra dogs cost in deluxe cabins til I got there. A little upset how much they charge, hotels dont even charge this much. Will bring trailer from now on much cheaper for dog cost.
Jan 13, 2021
Clean and spacious, great for a quick overnight while traveling across country.
Jan 12, 2021
Everyone was extremely friendly and helpful!!!
Jan 12, 2021
Great staff! And they have the best bathroom set up. Awesome place, would love to stay again!!!
Jan 11, 2021
Very helpful staff.
Jan 11, 2021
Staff was wonderful.
Jan 10, 2021
Friendly helpful staff. Great bathroom and shower.
Jan 10, 2021
Nice park, spacious sites, friendly staff. Love the curbside trash pickup.
Jan 10, 2021
Traveling through town on our trip to Arizona. Have stayed at this KOA several times in the past. People here are always friendly and helpful. Will be back. Park is always clean and well taken care of making it a pleasure to stay here.
Jan 09, 2021
Excellent location right by the highway, easy in and out.
Jan 08, 2021
Great park, great location. Would definitely stay he again if we are in the area. We're full-time RVers and this is the nicest KOA we've stayed at and in the top 3 overall.
Jan 08, 2021
Very nice campground.
Jan 08, 2021
It was nice. Clean and everyone was kind. Thanks
Jan 08, 2021
Wonderful staff and the site is immaculate. Thanks
Jan 06, 2021
The personal that takes care of the place are so kind and very helpful. I feel safe and secure there. I really enjoy my stay
Jan 06, 2021
Journey KOA in ABQ is always super clean and nice! I stay there several times s year as I travel through the country.
Jan 05, 2021
We always enjoy our stays here. One of the nicest KOAs and some of the nicest people.
Jan 04, 2021
We have frequented this KOA a number of times and find it consistently friendly, clean and with great service. Particularly we appreciate the assistance with getting to the particular site and with parking.
Jan 03, 2021
the host showed us to our spot and the amenities were very clean centrally located.
Jan 03, 2021
We enjoyed our stay, the only reason we didn't rate 5 stars is because the highway noise was very loud at night so made it hard to sleep, and there was several bowls to warm food in the microwave, but the large one had a hole in the bottom so we could not use it, making it hard to make a meal for 3 people in only a microwave. Tried calling front desk, but no answer.
Jan 03, 2021
It was nice, especially for giving late notice and still being able to get reservations. Clean park.
Dec 31, 2020
Very good experience! Everything we needed and a helpful staff.
Dec 30, 2020
We arrived late but we were still taken to our site and made sure all was well. Great staff
Jan 19, 2021
The staff were friendly. The cabin was well kept. Bathrooms/showers were clean and well managed-heaters everywhere since it was 30° weather. Staff were very accommodating for CoVID service.
- Senta Trate on Google
Jan 11, 2021
Very nice 👍
- desertamyk on Google
Jan 09, 2021
Very friendly staff, clean and well kept.
- Mandy Carney on Google