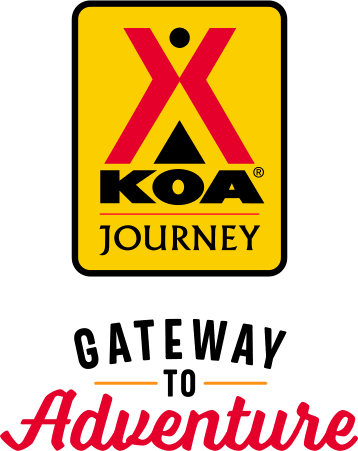 KOA Journey Campgrounds
KOA Journey campgrounds are the perfect oases after a day on the road. Whether it's along the way or a quick getaway, they've got you covered. Located near the highways and byways of North America with long Pull-thru RV Sites, they deliver convenience to the traveling camper. Pull in, ease back and take a load off.
KOA Journeys Feature:
Pull-through RV Sites with 50-amp service
Premium Tent Sites
Well lit after hours check-in service
Directions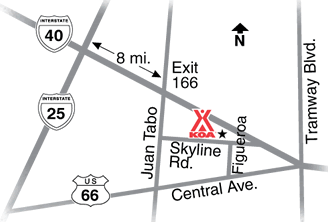 From the West:  Exit on 166 - Juan Tabo.  Use the 2nd to the right lane to make a right on Juan Tabo.  Take the 2nd left, at the Well's Fargo Bank, on to Skyline Road NE.  Follow Skyline to Albuquerque KOA Journey.
From the East: Exit on 166 - Use the far left hand lane to turn left to turn left on Juan Tabo.  Take the 2nd left, at the Well's Fargo Bank, on to Skyline Road NE.  Follow Skyline to Albuquerque KOA Journey.
If you exit on 167 - in 1.28 miles Turn right onto Figueroa St.  We are located at the dead end.
Get Google Directions
Jun 15, 2021
Nice stay. Only negative was the gravel…a little rough on my house dog's feet.
Jun 15, 2021
Was only a one night stay and arrived at dusk very tired. Was glad to have an attendant there for late check in. Clean and safe park.
Jun 15, 2021
We stayed in the deluxe cabin, it was absolutely amazing. The cabin was exceptionally comfy. The campground as a whole is very nice, and clean. The k9 Kamp is great with lots of room for the dogs to run around.
Jun 15, 2021
The water spout for the fresh water is about 2 inches off the ground and 1-2 inches from the sewer connection. Would not recommend for use for fresh water as potential for contamination is extremely high and could cause serious health issues. The site was unlevel. Will not go here again.
Jun 15, 2021
Very expensive…..almost three times more expensive than most campgrounds. RV's parked along side each other like a parking lot. No grass anywhere for pets…all gravel.
Jun 15, 2021
We had the premium dog spot. Loved it. Disappointed the jacuzzi wasn't opened.
Jun 14, 2021
Very friendly staff. Beautiful paved grounds with trees and flowers very clean and great secuy. One of the best.
Jun 14, 2021
The location being a sketchy 'hood was really the only downside. Fortunately, they are a gated establishment, so I felt safe enough there.
Jun 14, 2021
This was a great place to stay!
Jun 14, 2021
Clean Campground, Easy in and out to Interstate 40 came just for over nite stay on way home
Jun 14, 2021
Fantastic, area outside of campground is sketchy but we felt safe inside the park.
Jun 14, 2021
Bathroom was very clean and the water pressure was great. Dogs loved the play area. Staff were super friendly and helpful. Thanks!
Jun 14, 2021
Only stayed for one night it was a nice camp ground
Jun 14, 2021
Beautiful campground. You have 2 dog parks but could use another and locate it so it is more conveniently located for the people on the southwest corner of the campground.
Jun 13, 2021
Great location to see surrounding area.
Jun 13, 2021
Loved that ya'll picked up the trash for us! It was beautiful. A bit expensive tho and the freeway noise was loud at night.
Jun 13, 2021
Nice and clean campground. Gravel sites with mature trees for shade. Many squirrels running around the trees. Busy swimming pool. Catch and release pond. Would recommend.
Jun 13, 2021
Exceeded expectations
Jun 13, 2021
I was surprised that not all spaces had hook up for sewer and this was not made apparent to me from the reservation process. Also the Wi-Fi is extremely weak and slow. It would be nice if trash bins were more conveniently located.
Jun 12, 2021
Nice manager. Tight spots for bigger Rv's.
Jun 12, 2021
We stayed 2 nights. The park was very nice. We enjoyed Old Town. We really didn't utilize any of the park amenities.
Jun 12, 2021
The camp sites were close, our neighbors were right under our windows. We lost power 3 times along with 6/7 other campers on our block. Asked if we could change spots but was told they were booked up. This was a spot for only one night. Nothing was offered for the inconvenience.
Jun 12, 2021
What a great hidden gem! Super clean with long pull through sites so we didn't have to unhook our tow. The gentleman who checked us in was super friendly and very efficient! The surrounding neighborhood was a little iffy but we felt very safe and secure thanks to a locked gate and security. There's a nice pool but the hot tub was closed. Our spot had a nice concrete patio with tables and cha
Jun 11, 2021
Everything was clean and well done. The pool was a clean, brilliant blue, which was a refreshing break from the heat. It was very quiet, even though it seemed to be in the center of neighborhood. Definitely a hidden gem.
Jun 11, 2021
Very nice well kept and comfortable… very good staff as well.
Jun 11, 2021
Good for overnight. Could use more spaces for dogs to exercise and walk.
Jun 11, 2021
Great accommodations! Great staff! Night checking was easy!
Jun 11, 2021
Every employee we saw or talked to were so nice. The facility was ver clean. We will visit again.
Jun 11, 2021
Arrived late - reservation was made in advance. Checkin was smooth and we were escorted to our sight!
Jun 11, 2021
Very nice. Clean, quiet, helpful staff
Jun 10, 2021
Too much pavement, honestly. We couldn't really walk or dogs because their feet would get burned.
Jun 10, 2021
Great quiet park would stay again
Jun 10, 2021
Checking in (late night) was easy. Everything worked great and was very clean. The night attendant even found a spot near the dog park for our boat and it's tow vehicle. Having the boat inside the secure facility was great! Only stayed about 8 hours. Wish it coulda been longer. Thank you
Jun 09, 2021
I stayed 5 months. Never could access the wi-fi and was on a lot too small for my 42' fifth wheel but everyone there was nice and the park was quiet.
Jun 09, 2021
We were parked among the live there folks. Small weeds between sites. We had no picnic table, cable did not work all though they came tested and said it did. When I hooked cable to site next to mine that one worked. Did not stay hooked as it was next site cable and the permanent resident was not using. The park looks great, neat and clean in great repair except for the permanent resident sites
Jun 09, 2021
Friendly service. Clean facilities Easy to find. Beautiful views
Jun 09, 2021
very clean and very friendly and love that they have rides to dinner if you want it :)
Jun 11, 2021
Awesome. Tha staff was amazing.
- Bill Crocker on Google
Jun 10, 2021
Great stay - late check-in was smooth. Escorted to site by host.
- Scott Sandman on Google
Jun 10, 2021
Laundry facilities were nice, showers and bathrooms were clean, pool was crystal clear and large. The camp store had a pretty good selection. Felt very safe with the campground being gated.
- Tiffany Tatar on Google