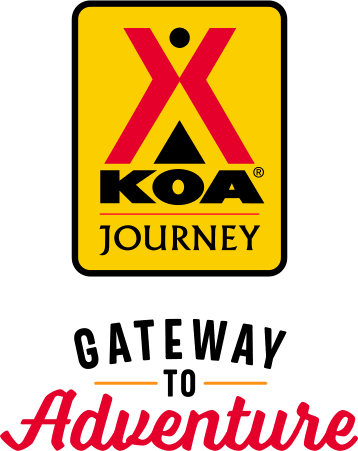 KOA Journey Campgrounds
KOA Journey campgrounds are the perfect oases after a day on the road. Whether it's along the way or a quick getaway, they've got you covered. Located near the highways and byways of North America with long Pull-thru RV Sites, they deliver convenience to the traveling camper. Pull in, ease back and take a load off.
KOA Journeys Feature:
Pull-through RV Sites with 50-amp service
Premium Tent Sites
Well lit after hours check-in service
Directions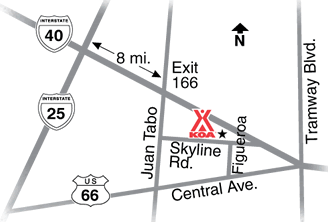 From the West:  Exit on 166 - Juan Tabo.  Use the 2nd to the right lane to make a right on Juan Tabo.  Take the 2nd left, at the Well's Fargo Bank, on to Skyline Road NE.  Follow Skyline to Albuquerque KOA Journey.
From the East: Exit on 166 - Use the far left hand lane to turn left to turn left on Juan Tabo.  Take the 2nd left, at the Well's Fargo Bank, on to Skyline Road NE.  Follow Skyline to Albuquerque KOA Journey.
If you exit on 167 - in 1.28 miles Turn right onto Figueroa St.  We are located at the dead end.
Get Google Directions
Oct 16, 2021
It has nice laundry room Sites are very tight especially for the cost. $150 a night is a bit steep for what you are getting i understood it was Balloon week but cost way too high. Nothing special
Oct 16, 2021
Great relaxing stay with lots of fun things to do!
Oct 16, 2021
Thanks! We were able to get our motorhome repaired and a fantastic coach/tow wash while staying with you. Can highly recommend assistance if needed.
Oct 16, 2021
One of the nicest parks I've stayed in! The host were great! Wish all parks were as clean and organized as this one! Thanks
Oct 15, 2021
Very clean and friendly staff. Easy in and out.
Oct 15, 2021
One of the nicest campgrounds we have ever stayed in will traveling. Great location. Our campsite was perfectly level. Sites were large. Very clean and safe. Nice laundry. Will definitely stay again when in town.
Oct 14, 2021
A friend made reservations for two sites back on January 4, 2021 and told them we were traveling together. When we arrived, our friends were in site 18 and we were in site 161. The person checking us in made all kinds of excuses, mainly saying we did everything wrong. "Your friend requested a back-in site for you". "You didn't call in time to get a better site". wanted to charge us $25 per site to
Oct 14, 2021
Lovely site. First one had trees too close to motorhome. Staff very nicely moved us. Very helpful. Will definitely stay again.
Oct 14, 2021
Felt Safe - everything worked fine - electric - water - sewer. Just a bit outdated especially for the price paid on other parks in the area with comparable amenities. Don't feel the price was worth, but it was good to have a place to stay on the way back home. At the same time, felt that the front desk personnel were outstanding Thank you.
Oct 14, 2021
It was a nice stay.
Oct 13, 2021
Loved the campground. It is kept very clean. Friendly staff. Big dog park
Oct 13, 2021
Nice park. Clean facilities.
Oct 13, 2021
Site was not very level and barely accommodated opposing slides. Would expect better sites for the price.
Oct 13, 2021
Told there was a bbq at our site, none. Bought $40 of bbq items from store, then found a gas one in the pavilion. Broken window and no hot water in bathroom. The desk was no help on any issue. Told me "it must be broke"
Oct 13, 2021
It was only an overnight stay we found the staff to be very willing to help, but lacked knowledge when it came to the TV cable, the guide provided by the office showed 40 TV channels, when we programmed our TV, got 7 channels. Of course we missed MNF�� The campground was very clean and well maintained. And yes we would stay again.
Oct 12, 2021
We stayed here during the Albuquerque Balloon Festival. Koa is clean. Dog park is clean. Check in was easy.
Oct 12, 2021
Too expensive for the amenities. Wifi didn't work most of the time. Not all bathrooms were not clean or in great repair. We expect more from a KOA. The positives were a good location for access to Albuquerque activities and good security, nice to have trash picked up from your site.
Oct 12, 2021
Our stay was great! We got in after dark. Fortunately, Vee was on duty. She was great!!!! She helped us locate our space and even directed and helped us with our parking. She showed much initiative and was courteous! The park's grounds were very clean and organized. Can't say enough good things about the park.
Oct 12, 2021
Way overpriced! Over twice the price paid at other KOAs we've stayed at. A box of macaroni that's about 50 cents at any grocery was 2 dollars. I understand making a profit, but gouging.customers is not appropriate. I have avoided Albuquerque KOA for years because of it's high price, but this time I didn't have much of a choice. Also no picniic table on site.
Oct 11, 2021
This camp ground was so clean, well kept. The staff was amazing. The showers and laundry room was also clean. If I had to suggest anything. You need actual grass for the dogs. Your dog park is beautiful. Our dog is older and is used to grass. Also in the dog park some ladies every morning had their dogs running lose. Our dog being old was so distracted he would not do his business. LOL.
Oct 11, 2021
We enjoyed our safe as KOA. It was clean and well maintained. We enjoyed the hot tub. We would definitely use this campground in the future! The Burrells from Bogart Georgia ����������
Oct 11, 2021
Super expensive, even during Balloon fest. Poor maintanance, bathrooms etc. Screens missing. Not impressed.
Oct 11, 2021
Very nice facility, clean and modern.
Oct 11, 2021
because of the festival, you seem fine gouging the public. Shame
Oct 11, 2021
Sites are close together, clean park, great hot tub and great dog park!
Oct 10, 2021
Mon thru Sat of 2021 Balloon Fiesta: Thankful that ABQ KOA held our 2020 paid reservation over to 2021 & they gave an update email reminder 2 wks prior that were expecting us. This was our first visit to this KOA and we have been well pleased with the easy pull through access and cleanliness of the camp itself. Bathrooms clean and hot H2O. we will be back if we need to pass by ABQ in the future.
Oct 10, 2021
The staff was helpful and the sites clean and pleasant.
Oct 10, 2021
Loved the park… just don't arrive early.. I was turned away when I arrived 2 hrs early.. had to park at Walmart and just wait. The lady at the counter wouldn't even ck to see if my site was open for me. But, I enjoyed my stay once I got to my site
Oct 10, 2021
3 days to see 3 cities
Oct 10, 2021
Nice location at access Albuquerque. Like the location. Traffic a little noisy on the highway. Nice mountain views.
Oct 09, 2021
Park was nice n well kept. Staff friendly n helpful
Oct 09, 2021
Clean… very friendly, and great place to stay!!!
Oct 08, 2021
We our reservations a year in advanced. We had several conversations and emails that we would be there for the Balloon Fiesta and we were traveling with another couple and wanted to be side by side. The person taking our reservation said no problem. I even paid the deposit for both. When we got there we were not side by side. Very disappointed.
Oct 08, 2021
I enjoyed the stay incredibly!!! The jump pad was a hit for our children. There are several things to do for the kids. Putt putt. Playground. Pool. This particular KOA leaves you alone and is in arms distance if you need them which is probably the right amount of contact any traveler ever needs. Good job KOA Albuquerque!
Oct 08, 2021
The stay was nice but way overpriced. I have a problem with companies that up the price because there's an event in town. We moved to a camp with equal facilities for half the price to finish our stay for the Balloon Festival. I will not stay with you again due to this.
Oct 08, 2021
Very clean and friendly staff. Sites a little cozy and you can hear highway traffic.
Oct 08, 2021
Pleasantly surprised at how great this KOA was—very nicely maintained, friendly staff & great location. We will consider staying here again when we come back in town. Overall wonderful experience from start to finish
Oct 07, 2021
Nice patio site! Clean bathrooms. Great location for exploring and attending Balloon Fiesta.
Oct 07, 2021
The only real negative about Albuquerque KOA is the pretty significant I-40 noise.....
Oct 07, 2021
Very professional staff, grounds were well maintained and was in a convenient location to visit local attractions.
Oct 17, 2021
Ultra-friendly staff and they were very accommodating to our late check-in. Richard, the night gateman, was personable and very helpful. The fact that they had a 24-hour jacuzzi was amazing Right smack on the highway, but the noise barrier does a good job. Easy off the on i40. -NoNonsenseKnowHow on YT
- R NoNonsenseKnowHow on Google
Oct 15, 2021
Very helpful. Let me store trailer while visiting in Albuquerque. Looks like a great facility. Will definitely use to camp in RV when in area.
- Bruce Revennaugh on Google
Oct 13, 2021
Very clean. Large pull thru RV spaces. Friendly staff.
- Edward Chauff on Google