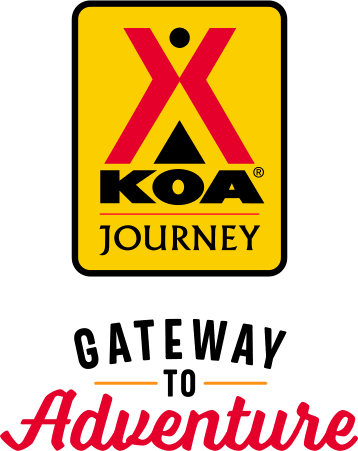 KOA Journey Campgrounds
KOA Journey campgrounds are the perfect oases after a day on the road. Whether it's along the way or a quick getaway, they've got you covered. Located near the highways and byways of North America with long Pull-thru RV Sites, they deliver convenience to the traveling camper. Pull in, ease back and take a load off.
KOA Journeys Feature:
Pull-through RV Sites with 50-amp service
Premium Tent Sites
Well lit after hours check-in service
Directions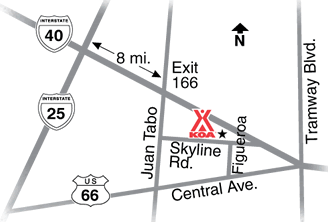 From the West:  Exit on 166 - Juan Tabo.  Use the 2nd to the right lane to make a right on Juan Tabo.  Take the 2nd left, at the Well's Fargo Bank, on to Skyline Road NE.  Follow Skyline to Albuquerque KOA Journey.
From the East: Exit on 166 - Use the far left hand lane to turn left to turn left on Juan Tabo.  Take the 2nd left, at the Well's Fargo Bank, on to Skyline Road NE.  Follow Skyline to Albuquerque KOA Journey.
If you exit on 167 - in 1.28 miles Turn right onto Figueroa St.  We are located at the dead end.
Get Google Directions
Oct 09, 2021
Our stay was nice. Pool needed to be heated too cold. You need to add more cabins with bathrooms.
Oct 08, 2021
Everything was great, but from where our cabin was located when you drove in, and having to hear the security guard yelling at the top of his lungs to have people slow down. Recommend having the entrance lit up with a stop sign and speed limit posted. The yelling was very disturbing on an otherwise peaceful evening enjoying our patio.
Oct 07, 2021
Very rough area with a lot of crime. This KOA is located in the heart of the city. The gate was broken making us feel less secure overnight, but they did have staff posted by the front all night. Bathrooms were at least locked and very clean. Small campground with very little space for big rigs to maneuver.
Oct 07, 2021
Would NOT stay here purely based on neighborhood-not walkable (drug users/prostitutes out walking). 1 mile away is fine, but this is a seedy part of town!
Oct 05, 2021
We came to Albuquerque for the balloon festival and stayed at this KOA and it was wonderful!
Oct 05, 2021
We went with our friends with 3 little kids and it was the perfect place to hang out with them. The kids loved the jumping pad, playground and pool! The cabins and bathrooms were very clean. The staff very friendly and helpful. The gate was broken when we were there so the staff made sure there was someone one duty 24 hrs to ensure our safety. It was wonderful.
Oct 05, 2021
Beautiful campground. Our cabin was perfect for our stay in Albuquerque for the Fiesta. So clean and quiet. People that run the place, SUPER friendly and accommodating.
Oct 02, 2021
Always a nice overnight stay.
Oct 02, 2021
The cabin was old, and didn't seem to be very clean. The mattresses were ripped, the door didn't open all the way, and there was no water at the site. We called ahead and said that we had a wheelchaired person, and the fact that the door didn't open on our cabin, and none of the other ones were rented, makes me wonder. NOT worth the $92.
Sep 29, 2021
Our stay in Cannonville,UT spoiled our stay here as the outdoor kitchens were fantastic which this campground was lacking, but for the price it was Ok. And was not offered an up grade when the deluxe cabin sat empty nearly all the while we were there.
Sep 29, 2021
Very nice campground with security fence closed at night which made me feel safer. Nice pool and relaxing hot tub.
Sep 28, 2021
Clean cabin and campground. Close to alot of attractions. Would definitely stay there again. �
Sep 25, 2021
AN EXCELLENT STAY!
Sep 25, 2021
Beds in deluxe cabin were terrible. And insufficient parking for a 6 person cabin. There were larger parking spaces at the smallest cabins.
Sep 24, 2021
Great Amelia do gate for safety. Bathrooms very clean. Just rather noisy as it's next to the highway but that also means easy access. We had a cabin that even had tv and fridge. Would give top marks if it wasn't next to highway, so noisy
Sep 21, 2021
Great Thanks
Sep 20, 2021
We felt welcome and very safe at this KOA. Easy access to the highway. The staff was welcoming and friendly! Felt like family.
Sep 18, 2021
Perfect stay! Kids had a lot to do and the room was clean and cozy.
Sep 13, 2021
Very nice place to stay. Nice to get away from the hustle and bustle. Big property with great people!
Sep 09, 2021
Nice, comfortable, clean cabin. We enjoyed our stay very much.
Sep 06, 2021
Very nice staff. I loved the amenities at this koa. Also i really like how there is more than just one bathhouse. Would stay here again
Sep 05, 2021
An excellent stay! The desk crew was amazingly friendly and helpful.
Aug 30, 2021
Very Friendly, and so clean!
Aug 26, 2021
Everything was great and cabin was very clean.The lady and young man in the office were very polite and helpful.
Aug 26, 2021
Had a good time by the problem is our cabin had nothing but ants all over the cabin I don't think it was right
Aug 25, 2021
Our 4th stay there. Nice people and nice campground. Only want was to be able to use the hot tub which has been out of order all of our stays.
Aug 24, 2021
Night host Richard very informative and courteous
Aug 21, 2021
Nice, quiet, very clean!
Aug 17, 2021
Clean and quiet! Thanks.
Aug 15, 2021
One of the best KOAs I've stayed at.
Aug 14, 2021
We liked the cleanliness of the bathrooms, and the showers. The cabin was spacious, and we enjoyed the use of the fridge.
Aug 11, 2021
i came late at 10 pm because of the traffic but someone helped me nice and warm. very good communication with text message thank you
Aug 09, 2021
Staff was very friendly and helpful! The only reason I gave 4 stars instead of 5 was because the mattresses in our cabins were uncomfortable. That may not be an issue for some people.
Aug 07, 2021
Had a great stay. Great staff and very clean.
Aug 07, 2021
Will definitely recommend this KOA to our friends. Loved the campground staff; we had a deluxe cabin which was great. We will return!
Aug 06, 2021
Love the property enjoyed all the amenities
Aug 02, 2021
Very enjoyable, Stormy was very helpful and knowledgeable.Very pet friendly.
Aug 02, 2021
First time staying at this location. Very clean grounds and cabin. Will definitely be back.
Aug 01, 2021
It was a lot of un. Plenty to do in area and campground was nice and quiet for relaxing time. Staff was very friendly and helpful.
Jul 30, 2021
Cabin was great - just what I needed/wanted. For others staying there, I would just note the noise from the interstate - didn't bother me but it might others. Bounce pad right across from the cabin was a bit noisy (the pump, not the kids) but was turned off by 9:00. The after hours host was really nice.
Jul 25, 2021
Nice little cabin for a one night stay
Jul 25, 2021
Comments posted on our return stay for 7/22-7/23.
Oct 17, 2021
Ultra-friendly staff and they were very accommodating to our late check-in. Richard, the night gateman, was personable and very helpful. The fact that they had a 24-hour jacuzzi was amazing Right smack on the highway, but the noise barrier does a good job. Easy off the on i40. -NoNonsenseKnowHow on YT
- R NoNonsenseKnowHow on Google
Oct 15, 2021
Very helpful. Let me store trailer while visiting in Albuquerque. Looks like a great facility. Will definitely use to camp in RV when in area.
- Bruce Revennaugh on Google
Oct 13, 2021
Very clean. Large pull thru RV spaces. Friendly staff.
- Edward Chauff on Google