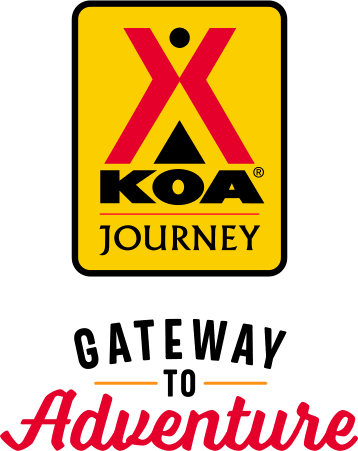 KOA Journey Campgrounds
KOA Journey campgrounds are the perfect oases after a day on the road. Whether it's along the way or a quick getaway, they've got you covered. Located near the highways and byways of North America with long Pull-thru RV Sites, they deliver convenience to the traveling camper. Pull in, ease back and take a load off.
KOA Journeys Feature:
Pull-through RV Sites with 50-amp service
Premium Tent Sites
Well lit after hours check-in service
Directions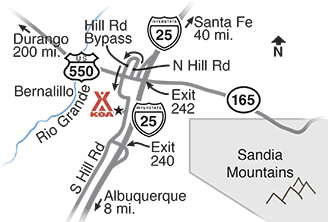 N I-25 Exit 240: Right on South Hill Road, go 1 mile, campground on the left. S I-25 Exit 240: Right at stop sign, take first right onto South Hill Rd, go 1 mile, campground on the left.. E 550: Right on South Hill Road (before I-25), go 1 mile, campground on the right.
Get Google Directions
Oct 21, 2021
Every team member friendly however no Ada showers
Oct 21, 2021
Well maintained, great satellite coverage, friendly and helpful staff, and best of all a brewery and pizza restaurant on site. Pizza was awesome!
Oct 21, 2021
The staff were really nice and the bathrooms were clean! A little dated but all together very simple and sweet!
Oct 20, 2021
Great experience. Efficient check in. Site very nice.
Oct 20, 2021
We enjoyed our stay, and do generally prefer a KOA location to other RV parks. However, our concern with this location was that there was exposed fiberglass insulation installed around the hose spigot, and had to be moved out of the way in order to attach the hose and operate the valve. Not a deal breaker, but def inconvenient if I e isn't aware of the issue with Fiberglas as an irritant.
Oct 20, 2021
Convenient location to check out Santa Fe and surrounding mountains. Decent sized sites, clean grounds, laundry, and restrooms.
Oct 19, 2021
KOA personnel were courteous and professional. However we were told that in the future they would not honor requests for specific campsites. This is very disconcerting to some of us who have been reserving the same campsite for upwards of twenty years. If this turns out to be true it could affect our decision whether or not to return to KOA Bernilillo.
Oct 19, 2021
Campground is nice and love the Kactus Brewery! P12 should never be used for a big rig and 4 slides. That row is very narrow sites and the pine tree made us walk thru the neighbor's site to get to our truck and the awning kept getting caught in the tree. Other sites better suited for our rig.
Oct 19, 2021
The stay was wonderful. The night we were there they had live music! We oved the fenced in area for the tent sites. The sites were set up very nicely!
Oct 19, 2021
Nice facility but I wish office hours were posted on the website because nobody returned my phone call when I called to inquire about using the office microwave. Since I missed the office hours I was unable to heat up my dinner (tent site).
Oct 19, 2021
clean site and campground, two doggy yards w/ scoopers bags, etc. ground are perfectly clean. i accidently stayed in a site w/ no dump, just water and electric but both those worked very well. there is a brew pub w/in walking distance. i didn't go there, but its available.
Oct 18, 2021
Very clean! Very nice and helpful employees! Close to hot air balloon festival
Oct 18, 2021
We have family in Rio Rancho, and we migrate between south in the winter and north in the summer. This is in good proximity to Albuquerque and not too far off the beaten path. Perfect for us, we feel safe here and it's convenient!
Oct 18, 2021
Cabin was filthy we swept using our own dustpan filled 3 times not sure how long since it was clean. Cleaning lady was rude and tried to rush us even though we had arranged a late checkout, she told us we didn't. Rude beyond belief. Girl at the front desk was a sweetheart! She is a asset the cleaning lady on the other hand was so rude and nasty. I'll never be back or recommend!
Oct 18, 2021
Conveniently located and comfortable. Thanks for a great stay! RJG
Oct 18, 2021
The campsite was great, the grounds were pretty. You need to upgrade your WiFi. It was very hard to connect and order tickets on line for the zoo. It would be nice if the shower house was warmer when it is cold outside.
Oct 18, 2021
Very well maintained campground. I would stay again.
Oct 18, 2021
OK sites, Friendly staff. Received assistance from the maintenance staff. Did not use any of the facilities.
Oct 18, 2021
Super nice campground. The sites are not close together. Jan is super friendly and helpful. Quiet place where the grandkids had a fun "staycation" playing in the playground and ping pong, riding bikes, and enjoying the waterfall and pond area. We'll be back in the summer when the pool is open!
Oct 17, 2021
Spent 3 days here. Good location to visit Santa Fe, Petroglyphs National Park and Albuquerque. Sites are close but well maintained. Relax next door with a craft beer and pizza.
Oct 17, 2021
Very nice facility, Internet was a bit dicey but overall I'd stay again.
Oct 16, 2021
Very well kept park, had an initial concern about noise due to proximity to the interstate, but there was zero road noise at the park. Easy access, staff was friendly, we really enjoyed our stay. Brewery next door is a don't miss! We'll be back!
Oct 15, 2021
Friendly helpful staff, the campsites and bathrooms are kept very clean and although very close to the freeway the trees in the park help to block the noise somewhat. Not all the RV sites have sewer hookups, although there is a dump site, we didn't see this on the website so make sure you ask if you want/need full hookups.
Oct 15, 2021
Clean well kept RV park, friendly staff, close to many attractions "specially balloon vest" easy on off from major highways.
Oct 15, 2021
Friendly and helpful. I think the showers need to be updated. They were clean but shower spray was not good in my stall. Front desk were very courteous. Wish they had a green area for dogs instead of dirt.
Oct 14, 2021
Everything from checking in, grounds, laundry, bathroom was great. One thing that could make it even better. No second car parked on the sites. The streets are narrow witch makes it difficult upon arrival and departure.
Oct 14, 2021
Stayed in site P43. The park overall is pretty decent. However, it has the usual problems with slow WiFi. And, the cover on the electric box was falling off and the sewer was slow.
Oct 14, 2021
Very nice koa…nice sites conveniently located. Will stop again if we travel your way!
Oct 13, 2021
Friendly staff
Oct 12, 2021
The staff was friendly, and even removed a dead tree branch too near my awning. But I typically rate campgrounds by the restroom/shower facility, and this is well below par. The men's toilet wobbled; the shower stall tub floors are old and actually peeling (!). The shower doors (plastic accordian-style privacy screens are coming apart. Unacceptable for the prices this campground charges.
Oct 12, 2021
It has been great for 15 years of Balloon Fiesta
Oct 12, 2021
Very very tight quarters. Nothing to really look at but the wall and other RVs. Be aware train sounds. They keep it grounds clean. I didn't use bathroom etc.
Oct 11, 2021
We came for the balloon fiesta, staying in one of the camping cabins. The location is fantastic, just off 25 only 15 minutes away. The cabin is located near the restroom, handy since the cabins don't have a bathroom. Very good value!
Oct 11, 2021
Very clean, friendly staff. Not to far to go to the stores.
Oct 11, 2021
Site are nicely designed but bug abatement is needed, had many cockroaches in fake grass and wood site borders and spiders in electrical. Cannot recommend return here for kids.
Oct 16, 2021
Very nice RV park, clean and friendly staff.
- Carol E. on Google
Oct 16, 2021
It was nice
- Meow Wolfcookie on Google
Oct 14, 2021
Im a pizza delivery guy and i delivery it here all the time. Nice place to chill if your a traveler
- Joshua Aguilar on Google