Poetry and Pancakes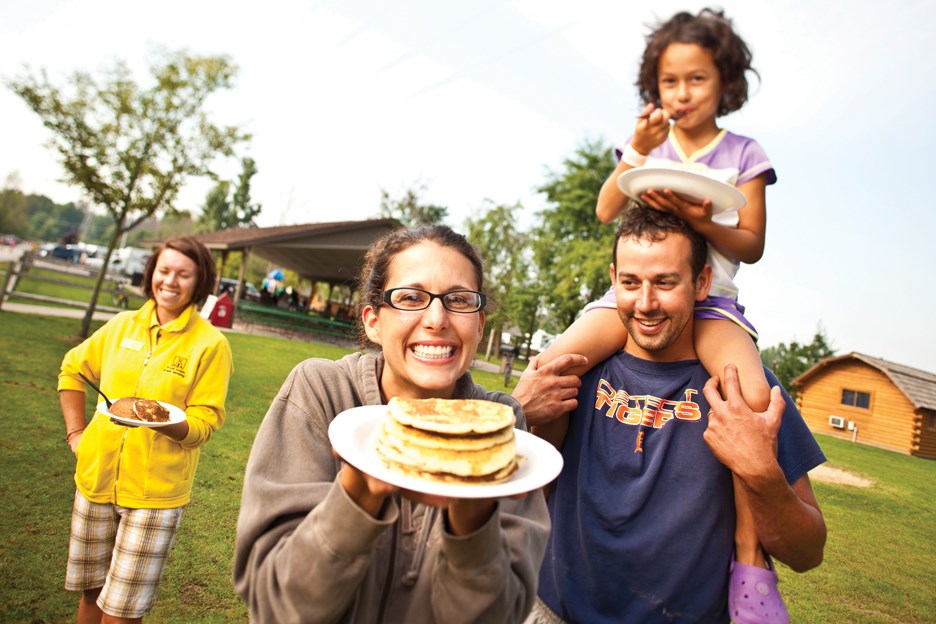 When John Horton was growing up, he loved two things: being a cowboy and cooking. His cooking prowess, however, often became the target of jokes from other kids.
"One day, one of the kids is teasin' me about being a sissy because I could cook," he recalled. "But then my aunt got ahold of him. She said, 'Sonny boy, there are two kinds of cowboys in this world. Those that can cook, and those that are always hungry.'"
After that, John never looked back as he spent the next few decades honing his cooking skills as he lived the cowboy life that he loved. Summers were spent on the back of a horse and on the rodeo circuit, while winters were spent in front of a stove, from consumer kitchens to casinos. He also became well known for spinning tales of cowboy adventures through his poetry and music.
Then, 21 years ago, John and his wife Marcie pulled into the Rapid City KOA.
"I came out to do primarily poetry and music," he said. "We've been here ever since. I love it."
Today, John has become nearly as well known at the Rapid City KOA as the famous faces carved into nearby Mount Rushmore. He has mixed up and served up nearly two million pancakes—which translates into more than 3 tons of pancake flour and 600 gallons of syrup.
"I had to go back and refigure a bit, but we'll probably break two million next summer," he said. "Probably in about September or so. "
And these are no ordinary pancakes. From SpongeBob to the Mount Rushmore monument, John creates pieces of edible art for children and adults alike. But he says that it's more than just about making the food–it's an opportunity for him to interact with people and make their day even brighter.
"You do that with kids, and pretty soon they'll forget their personal agenda—they're just having fun," he said. "They'll stay here a few days and start thinking up new things for me to make. One little girl this morning thought up Tinkerbelle. Now, I'm not saying it looks perfect, but she was happy."
"John is a one-of-a-kind gem, and a great asset to our kampground," said Carla Jacobsen, who manages the Rapid City KOA. "He has a true gift with people of all ages."
In addition to handing out breakfast with a heaping serving of smiles every morning, John also entertains campers with regular music and poetry performances during the camping season. But he says that he couldn't do what he does without a lot of help from other people.
"I get all the publicity around here, but it isn't just me," he said. "A lot of people put a lot of effort into it. I've just been here the longest, and because of the shows everybody knows me. "
John admits that he's not bashful, either, and has a good time getting to know people.
"I'll tell you this," he said, "if I'm not famous for anything but this, I'm happy."