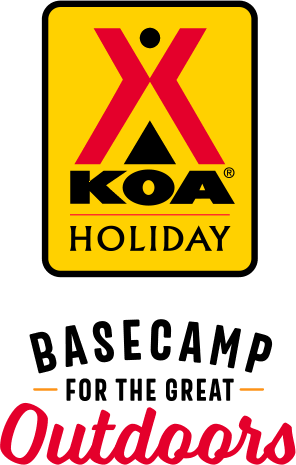 KOA Holiday Campgrounds
Whether you're exploring the local area or hanging out at the campground, KOA Holidays are an ideal place to relax and play. There's plenty to do, with amenities and services to make your stay memorable. Plus, you'll enjoy the outdoor experience with upgraded RV Sites with KOA Patio® and Deluxe Cabins with full baths for camping in comfort. Bring your family, bring your friends, or bring the whole group – there's plenty of ways to stay and explore.
KOA Holidays Feature:
RV Sites with a KOA Patio®
Deluxe Cabins with full baths
Premium Tent Sites
Group meeting facilities
Directions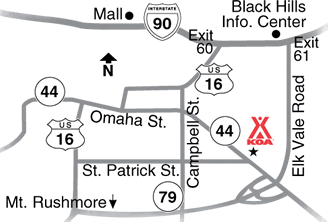 From I-90 Exit 61: South 2.5 miles to Hwy 44 exit. Then left at stoplight, go 0.2 mile. KOA on right.
Get Google Directions
Jan 20, 2021
It was a blessing to find a campground that would let us hook up in that weather. Being from the south we didn't even consider that most would be closed
Dec 19, 2020
Smooth and easy check in that was convenient for us!
Nov 14, 2020
It was winter so none of the "extra" things were set up and open. But, they had a "winter rate" flat fee of $40, which was easy to do. The view from up there was pretty good (of the city) and it looks like they have great amenities during the summer months.
Nov 14, 2020
the person you had working there showed up long enough to take pictures of our license plates but not to actually open up or check us in or do our credit card or anything like that so yeah it was pretty much self-serve and ignored
Nov 06, 2020
We needed 2 nights and it was easy to arrange. Thanks for a good stay.
Nov 05, 2020
Awesome area and campground. Friendly faces and great service. Will be back
Nov 03, 2020
very enjoyable, clean.
Oct 27, 2020
Great place and even better staff.
Oct 25, 2020
Third time here great stay as usual
Oct 21, 2020
Wonderful group of Workampers making it Great
Oct 21, 2020
Nicely laid out campground! Restrooms/showers were immaculate. Owner was very courteous in allowing my family to visit for dinner. Definitely recommend!
Oct 20, 2020
We had a wonderful one month stay at the Rapid City KOA. The laundromat and rest rooms were super clean and well maintained. This KOA is close to all activities and hiking trails in the southern Black Hills, shopping and restaurants are very close by as well. Even though the KOA was full every night it was quiet. Everyone seemed to be enjoying their camping experience.
Oct 19, 2020
Very nice campground staff was friendly only stayed 3 nights. The premium site we had was nice and level made for quick setup so we could get to sight seeing. Surprised how quiet it was being right in town, would definitely stay again, late September is beautiful in western SD.
Oct 19, 2020
Staff incredible, grounds spotless, bathrooms clean...always a good stay at KOA!!!
Oct 18, 2020
We stayed here in a cabin and it was awesome, we were able to charge our Electric vehicle on the standard outlet. Bathrooms are a tad bit far, and the WiFi does not reach all the way to the cabins. But the cabin was comfortable, has both a air conditioner and heater. And the staff was awesome. 5 stars!!
Oct 18, 2020
Lots of noise from the nearby freeways.
Oct 18, 2020
Very friendly, clean, and great looking campground. Very good location for a base camp to make day trips.
Oct 17, 2020
Friendly staff, clean park, large spaces.
Oct 17, 2020
Our first KOA stay, and it was a very positive experience. Will definitely stay here again next time we are in the area.
Oct 17, 2020
Very helpful staff. It was a treat to be able to rent a car right there from the campground! Very nice staff. We felt safe there with the covid-19 precautions in place.
Oct 17, 2020
Nice people, great location.
Oct 16, 2020
Stay was excellent! Showers, laundry, and other facilities were spotless clean. Office/store staff were always friendly and helpful. Staff knew about local attractions, restaurants, and other items that you would want for a good stay. Highly recommend this KOA!
Oct 16, 2020
Loved the cabin! It was very clean and comfortable. We will definitely be using KOA in the future
Oct 16, 2020
Very accommodating and safe
Oct 15, 2020
Clean site and facilities! Gave us access to the Black Hills activities we wanted to see
Oct 15, 2020
Thanks for being open!
Oct 15, 2020
Quiet campground. Clean restrooms. Great advice on things to see and do in the area.
Oct 14, 2020
fantastic campground and the cabin was very comfortable, campground staff friendly and always helpful, even the campers were awesome friendly people. very memorable stay for my South Dakota adventure
Oct 14, 2020
The bathrooms were dirty and the staff was rude and not helpful at all. Fortunately, we stayed in the nicest spots they have. My husband said the rest of the campground was even worse than our spot. Every other KOA we've stayed at has been clean and we've always enjoyed our stay. Such a disappointment.
Oct 14, 2020
Everything in great condition. Staff friendly. Great place to stay.
Oct 13, 2020
This is a very nice, family oriented campground. We stayed two nights and found it to be quiet yet close to down and with very easy access to the road to Mt Rushmore. Our site was level and easy in and out. I would readily stay there again.
Oct 13, 2020
Being so close to shutting down for winter the park was in good shape. The small store was short or lacking many items. The entire staff was A-1.
Oct 13, 2020
Office staff was very friendly and helpful. Facilities were fabulous!! Location very convenient to gas/food.
Oct 13, 2020
Very busy for us. We were in an out a lot.great location and easy entry exit. The staff is helpful and friendly.
Oct 13, 2020
Excellent stay, wonderful staff, perfect location. We were first time renters and this was a great experience for us!!
Oct 13, 2020
We were welcomed with a smile and escorted to our site with the offer to help us set up but we didn't need any help, our daughter loved the playground. Was very informed on local attractions and activities! Campground was spacious and clean, hope to come back in the Spring!!
Feb 21, 2021
Conveniently located in Rapid City. Affordable
- Eddie Hebron on Google
Oct 03, 2020
Easy check-in, nice level spots, and clean bathrooms. We stayed 2 nights and enjoyed how close it was to town and to the National Parks & Mt. Rushmore. They also had cabins and a dog exercise area. The showers need a little more water pressure but everything else was great!!
- Jesse Locklear on Google
May 29, 2019
The food is good but the store is over priced
- Arlie Mitchell on Google