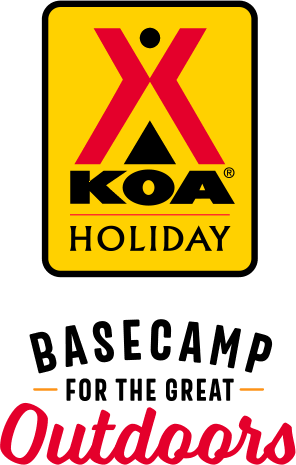 KOA Holiday Campgrounds
Whether you're exploring the local area or hanging out at the campground, KOA Holidays are an ideal place to relax and play. There's plenty to do, with amenities and services to make your stay memorable. Plus, you'll enjoy the outdoor experience with upgraded RV Sites with KOA Patio® and Deluxe Cabins with full baths for camping in comfort. Bring your family, bring your friends, or bring the whole group – there's plenty of ways to stay and explore.
KOA Holidays Feature:
RV Sites with a KOA Patio®
Deluxe Cabins with full baths
Premium Tent Sites
Group meeting facilities
Directions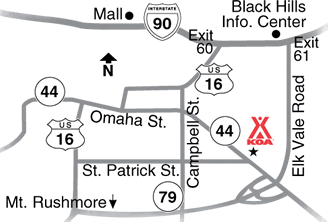 From I-90 Exit 61: South 2.5 miles to Hwy 44 exit. Then left at stoplight, go 0.2 mile. KOA on right.
Get Google Directions
May 08, 2021
Great folks to work with, VERY friendly.
May 08, 2021
We loved the Rapid City KOA. The campsites here are spacious and tidy, but with a relaxed atmosphere. The staff was terrific. Everyone we dealt with were very nice, pleasant to work with and very helpful amd welcoming.
May 08, 2021
The facilities were clean & well maintained. The park was clean and well kept. Nice off leash area for dogs.
May 08, 2021
Camp ground ok, just a bit pricey. $2.00 a night for our dog, that's a first. We stayed in hundreds of camp grounds over the past 22 years and this is the First where the sewer dump was 12' away from the water and electric. I ask why and was told by the camp host it was a city code didn't want water close to sewer. Why I ask myself? Couldn't think of a reason.
May 08, 2021
Great park & staff!!
May 08, 2021
Very clean, people at the front desk were very helpful, great location for getting things done in town. Was able to leave my camp set up and not worry, very secure.
May 07, 2021
This KOA is one of the best we have stayed in. Friendly staff and great sites. I would highly recommend Rapid City/Black Hills KOA.
May 07, 2021
A beautiful and well maintained property. Staff is friendly and very helpful. Having a fantastic pancake breakfast every day is such a pleasure. Vic does an outstanding job. One of our favorite places to stay anywhere in the US.
May 07, 2021
The park was clean and neat even though they we adding several spaces and a new pool! The staff was friendly. The park is centrally located and close to everything you need. Unlike many parks, there was not a railroad right next to it! We will stay there again!
May 06, 2021
Well taken care of. Good sized sites. Very friendly and helpful staff. Our second time staying here.
May 06, 2021
Wonderful! Clean;Showers are Heavenly Hot!!!
May 05, 2021
This was a great resort. The manager was friendly. The grounds were clean. Recommend to anyone traveling through.
May 05, 2021
Just a one night stay while passing through. Looks like a new pool and surround area will be done soon in time for summer season.
May 05, 2021
Friendly staff that provided much welcomed local information. Had a great visit. Really nice gift shop as well.
May 04, 2021
Friendly, and helpful.
May 04, 2021
Excellent location, close to everything. Friendly check-in. Low priced and good pancake breakfast. Level pull through spots. Excellent wi fi.
May 03, 2021
Staff is very friendly, bathrooms/showers were clean when we arrived, the grounds were green and mowed, fire pit was clean. However, due to construction on pool area there was noise, closed off walkways and limited amenities. The cabin we stayed in had a weird smell and the mattresses were stained. The trash can in the cabin was dirty. Considering it's early season, I would expect all to be clea
May 03, 2021
Well kept park, friend and helpful staff, was escorted to my site which is always nice when you're by yourself. Had great local information. Showers and laundry were clean and OPEN which has been hard to find during COVID. If you're making a right into the KOA and have a large rig be mindful of the curve and curb.
May 03, 2021
Stayed in motorhome, very nice camoground, they are still working on a new pool hot tub etc. And expanding. People in the office very pleasant and informative.
May 03, 2021
Very clean even though they upgrading pool area it was very clean
May 02, 2021
It was early in the season so there were limited amenities but the location is perfect for seeing all the national parks and monuments. Custer State Park is a must see. Looks like they are working on some major projects.
May 02, 2021
We loved everything! The staff was so nice and friendly. The breakfast was good and reasonably priced. Our cabin was clean and roomy for the 5 of us. I'm glad we went before the season started and prices would go up. We stayed April 28th to May 1st. The view from our cabin was awesome. Also we were close to where we wanted to go like MT. Rushmore, Crazy horse and Deadwood. We will be back!!!
May 01, 2021
They were doing nothing to enforce people picking up after their dogs. The amount of dog poop was really bad.
May 01, 2021
Wonderful Quiet Backed up to a beautiful pasture
Apr 30, 2021
Very nice. WiFi was good ���. Clean. Lots of construction going on though. We'd recommend to folks that want to be near the city. There's another KOA closer to Custer Park, which is the area we spent most of our stay visiting. Also nice campground in Custer Park.
Apr 29, 2021
We were passing through and wanted to spend an extra day in the Black Hills. The folks at registration were very helpful and positive. The showers and bathrooms were very clean and we were grateful to have them since our hot water heater was not working well. Great stay!
Apr 28, 2021
Nice and quiet
Apr 28, 2021
Super clean everywhere. Bathrooms/showers/laundry - all of it sparkly clean. The woman up front couldn't have been nicer or more helpful. We stayed only one night during rain so that was what it was. We'd stay again
Apr 28, 2021
Just a quick overnight stay. Was very impressed with the super friendly office staff and the office store.
Apr 27, 2021
Clean and friendly KOA. Lots of construction around the pool and it looks like it will be gorgeous!
Apr 27, 2021
Nice central location for our stay
Apr 26, 2021
Friendly staff. Took the time to park us while it was snowing
Apr 26, 2021
The staff was wonderful, and the restrooms and showers were very clean and in great working order. Thanks!
Apr 26, 2021
From the time that we entered the campsite until the time that we left we were treated like kings and queens. This was our first RV trip and everyone was so kind. We even had a wonderful man named Kenny who took us to our location so that we could find her site quickly. She was even there to help and instruct us on some things since we were newbies.
Apr 25, 2021
Awesome stay! Weather was a little crazy but we had a great time!
Apr 23, 2021
Friendly staff, good location
Apr 22, 2021
Our stay was great! The staff is wonderful and very friendly. Check-in was simple and our site was the best! It snowed and was cold most of the time we were there, but we had a very relaxing time! Thank you!!
May 11, 2021
This campground is on a huge hill, our pull through site was not level at all, we made it work for 1 night. We would have preferred not to un-hitch for the night, but had too, It was clean, and people working there were providing BBQ meals for a hefty additional cost. Sites were a good size for a 1 night, sometimes you can't even pull out slides. Playground was run down and shaky, didn't feel it was overly safe. It was what we expected for a KOA 1 night stop, would not have wanted to be here for more than 1 night. We would have been bored.
- Sarah Wade on Google
Apr 28, 2021
Great KOA we are from GA. The KOA's are not like this. Very kid friendly the pool looks like the are redoing it but it is to cold for us at the moment. Staff help any way they can. Would come back and stay again!!!
- Project Kilgore on Google
Apr 17, 2021
Great place.
- 41plymouthnut on Google