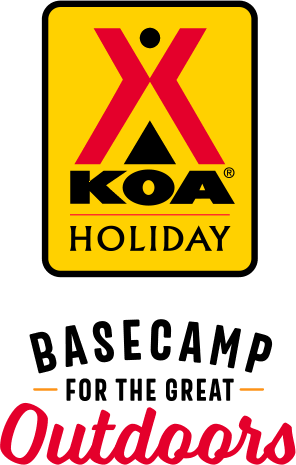 KOA Holiday Campgrounds
Whether you're exploring the local area or hanging out at the campground, KOA Holidays are an ideal place to relax and play. There's plenty to do, with amenities and services to make your stay memorable. Plus, you'll enjoy the outdoor experience with upgraded RV Sites with KOA Patio® and Deluxe Cabins with full baths for camping in comfort. Bring your family, bring your friends, or bring the whole group – there's plenty of ways to stay and explore.
KOA Holidays Feature:
RV Sites with a KOA Patio®
Deluxe Cabins with full baths
Premium Tent Sites
Group meeting facilities
Directions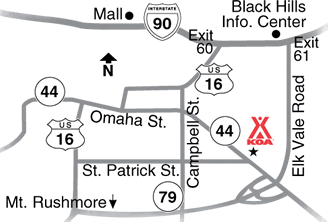 From I-90 Exit 61: South 2.5 miles to Hwy 44 exit. Then left at stoplight, go 0.2 mile. KOA on right.
Get Google Directions
Jul 22, 2021
Outstanding campground friendly staff. We stayed on site 75. It was luxurious for a camp site.
Jul 22, 2021
Very clean and nicely laid out sites
Jul 22, 2021
Wonderful campgrounds and helpful staff.. very enjoyable
Jul 22, 2021
Seriously…everything was top notch. The cabin, the hit breakfast, the pool. It was great!
Jul 22, 2021
We originally were only gonna stay 2 nights and then decided to stay a third and they made it work for us. It was great. Our spot(s) were great. Staff was great, breakfast every morning was a plus. Thank you so much!
Jul 22, 2021
I honestly think this is the nicest campground we have stayed in. My only regret is I wish we could have stayed more than just one night. Everything about it was great. We will definitely return.
Jul 21, 2021
We had a wonderful stay! We had not been back to Rapid City since 2013, it wasgreat staying at your KOA again. Friendly staff and terrific facilities! We'll be back someday. Thanks!
Jul 21, 2021
Employees are friendly, campground is well maintained.
Jul 21, 2021
The staff was very friendly, helpful, and hospitable. We stayed 2 nights in a cabin and the experience was great. The morning breakfast pancakes were outstanding.
Jul 21, 2021
my wife and I were there fro the Hills Alive concerts in the park. our stay was great and had an excelent tent site. very clean facilities and the all you can eat pancakes were great!
Jul 21, 2021
Good amenities, liked all that was available should it have been needed. The campsites were a little close, though, and the map a little hard to navigate.
Jul 21, 2021
Friendly Service
Jul 20, 2021
NOT KOA std we're used to. Needs LOTS of gravel. FHU. RV sat in mud puddles. Stepped out of RV into puddles. Very difficult to get us & dogs out w/o stepping in water. Street had lots of large puddles so hard to walk dogs to dog park ($2/day/dog extra) w/o getting wet & muddy. Electricity went off several times. Lots of campgrounds in area, would not stay here again. Site selection VERY critical!
Jul 20, 2021
Very nice well maintained campground.
Jul 20, 2021
The spot i reserved was not available and was taken to another spot of lesser quality. When I questioned the change at check in the desk people told me they sent me an email on June 10 letting me know this was to happen. After extensive search no email was found and the only one was July 9 that showed confirmation of the site I had reserved originally and on July 11 giving check in times.
Jul 20, 2021
Great place. Staff was awesome. We can't wait to visit next year.
Jul 20, 2021
We were only here overnight but was very nice. People out helping organize check in and spaces easy to get to. I appreciate that you kept our party together. First 5 Star of our trip!!
Jul 20, 2021
I can not believe what my site looked like. You need to warn people that they can not have fires because you are so packed in. I was right on the road. Anyone can just drive in. People come and go all the time. Can hear the highway from the campground. I knew it was going to be crowed and I did not have high expectations and KOA still did not meet it. Even just sleeping here was awful. Loud.
Jul 20, 2021
Overnight but very pleasant
Jul 20, 2021
A couple of the clerks were uncaring, I needed to change my email and she said do it on the web site i can't do it here. It seemed uncaring, we've stayed there many times ' but this year was not good
Jul 19, 2021
Very disappointed in the "new" site with sod, grass seed, and mud. I feel there should be sod throughout. The amenities were wonderful, especially the pool.
Jul 19, 2021
Very clean park. Everyone was so friendly. Will definitely come back.
Jul 19, 2021
Campground is not well maintained. It would look good if the grounds were cared for. Not enough bathrooms for the size of the camp population. Laundry facilities not clean. Not enough washers & dryers and the machines ate my quarters, but would not start. Smoky campfires long after start of quiet time.
Jul 19, 2021
Carla and staff were amazing! From the welcome email before my arrival down to the farewell as I checked out. Cannot say one thing I found wrong. Great job guys
Jul 19, 2021
Very clean amenities! Bathrooms, pool camp store and staff were great!! The sites were nice and big and the campground was in a great location to see all of the parks and attractions
Jul 19, 2021
Very well kept campground. Great pet area, friendly, helpful staff and a pancake breakfast thrown in. What's not to like!
Jul 19, 2021
So crowded! I really loved having my neighbors sewer hose right next to my picnic table. Muddy from sprinklers that drown campsites. The staff driving around on golf carts drive way too fast. The pool was great, but I'm pretty sure it's against code to lock two of three gates. Way overpriced.
Jul 19, 2021
very pleasant
Jul 19, 2021
We just stayed one night because we were going to Yellowstone. We had breakfast and the guy serving pancakes didn't act like he enjoyed his job. He was a little on the rude side. Other than that it was a nice place
Jul 19, 2021
We rented a tent sire, #5. There was dog waste in the grass by the picnic table. Also, there was dog waste in the grass area by the volley ball court. This is the shortest route to the bath house from #5. There was facial hair clippings in one of the sinks on saturday morning. This same hair was in the same sink on Sunday morning.
Jul 18, 2021
We were placed in a newly soded spot(207) which was totally wet and muddy all the time! Our truck and camper were full of mud that we had to clean constantly! I complained to the head maintenance guy and he said they would do what they could and it got worse! When we hooked up to leave we were in mud! Manager said, sorry!! She was turt when I was not happy! Apology should be No Charge! She smirked
Jul 18, 2021
Clean.well maintained friendly staff very helpful
Jul 18, 2021
Friendly staff. Impressed by cleanliness. Very nice pool and outdoor furniture around pool, nice playground. Will definitely stay again!
Jul 18, 2021
Only stayed 1 night but had a great time. Kids loved the pool and jacuzzi. We loved the pancake breakfast ( great pancake batter!!!). Thank You.
Jul 18, 2021
This review has been removed by KOA due to profanity.
Jul 18, 2021
Just an overnight this time but we stayed for a week last time and all was great. Love the pancake breakfast!
Jul 18, 2021
Staff so accommodating, willing to go the extra mile!
Jul 17, 2021
Nice campground. Staff very helpful even though they appear to be short of staff.
Jul 17, 2021
This was an excellent facility to stay at when traversing the Black Hills. Convenient to several locations. The facility is well run and the staff is available for any questions you might have. I would highly recommend it.
Jul 19, 2021
I had to make some tricky reservations. Really nice people. Easy to work with. Very helpful. Looking forwarding to staying there soon!
- Raphael Kelling on Google
Jul 18, 2021
Great KOA with a beautiful pool! we didn't stay too long because we were driving to Badlands early but we did do a wine tasting and had fun while we were there!
- Kayla Pesta on Google
Jul 16, 2021
Great campground. The pool area was great. The all you can eat pancakes are definitely worth it.
- Jim Detloff on Google