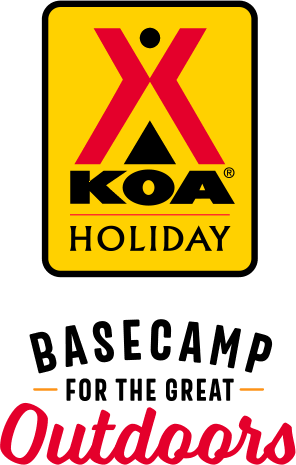 KOA Holiday Campgrounds
Whether you're exploring the local area or hanging out at the campground, KOA Holidays are an ideal place to relax and play. There's plenty to do, with amenities and services to make your stay memorable. Plus, you'll enjoy the outdoor experience with upgraded RV Sites with KOA Patio® and Deluxe Cabins with full baths for camping in comfort. Bring your family, bring your friends, or bring the whole group – there's plenty of ways to stay and explore.
KOA Holidays Feature:
RV Sites with a KOA Patio®
Deluxe Cabins with full baths
Premium Tent Sites
Group meeting facilities
Directions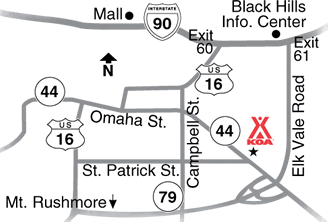 From I-90 Exit 61: South 2.5 miles to Hwy 44 exit. Then left at stoplight, go 0.2 mile. KOA on right.
Get Google Directions
Sep 17, 2021
Nice quit campground. Breakfast was nice. Will stay again. Staff is very helpful
Sep 17, 2021
Great place to stay. Friendly staff, quiet, spacious sites.
Sep 17, 2021
It was a great stay for 2 nights. Park was quiet and clean.
Sep 17, 2021
Rest rooms were very clean, and the people were very friendly.
Sep 17, 2021
The nite over stay was good. The one BIG complaint that we have is the entrance to from the main road route 44, was the curb and the hole that our motorhome and Jeep hit on the way in. From the looks of the hole we are not the only guest that have hit and fell in! Tires and alinements are vary expensive. Ken & Karen R.
Sep 16, 2021
Nice overnight stay on way across the country. Clean, but has a bit of freeway noise.
Sep 16, 2021
Campground was very nice and clean! Pool and hot tub were awesome. People that worked there were very friendly and helpful! Breakfast was a great value and very tasty!! Would stay there again!!
Sep 16, 2021
Friendly staff, clean campground, well maintained. The pancakes were great! This was a perfect base camp for our visit to Badlands, Mt. Rushmore and Custer, Sturgis and Deadwood! Great stay!
Sep 16, 2021
Great campground with good wifi and friendly staff.
Sep 16, 2021
This was the best from the start. Chris was one who went out of his way to make our stay wonderful. Great breakfast clean RV sites. Most of all the staff. Thank you all.
Sep 16, 2021
Short stay of one night. Level lots and good room. great inexpensive breakfast. Happy staff.
Sep 16, 2021
Terrible laundry facilities. The washers out number the dryers and one drier was broke. Long wait times! Save your chores for the local laundromat or another campground.
Sep 15, 2021
They moved us so that we were side by side—our pets thank you. Well kept sites and grounds. Great pool and play area. Only thing I'd change is a larger hog areA. Great central location for sightseeing in the area.
Sep 15, 2021
Great place, easy to get to. Close to shopping and attractions.
Sep 15, 2021
We love this campground. Use it as home base and venture out in different direction each day
Sep 15, 2021
Started out to stay 3 nights but ended up staying 4
Sep 15, 2021
Just a quick overnight, super friendly staff, nice sites. Amenities were super clean and very well maintained
Sep 14, 2021
We spent 5 nights here. The site was level with a cement patio. We enjoyed the restroom/showers and the pool & hot tub. The park is well maintained. The staff was friendly and helpful. They serve breakfast each morning that we also took advantage of. If there is one gripe, it is that the entrance and exit road is way too narrow at the intersection.
Sep 14, 2021
Great friendly staff. Good breakfast. Would recommend highly. Very nice.
Sep 14, 2021
it was a very nice place i would stay their again
Sep 14, 2021
Quite clean bathrooms. Great staff really nice pool
Sep 14, 2021
Good .Facilities were clean. Pool area impressive. Handicap chair lift alongside of Pool. Good breakfast menu. Friendly staff.. Bad. Stayed in 1 room kabin. Big gap at bottom of door. Big enough for rodents. Gap also at top of door. We had moths entering at night. Off site drag racing sound was loud. (Not KOA fault).
Sep 14, 2021
Was a very pleasant stay!
Sep 14, 2021
What a great staff. We took our mother to SD for her 85th birthday. The site that we were to stay in they were working on some tree removal. The site that they gave us was not exactly what we wanted. We asked about the trees and the staff that help us was amazing. It was more level for mom. They got right on it and let us have that space. We will definitely be going back to that KOA again!
Sep 14, 2021
Enjoyed the hot tub ,but would like cable TV.
Sep 14, 2021
Great campground to stay in. There was quick check in, to clean bathrooms/showers, to clean pool area. Very quiet and pleasant stay. My family plans to stay again when in the area.
Sep 14, 2021
Very nice campground. Staff was so nice and accomadating. Great location easy on and off highways for sightseeing
Sep 13, 2021
Wonderful, the only suggestion I would have is …… put a vaulted toilet in the back , so we wouldn't have so far to walk to the bathroom
Sep 13, 2021
Little disappointed that they sold concrete pad w/patio furniture sites online back in June (when we booked) and the sites were regular grass sites. Apparently from what we could gather is that they expected to have them in but they did not have the correct permits and the city shut them down.
Sep 13, 2021
We enjoyed our stay, and would stay again if we are in Rapid City. People are very friendly and the campground is kept nice. Off leash dog park a great amenity. Thank you!
Sep 13, 2021
Breakfast each morning was a treat and so affordable. Each morning Linda and Mike Ward who we discovered live close to us in Texas greeted us with smiles and warm words of welcome. They were very helpful in suggesting additional sites to visit. Great stay!
Sep 13, 2021
It was one of the best RV places we have stayed at in a long time
Sep 13, 2021
We had a wonderful stay. Very clean, friendly and had everything we needed.
Sep 13, 2021
Easy after hours check in, clean and warm cabin, great pool and nice comfort station. It was a restful, relaxing stop on our road trip.
Sep 13, 2021
Very clean and well managed.
Sep 13, 2021
Sites are in good repair and generally well maintained. Pool and Jacuzzi were in excellent shape. Very nice laundry room, very nice common bathroom and shower. This is a nice site.
Sep 13, 2021
The camp ground was so nice! Glamping at its best! We came in town to watch our son's football game at mines and this location was great! Minutes from downtown and the stadium!
Sep 12, 2021
We stayed here on our way to Montana as we have several times before. The Campground is very clean and convenient as well as easy to access with many large sites to accommodate bigger RV's. The office staff are very helpful and friendly
- Michael Hughes on Google
Sep 10, 2021
Very nice, clean and offers a good breakfast for a few dollars. Nice playground for the kiddies.
- Sherry Savener on Google
Sep 02, 2021
Great location in Rapid City to see the Black Hills & Rapid City attractions. Campground is clean and well maintained and in a safe area. Pool area was fantastic & they have a nice store & gift shop! Friendly & helpful staff. Sites were just average but fine for RVers who are there for the area attractions. Bathrooms, showers, & ldry room were very clean, ventilated & well lit. I would rate a 5/5 & recommend staying here.
- S Friedman on Google