Extraterrestrials and extraordinary landscapes combine in a tour of New Mexico.
In the summer of 1947, a large object was reported to have crashed not too far from the city of Roswell in southeastern New Mexico. Was it a weather balloon, or was it an extraterrestrial spacecraft? Conspiracy theorists insist on the latter, even claiming that there was a cover-up of an alien autopsy.  Fantastical though it may be, Roswell has built a tourist trade around the notion, including a UFO Museum and Research Center. So why not start an otherworldly journey through New Mexico there—at a place where some eager folks claim an alien finished one?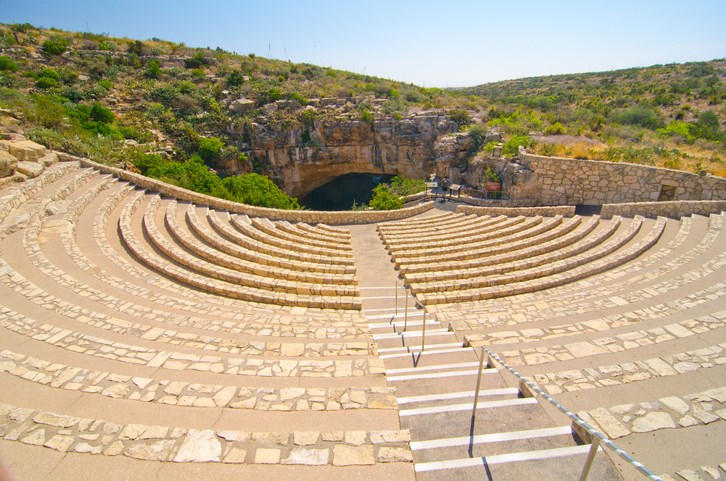 After exploring Roswell, you can park yourself just an hour south at Carlsbad KOA Holiday, a perfect basecamp for visiting the collection of 120 caves that comprise Carlsbad Caverns National Park. When the park's elevator is in service, you can simply ride down (some 750 feet) to the Big Room, a natural limestone chamber covering 8.2 acres— the largest single cave chamber by volume in North America. Along with features like Bottomless Pit, Giant Dome, and Painted Grotto, it contains the Underground Lunchroom, an actual cave-dwelling cafeteria. Or you can use the Natural Entrance and make your way to the Big Room via a steep but well-paved mile-long walk past myriad natural cave decorations. That way, the anticipation enhances the final destination.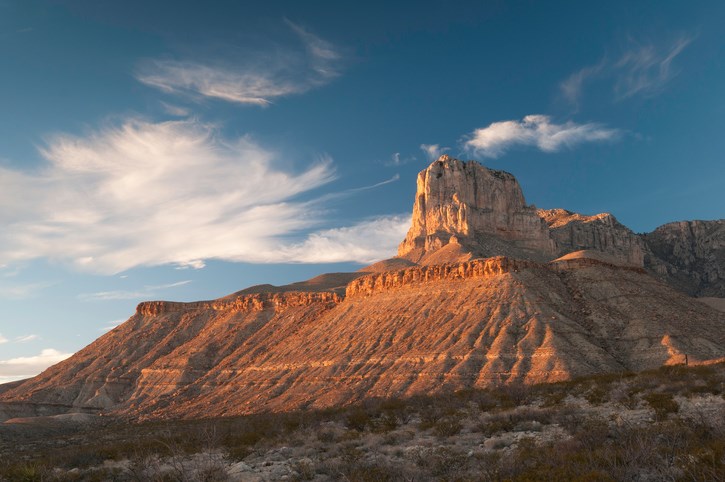 From Carlsbad, you can cut through a corner of Texas, toward El Paso and a stay at El Paso West / Anthony KOA. The drive to this border city will take you through Guadalupe Mountains National Park, an ancient fossil reef known for its hiking and horseback-riding opportunities and its red autumn foliage, which contrasts dramatically with the surrounding Chihuahuan Desert. Of course, everything's big in Texas, and Guadalupe's highest peaks don't disappoint. In fact, they're the highest in the state.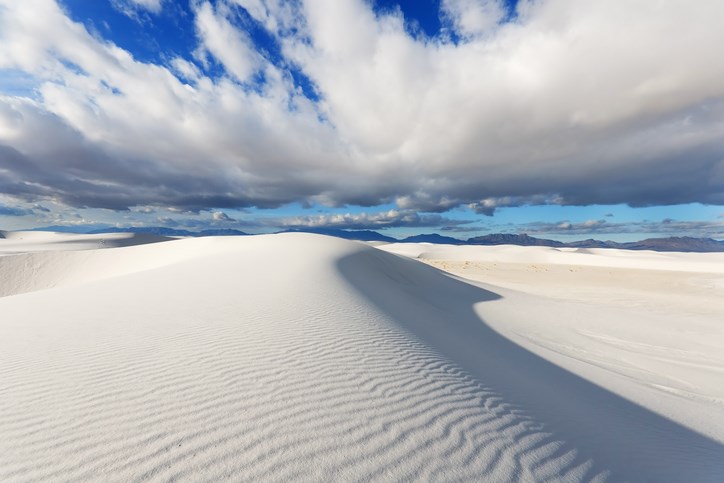 For something truly unearthly, head north to White Sands National Monument, conveniently located between a pair of campgrounds—Las Cruces KOA and Alamogordo / White Sands KOA. Take a slow-speed cruise along eight-mile Dunes Drive, or step out and wade into waves and waves of stark white gypsum sand. Sunglasses are a must, even on a cloudy day, at this truly unique locale. It feels like the Sahara, but it looks like the North Pole. Or maybe one of Jupiter's moons.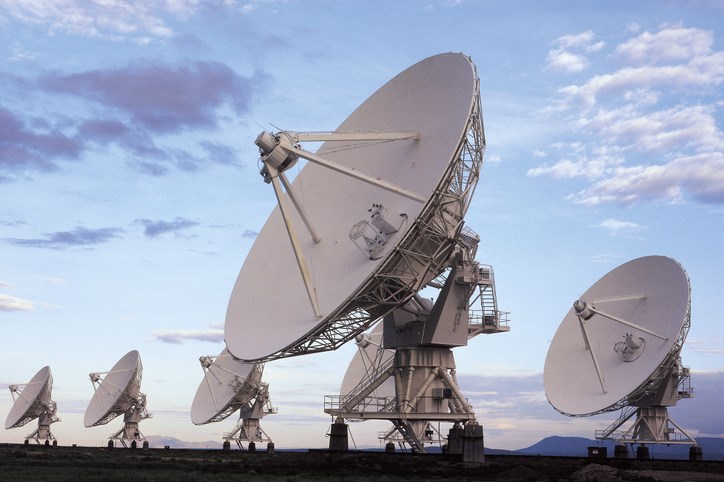 To continue the otherworldly theme, you can make your way further north on Interstate 25 to the city of Socorro. Detour west for 50 miles along rural Highway 60—to the National Radio Astronomy Observatory's Very Large Array, a massive radio telescope consisting of 27 separate satellite dishes, each about the size of a baseball diamond. The VLA seeks stuff WAY out there—not just intelligent life, but also everything from pulsars to black holes.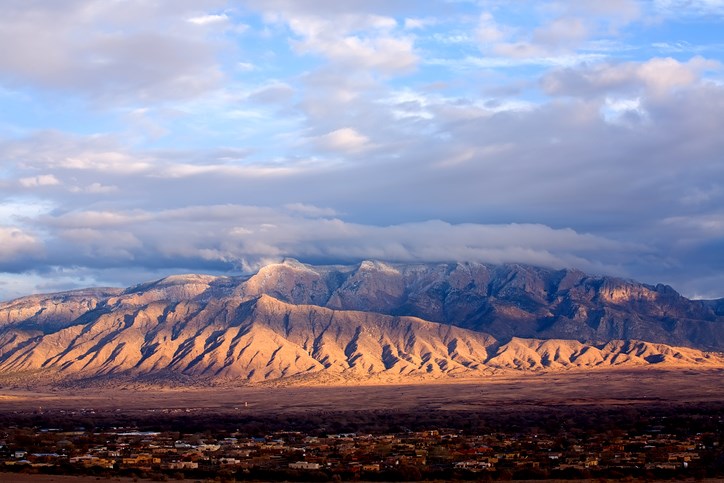 So how best to finish your out-of-this-world excursion? Rumble north to Albuquerque KOA Journey. Albuquerque's Sandia Peak Tramway, the longest in the U.S., can take you skyward—to an elevation of 10,378 feet and a view of nearly 11,000 square miles of New Mexico countryside. And if it's October, the International Balloon Fiesta's identified flying objects will fill the sky.
OWNERS TIP: "If you're going to walk into the wonders of White Sands, make sure to remember where you started from. It's easy to lose your bearings amid the endless whiteness. So stick a flag or shovel in a spot that will lead you back to your vehicle.  Also, you can become dehydrated much more quickly than you think, so it's imperative to take plenty of water with you when visiting the Dunes." – Kelly Rodwick, Alamogordo / White Sands KOA
ALONG THE WAY… Don't miss the city of Truth or Consequences, New Mexico. Once upon a time, it was called Hot Springs, famous for its medicinal mineral baths. But in 1950 the popular radio game show "Truth or Consequences" announced that it would broadcast from any town willing to change its name to that of the show. The residents of Hot Springs obliged, and it remains T or C to this day.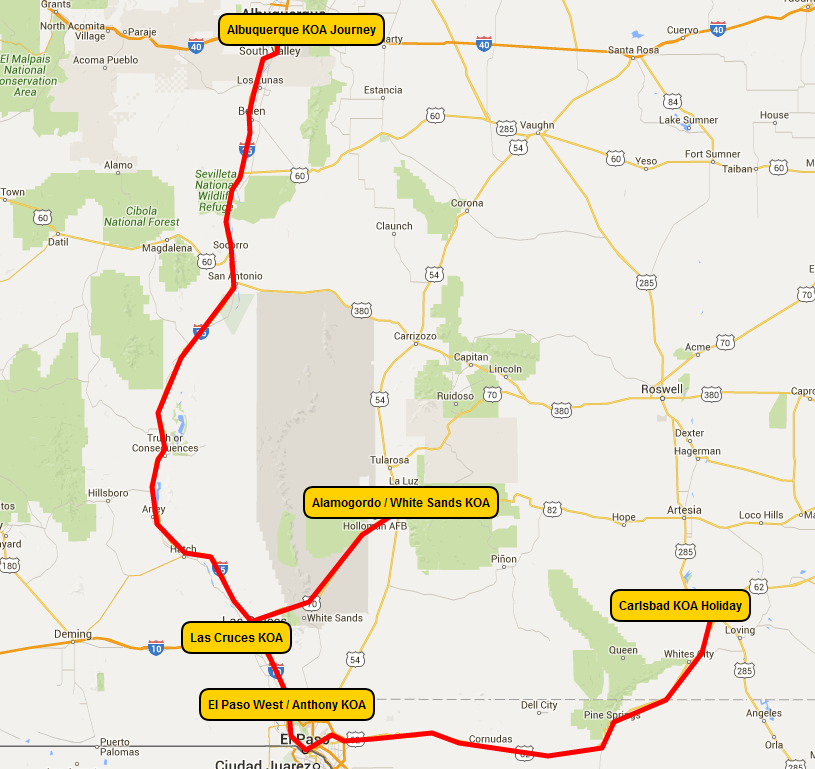 Click to Enlarge Map
EDITOR'S NOTE: 2016 was the 100th Anniversary of the National Parks Service, the agency that oversees more than 400 National Parks, Monuments and Seashores across the U.S. This story was part of a special series featuring great trips you can take to some of America's wonders.

Inspired? If you are headed toward any of our National Parks or Monuments, check out this list of KOA campgrounds near National Parks and Monuments.
Don't forget! If you're ready to plan that dream trip you can save big on stays at all your favorite KOA campgrounds with Value Card Rewards. You'll earn reward points, enjoy members' only offers – including our new Value Card Reward Savings which could save you big with over 500,000 coupon offers – and save 10% off any site at any KOA.
---
ABOUT THE AUTHOR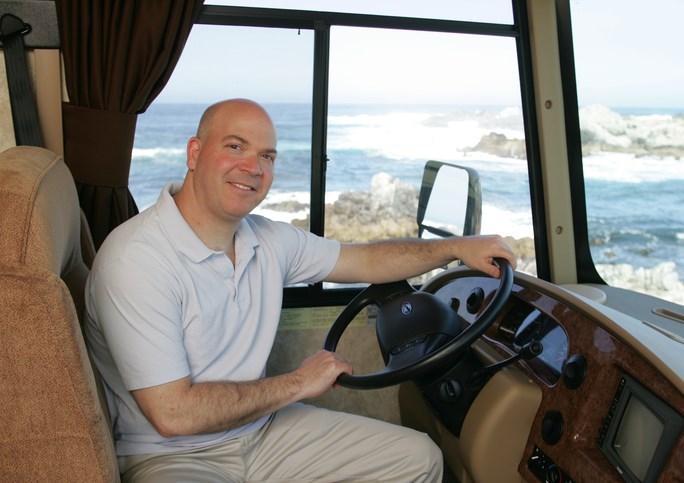 Author Brad Herzog (BradHerzog.com) has written more than 30 books, including three acclaimed memoirs in which he examines big-picture concepts while passing through some of the tiniest dots on the U.S. map. The American Book Review has described his travelogue trilogy as "the new classics of American travel writing." Herzog lives on California's Monterey Peninsula with his wife Amy and their two sons.
Save