Teriyaki Meat Sticks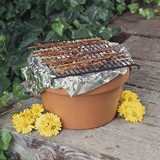 Teriyaki Meat Sticks
Ingredients
1 c lite soy sauce
1/2 c sugar
1/2 c water
1/2 Tbsp fresh ginger, shredded
1 clove garlic, peeled and crushed
2 green onions, chopped
1 Tbsp sesame-seed oil
2 pound(s) sirloin steak, sliced diagonally across the grain to 1/8-inch thick
1 (1-gallon) plastic self-sealing bag
6-8 skewers
Preparation
In a medium saucepan, heat soy sauce, sugar and water, and boil until sugar dissolves, about 5 minutes. Add ginger, garlic, green onions, and sesame-seed oil. Refrigerate, covered, in a 1-pint glass jar. This recipe makes enough marinade for 3 pounds of meat.
*Ask your butcher to slice the meat for you, or partially freeze to slice more easily.
Grill and At Home: In a 1-gallon plastic self-sealing bag add steak slices; cover with marinade and place in a cooler or refrigerator overnight. Thread meat onto skewers. Grill, turning occasionally, until meat is cooked to desired doneness. Makes 6-8 kabobs.