"Stand-Up" Salad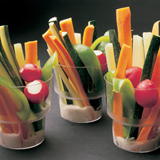 "Stand-Up" Salad
A fun, quick salad in a cup!
Ingredients
Your Favorite Salad Ingredients
Preparation
Creativity in the presentation enhances a salad or vegetable snack. Let your imagination guide you. I prepare and serve salads in 1-gallan plastic self-sealing bags inside a 3-pound coffee can or #10-size can. Open the top of the bag and rest it on the rim of the can for easy serving. For a raw vegetable snack outdoors, in the bottom of a plastic cup or paper cup place dip or ranch dressing and add carrots and celery strips to create a "Stand-up" Salad.