Buffalo Chicken Dip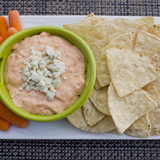 Buffalo Chicken Dip
Andrew is 13 years old.
Ingredients
4 boneless, skinless chicken breasts (about 2 lbs)
1 bottle hot sauce (12 oz.)
2 packages cream cheese (8 oz.)
16 oz Blue Cheese or Ranch salad dressing
8 oz shredded sharp cheddar, Monterey Jack or a combo
Preparation
Boil chicken until cooked through, shred with 2 forks. Preheat oven to 350. In a 13x9 pan, combine chicken with hot sauce and spread evenly. In a large saucepan over medium heat, combine the cream cheese and dressing, stirring until smooth and hot. Pour evenly over chicken. Bake uncovered for 20 minutes, then sprinkle with shredded cheese and bake uncovered for another 10 minutes. Let stand 10 minutes before serving, then serve with crackers or bread.