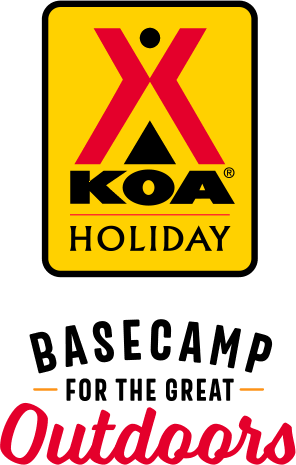 KOA Holiday Campgrounds
Whether you're exploring the local area or hanging out at the campground, KOA Holidays are an ideal place to relax and play. There's plenty to do, with amenities and services to make your stay memorable. Plus, you'll enjoy the outdoor experience with upgraded RV Sites with KOA Patio® and Deluxe Cabins with full baths for camping in comfort. Bring your family, bring your friends, or bring the whole group – there's plenty of ways to stay and explore.
KOA Holidays Feature:
RV Sites with a KOA Patio®
Deluxe Cabins with full baths
Premium Tent Sites
Group meeting facilities
Directions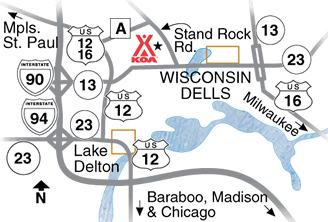 2 miles off I-90/94.
From east take Exit 87: Hwy 13 N, left at third stoplight on Stand Rock Rd.
From west take Exit 85: Left on Hwy 12, Take roundabout to A, and then right on stand rock road before bridge. 
GPS: N43.635956, W89.785472
Get Google Directions
Oct 15, 2021
As always a good time was had by us. We like coming to this campgrounds. Everyone so friendly .See you in Spring.
Oct 14, 2021
Small park but our spot was great! Everyone was friendly. We will be back!
Oct 13, 2021
We spent one night at the Wisconsin Dells KOA. We arrived late but had an easy check-in as we were contacted by the KOA earlier in the day to tell us where to pick up our materials. The restrooms were very nice and clean. The facilities were very nice.
Oct 13, 2021
Clean grounds and well maintained. Friendly and helpful staff. For me, the negative is the price. I felt that it was not worth the $58+ dollars for a site. No senior discount(s) and does not accept Passport America's members. Would I stay again? Maybe, but since it was the second to last night of the season - probably not.
CAMPGROUND RESPONSE / COMMENTS:
I am glad to hear you enjoyed your stay, we are a KOA so we accept the KOA discount program which saves you 10% at all KOAs across the country.
Oct 12, 2021
As always another great stay at this campground.
Oct 12, 2021
We loved are cabin. Bed was more comfortable than most hotels we've stayed in. Clean, climate controlled and the campground was fun!
Oct 12, 2021
What a wonderful weekend we had in such a beautiful cabin and area with great service and amazing friendly staff
Oct 12, 2021
Always great hospitality at this KOA
Oct 12, 2021
Stayed in the cabin . They were clean and well organized. Perfect for our hiking trip! Staff was friendly and worked well with our group
Oct 12, 2021
Nice campgrounds, we loved it there.
Oct 12, 2021
The customer service was terrific! They checked our reservation after hours when it didn't show on my phone. They also met us at the office and escorted us to our site. Great job. Bathrooms were nice and clean. Park was so nice.
Oct 11, 2021
Bathrooms were clean and very nice. Campground was okay. There was no Halloween weekend like I was told there would be and no trick or treating which is why we came. This is why the campground rating is so low.
Oct 11, 2021
It was a nice stay with some friendly staff. No yard space and very narrow sites. Fire pits at the road side just is not handy. Booked a different site next spring hoping we like that better. Thank you
Oct 11, 2021
Great place to stay, friendly staff
Oct 11, 2021
Everybody at the campground was extremely nice and helpful! We look forward to coming back next year!
Oct 11, 2021
Thank you for your hospitality. If possible, the bathroom/shower building near site 62 really needs shelving and more hooks to put your toiletries and clothes on while bathing and cleaning up. There's no place to put things except for 1 hook and on the back of the toilet...not ideal. The campground was nice overall.
Oct 11, 2021
Clean, nice, train neaby
Oct 11, 2021
Last minute family get away, was really happy that we could get in later at night and have our paperwork waiting for us. Friendly staff, nice sites and fairly nice location.
Oct 10, 2021
Friendly staff. Nice clean restroom and shower house. I just wish there was a bit more room between the sights.
Oct 10, 2021
Place was well kept and the staff was attentive
Oct 09, 2021
We had a great time. Will go back again.
Oct 07, 2021
Very hospitable staff. Just a good feeling the entire time that I was there (two weeks).
Oct 07, 2021
people were very friendly and accommodating
Oct 06, 2021
Very cozy and pleasant stay at St. James cabin. It's also very close to the main strip one mile south. 10/10 would choose to stay again when returning to the Dells.
Oct 05, 2021
Second time we've gone to this one. Better this time on train noise. Enjoyed the kid activities. Really a great getaway with lots of entertainment in the area.
Oct 05, 2021
This was the first time staying at a koa and we were pleasantly surprised. The service was exemplary, they delivered a load of wood many times during our stay. The staff in the office were friendly and very helpful.
Oct 05, 2021
The campground staff member, Felix, was a tremendous help. What a friendly guy, from helping us back in our 5th wheel, alarming us of a possible change in weather to just genuine kindness & friendliness from check in to check out. Also clean facilities. We will be back!
Oct 05, 2021
The staff was friendly and helpful.. There are train tracks nearby, but the noise is minimal and didn't bother our sleep. Convenient location near downtown and we even had pizza delivered from Moosejaw Pizza... yummy!
Oct 04, 2021
Very Clean and accommodating. Employees were super nice every time we ran into them.
Oct 04, 2021
Nice campground. Has very spotty wi-fi. We found chip crumbs in the loft, hair in the bed, the floors were dirty, & the bedroom tv didn't work. The staff was very nice. They allow you to text them if you need anything & they will deliver it to your cabin. The deluxe cabin was very nice for our family of 4. Our kids liked the game room and pool table. We would stay here again.
Oct 04, 2021
We had a very enjoyable stay. Staff was very helpful. Very nice campground.
Oct 04, 2021
Love the fall colors. Friendly staff and clean facilities.
Oct 04, 2021
Staff were very helpful and accommodating. Campground was clean, cabin was clean. Old fashioned manners and courtesy were abundant. I was very pleased with my stay.(Although I know I was there in the "off" season....during regular season things may be different, when it is much busier) But I will stay again.
Oct 04, 2021
Ok, but very crowded sites. A campground in the dells, at this price should have better wifi.
Oct 04, 2021
Nice campground; appreciated the escort to our site as we arrived after dark, very helpful! Staff was friendly; sites were clean. The only reason I'm not giving it 5 stars is that there's a train track that runs alongside the campground that was very close to our site….when a train went thru it was very loud and shook the camper! �� Other than that, good place to stay & centrally locate
Oct 04, 2021
First time at this campground and we will be back again. Staff was friendly and when we needed assistance they responded immediately.
Oct 04, 2021
The campground was five stars it was awesome the only thing that sucked that needs to be addressed is the internet is garbage I have stayed at two and a half star campgrounds with better internet than this KOA otherwise very friendly staffed the guy that brought my firewood and took me to my campsite was Top notch...
Oct 04, 2021
The campground attendants were very helpful, friendly and concerned with the comfort, appearance and safety of the campground. Our site was clean, in great condition and easy in and easy out.
Oct 04, 2021
My site was nicely located without close neighbours and close to the bathroom. Exactly what I needed.
Oct 10, 2021
Had a great stay during the weekend at one of the small cabins that had no bathroom. It wasn't an issue because the bathrooms were close, and each stall was its own room with its sink and dryer included, as well as the shower stands. There is a store that carries all the main camping essentials, including firewood and ice. There is also a laundry and game room. The small cabin we got was big enough for the 3 of us, as well as my dog. The park is close to the town center. We had no issues with the train track next door, the cabins have an A/C that would diminish the sounds of any train passing by. The only thing that would maybe bother some is that the sites were pretty close to each other.
- Veronica Hernandez on Google
Oct 05, 2021
I really loved this campground! We were at site 87. I love the trees, the patio, and the patio furniture we got with our site! The staff was very friendly, they even came around to warn everyone of possible rain/wind. The park was super clean and it was a little smaller which was nice! I know others mentioned a train I only heard it a total of three times and it was faint. I also loved the location! Super close to everything yet it was really wooded you felt like you were in the middle of no where. They also are dog friendly, everyone had their pups in leashes or in a pet fence and they all cleaned up after them. I definitely recommend this place!
- Megan Popian on Google
Sep 28, 2021
Love KOA it's clean and busy workers keeping the grounds clean. Sites were on the smaller size and you should cut a few out. Also you need shelves in the bathrooms so we can put our bags on when we shower
- Jacobo on Google