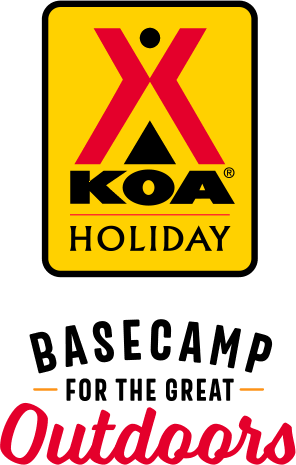 KOA Holiday Campgrounds
Whether you're exploring the local area or hanging out at the campground, KOA Holidays are an ideal place to relax and play. There's plenty to do, with amenities and services to make your stay memorable. Plus, you'll enjoy the outdoor experience with upgraded RV Sites with KOA Patio® and Deluxe Cabins with full baths for camping in comfort. Bring your family, bring your friends, or bring the whole group – there's plenty of ways to stay and explore.
KOA Holidays Feature:
RV Sites with a KOA Patio®
Deluxe Cabins with full baths
Premium Tent Sites
Group meeting facilities
Directions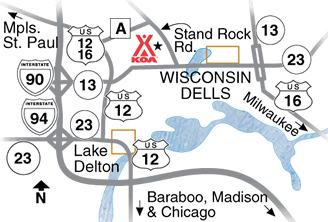 2 miles off I-90/94.
From east take Exit 87: Hwy 13 N, left at third stoplight on Stand Rock Rd.
From west take Exit 85: Left on Hwy 12, Take roundabout to A, and then right on stand rock road before bridge. 
GPS: N43.635956, W89.785472
Get Google Directions
Jul 21, 2021
Beautiful campground, nice people. Best campground showers ever! Handicap friendly. Made showering my adult daughter a breeze. So grateful.
Jul 20, 2021
i loved the stay! From the time I pulled in and was greeted out side the office and was escorted to my pull thru site. and all the questions were answered. we truely enjoy the stay will stay again at your KOA if we travel that direction again. mike
Jul 20, 2021
Very nice campsites. Clean facilities. Location is convenient to Dells attractions
Jul 20, 2021
We had a family group of 16. 1 RV site, 1 camper cabin, and 3 deluxe cabins. Everyone had a great time and thought the accommodations were perfect. The kids had lots of activities to choose from and the adults enjoyed the nights around the cabin fire rings. Overall, it was a fantastic week and we would definitely stay at the Dells KOA again!
Jul 20, 2021
We stayed there on July 4th weekend when it was full and had a nice time. a bathroom and showers were closed by the upper loop, but they said will be open soon. the facilities were nice and clean.
Jul 20, 2021
Very clean and nice campground!
Jul 20, 2021
We only stayed for one night, but everything was great! Instructions and information was explained clearly and all of the staff was very friendly. Bathrooms ands showers were well kept and the rest of the grounds appeared in order. Although we didn't partake, we loved the activities offered and text info sent about them daily. Thanks again!
Jul 20, 2021
Really nice campground. Friendly and helpful. Only complaint was the Wifi was not strong enough to reach our site to stream movies, but I believe there was cable tv available so not too big an issue.
Jul 20, 2021
13 scouts and adult leaders from Scout Troop 402 from Miamisburg, OH stayed at the Wisconsin Dells KOA going to and from Ely, MN. The facilities were great and the staff was very accommodating to our changing schedule. We will definitely stay here again in the future. Highly recommended KOA!
Jul 19, 2021
Very nice staff . Hard working and attentive to campers and sites. Very crowded, but fine. A lot of train noise . Spaces a bit tight. Perfect spot though to be in the middle of Dells activities. We just used it as an overnight.
Jul 19, 2021
We stayed in a deluxe cabin for 6 nights. It was incredibly clean, as were the communal bathrooms and showers. The kids loved the pool and splashpad, though the water was a bit cold in the pool for them. We appreciated the communication via text messages for events and storms. We would certainly return if we camp in the dells again.
Jul 19, 2021
Vantastic wanted to stay longer
Jul 19, 2021
Had a terrible pull thru site, hard to get in and out of and directly by the office and check in. Would not return.
Jul 19, 2021
I arrived on a Monday afternoon for a 6 night stay. The staff was very friendly and helpful. I was taken to my campsite and set up. We had water nearby if needed. The camp dish washing stations where a major bonus for me as i normally use propane to heat water. 3 different bathrooms set throughout the camp grounds for convenience. My kids had a great time at the gaga pit every evening!
Jul 19, 2021
We had a nice campsite near the trees and bathroom. Parking near the tent was a little tricky but we didn't want to have to walk a ways to the car every time we needed something so we just made sure we were parked before dark so we didn't have to worry about the huge rocks. The kids loved the big playground and water play area. Very nice staff. We enjoyed the kids movie. Lots of fun!
Jul 19, 2021
Great resort, service was excellent. The only issue we had was terrible WiFi and cable service.
Jul 19, 2021
everything was great! bathrooms/showers were 10/10. The only problem i had was that i reserved and paid for a electric & water site... but there was no water.
Jul 19, 2021
Great location walking distance to shops, bars and restaurants. Staff were all super friendly and the grounds were beautifully maintained. We'll definitely be back!
Jul 19, 2021
Clean, level sites. Nice pool. Very helpful staff. A bit pricey but close to the Dells activities
Jul 18, 2021
We appreciated the the quick response to our fridge making a very loud abdnormal sound. Staff fixed it while we were gone during the day.
Jul 18, 2021
Store, game room, pool closed too early.
Jul 18, 2021
Dry cramped sites. No internet.
Jul 18, 2021
The facilities were kept up very well. Staff was super friendly and treated us like family. Showers and bathrooms kept clean all the time. Pool and splash pad were clean. Only negative was all the trains. Fortunately the trains don't blow the horns much in that area but they are loud none the less.
Jul 18, 2021
Staff were available anywhere and anytime we needed them. The bathrooms seemed clean (the one time I looked.. we had a deluxe cabin so we did it actually use them). The campground was nice but some sites seemed very tight. The pool chairs were worn and ready for replacement but otherwise clean pool area. We would come back if we had a choice of site and wouldn't pay for the deluxe cabin again.
Jul 18, 2021
Very friendly staff! Clean bathrooms was a little disappointed that the cabin floorplan showed a microwave in the cabin but upon arrival we found out they didn't have one. Other than that the stay was fun and quiet which we like. They have a nice pool and splash pad. I think they should add a R/C car track for guests to drive their r/c cars. We stay here often and will stay again. We love KOA
Jul 18, 2021
Staff was the best anywhere we have stayed. Sites were difficult, train and noisy road boarder property and that was really loud and annoying. Too much money for all the noise all night from train.
Jul 18, 2021
Nice clean and very friendly. I. Stay at KOA all the time.
Jul 18, 2021
Nice campground but very tight for bigger rigs. What would be helpful is if management have their staff on the carts also ask people to park "well off" the narrow roads. Driving a rig through a ditch off the pavement is not advisable
Jul 18, 2021
This KOA is awesome. Separate bathrooms with their own sink, toilet & shower were immaculate. Our site had table and 4 chairs as well as a Weber gas grill! Close to all Wisconsin Dells has to offer!
Jul 17, 2021
The place was clean. Friendly staff. There were bad thunderstorms on Wednesday night. We got messages alerting us to the bad weather. The message telling us about the tornado shelter could have come earlier in the day. So we could have found it in the daylight instead of when it's dark and already storming. We didn't use it tho, cuz we were watching the radar and knew we'd be fine.
Jul 17, 2021
We stayed for 5 nights visiting the sights at the Dells. We enjoyed every minute of our vacation. Our site did get muddy because of a heavy rainstorm. Maybe since we did not have a patio site, some peat rock down would of helped. Tracked into our camper. The staff in the office were very friendly and helpful. Will someday hopefully stay there again.
Jul 16, 2021
We were beyond impressed with the KOA Wisconsin Dells. The staff was always available and went above and beyond. The texts we received about activities and weather alerts were fantastic. The only thing we would have changed would have been to stay longer!
Jul 16, 2021
Staff was friendly and very accommodating! We were able to move sites when needing more trees for hammocks. It was a moms and kids trip this time and we felt very safe and taken care of while at the campground. Staff is always available and readily offers help and information.
Jul 16, 2021
It was a great stay except for the storm that hit us on the 14th which was our last night there. And it scared two people in our cabin because they have autism and they can't handle that kind of sound. I liked how we got text messages saying where to go if there was a tornado spotted and earlier in the day before the storm warning us that it was coming and to make sure we had everything done.
Jul 15, 2021
We really enjoyed our stay, the campground was very clean with a nice size pool and water play area for the little ones. Would definitely recommend to friends and family to stay here.
Jul 15, 2021
The KOA was in a wonderful location, the workers were fantastic and went above and beyond, grounds beautiful were well kept, pool was great for the kids…… the train ��
Jul 19, 2021
Me gusto mucho. Buen servicio.
- Maria Delgado on Google
Jul 13, 2021
Beautiful setting. Nice hills and trees all around. Pool was nice. Owners and employees were kind and helpful.
- Brandon Emig on Google
Jul 12, 2021
We had two rv's, our two sites were located at the second and third spots as you enter. They were back into spaces but no problems. The park had a pool that was kid friendly, bicycles you could rent. They also had small cabins that can be rented with separate showers and bathrooms rooms. They were clean and staff was friendly .
- Terry Baker on Google