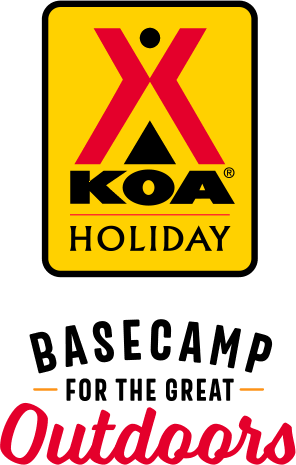 KOA Holiday Campgrounds
Whether you're exploring the local area or hanging out at the campground, KOA Holidays are an ideal place to relax and play. There's plenty to do, with amenities and services to make your stay memorable. Plus, you'll enjoy the outdoor experience with upgraded RV Sites with KOA Patio® and Deluxe Cabins with full baths for camping in comfort. Bring your family, bring your friends, or bring the whole group – there's plenty of ways to stay and explore.
KOA Holidays Feature:
RV Sites with a KOA Patio®
Deluxe Cabins with full baths
Premium Tent Sites
Group meeting facilities
Directions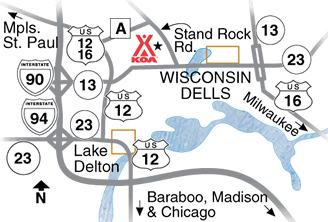 2 miles off I-90/94.
From east take Exit 87: Hwy 13 N, left at third stoplight on Stand Rock Rd.
From west take Exit 85: Left on Hwy 12, Take roundabout to A, and then right on stand rock road before bridge. 
GPS: N43.635956, W89.785472
Get Google Directions
May 08, 2021
Although very early in the season, we saw the potential for a great summer escape. The location, based on proximity to activities, is tough to beat. The staff was very friendly & the coupon book we received at check-in saved us both money and helped determine things we wanted to do and places to eat. We would definitely stay here again. (We have stayed in 17 KOA's in 12 months, 65 different KOAs)
May 08, 2021
Reserved to stay at 61. To narrow so asked to rent next lot up. You said wasn't available. The 3 nites there was no one in that slot. Would have been prettier view and closer to bathroom. The reservation lady and man who drove cart were very nice. Grounds needed a little cleaning up but early in year.
CAMPGROUND RESPONSE / COMMENTS:
It wasn't available due to a power issue running a well, we obviously would have no issue moving you into any available spot as we did when you were put in N08. Thanks for staying,
May 07, 2021
clean and well maintained
May 05, 2021
Great surroundings, friendly and helpful staff.
May 03, 2021
Pleasant stay for club reunion. Great service in delivering firewood. I needed a water heater plug (common part) and was a bit surprised when the store did not carry such (very small issue, and it wasn't an expectation.)
May 03, 2021
It was excellent, except that they didn't have a record of my reservation.
Oct 31, 2020
Didn't understand why every camper was grouped by the road. Would gave been quieter if placed back away from the road and train tracks. There were only a few campers there.
Oct 29, 2020
We had a great stay here and the staff was so friendly! They spoiled our dogs stopping by at least once a day to pet them too. The whole campground was clean and well maintained. We will definitely stay again when we come back to the Dells.
Oct 19, 2020
We were there 5 nights. When we made our reservations price was around $168.00 plus tax for stay. When we checked in we were told we could apply $50.00 from our earned points when we checked out. In checking our credit card statement today I see we were billed $191.12!!! I would like an explanation and credit.
CAMPGROUND RESPONSE / COMMENTS:
Your stay was $55/night (we dont have rv sites for $33/night), less the $50 credit. Not sure the confusion on this, but you were charged correctly. I will reach out through email to make sure you are squared away. Sorry for any confusion and thanks for staying.
Oct 15, 2020
The stuff were super friendly and they were also taking extra measures amd precautions due to covid 19, so I'd say it's pretty much a safe place to stay. Also our cabin was clean and the environment was great and beautiful. Very well located. We are just saddened we couldn't stay more nights!
Oct 13, 2020
Very clean campground. Beautiful scenery surrounding camp. Only a 1/2 mile away from downtown, yet has a nice secluded feeling. Staff were all-stars. We'll be back again.
Oct 12, 2020
We love KOA campgrounds. The Dells Campground was especially nice! Thank you
Oct 12, 2020
Clean, easy to check in and a great location near Wisconsin Dells and the area state parks.
Oct 12, 2020
Always an awesome experience, clean and well kept campground.
Oct 12, 2020
We have a large motorhome and the site had plenty of room and a nice concrete slab. The campground has a fenced in dog run which is extremely important for us. The staff was friendly. The only caveat is if you are near the entrance (on the lower level of the campground) you will hear the train across the street and even though our coach is well insulated we were woken up during the night.
Oct 12, 2020
Great KOA, friendly staff and GREAT sites!!
Oct 12, 2020
Amazing place. Loved all the campfires when we arrived.
Oct 11, 2020
Staff was great. Everything was very clean.
Oct 11, 2020
way to close for the money, the guy next to us was in out area working on his RV, his slide right on out patio tv didn't work there, worked every other koa but here, a bit, his sewer right next to our table and grill, need more space for that kind of money not the best time
Oct 11, 2020
Wonderful campground. Lots of options for staying there. If we finally let go of our motorhome, there are several cabin options. Only downside is the frequent trains just across the road all day and night long. By the second night we got acclimated to the noise. Fortunately, no sounding of horns.
Oct 09, 2020
The service at this campground was amazing. The place was clean and nice it was a very good stay
Oct 09, 2020
Very nice campground. Very clean.
Oct 08, 2020
Love this place, will stay here again. Clean, safe and lovely. The showers and bathrooms were clean. The grounds were wonderful.
Oct 08, 2020
Great location
Oct 07, 2020
Extremely helpful and very friendly. Lovely campground.
Oct 05, 2020
My only negative is that the WiFi went out the last 3 days of our stay and there did not seem to be much concern about getting it up and functioning again.
Oct 05, 2020
There 4 days. Loved the space (40). Third time there, we will definitely come back again if we can get that space again, with the grandkids.
Oct 04, 2020
Stayed one night. Staff were friendly and efficient. Campground was appealing, clean with a quiet, friendly atmosphere.
Oct 03, 2020
Very clean sites and restrooms. Friendly staff
Oct 02, 2020
Great place to stay. Very convenient to all the attractions.
Oct 01, 2020
Nice little cabin.
Oct 01, 2020
Very nice park. Stayed 2 days to regroup. Would definitely return. Train that came by often was great. Kamp K9 was big and clean. Dogs give it 5 stars.
Sep 30, 2020
Friendly staff. Clean facilities and excellent convenient location. Great
Sep 30, 2020
2 night stay on our way to see our kids. Convenient and we like the area.
Sep 29, 2020
The owners/managers of the campground were fantastic. Very helpful. They were present throughout helping when I backed in to my campsite, giving tips, picking up our trash at our campsite, firewood, and more. And our campsite was great. Backed up to a wooded area and was well spaced out. Definitely recommended this campground,
Sep 29, 2020
Very clean restrooms & grounds; helpful staff at check-in & assistance with parking trailer; great communication prior to visit; adequate amenities; noise rules not adhered to our first night by all campers; for my taste it's not rustic enough-(campsites right in front of main office for example; Nice stay overall and I would recommend for sure to people who like this type of campground ����
May 10, 2021
Nice place
- P BY on Google
Oct 13, 2020
Excellent camp site. Clean, secluded (yet very close to downtown area), courteous staff... Not a bad thing to report, this campsite is exemplary.
- Mark Bidinger on Google
Oct 12, 2020
Always friendly,clean, and accommodating! We have been going there for years!
- Marlo L on Google