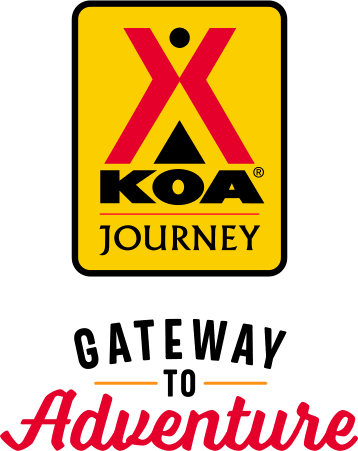 KOA Journey Campgrounds
KOA Journey campgrounds are the perfect oases after a day on the road. Whether it's along the way or a quick getaway, they've got you covered. Located near the highways and byways of North America with long Pull-thru RV Sites, they deliver convenience to the traveling camper. Pull in, ease back and take a load off.
KOA Journeys Feature:
Pull-through RV Sites with 50-amp service
Premium Tent Sites
Well lit after hours check-in service
Directions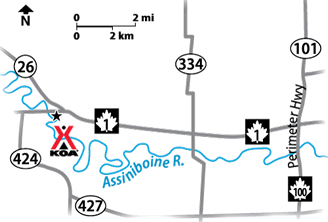 Located 13km West of Winnipeg at 588 Jones drive south off Trans Canada Highway #1, take Perimeter(city bypass) 100 or 101, exit on Trans- Canada #1 going west to Brandon. Travel 13km, follow signs.
If you are coming from the West, we are 17km East of the town of Elie on the south side of Trans-Canada highway. Please look for our signs 4km before the campground.
GPS: N49.886747, W97.50892
Get Google Directions
Aug 10, 2019
perfect management and friendly, helpful staff
Aug 09, 2019
We were there for Folkorama. It is a very nice campground. The only negative point would be that there are no hiking trails. At least we weren't aware of any.
Aug 09, 2019
Pull through and full service was nice. So crampt, basically on your neighbors lap, firepit is kinda in the middle. Would seem like your intruding on other campers area if you were to use. Couldn't use pool, someone pooped in it.
Aug 08, 2019
Very clean washrooms and nice, clean, heated pool. Sites are a little small, but this is a very well kept campground.
Aug 08, 2019
First time stay on a trip across Canada. The facilities are new, and well laid out. Everything is very clean. We will return !
Aug 07, 2019
Owners are very nice people. Very helpful. Stored our camper while we did a train trip to Churchill and checked on it while we were gone. Great new washrooms!
Aug 07, 2019
Campground was clean, we enjoyed the pool, a little pricey, very friendly staff
Aug 06, 2019
Great place to stay! Very friendly staff. Sites were good sized. The only negative was the highway noise at night.
Aug 06, 2019
Excellent, we arrived late but the host was very helpful in checking in. Washroom n shower were very clean. All around everything was good.
Aug 06, 2019
very clean, nice campground the pool is a bit small but we have a great time..
Aug 06, 2019
Hi there, One guy at the store who takes check in was rude. I registered for two person but when I told him there will be 4 coming for only two hours, he still charged us another $55, and he was rude as well while he explained things. All the other staffs on the campground were nice except for him at the storefront. Please dont waste your time coming here. Thank you Kim
Aug 06, 2019
Other than the noise from the highway traffic everything was good. Staff very friendly and accommodating. Washrooms very clean.
Aug 06, 2019
Very kind and helpful staff, clean, big camp spots, fire pits regularly cleaned out, pool was great for the kids. Only negative was recycling for drink containers but no other recycle facilities that we could find for cardboard, paper, plastics.
Aug 05, 2019
C'est la proximité avec la transcanadienne qui explique mon évaluation. Le bruit provenant de cette route est assourdissant. J'ai a peine dormie les trois nuits de mon séjour. Quant aux installations c'est propre.
Aug 05, 2019
After a malfunction of our trailer hitch, the staff went over and beyond with their help. From recommending a service centre for repair, extending our stay by almost a week, to arranging to have our trailer towed when our original lot was needed for a reservation. The facilities were above par and extremely clean. We would definitely stay here again.
Aug 03, 2019
The campground itself was quiet; there was some traffic noise from the nearby highway. The washroom facilities including showers were great as we forgot to bring our water hose for the trailer (newbie campers)! Friendly helpful staff.
Aug 03, 2019
Very clean and friendly
Aug 02, 2019
We had a very spacious spot...site 81.....easy in and easy out. There was lots of room for our pickup beside our camper.
Aug 02, 2019
Very nice clean resort and the staff were awesome.
Aug 02, 2019
Campground is OK, but the location is too close to the highway. Too much traffic noise.
Aug 01, 2019
Staff are very friendly and helpful. The bathrooms were new and clean. Fees for camping include showers too. Water temperature for shower could be a couple degrees warmer and the bugs came out at sunset (it is Manitoba). If you are a light sleeper like me and don't have a big camper to cut down on highway noise then I would look elsewhere. The highway is active throughout the night.
Aug 01, 2019
Campground was good. Clean. Well maintained. Great dog area! Good laundry area but only 2 small machines. A little far out on Winnipeg. Noisy from Highway 1 beside the campground.
Aug 01, 2019
It was suitable for our needs, close proximity to the John Blumberg ballpark for a tournament, the location adjacent to the Trans Canada is convenient to access however the traffic noise made outdoor conversation difficult. It didn't keep us awake as we ran the AC fan on continuous mode overnight. Pull through sites are level and very spacious for our 45' coach plus toad.
Jul 31, 2019
We arrived later but the camp office made sure we had a site very close to the bathrooms and showers as we requested when we made our reservation. This was much appreciated. The only issue was the bathroom is up on a hill and only has one safe path to the to. At night with limited lighting people might not easily see where the lowest point of the path is
Jul 31, 2019
The gentleman who checked us in was so friendly and helpful! The site was level and clean. Nice pool. Would definitely recommend this campground
Jul 31, 2019
Bad location for traffic noise Unappealing grounds and sites Friendly, helpful. staff New shower./washroom building ia good, but oldar shower/washroom in fronte building are opor
Jul 31, 2019
Called ahead as we had a break down and would not be arriving until after the office closed. Our site paperwork was where we were told it would be with an option of two different sites. While on the phone we were assured that the spot we were put in would allow us to stay connected to our 5th wheel and it was. The staff were super friendly a d nothing but accommodating on the phone.
Jul 30, 2019
Huge improvement over the last 4 years.
Jul 30, 2019
It was ok. I think your sites are too small for fire rings we had to sleep with the windows closed as the family beside had a fire all day long in 29 c degrees. Next morning we has ash everywhere especially on top of the truck and chairs not pleasant. I think you should ban fire rings.
Jul 29, 2019
Comfort station very clean and modern. Office staff friendly and helpful. Only thing that would've been nicer was if the sites were a bit bigger
Jul 29, 2019
The campsite was very small and we looked at a parked staff vehicle the entire time. The reviews were good on this campsite and I booked for this reason. Will not be returning.
Jul 29, 2019
As it is very close to Hwy 1 the Campground is VERY noisy. We were also charged an extra $12 for our sites as they moved us to full service site but did not tell us of the extra cost. When I inquired, I was told it was the summer price and we had booked in the spring. The manager/owner couldn't see the difference in price on his computer, he said !
Jul 29, 2019
Dommage Trop près de l'autoroute donc tres bruyant et la piscine ouvre tard le matin sinon le site est bien entretenu c'est bien pour l'accessibilité a la ville de Winnipeg
Jul 29, 2019
Well received with everything in order seeing that I arrived earlier than expected. Professionally facilitated my stay . Nice and clean camp !!!
Jul 29, 2019
It is a very nice place to stay Just a little noisy from the highway close by
Jul 28, 2019
we were happy with our site bathrooms/showers were clean and convenient pool was nice how about a hot tub. registration was efficient. liked that there was on site recycling. grounds attendants were friendly. it was also very quiet. and liked that pet owners were separated away from non pet owners. thanks a lot � we were happy campers
Jul 27, 2019
Excellent site, easy to drive through and set up.
Sep 29, 2020
Amazing staff, great products, willing to help and cheerful
- Tabitha King on Google
Sep 22, 2020
We set off for our first ever RV trip across the country due to the COVID pandemic. This site was a typical KOA. It is located a little close to the highway I would say, which meant that there was traffic noise overnight and early in the morning. It was late in the seaons but we were still disappointed that the washrooms were closed.
- Robert D on Trip Advisor
Sep 21, 2020
Good place to buy gas
- Josh Wagler on Google