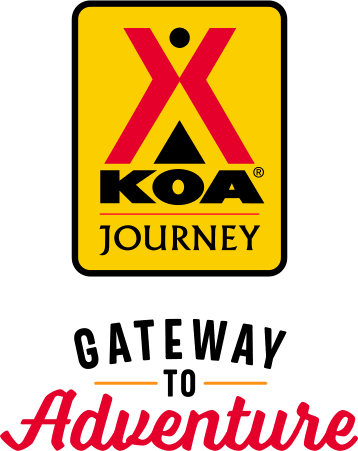 KOA Journey Campgrounds
KOA Journey campgrounds are the perfect oases after a day on the road. Whether it's along the way or a quick getaway, they've got you covered. Located near the highways and byways of North America with long Pull-thru RV Sites, they deliver convenience to the traveling camper. Pull in, ease back and take a load off.
KOA Journeys Feature:
Pull-through RV Sites with 50-amp service
Premium Tent Sites
Well lit after hours check-in service
Directions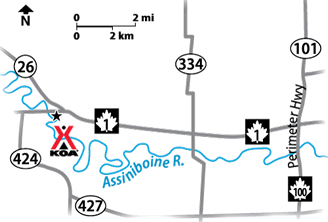 Located 13km West of Winnipeg at 588 Jones drive south, off Trans Canada Highway #1, take Perimeter (city bypass) 100 or 101, exit on Trans- Canada #1 going west to Brandon. Travel 13km, follow signs.
If you are coming from the West, we are 17km East of the town of Elie on the south side of Trans-Canada highway. Please look for our signs 4km before the campground.
GPS: N49.886747, W97.50892
Get Google Directions
Jul 27, 2021
There was no washrooms available, the garbages were disgusting, nothing for the kids to do and our trailer merely fit in the site, and we have a small trailer !
Jul 27, 2021
The Indian food at the station was great, as was the convenience of the gas station. The site itself wasn't particularly nice, and because of COVID restrictions, amenities were closed (pool, etc).
Jul 27, 2021
Our stay was excellent.
Jul 25, 2021
It was unfortunate that when an emergency calls you home a day early that no refund is given for the last day. Very disappointing.
Jul 25, 2021
If playground are open there is no reason pool are not. There was nothing to do to help with sun. We decided not to stay.
Jul 24, 2021
This is my prefered stop on my way to Canadian West.
Jul 24, 2021
We really enjoyed our stay. Campground hosts were very friendly and helpful. Washrooms and shower facilities were clean. I highly recommend the Butter Chicken and Curry Chicken that is served in the restaurant at the campground!
Jul 23, 2021
Full service campground inbetween the river and the highway. Pull through sites are very generously sized! Sites are flat so minimal leveling required.
Jul 23, 2021
This was the second time we stayed here. Just passing through, for one night both times. This time our site was much closer to the highway and VERY loud. This is not a campground. It's a gravel lot. Not as well maintained as many of the other KOA's I've been to. If you have business in Winnipeg where you are gone all day, or you are just passing through, it has all you need.
Jul 21, 2021
Please indicate no coins needed showers Merci
Jul 20, 2021
Stayed 1 night and the facility was not as good as othe KOA's we have stayed at. Pool and splash area were closed but they were also minimal.
Jul 20, 2021
Very nice campground. Clean and nice store and gas station. Had some buttered chicken and Naan bread for dinner from restaurant and it was great. Highly recommended.
Jul 20, 2021
Noisy from the traffic. Very nice staff.
Jul 17, 2021
The owners were very pleasant, however the campsite itself was substandard for a KOA. The tent sites were not flat, quite a distance from the amenities. The camp grounds were overall unkept and the shower had not recently been cleaned. My overall opinion was very negative, on my list of KOA's to never visit again.
Jul 17, 2021
Just a small drive and you are in Wpg. Staff are very friendly and you feel welcomed!! Clean and neat sites and facilities. All three days we were at KOA a lady was mowing weed whipping and re sowing dirt and grass at numerous sites. New trees were planted in between sites. Traffic is very busy on Hwy #1 which you need to enter and exit. Small store with gas and diesel as well as propane.
Jul 16, 2021
Large sites, friendly check in, easy�
Jul 16, 2021
I was tired and they helped me with a nice spot for my tent and a hot meal for a very good price. Very polite and enthusiastic.
Jul 15, 2021
Decent park, store seemed a bit dirty. No coffee made in the morning, although they did say they would make some.
Jul 15, 2021
No pool available Very noisy (road close) Good for one night
Jul 15, 2021
Everything was great. It would be better if the pool was open. I'm sure the restrictions could lift enough for that!!
Jul 14, 2021
Clean and well laid out
Jul 13, 2021
great rv site to overnight off the trans Canada
Jul 12, 2021
The campground was spotless. The washrooms and shower areas were clean. I would and already have recommended this camp ground to friends. The staff was polite and very helpful. Keep up the great work! See you again soon.
Jul 12, 2021
very nice campground only negative is its too close to the highway ,, road noise is pretty bad
Jul 11, 2021
Hi our stay was great and the pools and showers were well looked after.Also a very well kept camp ground and l would stay there again.
Jul 09, 2021
The site was clean and well looked after however due to Covid19 protocol in Manitoba we were unable to use the pool or their washrooms so unable to give any info on that part. Right next to the TransCanada and the noise of the big rigs hammered the uneven bridge separating panels was very loud so be aware sleep might not be easy.
Jul 07, 2021
The only negative is that the pool was closed due to Covid restrictions
Jul 06, 2021
Very quiet and comfortable, large drive throughs with good services and well treed sites.
Jul 06, 2021
Poor environment. Along the Highway, very noisy.
Jul 05, 2021
The pool and splash area were closed which was unfortunate as it was very hot. Liked the large pull through lots. Good water pressure. Gas station out front was handy.
Jul 05, 2021
Great hosts - very friendly and knowledgeable. Washroom and showers clean. Enjoyed our stay.
Jul 05, 2021
Great location just off the highway. The hosts are such wonderful friendly people. The washrooms and laundry area are super clean, the price for the washer and dryer is very reasonable, the campsites are level and the services always work. This stay we ordered butter chicken from the kitchen…it was delicious!
Jul 05, 2021
Nice & clean. Close to Winnipeg.
Jul 05, 2021
due to too many health ordered restrictions we never got to enjoy the pool or the convenience of a close shower and washroom.
Jul 04, 2021
We have stayed at the Winnipeg west KOA for 3 visits and each time the owners have treated us with respect and highly recommend camping there. The only downfall is if you get a site close to the highway your sleeping is affected by the traffic and heavy trucks .The bathrooms were clean and the sites are large in size.We enjoy our camping time here.
Jul 04, 2021
Convenient location. Nice people. Washroom area needs major updates.
Jul 02, 2021
Owners/staff very nice. It has done less infrastructure investment than other parks. Nothing wrong with this KOA, just not the nicest you will visit.
Jul 01, 2021
Staff was extremely helpful and welcoming.
Jun 30, 2021
Good location, friendly desk but needs lots of hands on work . The one lady who does the grounds seemed overwhelmed, pool not working and grass area k-9 had not been cut since opening .
Jun 30, 2021
Park needs some upgrades and site cleaning up, weeds on parking pads, sewer connection not to standards, kind of trashy for a KOA PARK