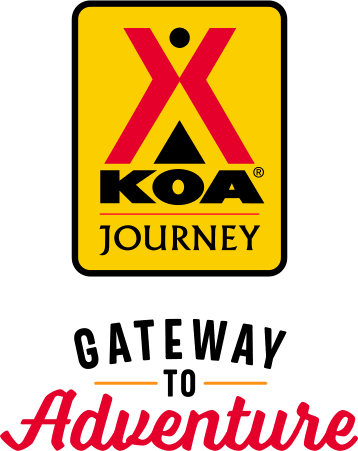 KOA Journey Campgrounds
KOA Journey campgrounds are the perfect oases after a day on the road. Whether it's along the way or a quick getaway, they've got you covered. Located near the highways and byways of North America with long Pull-thru RV Sites, they deliver convenience to the traveling camper. Pull in, ease back and take a load off.
KOA Journeys Feature:
Pull-through RV Sites with 50-amp service
Premium Tent Sites
Well lit after hours check-in service
Directions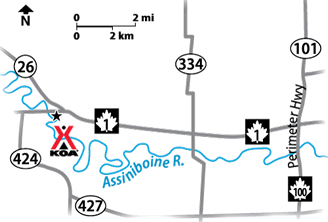 Located 13km West of Winnipeg at 588 Jones drive south, off Trans Canada Highway #1, take Perimeter (city bypass) 100 or 101, exit on Trans- Canada #1 going west to Brandon. Travel 13km, follow signs.
If you are coming from the West, we are 17km East of the town of Elie on the south side of Trans-Canada highway. Please look for our signs 4km before the campground.
GPS: N49.886747, W97.50892
Get Google Directions
Oct 14, 2021
great facility with helpful full service even on a thanks giving weekend when everybody else is closed
Oct 09, 2021
Have stayed there before and like the proximity to Winnipeg , the amenities , friendly service and the addition of some traditional take out food
Oct 08, 2021
Exceptionally clean showers. Were able to select the site that we liked most, given a choice of 5 sites.
Oct 06, 2021
We were upgraded for no extra charge as there was tree removal scheduled. The owner was very accommodating on our choice of alternate site.
Oct 06, 2021
Personnel accueillant et prêt à aider, c'est un plus. Endroit très propre et bien entretenu.
Oct 05, 2021
Easy booking and arrival. Clean site, nice area. Great stay!
Oct 05, 2021
Too much road noise and the WiFi was totally useless, will not be back and definitely will not recommend
Oct 05, 2021
We had a good 2 days the grounds could use some sprucing up love the size of the lots staff really friendly
Oct 05, 2021
People are great. Have stayed here before. Indian food they make is very lovely. Hot for me but my wife loves it. Keep up the good work. Thanks.
Oct 04, 2021
The Butter Chicken they offer as a take out meal was amazing!! Thank you!
Oct 03, 2021
Nice park, easy highway access, hope it won't be long before Covid is over and washrooms will be open, making easier for travellers. Nice to see KOA in Canada, we need more.
Oct 02, 2021
Staff were very friendly and helpful.
Oct 01, 2021
Very friendly staff however the washroom facilities were terrible! Only one bathroom stall for the entire campground (male and female). It appears there was a better facility but we were told it is closed due to COVID (no other campsite we have stayed at has closed facilities due to COVID, they just clean more often). Too much traffic noise (right beside hwy)
Oct 01, 2021
We called ahead & made a late arrival reservation. That went perfectly & we had a choice of sites. There are not enough washrooms/outhouses distributed through the campground, but otherwise enjoyed the park & the other campers.
Sep 30, 2021
Overnight rest stop
Sep 29, 2021
only stayed one night, never had a chance to see the washrooms or other amenities plus there is road noise....too high priced to stay longer. We stayed there because it was close to the city, because we had things to take care of there.
Sep 27, 2021
Way too close to the highway, noise was terrible. Sewer connection is higher than the site making dumping a pain.
Sep 27, 2021
We were only there for 1 night driving back to Ontario. The staff very friendly and helpful. We ordered the butter chicken and it was very good. Will stays here again next year.
Sep 26, 2021
Host with the most enjoyable authentic Indian cuisine we had 2 different dishes each night yummy! friendly staff and great FREE showers, dog park, totally suited our needs. The place was clean only thing noisy highway but with the van closed up for night it was not noticeable, no fault of the campground. Will definately stay here again it's very convienient when travelling on Transcanada Hwy.
Sep 22, 2021
1. Check in is in a gas station, not the typical KOA welcome. 2. In August and September (we came twice) All services are still closed even though the province allowed them to be opened. 3. Sites are clean. But plain. And very noisy due to proximity to the highway. 4. Yes, we came back as we needed a quick overnight. 5. In summary, if Wal Mart provided Power and water it would be the same.
Sep 22, 2021
Nicely treed campground with large sites. The option of purchasing a delicious, ready cooked meal on arrival was much appreciated.
Sep 22, 2021
It was amazing!!! The owner of the gas station was a very nice guy!
Sep 22, 2021
Second washroom area not open. Shower facilities in main building were closed in the morning when we needed a shower. Access only to toilet. Not told at check-in about hours of use
Sep 21, 2021
Pleasant and helpful staff. But - Lots of highway noise (not uncommon for campgrounds, but still not positive) and rather ratty facilities - not at the level we expect from KOA.
Sep 20, 2021
Always a nice stay at this KOA. Large spaces and quiet.
Sep 20, 2021
On check in, found that they had given our site away to someone else who was not a KOA member and were not there for the same length of time. The only bathroom and shower available was a long long way away from the site they assigned us. (The other looked much nicer and newer but locked). The pool looked like it hadn't been used in years. Ok place.
Sep 20, 2021
Stayed at this koa in Sept of 2021. The park was clean tidy and well kept. The check in was fast and the staff were very friendly. If there was a down side, it's close to the trans Canada highway so the is quite a bit of road noise. All in all a good place for a stop over.
Sep 18, 2021
Great place to stop. They basically have everything - gas, propane, laundry, convenience store and delicious Indian take out!!
Sep 17, 2021
Very accommodating, great place to overnight.
Sep 17, 2021
Staff was most accommodating, the campground was clean and well maintained. I know it is expensive but cable would be nice. Very pleasant stay thank you
Sep 17, 2021
A nice break from the routines of the City
Sep 16, 2021
Not enough lights at night to find you campsite. The size of the gravel in campsite is ridiculously large, it hurt my feet through my sandals. There's a old tractor tire on the corner near the highway, that's full of flowers. It needs to be gone, my friend caught the front of his 37 ft motorhome and tore it wide open. He wasn't happy
Sep 14, 2021
Not great. TThey stuck us near the dump station when there were many more other sites available.
Sep 14, 2021
Great location , beautiful kept grounds and very friendly. Lots were plenty long for our unit. Would definitely stay here again.��
Sep 14, 2021
Friendly staff, clean place, good stay. Just very pricy!
Sep 12, 2021
I would prefer better internet.
Oct 12, 2021
Tranquille même si on est près de l'autoroute
- Robert Proulx on Google
Sep 25, 2021
The owners are wonderful people! The campground is clean and has everything you need. The location is close enough to the city to do the city stuff, while being far enough from the city to feel like you're camping. Highly recommend!
- Jenny E on Google
Sep 17, 2021
KOA Winnipeg West has everything you could need. There is an Essa station on site, they have propane, laundry facilities and a convenience store. To top it all off, they have delicious Indian Food for take out.
- Jeff Maguire on Google