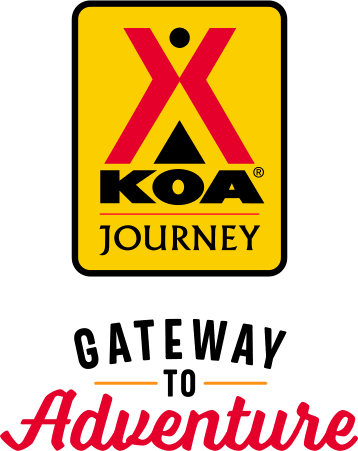 KOA Journey Campgrounds
KOA Journey campgrounds are the perfect oases after a day on the road. Whether it's along the way or a quick getaway, they've got you covered. Located near the highways and byways of North America with long Pull-thru RV Sites, they deliver convenience to the traveling camper. Pull in, ease back and take a load off.
KOA Journeys Feature:
Pull-through RV Sites with 50-amp service
Premium Tent Sites
Well lit after hours check-in service
Directions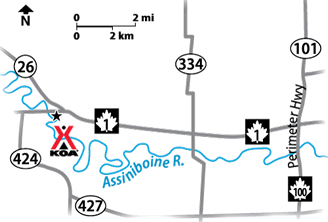 Located 13km West of Winnipeg at 588 Jones drive south off Trans Canada Highway #1, take Perimeter(city bypass) 100 or 101, exit on Trans- Canada #1 going west to Brandon. Travel 13km, follow signs.
If you are coming from the West, we are 17km East of the town of Elie on the south side of Trans-Canada highway. Please look for our signs 4km before the campground.
GPS: N49.886747, W97.50892
Get Google Directions
Sep 30, 2020
Lumpy grass tons of highway noise
Sep 07, 2020
Tent sites too far from bathrooms. We were was assigned a tent site, some one was in it, advised the check in staff and was given a You have 2 heads look. Told the staff we were moving to another site. Bathrooms were tidy but did not look clean- this was concerning especially during this time. NONE OF THE BATHROOM DOORS LOCKED, one did not even latch !
Sep 05, 2020
There was no shelving or counter space in the washrooms to put anything. There was no outlet in the ladies washroom for a hairdryer. The grounds were very poorly kept; grass was not cut. Owners had a dog that was outside and barking early in the morning. Despite these issues we would stay there again as the place was relatively clean and quiet.
Aug 14, 2020
The campground doesn't meet the standard of KOA. The grasspad has little grass but mostly dust. And it's right besides highway so it's suuuuuper noisy for the whole day. I hardly could sleep at night. It's so dusty whenever the car passed by we had to take a dust shower, dusts covered on feet, tent, hair, our food, as much as you can imagine. I would not come back again!
Aug 01, 2020
The people here are very friendly , we understand that the pool was closed due to the sars virus but it had a bunch of junk left around it & was a breeding ground for frogs & mosquito's (literally full of frogs & mosquito's) . Good clean washrooms & showers but you have to wait in the morning for the gas station to open because the showers are locked till then .
Jul 30, 2020
Really great staff. Super family friendly
Jun 22, 2020
Check-in was amazing! Simple, courteous, informative! The campsite, really nice, clean and spacious! I also liked the fact the campground is connected to a gas station and store. My issue was with the highway noise. I did not sleep at all due to the semi-truck traffic. I'm not in an RV. My moto-camping friends would not like it at all. If I had an RV it wouldn't be a problem.
Sep 08, 2019
Brand new washroom facilities very clean! Good price quality! It is very close to the highway so more a campground to be close of Winnipeg for a short stay...
Aug 31, 2019
Probably the cleanest KOA I have ever stayed at. Perfect condition, spotless, looked new. The hosts were kind, helpful, proud of their camp. After being a guest at many KOA camps, I was particularly impressed by the hosts and maintenance of this one and I made a special effort to tell the hosts how much I appreciated their effort.
Aug 12, 2019
The overall facility was rudimentary with little to no landscaping. The washrooms, shower, laundry and swimming pool were modern, clean and well kept. The tent camping area was little more than an open field that appears to at one time have been paved over and the so called grass and soil over it was minimal at best and driving tent pegs was a chore. Far from Usual KOA standards
Aug 06, 2019
Hi there, One guy at the store who takes check in was rude. I registered for two person but when I told him there will be 4 coming for only two hours, he still charged us another $55, and he was rude as well while he explained things. All the other staffs on the campground were nice except for him at the storefront. Please dont waste your time coming here. Thank you Kim
Jul 18, 2019
Customer service top-notch. Owner and staff very friendly and helpful. Inventory in convenience store included every emergency RV and tenting item needed, snacks/drinks craved, plus a small coffee area with a microwave. Bathroom, laundry, pool facilities, grounds are very clean and in great state of maintenance. Only negative: all sites are small and cramped except the overflow area.
Jul 15, 2019
KOA was a nice clean campground with all the amenities you need. Friendly staff. I would not hesitate to stay there again.
Jul 15, 2019
The scenery was beautiful right next to the river. You could go fishing right there. The showers and bathrooms were always kept clean and full of toiletries. There is a playground for small children and a small pool/spray park for older kids. The only thing that I would recommend would be amplify the wi fi signal, it was always going on and off. Great owners they were nice and helpful. Excellent.
Jul 13, 2019
The tent area was very soft and muddy, but it was a great place to crash for the night. Friendly staff made the stay enjoyable.
Jul 12, 2019
Poor drainage on my site left my tent flooded because of heavy rain. The owner/ manager said that it was just because of heavy rain. I would never recommended this campsite to someone camping with a tent.
Jul 09, 2019
The managers went out of their way to accommodate my late arrival. Thanks for that!
Jun 27, 2019
The people in the office were so helpful and friendly. The clean and well kept. We were very comfortable.
Jun 20, 2019
Location to highway and construction was bad. Very loud throughout the night. Campground is clean but just not what we had in mind for a weekend away with family.
Jun 19, 2019
Very nice campground. I was impreseed with the bathrooms and showers they were very nice. The owners were very friendly.
Jun 13, 2019
gens accueillants, prix raisonnables, les infrastructures ont besoin de finition un peu ! point négatif, mauvaise idée de nettoyer les salles de bains à 9h30 le matin :(
Jun 12, 2019
Very convenient campground if visiting in Winnipeg. The highway traffic noise is constant so be aware of that if it bothers you. The facilities are clean. New washrooms. Some complaints about them being coed but I didn't have any issue. Both the showers and washrooms are very private
May 03, 2019
Very nice campground. Nice bathroom and showers. Staff super friendly!
Aug 23, 2018
Poor site, terrible shower/bathroom. The only positive thing is it's close towinnipeg
Aug 22, 2018
We stayed one night in the tent area. It was pretty sad to call that strip of patchy, bumpy grass a camp ground. There were two trees and a few tire rims to share with the few other campers. Traffic through the camping area was continuous throughout the night. It was located right by the highway and the gas station. The pictures on the website certainly portrayed a very false image.
Aug 09, 2018
Nice overnight spot for trailers, fairly expensive for tenters compared to close provincial parks.
Aug 09, 2018
The campsite was wonderful, certainly positive to be coming back again.
Jul 30, 2018
Always very pleasant , Very good host thank you Joe Bergeron.
Jul 27, 2018
The pool was refreshing. The new shower + dishwashing area was sparkling & clean, but awkwardly located. I think the area is in the process of being expanded & improved, but not quite there yet. It was nice to get a discount on gas for staying there. It suited our need for a convenient overnight.
Jul 19, 2018
Would have appreciated soap in the very dated bathroom. Also would like to have been able to close/latch the bathroom stall door.
Jul 09, 2018
The staff made the place. Incredibly friendly reception and support for our stay. Clean clean facilities, and wonderful campsites for tenting.
Jul 03, 2018
Pool was closed when we got there because of lightning, but they opened it for us when we asked after the rain stopped. Very friendly staff.
Jun 18, 2018
Staff was so nice and always helpful.
Jun 13, 2018
Won't ever stay here again! Too many things need to be brought to what I have seen at other KOA's!
May 16, 2018
Great reception. Always willing to help. Location is perfect to visit winnepeg. Gasstation on site is also nice
Sep 29, 2020
Amazing staff, great products, willing to help and cheerful
- Tabitha King on Google
Sep 22, 2020
We set off for our first ever RV trip across the country due to the COVID pandemic. This site was a typical KOA. It is located a little close to the highway I would say, which meant that there was traffic noise overnight and early in the morning. It was late in the seaons but we were still disappointed that the washrooms were closed.
- Robert D on Trip Advisor
Sep 21, 2020
Good place to buy gas
- Josh Wagler on Google