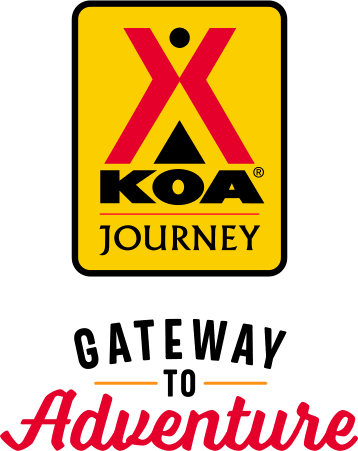 KOA Journey Campgrounds
KOA Journey campgrounds are the perfect oases after a day on the road. Whether it's along the way or a quick getaway, they've got you covered. Located near the highways and byways of North America with long Pull-thru RV Sites, they deliver convenience to the traveling camper. Pull in, ease back and take a load off.
KOA Journeys Feature:
Pull-through RV Sites with 50-amp service
Premium Tent Sites
Well lit after hours check-in service
Directions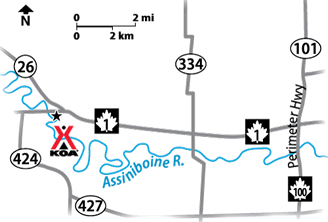 Located 13km West of Winnipeg at 588 Jones drive south off Trans Canada Highway #1, take Perimeter(city bypass) 100 or 101, exit on Trans- Canada #1 going west to Brandon. Travel 13km, follow signs.
If you are coming from the West, we are 17km East of the town of Elie on the south side of Trans-Canada highway. Please look for our signs 4km before the campground.
GPS: N49.886747, W97.50892
Get Google Directions
Aug 26, 2019
Un accueil extraordinaire. Probablement le proprio nous a remis une carte de la ville, nous expliquant ce qu'il y avait à voir dans la ville et comment si rendre. De plus, super intéressant d'avoir une station service directement à l'entrée. Le camping est très bien situé, facile d'accès.
Aug 25, 2019
Wonderful stay, had all the amenities we needed, really nice site!! Love the new washrooms. We were given a site and then given 2 to choose from if we didn't like the first one! However we loved the first one, nice to have the choice! Owner/manager, really nice enjoyed chatting with him. we were there 6 years ago and they have really done a lot of wonderful improvements since then. Great price!
Aug 25, 2019
site is not wide enough
Aug 25, 2019
This was a comfortable campground. We could not find your garbage cans although we saw plenty of blue recycle bins. If the little buildings on the stilts were garbage bins, please put up signs. I was not comfortable showering in a unisex bathroom. The tops and bottoms of the shower stalls were open to both men and women.
Aug 24, 2019
The facility was very clean and staff helpful. It was quiet and they allowed pets which was very important.
Aug 23, 2019
we stayed an extra day no trouble . they have a lovley heated pool which was used every day and it is close to river so i could fish every day we will return next year sa we have been thereseveral years and are planning to go there in 2020 they work very hard each day tohelp you with any thing you need either from store they have or with info ..great place to stay very friendly staff
Aug 23, 2019
I didn't care for the co-ed bathrooms or the fact that the doors to the toilets didn't go to the ceiling or the floor. I also prefer to do my make up in a female only bathroom. I didn't see any electrical outlets for hairdryers or curling irons.
Aug 23, 2019
Noisy as it is right by highway. Not an impressive looking campground. Needs some work. Not up to standard with other KOA campgrounds we stayed at.
Aug 22, 2019
Beau camping et belle accueil
Aug 22, 2019
This is twice this summer that I have stayed there. The camp is kept in very good ( nice and clean ) state and the staff is very accommodating. A pleasant place to stay.
Aug 21, 2019
The sites are very noisy, the highway is right next to campground . Our site was in the middle of the camp. The campground itself is dusty, when cars are passing by your site, you are basically sitting in the dust. Overall, the sites are large and leveled, bathrooms are clean, there are trees but they provide little shade, the sites are mostly gravel and there is grass but not much to enjoy it.
Aug 21, 2019
Everything des fine exceptionnel thé trafic noise
Aug 20, 2019
Campground and site was very clean. Roads were in good shape. Pool was excellent. As the location is next to a major highway, there is highway noise 24 hours a day.
Aug 19, 2019
GREAT STAFF,FRIENDLY AND HELPFUL NICE FACILITY
Aug 18, 2019
Stay was good just not a fan of the pool as it is too deep for toddlers
Aug 18, 2019
Quick and easy check in and surprisingly quiet at night given it is right beside highway.
Aug 18, 2019
We had stayed here 3 yrs ago. Many improvements since then. New unisex bathroom building with handicapped shower stall as divider. Once you were okay with the unisex style it was a great setup with really nice showers (a bit cool tho). One draw back was wifi availability was not as explained to us. Connection never lasted more than 2 min over a 3 day stay. Staff was awesome. All is well kept
Aug 17, 2019
We wanted to visit various sites in Winnipeg, so this KOA was well situated. The highway noise was somewhat distracting, however. Proprietors were friendly and helpful.
Aug 16, 2019
Stayed 2 nights - clean fairly quiet - friendly people.
Aug 15, 2019
Overnight stay very clean amenities friendly staff
Aug 14, 2019
Excellent, well run campground!
Aug 14, 2019
Management was rude and actually argued with my wife about our reservation . No sure sure if a cultural thing but he talked down to my wife which is a first in all our years of camping. Really hope this review goes to KOA head Office! campground floods regularly which was no exception when we were there. Huge puddles everywhere creating mud craters... stay away from this place !!!
Aug 14, 2019
Ower really nice! Showers are just okay. Not a dial to adjust water temperature so only just warm. I hate push button showers.
Aug 13, 2019
We have zero to complain about this KOA. It is new and what they have done so far is great. Looking forward to see what they do with the place!
Aug 12, 2019
Decent sites and location. Update showers to enable temperature control. Did not appreciate having to take a "cool" shower.
Aug 12, 2019
The overall facility was rudimentary with little to no landscaping. The washrooms, shower, laundry and swimming pool were modern, clean and well kept. The tent camping area was little more than an open field that appears to at one time have been paved over and the so called grass and soil over it was minimal at best and driving tent pegs was a chore. Far from Usual KOA standards
Aug 12, 2019
Super clean nice med pool store has pretty well what you would need and i was extremely surprised no to get gouger at gas pumpsand propane which are right there. Several good tv stations via antenna ill be back
Aug 12, 2019
They are very friendly,the bathrooms are very very clean as well as the campground.
Aug 12, 2019
We stayed a Thursday and Friday. They were nearly ful and the wifi was none existent. We tried numerous times at various times of day. The bathhouse was very nice but only 2 unisex for way too many people. Didn't use the other amenities. Staff was courteous and helpful. It was an easy drive straight downtown.
Aug 11, 2019
Noisy because of highway traffic.
Aug 11, 2019
The facility was perfectly clean, as usual. The staff are courteous, friendly, and go above and beyond to be accommodating.
Aug 10, 2019
Great park if passing through. Right off the highway so noisy but when the aircondtioning was on, you couldn't hear the traffic. We had a great pull through site with full service. It was obvious, the owners were updating the park. New bathrooms and showers. About 40 minute drive to downtown Winnipeg.
Aug 10, 2019
Great site that is well maintained. Easy to find and access. We used this site as an overnight on our trip. Really appreciate the gas station located at this site as well ... very convenient to gas up before we left the next day. good stay. thanks.
Aug 10, 2019
Nice clean campground with level sites close to city. Very convenient and friendly staff. Not a destination type campground as it's right on Hwy. 1 but rated high if you are looking for a place that gives you easy access to the city.
Sep 29, 2020
Amazing staff, great products, willing to help and cheerful
- Tabitha King on Google
Sep 22, 2020
We set off for our first ever RV trip across the country due to the COVID pandemic. This site was a typical KOA. It is located a little close to the highway I would say, which meant that there was traffic noise overnight and early in the morning. It was late in the seaons but we were still disappointed that the washrooms were closed.
- Robert D on Trip Advisor
Sep 21, 2020
Good place to buy gas
- Josh Wagler on Google