Current Status of Amenities/Compliance with COVID-19 Safety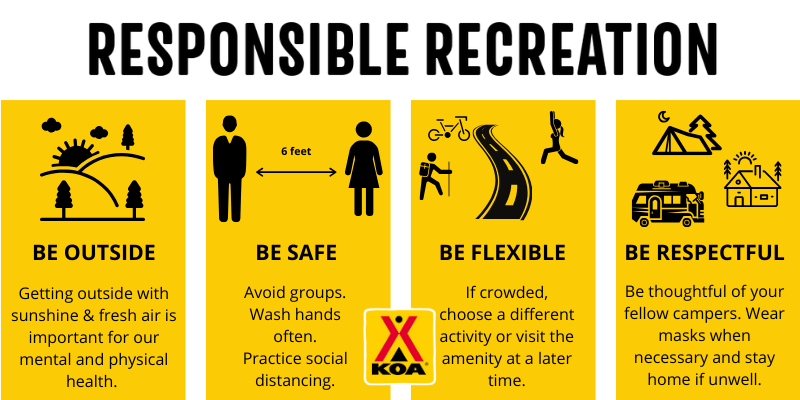 March 27,2021
We are open for all Recreational Camping with social distancing restrictions.
Status of campground amenities may change by your arrival date, but the following is the status as of today.
Per state and local guidelines, please do not gather in groups of more than 50 people indoors and 100 people outdoors, anywhere on the campground while maintaining Social Distancing and Face Mask Requirements.
FACE MASK REQUIREMENTS:
All guests (with the exception of children under age 5) are required to have a face mask with them at all times. To keep everyone safe, we are following the State mandate that requires both our staff and guests to:
Wear face-masks inside of all buildings.
Wear face-masks in common areas while participating in activities.
Guests will maintain social distancing while out walking around the campground. Guests do not have to wear a face mask while walking/riding bikes, but must have face mask with them and use it if they stop and congregate with other guests or cannot maintain social distance.
Face-masks are available for purchase in the gift shop.
We will be monitoring and enforcing these regulations.
We are unable to offer some of the normal planned activities at this time, but will add them back to our Funfinder when restrictions are lifted.
We look forward to seeing you and appreciate your cooperation.
GUEST REGISTRATION AND STORE HOURS:
Sunday - Saturday - 8:00 am - 6:00 pm