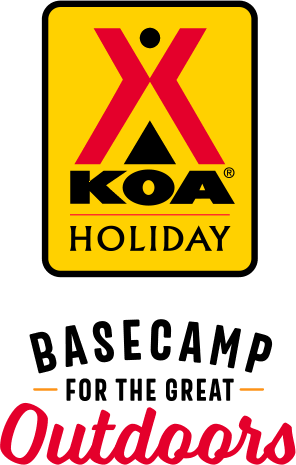 KOA Holiday Campgrounds
Whether you're exploring the local area or hanging out at the campground, KOA Holidays are an ideal place to relax and play. There's plenty to do, with amenities and services to make your stay memorable. Plus, you'll enjoy the outdoor experience with upgraded RV Sites with KOA Patio® and Deluxe Cabins with full baths for camping in comfort. Bring your family, bring your friends, or bring the whole group – there's plenty of ways to stay and explore.
KOA Holidays Feature:
RV Sites with a KOA Patio®
Deluxe Cabins with full baths
Premium Tent Sites
Group meeting facilities
Aug 15, 2020
You need to improve on your golf course and maintenance
Aug 14, 2020
Very nice campground. Great breakfast. Thank you for a great camping experience!
Aug 14, 2020
My only issue was that at least 45 people walked thru our site in the 5 days that we were there. Possibly more when we were away. Need signs at both ends telling people not to go thru. Kids, teenagers, adults and elderly all made the trek thru our site. It was a shortcut to the pool/lawn area. site #91
Aug 13, 2020
Overall very nice. Loved all the kids activities. One issue was poor internet and phone service and the other was location of the dump station. Cars from tent campers blocked the approach. Had to circle the park twice to get turned around to use it. Breakfast, bathrooms, showers, and laundry nice. Staff very friendly and helpful.
Aug 13, 2020
Lots of amenities. Very clean.
Aug 13, 2020
Rustic campground in the woods. Not bad, but pricey and crowded. Pool strictly for small children. Game room 2/3 of games were broken. Free breakfast small portions and just OK quality.
Aug 13, 2020
Parking places are way to close with gravel even by the picnic tables. No grass anywhere.
Aug 12, 2020
More like a National Forest campground than a KOA. Odd set up with narrow unpaved roads and sites very very close together. No consistency in site quality. Two tent sites were squeezed in between the dump station and the propane tank inches from the park exit road. On the plus side, the place was clean enough, location is convenient, and kids were having a blast with the 4-wheel bike rentals.
Aug 12, 2020
Everyone was so nice and helpful. The campground offered so much!! Only complaint would be that the wi-fi was spotty. But, that's OK.
Aug 11, 2020
Absolutely LOVE the campgrounds, the area is well maintained, with plenty of activities for the kids! Breakfast was always hot with several choices of drinks to boot! We enjoyed every minute and will see you again next year!
Aug 11, 2020
Clean! Fun! Nice people! Cute little animals(ponies,calf, donkey). Yummy free breakfast! I still want some of their fruit cups:) Very kid friendly! So,Yep, will go back..and would reccommend. Thanks for a good stay!
Aug 11, 2020
This place was unexpectedly luxurious! Right off a busy highway we had a grove of trees and all the bells and whistles! It was great to have a place to eat after a long drive, a nice pool, pedal trikes for our teenagers to work off some energy, etc. People were accomodating. Perfect.
Aug 11, 2020
Only our 2nd night camping. The site is great as are the amenities. The location is fabulous for visiting the area ans especially Glacier National Park
Aug 10, 2020
Nice facility, well managed. Lots of yellow-shirted people around to assist. Could have used more frequent bathroom cleaning, but otherwise terrific.
Aug 10, 2020
Reserved a 30 amp site but it was only 20 so they moved us to another sight which was so sloped, it felt like we were going to fall down the hill. The campground offered lots of activities but no oversight, e.g., people had dogs in the pool area, a person had their dog on the pool edge & it eventually jumped in. Kids were riding the KOA's go-carts all over the main roads. Safety hazard for sure.
Aug 10, 2020
Great location, convenient for lakes, National Park, and towns. Great amenities and friendly owner and staff.
Aug 10, 2020
It was beautiful, staff was great...kids everywhere...
Aug 09, 2020
Loved the campground. They were so helpful finding us spots for a last minute camping trip!
Aug 08, 2020
Very friendly staff. Great breakfast.
Aug 08, 2020
Lot's of great things to do. Fun peddle bikes, petting zoo, Sand volleyball court, pool to name a few. Free breakfast was a great perk! They even contacted us a few days after we left about some items that we left behind and offered to mail them back. Super nice!!
Aug 08, 2020
I would just stop all together advertising that you have WiFi. Either that or reduce the rates to reflect that you don have it. It's non existent. Also, the game room appears as if it's been abandoned for years. Broken ping pong table, broken pool table, arcade games from the early 90's.... the amount of money you guys make from tourism, let's put just a fraction of that back into your par
Aug 08, 2020
Great place camping in the trees! We just stayed one night and walked over to Buffalo Bobs and had pizza. Then had wonderful FREE breakfast!! What a nice surprise. Delicious too!! I'll stay there again for sure!
Aug 07, 2020
Most sites were shady, spread out and level; liked the fire pits and Picnic tables. Our sitE not really level or shaded though. WiFi was really slow and often didn't work. Metal bar across sewer drain made dumping difficult. Convenient to whitefish and Kalispell but pretty far from Glacier. Due to COVID, didn't use any amenities. Staff were friendly.
Aug 07, 2020
Best RV park ever!!! We met friends there; they have 3 teens and they can be hard to entertain! Honestly we hardly saw them, they were so busy! We had a great time, staff is outstanding! Thank you!
Aug 07, 2020
This campground is filthy in every area from the restrooms, campsites and the morning breakfast area. I tried to get a reservation somewhere else but nothing to be found so I stayed. The showers are gross for being a full campground the showers are only cleaned once a day that's not enough. This place is a catastrophe waiting to happen with the little carts that kids are driving.
Aug 05, 2020
Wonderful staff. Went about and beyond helping us with a car rental issue. I recommend this KOA highly!
Aug 05, 2020
We have enjoyed our stay. The staff were really nice and the campsite met our expectations. We hope to come back and stayed again when we are in the area.
Aug 05, 2020
We loved this place!!
Aug 05, 2020
Pros-lots of things for kids to do. Clean and quiet Con-way over priced. Narrow dirt roads. My space was a challenge to back into and I have 40 yrs towing experience
Aug 04, 2020
Wonder. Great place for families.
Aug 04, 2020
All the staff are amazing - from those who worked in the store, cleaned the camp, to serving us breakfast are all kind, friendly and helpful! Tracy is fabulous! The grounds are beautiful, well maintained, clean, and have ample amenities for a great camping experience!! We will certainly be staying there again and recommend it for any family or couple who want a great get-a-way to a beautiful area!
Aug 03, 2020
The sight we stayed in was 21. The picnic area at the sight was incredibly small and un-level. By far the smallest we have ever had. The Trees in between the sights were nice to break them up. The price per night was very expensive for what we got. We will not be staying here again nor recommending it.
Aug 03, 2020
wish they would use paper plates instead of styrofoam plates. Other than that another awesome stay. We love this KOA and keep going back. So kid and family friendly.
Aug 03, 2020
The stay was awesome the facilites are fantastic. Only thing is I would like to see the showers and bathrooms checked a little more frequently. The personnel are some of the best we have had the privilege to come into contact with we will be back.
Aug 03, 2020
We were down 10 days with tow problems and they went out of the way to make sure that we has a spot and only moved 1 time. Very family friendly where we saw kids having great time.
Aug 03, 2020
We enjoyed our stay, the upper bathrooms could have been cleaned a bit better(very buggy), and the water level in the paddle boat pond could have been higher. That being said we loved the amenities, one of the staff let our children bottle feed Tbone The calf and give carrot snacks to the horses. The breakfast was amazing and bikes too, we enjoyed the staff as well very friendly and accommodating.
Aug 02, 2020
We absolutely loved our spot! The deck was nice for a week long stay, tree shading was perfect. Busy place but can't wait to return.
Aug 02, 2020
We stay here every year and the kiddos love the place to camp and have fun! Thanks again for another great stay this year!!!
Aug 02, 2020
The campground was clean and well maintained. The staff was very nice, on two occasions as I was taking garbage to the dumpster an employee stopped me and took it for me. There are many activities for kids. The lower RV sites are pretty close together and our fire pit was not in an ideal location but overall it was nice. We would definitely stay here again.
Aug 02, 2020
It was a very pleasant stay! The showers and restroom areas were exceptionally clean even considering the number of people visiting this KOA! The reseption was Great the staff was friendly and very helpful!! We will be back!!
Aug 02, 2020
Great place and staff. Need more bath houses. Loved it though. A lot to do in the area. Close to everything
Aug 01, 2020
The kids loved it! There are so many things to do and the free breakfast was awesome!
Aug 01, 2020
Spaces too small and roads tight, especially for large rigs. Difficult to get in and out. No place to park cars near sites. Some of the decks with tables were about to fall down. Place not well maintained. Children on trikes need to be supervised. They were flying down roads. Dangerous.
Aug 01, 2020
It was fine. Not as big a space as I was led to believe. Found our fire pit After the neighbors left the, guess they didn't see theirs. But we had nowhere to put it any way.
Jul 31, 2020
We had a wonderful time here! The kids enjoyed swimming and feeding the animals. The breakfast was top notch every morning and the bathrooms were clean. If you need internet do not count on it working (I had some homework to get done and it was real sketchy), but usually internet isn't an issue while camping, so not really a complaint, just an FYI. Overall wonderful experience...we WILL be back
Oct 16, 2020
My family had a great time here!
- Randy Christensen on Google
Sep 24, 2020
A beautiful campground, quiet and fully treed
- Kevin Mack on Google
Sep 19, 2020
LOVED it. Had an excellent time. Was like going to a summer camp.
- Madison Fulcher on Google