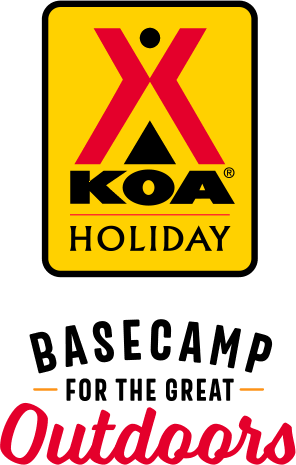 KOA Holiday Campgrounds
Whether you're exploring the local area or hanging out at the campground, KOA Holidays are an ideal place to relax and play. There's plenty to do, with amenities and services to make your stay memorable. Plus, you'll enjoy the outdoor experience with upgraded RV Sites with KOA Patio® and Deluxe Cabins with full baths for camping in comfort. Bring your family, bring your friends, or bring the whole group – there's plenty of ways to stay and explore.
KOA Holidays Feature:
RV Sites with a KOA Patio®
Deluxe Cabins with full baths
Premium Tent Sites
Group meeting facilities
Sep 14, 2021
We were put in a 40 foot space with our 38 foot trailer. It was barely wide enough to extend the sides, had to get it positioned right in the trees. The water spigot leaked like crazy so I had to shut it off and switch to water in my holding tank when we weren't using. Since the space was so small we couldn't park our tow vehicle in it. Had to park in a nearby tent site. Would not recommend!
Sep 13, 2021
Check in was not welcoming at all and the WiFi never really worked. The sites and roads are so narrow they are one vehicle only but allowed to travel either direction. Kind of a cluster
Sep 13, 2021
Tracy checked us in with a smile and Sheila and her husband were great at the complimentary breakfast! Enjoyed the stay but the place actually needs a little spit and polish. Some things looked a bit weathered and in need of a fresh coat of paint.
Sep 13, 2021
Very good place. Fairly well maintained. BUT…please invest in a better WIFI set up. Lots of people need to work while on the road and the coverage in the camp was poor. Thanks for a great stay otherwise. Ben Rasnick
Sep 13, 2021
Check-in staff was friendly and welcoming. Camp was clean an well organized.
Sep 13, 2021
It was very nice. Staff where helpful and the facilities where clean.
Sep 12, 2021
Although right off the Highway and close to Whitefish who campground still feels like it is in the forest. Only complaint is that them sites are way too close.
Sep 12, 2021
Nice family oriented camp�
Sep 12, 2021
The staff was friendly and helpful, but the campground needs lots of repairs. There should be funds available for everything that needs to be done because it is expensive to stay here.
Sep 12, 2021
Very beautiful place to stay. Great hosts..very friendly
Sep 12, 2021
My spot was difficult to use. Not level. The staff was very kind. Not a deal breaker. Would go back but not to that spot.
Sep 12, 2021
We came in very late at night without reservations and luckily someone was by the office to help us. The next day when we went to pay and asked for two more nights, the host was able to move things around to keep us in the same campsite. We were impressed with their helpfulness and friendliness. Clean bathrooms with running water was welcome while camping. Also in a great central location!
Sep 11, 2021
The cabin we stayed in was clean, cute, and perfect for our stay. It was great having the attached bathroom and that towels were provided! The only suggested improvement would be the thickness of the mattresses as they didn't provide much relief from the wooden bed frame. The staff was friendly and helpful! It was great being so close to Whitefish and Glacier National Park!
Sep 11, 2021
Very nice atmosphere and amenities. Very poor WiFi signal. .
Sep 11, 2021
Very family oriented. Beautiful setting. Would stay again. Only downside was no internet strength.
Sep 11, 2021
Nice shaded sites with a cook kitchen and better Wi-Fi than most. Didn't feel I needed to clean the laundry before using it.
Sep 10, 2021
Not much work has been to ensure the sites are level. We had to use 3 leveling blocks. Sites are crammed together in what appears to be making the most money not optimizing camper experience.
Sep 10, 2021
The on site amenities and location make it a great place to visit. We will definitely be back.
Sep 10, 2021
Power didnt work but they jumped right on it . Nice place. Employees need to slow down on their carts. Driving way to fast. Other than that good stay
Sep 09, 2021
We enjoyed our second stay at the Whitefish/ Kalispell North KOA. We have already recommended it to family members who also loved their experience. The staff is friendly and helpful, the facilities are clean and welcoming, and the breakfast is delicious. Thank you for another excellent experience. We will be back whenever we return to the West side of Glacier NP!
Sep 08, 2021
Just a Super Nice KOA ~ Beautiful ~friendly staff we enjoyed our stay so much the first week of September couldn't of asked for more beautiful weather����
Sep 08, 2021
Clean bathrooms and showers! Sites are tight but it is conveniently located between Kalispel (?) and Whitefish about 30 minutes from Glaciers West entrance
Sep 08, 2021
Great office staff. Nice location. The shower heads could be replaced but all very clean facilities. Nice laundry. Poor WiFi. Very nice KOA. And the free breakfast and petting zoo was awesome!!
Sep 08, 2021
We loved our stay at this Koa. Nice amenities and very clean. Very nice people as well. We would definitely come back!
Sep 08, 2021
We enjoyed all the amenities and extras ... But the maintenance of the facilities is a bit lacking. There were missing light fixtures, paddle boat pond was lacking water, bathrooms were dirty and full of cobwebs, the petting zoo was shoddy and lacking, and our cabin floor definitely had not been mopped or cleaned well. Having the restaurant onsite was wonderful and the breakfast was great.
Sep 08, 2021
Great outdoor games. Cleanest campground we'd seen in quite a while. Yummy free breakfast with a lot of options.
Sep 07, 2021
The entry road had potholes all over the place. Not big rig friendly. Barely got my 5th wheel in my spot. Too many trees, to tight a turn to get into the spot. They know your vehicle length when you reserve but I guess it doesn't matter. I stayed in 6 different KOAs on this trip and this was the worst.
Sep 07, 2021
The facilities were great. Our grandchildren had so much fun with the various equipment. We enjoyed our visit.
Sep 07, 2021
I stayed in the GT2 and it was a little slice of heaven. It was so quiet and peaceful. Loved this KOA!
Sep 07, 2021
Best part was at night the stars were so bright from our tent site!!! Also very flat areas for tents to be set up!! We will be back!!! Thank you again!!!
Sep 07, 2021
Thank you so much I absolutely loved the cabin!
Sep 07, 2021
The staff was friendly and helpful. The setting was nice but spaces were tight with close quarters to our neighbors. Campground quieted down nicely at 10 pm. We didn't take advantage of many of the amenities because we commuted each day to parks and such. We booked very late so an earlier booking may have gotten us a nicer campsite. Campsite was higher cost than most but it was available.
Sep 07, 2021
Perfect. Nice campground. We slept great, had 2 meals that were delicious, met many friendly people, and beautiful forested setting.
Sep 07, 2021
It was excellent. Clean, friendly service and plenty for the kids to do
Sep 06, 2021
Stay was great. Recommend improving the WiFi signal.
Sep 06, 2021
Friendly staff at checkin. Restrooms are clean. Site was clean, included picnic table and fire pit. Close to Kalispell and Whitefish and 35 minutes to Glacier National Park.
Sep 06, 2021
Beautiful cabin that worked great for our one night stay. Was way too much money for a single family visit, but since we had 5 people in our group from different families, it was manageable
Sep 05, 2021
This campground is amazing. Very friendly and accommodating staff! There is so much to do at this campground and many of the amenities are free, even breakfast each morning! Very nice store compliments this campground and offers a wide range of items, even some handmade items. The unique setting with tents, cabins, motor homes, and rv's all intermixed is very nice. Sites are well maintaine
Sep 05, 2021
We had a nice, private back-in site. It was very quiet at night in the park-a bit of highway sound but not distracting. Pretty trails for pups. Breakfast so-so but nice touch for a little something before leaving on the daily adventure! Camp hosts, Harvey & Sally were delightful! Harvey even helped my hubby so much by taking propane tank over to fill it for us. Thanks Walt! Great time!
Sep 04, 2021
The staff is very friendly. Location is awesome. Only negative I have is that they need some updating done to the bathrooms and entertainment. Little outdated and maintenance required. At least it is clean and that is worth it
Sep 13, 2021
Great place nice facility, quiet and down in the trees. It's pretty easy to forget you're in a bigger city and about 30 minutes to West Glacier and 10-20 minutes away from Walmart and some good restaurant's.
- Michael Thola on Google
Aug 31, 2021
This place is so beautiful! Very family friendly! I don't have kids, but it was fun watching the kids and the FUN they were having! Free breakfast! And a very nice breakfast! The BEST scrambled eggs! Delicious! Potatoes, pancakes some days, French toast other days, biscuits and gravy! Fruit, yogurt, milk, coffee! It was OUTSTANDING! Friendly staff. Our only complaint was that the showers up by us, had no hot water for a few days. Had to use lower showers. This was our favorite camping spot of all the places we stayed on our 2 week venture! Enjoyed ourselves.
- Ana Esquibel on Google
Aug 30, 2021
Fun, friendly, peaceful place to stay. We loved the breakfast as well.
- Jamie Rodgers on Google