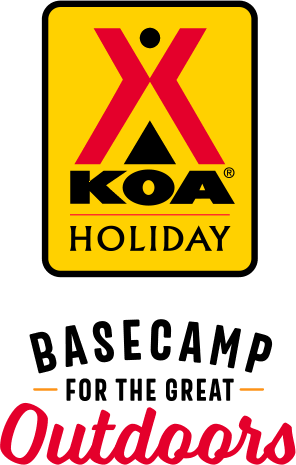 KOA Holiday Campgrounds
Whether you're exploring the local area or hanging out at the campground, KOA Holidays are an ideal place to relax and play. There's plenty to do, with amenities and services to make your stay memorable. Plus, you'll enjoy the outdoor experience with upgraded RV Sites with KOA Patio® and Deluxe Cabins with full baths for camping in comfort. Bring your family, bring your friends, or bring the whole group – there's plenty of ways to stay and explore.
KOA Holidays Feature:
RV Sites with a KOA Patio®
Deluxe Cabins with full baths
Premium Tent Sites
Group meeting facilities
Nov 03, 2020
so fun there, so many activities for the kids. Clean.
Oct 31, 2020
We were disappointed as the deluxe sites are terraced & very narrow so hard to access our outside compartments. Roads need to be graded too. Lots of washouts WiFi was non-existent Don't advertise this if it's not available. The amenities included nice breakfasts & staff was masked & gloved when serving. Good social distancing. Great games & activities for people. very convenient to GNP & area.
Oct 07, 2020
This KOA is the best in over 30 KOA locations that I have stayed in. The place is fantastic and the people are wonderful. Not to mention that is in a superior location.
Oct 07, 2020
Tracy was so sweet and helpful with our questions and things when booking. We had a very comfortable and enjoyable stay. Clean campground and facilities with everything you need onsite. I'd gladly stay again anytime
Oct 07, 2020
We went off season and still had a great time. We'are definitely going there again.
Sep 28, 2020
Loved this campground BREAKFAST DAILY for FREE!!!! hot tub could have used alot of love, bathroom floors behind toilets need mopped. Lots to do in area.
Sep 25, 2020
Due to RV mechanical issues, we were delayed for almost three weeks, one weekend which was Labor Day. The staff did everything possible to accommodate us and were so very nice. The area is wonderful as well. Great restaurants in Whitefish; the scenery is gorgeous; all in all a great experience, even though a huge hiccup in our trip.
Sep 21, 2020
Absolutely loved it! Great management. Looking forward to next stay!
Sep 19, 2020
Nice quiet park. Hard to find someone in the office.
Sep 19, 2020
Overall my stay was good but the put put golf course was a little rough and the was terrible. We had to leave a day early due to the smoke from the wildfires tired to inform someone at campgrounds but the office didn't open until 9:00 AM. It was not the worst campgrounds we have been to but it was not the best.
Sep 19, 2020
I took my grand kids and it was the perfect place for them to play. There were so many activities to keep them occupied, especially the petting zoo. We stayed in one of the cabins and it was great! I would certainly go again. Thanks!
Sep 19, 2020
Nice staff and very helpful. We enjoyed our campsite and the location of this KOA being so close to Whitefish. We will be back next season!
Sep 18, 2020
Love bed everything about campground but couldn't connect to hot spot. Might suggest a special fee for folks needing internet access. Campgrounds and bathrooms were clean
Sep 17, 2020
We wanted a place to stay at a reasonable price for a family. Cabin was clean. Bathrooms were clean and close to our cabin. There was a lot to do for a family but it was a little run down. Mini golf needed some fixing up and had pony poop on it. A lot of the arcade games and pool table were broken. The 4 wheel bikes for the kids were fun but most had flat tires. Fun place, just run down.
Sep 17, 2020
Beautiful setting compared to many KOAs.
Sep 16, 2020
Overall it was good. The bathrooms need upgrading and the overall place needs a TLC it would have been nice if coffee was available in the office in the a.m.
Sep 16, 2020
nice campground - great breakfast - lady at front desk not up to speed on how to make changes on reservations, we needed to stay an extra night and she said it wasnt possible - a young guy did some computer checking and fixed us right up and he did it after hours...
Sep 16, 2020
For what we were doing it was fine, staff was helpful at checkin, but seemed unfriendly, no smiles, no waves.
Sep 16, 2020
We made somewhat of a last minute reservation and were well taken care of during that process, a double billing error was fixed quickly. Campgrounds we're tidy, but well used by this point in the season. Loved the kitchen and laundry set-up, showers and restrooms were clean and staff friendly. See you next year for sure!,
Sep 16, 2020
This is an old park that needs some major upgrades in places. I was assigned site 040. The pad needs to be leveled. Roads need new gravel. Entrance road needs new asphalt in places. The owners are new and very nice people. I am sure they will be making changes as can be arranged. Otherwise it was quiet and had a good night.
Sep 16, 2020
Staff was friendly.
Sep 15, 2020
Lots to see. Lots to do. Lots of shade. Great KOA! Food, beer, mini golf, petting zoo. Loved it
Sep 15, 2020
reservations easy, request for spot near the toilets/showers was perfect...sorry to have missed out on the breakfast. Cleaners were extra nice and helpful.
Sep 14, 2020
Spaces too close together. Sewer lines too close to picnic. Tables. Old electrical boxes and water connections.
Sep 14, 2020
Spots really close together, thought we would have some more space. Shower stall had a tooth flosser that someone left in there and toweling. Pretty gross with covid going on. Forest fire smoke heavy but nobodys fault there except us humans in general with climate change.
Sep 14, 2020
I like how the KOA doesn't charge for kids to use the pedal go-karts. The pool is nice but the hot-tub needs to be upgraded. My cabin had a firepit where the grate for cooking was level with the ground. All others KOA, I've stayed at had elevated grates so this was disappointing as there was too much dirt/dust to cook using the level grate.
Sep 13, 2020
All of the personnel we encountered were so helpful. The roads are narrow, but the people on duty helped us get settled. The park is pretty and well-kept.
Sep 13, 2020
Beautiful layout and a lot of fun things for the kids. The petting zoo was the kids favorite.
Sep 13, 2020
We were on our way East, so we're sorry we couldn't stay longer. Very peaceful and a lovely setting.
Sep 12, 2020
The campground is a more crowded than we like, The campsites are pretty close together. But that was the only downside. The camp was quiet despite the number of guests. And it seems to be very well-run. And we did enjoy the ponies and other critters in the petting zoo. We would stay there again if we visit the Whitefish area.
Sep 12, 2020
Nice staff, small site. Kids probably like the roaming petting zoo animals but poop in my site and trying to keep my leashed pet under control with the animals was a bit of a challenge, I don't think she has ever seen a horse or small cow that close. All in all great rate and nice location. Enjoyed our five day stay.
Sep 12, 2020
My children enjoyed the 4 wheel bikes.The space heater in our cabin was great. The bathrooms didn't get cleaned daily. And with Covid I would hope that this would be a priority. The same shower Stall had hair on the floor in the same place as it had the night previous.The hot tub had chunks of chlorine flakes. The paddle pond was disgusting. It was ok but not great.
Sep 12, 2020
Great place, friendly staff, and fun disc golf. But our neighbor was flying a flag with a huge spotlight on it all night. Would be nice not to have spotlights in the wilderness.
Sep 12, 2020
We spent two nights. The site was clean. The staff were friendly. The bathroom was clean. The setting makes was nice. Lots of trees.
Sep 12, 2020
We had a campsite that was so uneven and small we could not find a level spot. Even the picnic table was so crooked we spilled a beer and a glass of red wine. I would recommend to make site 40 either level or delete it. I usually do not leave bad feedbacks easily and I sent the staves Family an email too - NO RESPONSE at all.
Sep 11, 2020
The staff wasn't super friendly, got a lot of bad looks from both employees and campers. I was walking my dog and take her to the bathroom So maybe I was taking her in the wrong spot but I wasn't told otherwise.
Sep 10, 2020
Great place to stay, pool, and all the works! Short hiking tail on the property too!
Sep 10, 2020
Wonderful place to stay! Tons of amenities and they are all FREE! Free breakfast in the mornings before hiking in glacier was fantastic!
Sep 10, 2020
There was not a level spot in my entire tent site. I slept on a slope for 4 nights. Other than that the stay was fine.
Mar 29, 2021
Love this place! The staff is super friendly and I love playing the disc golf course. We go here and stay with the family once in a while even though we live just up the road. The little ones always have a blast with the activities available!
- blinkstrike143 on Google
Oct 16, 2020
My family had a great time here!
- Randy Christensen on Google
Sep 24, 2020
A beautiful campground, quiet and fully treed
- Kevin Mack on Google