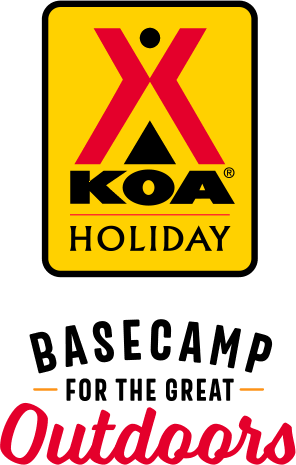 KOA Holiday Campgrounds
Whether you're exploring the local area or hanging out at the campground, KOA Holidays are an ideal place to relax and play. There's plenty to do, with amenities and services to make your stay memorable. Plus, you'll enjoy the outdoor experience with upgraded RV Sites with KOA Patio® and Deluxe Cabins with full baths for camping in comfort. Bring your family, bring your friends, or bring the whole group – there's plenty of ways to stay and explore.
KOA Holidays Feature:
RV Sites with a KOA Patio®
Deluxe Cabins with full baths
Premium Tent Sites
Group meeting facilities
Sep 02, 2020
Not very clean. Garbage in the bushes all around our campsite. No disinfecting of picnic tables between quests. Pool and hot tub very dirty. I watched the clean up person go through a neighboring campsite and pick up garbage and leave it in the fire pit of the campsite. No disinfecting of any of the surfaces.
Sep 02, 2020
This was the best campground we stayed at all summer. We are loved all the free activities and the amount of different things to do as well as delicious the hot breakfast. Campground was so nice and quiet but still close enough to Glacier national park and all the other places we visited. Everyone was so friendly and helpful. We will definitely be back next time we come out that way.
Sep 01, 2020
We had a great site. The facilities were very clean. The staff was welcoming and professional.
Sep 01, 2020
Nice over but sights aren't level, and at our location the sewer is far from the the water, electric hookup. Had to use an extra hose. It was places in front of the neighbors door way. Would appreciate the road being graded smoother. Otherwise, it was a good campground.
Aug 31, 2020
very high priced considering the condition of the campground when compared to other KOA's.
Aug 31, 2020
So many activities. Park and facilities are very clean. Family/staff extremely helpful and so nice!
Aug 30, 2020
Great stopping place the staff is helpful kind.breakfast is. Good especially the scrambled eggs. Funn things to do for free include the pool,,large size chessboard,3 wheeled bikes,petting zoo with donkeys,and a cow,mini golf,bean bag throw,horseshoes, basketball. Anne more. Pam was especially kind and friendly. The team is compassionate as they were looking for a lost cat.. Tech sources are the
Aug 30, 2020
Beautiful area with trees and lots of activities. My kids loved the little horses and bikes. Very accommodating staff who got us in for early checkout. Convenient location. One of the best campgrounds we've stayed at.
Aug 30, 2020
Again totally impressed with KOA. Amenities with predictable expectations. Each camp ground takes advantage of it's surroundings and makes the best of them. WOW what a great experience! Thanks again! Three more sites yet to do.
Aug 29, 2020
Sites are a little tight but we did have shade. Nice amenities. Loved the free breakfast.
Aug 29, 2020
Great place for kids!!! All activities are free. Free breakfast, too. Whitefish is a cute town, several good golf courses. Not too far to west entrance of Glacier Park.
Aug 29, 2020
Extra nice campground. Perfect for our base camp as we visited Glacier and the surrounding area.
Aug 29, 2020
The people running the place are wonderful.
Aug 28, 2020
Great location.
Aug 27, 2020
Older campground, but each campsite is unique - no cookie cutter all-the-same-campsites-in a row! We had a lovely wooden deck and view. Amenities are amazing (free hot breakfast) but during COVID we did not participate. Great activities for kids.
Aug 27, 2020
Friendly people. Great spot!!
Aug 26, 2020
Nice campground, great location. Nice facilities and activities for the kids. Will likely stay again. One note, US flag at entrance road to the park must be lit up at night! Law requires this!
Aug 26, 2020
Settled among trees, many trails to walk, great amenities. Friendly staff.
Aug 26, 2020
Awesome place . Great location . Nice Friendly staff
Aug 25, 2020
Very nice campground. Extremely clean facilities. Friendly staff. Highly recommended!
Aug 25, 2020
Wonderful stay amenities were clean every time we used them
Aug 25, 2020
Excellent 3 day stay. Freandly helpful staff
Aug 24, 2020
The Whitefish KOA sure has a lot of fun things for families to do, and that was appreciated by our kiddos. We also loved our picnic table area with built in back bench. We did however feel like the campsites were tiny, so much so that our neighbors awning covered our trailer. The internet was also spotty, likely because too many people were using it. Overall it was a fine stay though.
Aug 24, 2020
The breakfast they provided for free was GREAT. That was a pleasant surprise we very much enjoyed. The miniature golf was a fun thing for us to do.
Aug 24, 2020
We enjoyed the grounds and people we met. It was clean , easy access to Glacier National Park and other amenities. If you enjoy being nestled in the tree of NW Montana this is the place for you.
Aug 22, 2020
Friendly staff, fantastic location to explore all that that area has to offer, wonderful experience
Aug 22, 2020
This was our first stay at a KOA and we were impressed. Wonderful helpful staff that made our stay comfortable. Loved the beautiful setting where this KOA is located.
Aug 22, 2020
Sites were spaced out and well taken care of.
Aug 22, 2020
Best RV park yet! Loved the petting zoo!!! And breakfast was a great surprise!
Aug 21, 2020
So much fun. The pool, games, fun bikes and cute animals. Great landing point for our many adventures and close to Glacier. Our camper spot was awesome too! Will come again
Aug 21, 2020
Great access to Glacier National Park. Nice amenities.
Aug 20, 2020
Welcoming and friendly staff. We recently stayed at the Butte, MT and Flathead/Polson KOA's. The Whitefish KOA was our favorite! We loved the 80's games and the facilities we used were awesome! Our camp site 41 was large and very well kept. I think it would be very difficult to top this KOA.
Aug 20, 2020
The Staff needed more PR Training. I was given site I asked for and they moved me to another spot so I could receive a TV channel. Plus I had to pay extra because of that move. This place has a history of this type of service.
Aug 19, 2020
Very nice CG hope to visit again soon
Aug 19, 2020
Campsite dirty, overbooked, site not level, hot tub was disgusting. However, the staff Tracy and Tammy were super sweet and helpful.
Aug 18, 2020
Love the campsites, truly in the woods! The free breakfast was great! The only drawback was the unreliable internet connection, which was a problem for making reservations for the next day adventures!
Aug 18, 2020
The park itself is beautiful and very well maintained. The complimentary warm breakfast was a nice surprise and comparable to a hotel. Lots of fun activities for the kids
Aug 17, 2020
Clean and easy to get to.
Aug 17, 2020
Great family campground. So much for the kids to do. Lots of shade and nice camp spots. So close to White fish Mountain and lots of hiking.
Aug 16, 2020
Great place.
Aug 16, 2020
Friendly staff. Kids amenities are ok but not great. Nice place for adults with pretty scenery but not worth the $ if looking for kid activities like other KOAs have. WiFI does NOT work. The network is not setup correctly. If you rely on it for work like us, this isnt the place. No cell service either, which we expected but just an FYI. The pizza place is a 3/5. Convenient location to good stores!
Aug 16, 2020
Spots were tight, but we loved the amenities.
Aug 15, 2020
Great family facility. Lots of activity for the kids. Only problem was weak wifi. Also no cell service. I guess that comes with the location.
Oct 16, 2020
My family had a great time here!
- Randy Christensen on Google
Sep 24, 2020
A beautiful campground, quiet and fully treed
- Kevin Mack on Google
Sep 19, 2020
LOVED it. Had an excellent time. Was like going to a summer camp.
- Madison Fulcher on Google