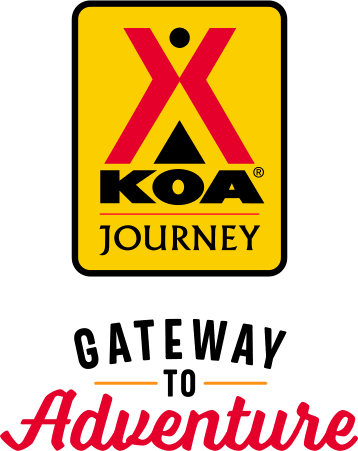 KOA Journey Campgrounds
KOA Journey campgrounds are the perfect oases after a day on the road. Whether it's along the way or a quick getaway, they've got you covered. Located near the highways and byways of North America with long Pull-thru RV Sites, they deliver convenience to the traveling camper. Pull in, ease back and take a load off.
KOA Journeys Feature:
Pull-through RV Sites with 50-amp service
Premium Tent Sites
Well lit after hours check-in service
Directions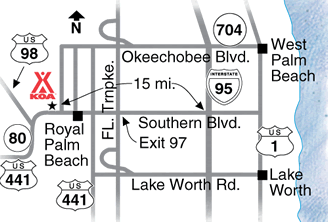 Take I-95 to Exit 68 (Southern Blvd). Head west on Southern Blvd 15.5 miles, then right on Lion Country Safari Rd. Go 2 miles, right at campground sign. Or take FL Turnpike to Exit 97. Head west on Southern Blvd about 10 miles, then right on Lion Country Safari Rd, 2 miles on right.
Get Google Directions
Oct 21, 2021
I love coming to this campsite. The roar and sounds of the safari in the morning are a great addition. The staff here is friendly and they keep it clean. A definite stop if you are in the area.
Oct 21, 2021
Very nice campground always clean all the facilities beautiful area never an issue with the water or electric the manager Kathy will go to extra step always and to hear the lions in the morning is one of the things you'll never forget All of the staff do a great job thank you
Oct 21, 2021
Always a pleasure to stay at KOA Lion Country Campground.The staff is always friendly courteous and welcoming. The campsites are well maintained and gives a warm comfort to stay..thank you
Oct 20, 2021
Great place, love to here the lions
Oct 20, 2021
Everything was good, bathrooms are clean it ...just a little spencer.....bacause you need to paid for the zoo apart ...
Oct 19, 2021
We stayed with our grand daughters and the staff was very friendly and extremely helpful in providing information on things to do with them Bath houses and bathrooms were super clean. Would definitely stay there again
Oct 18, 2021
This place was amazing! Campgrounds were clean and bathrooms were too! My kids loved playing at the park and in the pool and it was SO close to the Safari - we came back to eat and then went over again and enjoed the park. Awesome trip - would highly recommend!
Oct 18, 2021
Very well kept campground! Only disappointment was no cable TV for. $99./night I would expect cable and internet. With cable my rating would have been a 10!!
Oct 18, 2021
Nice clean place, staff friendly and helpful
Oct 18, 2021
The campsite was well kept and clean, especially the bathrooms. The pool was nice and clean patio/deck area. I would recommend to others- a bit pricey but you are paying for the convenience of the park being so close.
Oct 18, 2021
We had a girls only camping trip ! I couldn't get them in the car to leave on Sunday. They loved the pool game room and being able to play man hunt on such a beautiful property. There were tons of other kids and families they made new friends and we will be back most certainly over the holiday break with the whole family !
Oct 17, 2021
Tight spots, office not organized, landscaping needs work, way over priced
Oct 15, 2021
Great place to stay and you can hear the lions roar.
Oct 13, 2021
To expensive!
Oct 12, 2021
Place was great could hear Lions from RV
Oct 12, 2021
This was a fantastic stay!!! This was our first time and we definitely will be coming back. Everyone was so friendly and helpful.
Oct 11, 2021
Very friendly and helpful staff! Campground is not the best maintained for the price. A little expensive.
Oct 11, 2021
Cathy the Manager was very helpful and the staff very friendly
Oct 11, 2021
Booked pull thru site but was given back in site #192. The only reason this turned out to be ok is because it put us right behind the lions and you could hear them really good. When leaving one of the park employees came by and was not very respectful to us after explaining why we had not left by the 12 check out time due to mechanical issues. Overall nice campground and very clean amenities.
Oct 11, 2021
could use some satelite bathrooms/showers, mosquito control for canal near the campsite, discount for LCS
Oct 09, 2021
Nice campground. Would like pool hours just for adults maybe later at night after closing? Small and large dog park areas would be great. Walking trail for dogs would also be appreciated. Mine need to walk to poop and due to large dogs in paws park I could not always bring them. Otherwise had a great spot and everyone was friendly.
Oct 08, 2021
This was a one night stay, so I may not have enough data to make a definitive judgement. However, from what I observed the staff was very friendly, the sights I was on was well maintained. The location was relatively quiet. We had an enjoyable night's sleep. It was a great respit from our long day's journey.
Oct 08, 2021
This was our first attempt at RVing. We rented a motor coach and Picked Lion Country because it was only 100 miles away. Good choice. Campground was very clean and the staff could not have been more helpful. Gave us rides to and from the Safari park itself, and answered all of our questions. A very good experience
Oct 05, 2021
Best Wi-fi service ever, friendly helpful staff, very nice sites AND listening to lions roar in the morning was the best alarm ever,
Oct 04, 2021
It was an awesome experience. Listen to the Lions in the morning is an wonderful experience. The safari experience is the best.
Oct 04, 2021
My family and I had a great time here! Hearing the lions roar in the morning was amazing! We will definitely be back!
Oct 03, 2021
The tent sites were clean and convenient to everything. The neighborhood was nice. Water and electric hookup at site. Very accommodating folks. Pool is great and clean
Oct 03, 2021
Check in was fast and easy. Grounds and pool are clean and well maintained. Loved hearing the lions roar from our RV! Will definitely visit again.
Oct 01, 2021
Great people and great customer service
Sep 28, 2021
I recommend this campground to everyone. Well maintained and clean campground. Staff was friendly and helpful. Hearing the lions during the day was an added bonus
Sep 28, 2021
In short, I plan to come again. It was beyond my expectation for campgrounds
Sep 28, 2021
We have stayed at the Lion Country Safari KOA before in the Primitive grounds as a group of parents and kids. During this latest stay, the cabins adjacent to the grounds were rented to another group who did not have any consideration for quiet time rules. Loud music and yelling was heard on both nights of our stay. The KOA did little to address the issue after it was brought to their attention.
Sep 28, 2021
It's always a great time here! The only down side is the price. Other than that, we love it there. The staff is the best.
Sep 27, 2021
No buffer between spots. Spots too small. Too many people per spot. Too many cars. Low ground, floods. People don't respect quiet time. Noisy group rented most tent sites, we should have been moved to RV side. Checked in late & couldn't ask to be moved & having to move our stuff next day not doable. Kept up all night & security did nothing, didn't answer calls, was sitting in cart at office.
CAMPGROUND RESPONSE / COMMENTS:
I am sorry about the loud group. We are looking into limiting how many reservations we will take in the future, so large groups cannot get in.
Sep 27, 2021
This campsite is clean with plenty of things to do.
Sep 27, 2021
It was amazing! Staff was very accommodating!! Okay
Sep 21, 2021
Staff was friendly. Appreciated the had balls to play volleyball and basketball to check out and dog enjoyed the KampK9.
Oct 01, 2021
excellent to share with the family
- Miguel Martinez on Google
Sep 09, 2021
Really cool to hear the lions roar while you are camping.
- Russell Watters on Google
Aug 22, 2021
Excelente Aventura.
- Ingrid Zabeta on Google