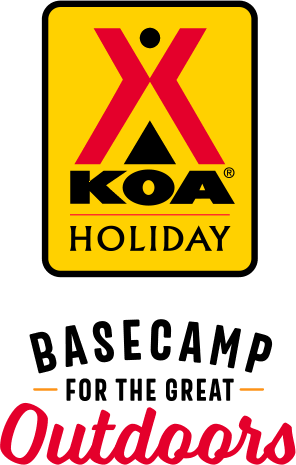 KOA Holiday Campgrounds
Whether you're exploring the local area or hanging out at the campground, KOA Holidays are an ideal place to relax and play. There's plenty to do, with amenities and services to make your stay memorable. Plus, you'll enjoy the outdoor experience with upgraded RV Sites with KOA Patio® and Deluxe Cabins with full baths for camping in comfort. Bring your family, bring your friends, or bring the whole group – there's plenty of ways to stay and explore.
KOA Holidays Feature:
RV Sites with a KOA Patio®
Deluxe Cabins with full baths
Premium Tent Sites
Group meeting facilities
Directions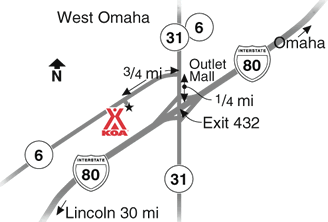 12 miles west of Omaha on I-80: Exit 432. North 1/4 mile, then west 3/4 mile on US Hwy 6. 
GPS: N41.095075, W96.264106
Get Google Directions
Sep 20, 2021
Everything absolutely perfect. Hardworking people doing their best 24/7.
Sep 19, 2021
Clean, convenient, and quieter than most campgrounds. I'm glad that I stopped there.
Sep 16, 2021
Second time back! Love the many activities they have available for guests!
Sep 12, 2021
It was beautiful, peaceful, and the staff was incredibly helpful
Sep 08, 2021
The outside staff (in golf carts) made a joke about us wearing masks. Not appreciated. Whatever our reason, no need to comment. The inside staff great & helpful. Campers next to us did NOT observe quiet hour & had on LOUD music until 11:45 pm. Music was still on quietly at 2:30 AM. With staff+ standing around at 7 pm, why not stagger some on until midnight to enforce quiet for all?
Sep 07, 2021
Some of the kids activities were run-down/not available (jumping pillow, basketball court, volleyball court). These weren't a deal-breaker for us, but made the experience feel cheap. Just FYI though. We enjoyed our stay!
Sep 06, 2021
Was our very first time staying at a KOA! Was not familiar with the check-in process - and thus the welcome was a bit awkward . . . the staff were not very clear (assumed I knew what to do) . . . and then two men showed up and escorted us to the site (which they just assumed I should know to follow them - rather than talking clearly). The pool was filthy!
Aug 29, 2021
Much nicer tent camping than other KOA's. Would have been nice to have had a spigot. Staff was less friendly here than other KOA's but still helpful.
Aug 24, 2021
My 5 year old loved the playground and pool. I wish the playground was open earlier for my early bird. The location was near a fairly noisy highway but we're well kept and organized.
Aug 18, 2021
The only complaint we have is that the neighbors who had a cabin just a few yards from our tent, stayed up late enjoying their camp fire and their radio, talking and laughing together hours past the camp quiet time... because we were in a tent, we had no option for shutting out their noise... But we would come back again and hope for quieter neighbors with NO radio!
Aug 17, 2021
We enjoyed our stay. All the staff were very friendly and the campground facilities were above expectations. The only downside was the highway noise, but we were in a tent and that couldn't be avoided.
Aug 09, 2021
It was enjoyable and we were having a good time until there was confusion with the parking. The receptionist were very nice and polite and professional and a gentleman dad escorted us to our parking spot or tent site was courteous and professional.
Aug 03, 2021
The late-arrival check in process was simple, and the bathrooms/showers were clean. I wish I could say more, but we arrived around 10:30pm and left at 5:30am the next morning. It got the job done for us!
Aug 02, 2021
Pleasant stay and all of the amenities make this KOA my favorite (pool, jump pillow, zip line, mini golf and even a Hunts Brother pizza). Wifi was great, and had a large coverage area! The staff was friendly and helpful. Location is a little loud due to a nearby road that has a lot of truck traffic at night for those camping in tents.
Jul 28, 2021
nice staff but only one urinal and two toilets for the whole place, come on man.
CAMPGROUND RESPONSE / COMMENTS:
Thank you for taking the time to write a review. We have great staff, thank you for noticing. We are working making changes to the campground and bathrooms are on the short list. Come and visit again and look for the changes.
Jul 25, 2021
They called me right before their office closed to make sure I had all the information I needed due to me checking in late
Jul 24, 2021
Very friendly staff, a great place to stay
Jul 24, 2021
Just this stay. The campers next to me in the tents were up until 11-1130, noisy, with the fire burning and I had to get up at 5 the next morning to go to work. I don't have a fancy camper or a big budget but I do have decency and respect for others and quite time. I use my tent because I was informed this KOA didn't have ANY long term sites and had 75 waitlisted for a spot!
Jul 22, 2021
Everything was very nice except the crazy road noise from I-80 and hwy 6. Y'all should give ear plugs to tent campers.
Jul 21, 2021
Renee was very hospitable when making our reservation. Everything was arranged for our late arrival.
Jul 19, 2021
We loved everything about our stay. The check-in process was simple, and the escort to our site was much appreciated! This was our first time staying at a KOA and we were blown away by the amenities at our tent site. Everyone we interacted with was friendly and accommodating!
Jul 14, 2021
This was my second time staying here. Very helpful staff. Shady areas for tents. Easy to work with.
Jul 09, 2021
Short stay but nice clean facilities.
Jul 06, 2021
The staff were magnificent. My campsite was clean and orderly and well maintained. I rated this campground low because of crowding and overall campground noise, compounded by proximity to the interstate.
Jul 06, 2021
Nice employees and facilities, but the site is right on the freeway so it was super loud staying in a tent. I do not recommend for tent-goers.
Jun 30, 2021
We had a great time! Wonderful staff, clean accommodations, plenty to do, and see. The only suggestion I have is to adjust the grade of the sites for better water runoff. Overall a great place to stay for a night or a week. We'll be back!
Jun 19, 2021
The two on this rating is for two very specific reasons. Although the campground was very clean and everyone was friendly the 10 o'clock quiet hours were not enforced. As we are temp campers we were kept up until past 1:30 in the morning with teenagers playing a game of ghost in the graveyard. My second issue with our stay in this campground was that nobody answered the phone for assistance.
Jun 19, 2021
My family and I stayed for 3 days, 2 nights. From the time we checked in to the time we left we were impressed by the friendly and professional staff and the maintenance of the grounds and amenities. The kids had a GREAT time playing at the pool, park, and Gaga ball pit! We enjoyed our stay immensely and would highly recommend this KOA to anyone traveling through Omaha. Thank you for all you DO!!
Jun 19, 2021
Beautiful, pleasant location. Friendly staff. Only issue was hardly your fault: our newbie neighbors kept walking through our site.
Jun 11, 2021
Good stay. Nice kid activities. Only thing that was disappointing was we stay d on a tent site and there was little shade until the evening . Ended up leaving early because we couldn't stand the heat without proper shade . But the store was great. Loved the pizza and all staff was very friendly. Will stay again if we go that way .
Jun 09, 2021
Very family friendly campground
Jun 08, 2021
Sweet staff, good campsites, fun amenities.
Jun 08, 2021
I've stayed there 3 or 4 times now and I love it every time!
Jun 07, 2021
We loved this KOA. The amenities were top notch and staff was so kind. They were so good to my son that kept riding his bike all over the place. We would definitely come back!
Jun 03, 2021
Everything was so clean and the staff was super friendly! The campground was quiet and well maintained. The only complaint I have is that you can hear the cars on I80 but that's not really anything they could do about that
May 28, 2021
Quiet, clean and friendly staff. Lots of stuff to do for kids.
May 14, 2021
Wonderful! Great people, showed up late and ended up in the wrong site but they were gracious. Free coffee in the morning. Couldntve been better!
May 10, 2021
First let me say that the staff of this KOA are top notch. They are so friendly and helpful and the grounds are kept immaculate. The best staff EVER. My only complaint is that they were having a problem with a leak or something in the women's bathroom that caused an unpleasant smell for my stay, but seeing as that is a temporary problem, I would definitely stay here again.
Sep 18, 2021
Very quiet...new spots in the back are bigger but you hear more of the interstate traffic. Best cable we've had on our 2 month trip!
- Lynn Hampton on Google
Sep 14, 2021
Super fast wifi!!!!!! Great stay, friendly hosts, a dog park with grass and Hunts pizza delivered piping hot to your door in 20 mins.
- Trays O'Reilly on Google
Sep 11, 2021
Great for stops lots of stuff
- Ivan Tchesnokov on Google