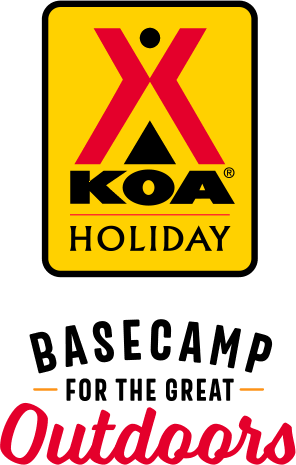 KOA Holiday Campgrounds
Whether you're exploring the local area or hanging out at the campground, KOA Holidays are an ideal place to relax and play. There's plenty to do, with amenities and services to make your stay memorable. Plus, you'll enjoy the outdoor experience with upgraded RV Sites with KOA Patio® and Deluxe Cabins with full baths for camping in comfort. Bring your family, bring your friends, or bring the whole group – there's plenty of ways to stay and explore.
KOA Holidays Feature:
RV Sites with a KOA Patio®
Deluxe Cabins with full baths
Premium Tent Sites
Group meeting facilities
Directions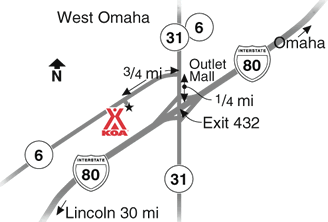 12 miles west of Omaha on I-80: Exit 432. North 1/4 mile, then west 3/4 mile on US Hwy 6. 
GPS: N41.095075, W96.264106
Get Google Directions
Jul 24, 2021
Spent a few days at the site, Very clean, helpful staff. A lot for the kids to do.
Jul 24, 2021
Awesome service
Jul 24, 2021
I enjoyed everything about the camp. The only reason for four stars is the terrible exit/entrance to the campground. I know they have made efforts to improve it but it is dangerous. Also my neighbor refused to pick up after their dogs.
Jul 24, 2021
Very friendly staff, a great place to stay
Jul 24, 2021
Just this stay. The campers next to me in the tents were up until 11-1130, noisy, with the fire burning and I had to get up at 5 the next morning to go to work. I don't have a fancy camper or a big budget but I do have decency and respect for others and quite time. I use my tent because I was informed this KOA didn't have ANY long term sites and had 75 waitlisted for a spot!
Jul 23, 2021
Clean, quiet, well maintained, with plenty of amenities. Just what we needed for a family break!
Jul 23, 2021
Great, conveniently located Koa. Stayed their overnight on the way to visit friends in MN. Pool and play area, particularly the large jumping pillow, were a nice reprieve after being on the road all day.
Jul 23, 2021
A staff member not only led us to our site, but after inquiring if we intended to stay hooked up, assisted us in positioning our truck and trailer. Super nice gentlemen. Then in the morning as we were preparing to leave, we noticed the wing nut securing our propane tanks was missing. Another staff member provided us a nut to secure the tanks. In fact every staff member was friendly and helpfu!
Jul 23, 2021
Great service at check in.
Jul 23, 2021
Very noisy. Very well lit. Clean restrooms with nice showers.
Jul 22, 2021
Nice and quiet. All of the staff were very nice and accommodating.
Jul 22, 2021
VERY FRIENDLY STAFF!!! IMPROVEMENTS WOULD INCLUDE CLEANER SHOWER FACILITIES; BATHROOM ACCESS LOCKS THAT FUNCTIONED PROPERLY.
Jul 22, 2021
Everything was very nice except the crazy road noise from I-80 and hwy 6. Y'all should give ear plugs to tent campers.
Jul 21, 2021
We have stayed at this KOA several times. The campgrounds are always very clean and the staff are very friendly and helpful. When we had a problem with the grill at our cabin, the staff quickly took care of it and provided a different one for us to use. The people here are wonderful! We don't stay here when traveling through this area, we specifically go here to stay for a vacation.
Jul 21, 2021
Pull through sites are very close together.
Jul 21, 2021
Most of the staff was friendly. I really enjoyed the back-in spot that I was in. Some of the campground seemed a bit dilapidated and unkept, which generally isn't an issue, but for the price, I'd like a little bit more cleanliness.
Jul 21, 2021
Renee was very hospitable when making our reservation. Everything was arranged for our late arrival.
Jul 20, 2021
The campground was enjoyable but they need another bathroom. There are too many people staying in the KOA that need to use the bathroom and there are not enough stalls. My son had to use the ladies room a few times.
Jul 20, 2021
Sites very uneven
Jul 19, 2021
We requested 3 sites together when we booked back on Oct 2020, 9 months ago. when we got there, we were put all over the place on unlevel sites. The front lady was nasty and told me I can leave if I'm not satisfy. I asked her whether all the sites were occupied, she said "yes". In the morning, those open sites were not filled. She was NOT going to accommodate us. WORST PLACE EVER!!!!!!!!!!!!
Jul 19, 2021
By far this campsite was worse compared to other KOAs that we stayed at. It was on a hill where the sites were not flat. It was difficult to level the camper and you had the water holes hooked from the passenger side and not the driver side. In addition, we had reserved 3 sites back in Oct. 2020 and made sure that our party will be together but this was not the case. No fire pit either.
Jul 19, 2021
lots of stuff for kids, staff very friendly, shower house and community building was clean but could use an update
Jul 19, 2021
The cabin was very nice but park and kid area is a little run down.
Jul 19, 2021
We liked our patio and staff were friendly and helpful. The bikes were in poor repair and definitely needed an upgrade. We enjoyed everything else with our visit.
Jul 19, 2021
Their NEW area is great! the sites are SO much better than their older area which is so crammed together you have no room. The new area the spots are huge! A big upgrade we also notices was the WIFI. Previous their wifi was absolutely horrible. Their new system is great! We had 4 items hooked up and not 1 of them buffered. Next they do need to update the playground as that is not great.
Jul 19, 2021
Sites wherr very poorly designed could not get our awning out with out it touching the slide out of another camper. No fire pits where at the site I or even safe room for them to be away from campers or slides. Bathrooms where out of toilet paper both mens and women for one hole day.
Jul 19, 2021
Was great! Plenty for kids to do, and just the right distance off of the main highway/road. Would definitely stay again.
Jul 19, 2021
We loved everything about our stay. The check-in process was simple, and the escort to our site was much appreciated! This was our first time staying at a KOA and we were blown away by the amenities at our tent site. Everyone we interacted with was friendly and accommodating!
Jul 19, 2021
We have stayed at the this campground before and have always had a pleasant experience. The facility was clean and safe and the staff was so friendly. We were happy to learn about the slime making activity. The staff who assisted with the activity did a great job! I cannot think of one negative for our whole stay. Thank you for a great weekend!
Jul 19, 2021
Lovely place to stop after a long day of driving. Friendly welcome for our family and clean facilities. We enjoyed our stay.
Jul 19, 2021
The staff was extremely friendly and we enjoyed their hospitality very much. However I'm unable to give a high rating recommendation because of the following three things. The women's bathroom smelled of musty toilet water with mold in the showers. The pool deck was grimy and run down. We found our cabin to be musty and a bit run down.
Jul 18, 2021
We were very happy. This is our 3rd night this year, going back and forth to the West from Illinois. Great location and helpful. We had a red wasp right by our fire ring and the owner came over and killed it right away. It's nice they have tents right next to a back in trailer location. We were traveling with 5 people, 2 in a trailer and 3 in a tent. It worked well! Thank you!!
Jul 18, 2021
Beautiful park, great facilities, friendly staff! Surprised by the early check-in fee, though; have not run into this in 14 years of RV camping. Would understand being charged if staff had to do extra/unscheduled work to make my site ready; but staff said my site was ready for me to move in - yet still charged me a fee simply because it wasn't yet 2 PM. So purely a money-making venture...
Jul 18, 2021
Great, nice clean camp ground
Jul 18, 2021
Excellent campground
Jul 18, 2021
Just an overnight. Everybody working there is so pleasant and helpful. The sites and grounds are clean. We would definitely book again if our travels take us this route.
Jul 17, 2021
The people are great! The sites are small. Get a patio site or you won't have much room at all! Lots of shade! Appreciate the trash pick up, pizza delivery, and activities for kids!
Jul 17, 2021
Unfortuantely this KOA, while it doesn't lack in amenities, although as most KOA's are they nickle and dime you for everything, it lacks in the friendly accomodating employees that great campgrounds are known for across the country. Every single employee that we interacted was annoyed, unhelpful and sometimes down right rude. Couple that with RV pads on top of each other, we won't be back.
Jul 26, 2021
Our 4rth visit. We love stopping here on our way West. Many people stay though & there's lots to do. Great family campground. Clean bathrooms and showers. There's some traffic noise from the interstate, but it's easy on, easy off. I recommend!
- Cynthia K on Trip Advisor
Jul 26, 2021
Yes, there are two roads with traffic that you can hear from the campground but inside my RV, we couldn't hear anything. The wifi is FANTASTIC! My husband has to be working while I'm visiting family and he was very impressed with their wifi set up. (He's an IT professional) We loved the friendly staff and fun things for the kids to do.
- Sarah Balluff on Google
Jul 20, 2021
Always relaxing and quiet!!
- Jim Keyes on Google