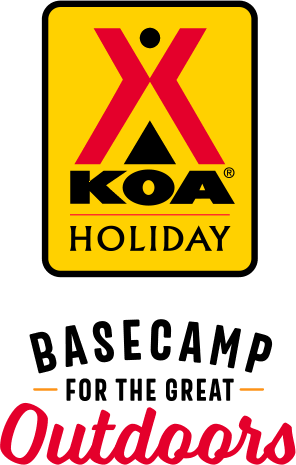 KOA Holiday Campgrounds
Whether you're exploring the local area or hanging out at the campground, KOA Holidays are an ideal place to relax and play. There's plenty to do, with amenities and services to make your stay memorable. Plus, you'll enjoy the outdoor experience with upgraded RV Sites with KOA Patio® and Deluxe Cabins with full baths for camping in comfort. Bring your family, bring your friends, or bring the whole group – there's plenty of ways to stay and explore.
KOA Holidays Feature:
RV Sites with a KOA Patio®
Deluxe Cabins with full baths
Premium Tent Sites
Group meeting facilities
Directions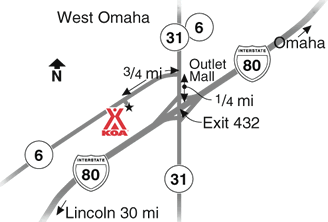 12 miles west of Omaha on I-80: Exit 432. North 1/4 mile, then west 3/4 mile on US Hwy 6. 
GPS: N41.095075, W96.264106
Get Google Directions
Oct 19, 2021
I really enjoy staying in the cabin while there for dog shows. The only issue I have encountered is that there is only a couple minutes of hot water for a shower. I can barely get my hair washed before it turns cold.
Oct 19, 2021
Nice place. Clean bathrooms. We would stop again.
Oct 19, 2021
Our family had a great stay. Staff is friendly and care about their KOA. The pizza was fantastic! The SAC Aerospace Museum and Omaha's Henry Doorly Zoo are not too far away. About 15-20 minutes or so to each. We plan on coming back to this KOA again in the future.
Oct 19, 2021
We stayed in one of the rear sites that have grass and gravel and were very happy. We only stayed overnight and did not use the showers or the Laundry facilities. Staff we friendly and helpful. I will use this KOA location again in the future.
Oct 19, 2021
Easy access, wonderful facilities, friendly staff- we loved it!
Oct 19, 2021
One night stay, it's a great place, friendly staff. We stay here one to two times a year and have always been pleased.
Oct 18, 2021
Wonderful stay. Even though it's in the off season, our grandkids still had a good time. Beautiful site!!
Oct 18, 2021
My stay started off on the wrong foot. I asked if we could do an early check in, and was told it would be $10 an hour for early check-in. KOA's already tend to run more expensive, so I was not happy. I have asked other campgrounds for early check-ins, and if my site was available, there were never any issues. The campground itself is clean, neat and lots to do for kids!
Oct 18, 2021
We enjoyed our stay at this KOA. The staff was wonderful. The grounds and facilities were clean and well kept.
Oct 18, 2021
As much I love the the location of the campground. I am disappointed by the cleanness and the out of date (quality) of the faculty. It was my first time to stay at a KOA campground. I hoped they can update (repaint and revamp) their faculty. After all it is the enjoyment of memorable aesthetics atmosphere any camper is looking for. On the plus side, this campground do had some fun kid activities.
Oct 18, 2021
We got in late and left early … but our brief visit was a pleasant one!!
Oct 18, 2021
Lots were too close together. No "green" spaces between lots. The entrance was terrible. We did enjoy the hospitality and pizza.
Oct 18, 2021
Enjoyable stay. Our grandkids really enjoy the playground and especially the pizza delivery.
Oct 17, 2021
Friendly and clean!
Oct 17, 2021
It was lovely the cabin was beautiful and clean. The grounds were well maintained and the staff were super nice. Hopefully we'll be able to visit when isn't quite so cold. One thing though in the cabin we stayed in we did have a little trouble with the thermostat, we couldn't quite get it figured.
Oct 17, 2021
Love this campground. My space was nice and big. There was lots of places to walk my dogs. It was nice and quiet at night, even though it was full. The staff was terrific. And best of all, they make and deliver freshly made pizza to your site!!!!
Oct 16, 2021
Nice stop,friendly helpful staff.
Oct 15, 2021
Bathrooms were never clean. Received no documents at checkin. Had to go back next day to make sure they charged us for the stay.
Oct 15, 2021
Kinda run down. A coat of paint would go a long way.
Oct 15, 2021
Very clean, friendly staff
Oct 14, 2021
DIFFICULT for our BIG RIG to get in & out to the Highway as it was a very sharp turn that traffic had to stop for us. Driveway was rough and narrow that needs improvements. Convenient to Omaha & Lincoln - many attractions & shopping are nearby.
Oct 14, 2021
Great site for easy in and out , 1 nite. Pizza delivery was Excellent. Thanks for the help.
Oct 14, 2021
Nice park, great location.
Oct 14, 2021
Traveling home to Illinois. Needed simple accommodations. Loved the one room cabin with TV. Just off of I80, but quiet. Good value!
Oct 13, 2021
People working were fabulous. The park is undergoing improvements so it's messy, but will be a great place next season. Seems like all KOA dog parks need attention.
Oct 13, 2021
Nice quiet koa close to activities. Since it was winter, didn't get a chance to check out the pool and many kid events. Spots were a bit tight, but staff was friendly and store was stocked with everything we'd need.
Oct 13, 2021
Very cramped spots but hosts are very friendly. Bathrooms are clean.
Oct 12, 2021
Friendly staff, nice sites, lots of activities for kids and best of all VERY dog friendly! Will be back next year
Oct 12, 2021
Nice, clean park. Staff is friendly and helpful. Quiet hours are observed which I really appreciated. The sites are quite close together. The tent sites have gravel pads which didn't allow me to hammer my tent stakes in very far. It would turn in to a proble pretty fast if it were windy. Overall, was good for me for a one-nighter on my way somewhere/
Oct 12, 2021
Very nice park. Back area has nice long pull through sites, WiFi was excellent. Very well maintained and the staff were super friendly. We were super impressed by the upkeep of the more established, shady, front area of the park as well as how serene and wide open the newer back area was. The grass on the sites was the best we've ever seen in a campground, wish mine at home was as good!
Oct 12, 2021
Arrived after 8 but was helped to my spot by a fellow camper. Facilities were good and all quiet. Enjoyed my brief stay.
Oct 11, 2021
Our family has been staying at West Omaha KOA for many years. Locations is perfect for us to run into Omaha, Ne and go to the Zoo, shopping, and fine dining.
Oct 11, 2021
I loved how helpful the were taking us to the site and delivering the firewood and pizza that is made right there awesome... dislikes campers all seemed very close together and 2nd they said NO FIRES on Saturday night now I understand during the day the wind was at 20 to 30 mph BUT at 5 pm it had drop to a 5 mph for the rest of the night that should have been reevaluated thur out the day thank yo
Oct 11, 2021
Was bummed about no fires and the jumping pillow but you all were so kind and gracious. We will return!
Oct 11, 2021
Initial site assignment was on a hill and would have been very difficult to level our 5th Wheel. Asked for a different site and was able to get one at the newer, upper level which worked out great - for an additional fee.
Oct 11, 2021
Such a great place to stay. Very accommodating and nice people. Very clean and great pizza.
Oct 10, 2021
Our cabin was pristine! Our site was so comfortable and relaxing. Loved everything about our experience.
Oct 13, 2021
Great place to stay!!!
- MELENIE GAGNON on Google
Oct 12, 2021
Great one night stay. Hosts were super friendly and helpful. Our site was 210 and had grass and level gravel pad with full hookups.
- susanna zandes on Google
Oct 09, 2021
Easy access in and out. Lower sites are hilly and require lots of blocks to level. Upper sites are newer and easier to level on. Staff is friendly and helpful. WiFi was decent. Kids play area was amazing - jumping "trampoline" was packed all day with kids. Zip line was also a hit. Looked like someplace families would love.
- Pegi Davis on Google