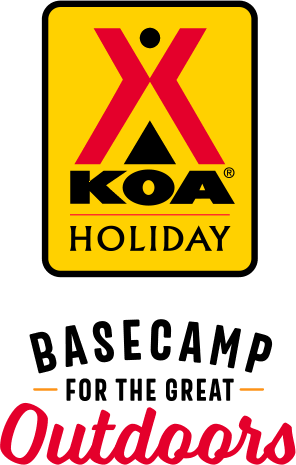 KOA Holiday Campgrounds
Whether you're exploring the local area or hanging out at the campground, KOA Holidays are an ideal place to relax and play. There's plenty to do, with amenities and services to make your stay memorable. Plus, you'll enjoy the outdoor experience with upgraded RV Sites with KOA Patio® and Deluxe Cabins with full baths for camping in comfort. Bring your family, bring your friends, or bring the whole group – there's plenty of ways to stay and explore.
KOA Holidays Feature:
RV Sites with a KOA Patio®
Deluxe Cabins with full baths
Premium Tent Sites
Group meeting facilities
Directions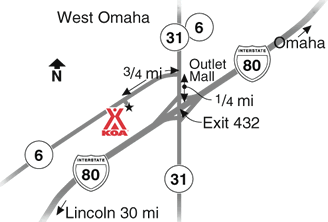 12 miles west of Omaha on I-80: Exit 432. North 1/4 mile, then west 3/4 mile on US Hwy 6. 
GPS: N41.095075, W96.264106
Get Google Directions
Aug 31, 2020
Clean, friendly staff. They were all wearing masks and seemed to practice social distancing. Thanks!
Aug 30, 2020
Very easy check in. KOAs have amazing people. Thanks so much.
Aug 30, 2020
Wonderful staff.
Aug 29, 2020
The most disappointing stay in a KOA, ever. Not given the promised site, guided to our cramped space by a very, very rude golf cart man who actually yelled at me when I dared to say that we had paid for a longer site & that we can't unhook the car. He yelled, "Can't? Or WON'T?!" Rude to my husband, too in more ways than we have space for here. We will be forewarning others to NEVER stay
Aug 28, 2020
Staff and facilities were great
Aug 28, 2020
Great location, beautiful site/ My only complaint and unfortunately its a big one, was the bugs. Maybe spray better because being near the stagnant water, the bugs were horrible and couldnt enjoy the site as much as I would have liked to because could not even go out of RV
Aug 27, 2020
Excellent staff. Excellent site.
Aug 27, 2020
The new sites are wonderful with plenty of space for visiting family! Staff were all very helpful.
Aug 26, 2020
An excellent facility. I was taken by surprise that they asked for a 10 dollar "early arrival fee" because we arrived at 12:30. That was the first time in 6 weeks on the road this summer that happened. Ultimately they didn't follow through but be warned. Otherwise a fine place to camp
Aug 26, 2020
It was wonderful! Staff went over and beyond our expectations! The owner was great and I loved visiting with the kids! Thank you for a great stay and a quiet retreat!
Aug 26, 2020
Interior roads are gravel/dirt, dusty but easy to navigate (we are 45' + tow). The staff is friendly, efficient and easy to work with. We stayed in August and the Cicadas were noisy but quieted down once the sun went down. Park is maintained and there is a great play area for the kids, swimming pool, etc. This park is about 20 minutes from Omaha so the easy access was great.
Aug 26, 2020
The down side of this park is that the spaces for short stays are not even close to level. I understand the new owner is planning to reorient the spots to address this issue - hope it works. The staff were friendly and helpful, and the restrooms clean.
Aug 26, 2020
We stayed in new section. Need to work on green space, add trees. Staff was friendly. We travel with a dog and it is dirty when not much grass. Don't think should be charged extra when no green area in park.
Aug 25, 2020
The park was very clean and each employee was very polite and helpful. Lots for the kids to do which is one of the reasons we liked this park and KOA.
Aug 25, 2020
All KOA's are usually to expensive for what they are, the only reason we stayed was the truck stop across the highway was full. All we needed was a place to stop and rest from a long days drive. Didn't use or need any of the amenities, wasn't even there 10 hours and had to be back on the road home. This KOA needs some help with their road access, even their paperwork asks for help with the
Aug 24, 2020
Very friendly staff, great sites,
Aug 24, 2020
Great staff! Garbage pick up hourly, outstanding! Dusty, too many fire pits to close together, very Smokey at dusk. Mouse holes all around site. Uneven decking, we only fell 4 times in 4 days. Really a great place for younger families.
Aug 24, 2020
No picnic table at our site, disappointing. Also they charged my debit card three separate fees, not the site fee and then credited my card two separate transactions for those fees. Noticed it on my bank statement. Unsettling
Aug 24, 2020
Spaces are extremely close together. We had to move our gear so the camper next to us could extend their slide-out. No fire ring available.
Aug 24, 2020
The newer area was not really that level but we made the best of it. The staff was AWESOME!! Loved the grounds.
Aug 24, 2020
We feel that everything was great except that the campsites are small and crowded. Thanks for all your help,
Aug 24, 2020
We are never disappointed when we stay here! The staff are very friendly and always smiling! I overheard adults at the pool say it was cold but I got in with the grandkids and I was wondering what is warm to them? It was refreshing on a hot sultry weekend. The whole facility and grounds clean. We will be back.
Aug 24, 2020
Excellent campground and staff..great get away right off the interstate!
Aug 24, 2020
Way too much money ($89 a night) for what we got. The gravel pad they put us on was not tamped down and our Jack's sunk in. We had no patio. The staff were using the laundry and paying guest had to wait in order to use the facilities. Staff was not friendly. When we told them we thought it was a bit pricey, the comment was... it's cheaper than a motel. I will not be back to this substandard KOA.
Aug 22, 2020
When you have to dodge other campers awnings just to drive down the street it tells you the the place to way overcrowded. The deluxe spots (which i stayed in) is about as close to deluxe as a spot in the middle of a dessert. I had to buy extra sewer hose because where the golf cart man told me i had to stop was 2 links on top of my 2 links of hose short. Never will i return
Aug 22, 2020
The staff were very friendly and helpful. The park was clean. The sites are very very close together.
Aug 22, 2020
We stayed at a premium spot with a grill and privacy fence. It was beautiful. We greatly appreciated that your pool, bathrooms and laundry facilities were open and pristine!!
Aug 22, 2020
Nice park. Friendly staff. On the pricey side.
Aug 21, 2020
Served our purpose which was visiting family, but way too crowded.
Aug 21, 2020
Need picnic table and some.e shade trees .the entrance to the campgroud need to be wider or different in and out
Aug 21, 2020
Very nice park. Everyone was very friendly and kind also ���
Aug 21, 2020
just overnight. pleasant and nice.
Aug 21, 2020
Easy to access site.
Aug 21, 2020
Level site The cicadas were noisy in the big tree in the newer extended area.
Nov 29, 2020
Very nice place to camp. We will be back in the summer 2021
- Mary Simonsen on Google
Nov 24, 2020
Thank you for the overnight stay in a cabin as well as parking our penske truck and trailer
- Shannon Timke on Google
Nov 23, 2020
This KOA was probably one of the best ones we've stayed at out of all campgrounds we visited. The bathrooms were very clean. The sites were nice and open, however we did go in late November so it may get busier in warmer months. There is a big mall nearby in the event you need something (granted things are open during COVID). It was quiet, there was cell service just in case, and everything within the campground is laid out very nicely and easy to get to. They also have some cats who hang out around the campground as well as chickens and goats which our toddler loved to see. We highly recommend this campground.
- Dan&Stacey M on Google