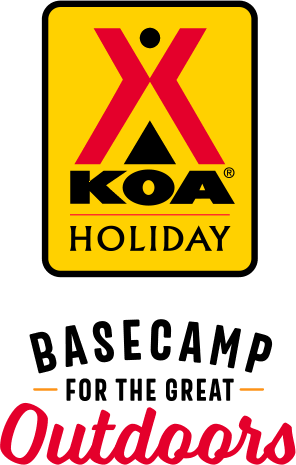 KOA Holiday Campgrounds
Whether you're exploring the local area or hanging out at the campground, KOA Holidays are an ideal place to relax and play. There's plenty to do, with amenities and services to make your stay memorable. Plus, you'll enjoy the outdoor experience with upgraded RV Sites with KOA Patio® and Deluxe Cabins with full baths for camping in comfort. Bring your family, bring your friends, or bring the whole group – there's plenty of ways to stay and explore.
KOA Holidays Feature:
RV Sites with a KOA Patio®
Deluxe Cabins with full baths
Premium Tent Sites
Group meeting facilities
Directions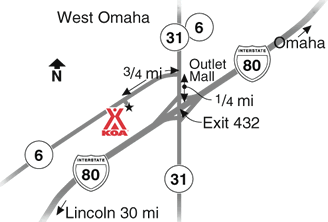 12 miles west of Omaha on I-80: Exit 432. North 1/4 mile, then west 3/4 mile on US Hwy 6. 
GPS: N41.095075, W96.264106
Get Google Directions
Sep 17, 2021
The people were very friendly. We stayed in a deluxe cabin; the bed was so uncomfortable that we hardly slept, and our bodies hurt in the morning. There were cobwebs on the fan and ceiling. I would never stay in a cabin there again. We have stayed in cabins at other campgrounds, and never had beds/mattresses so uncomfortable.
Sep 16, 2021
Everyone was very friendly. Koa was well kept and clean. Thank you for a great stay!!
Sep 10, 2021
The Kamper Kabin was very clean. The staff was very friendly and accommodating. The grounds were nice with grass verses a gravel lot. Our second time staying here.
Sep 08, 2021
Spent one night when passing through on a road trip. We stayed in a rustic cabin. Accommodations were clean and included air conditioner. Bathrooms were very clean. Staff were friendly. Convenient location right off the highway. Would visit again!
Sep 08, 2021
Had a great time! Very friendly and helpful staff! Would highly recommend!
Sep 07, 2021
We always enjoy our stay! Friendly staff makes us feel right at home.
Sep 04, 2021
gr8 place, friendly staff, love the no code bathroom and laundry entrance! Pizza was tasty
Sep 03, 2021
Everyone was so helpful and friendly
Sep 02, 2021
We weren't there very long, but were very appreciative of the free coffee in the morning. The campground was very clean and off the highway, which made it nice and quiet at night. We stayed in a cabin, which smelled a little like mildew, but it had a screen door, which was great to keep the mosquitoes out and air the cabin. Would stay here again and enjoy some of the many activities.
Aug 30, 2021
Cabin was very clean with a huge deck and patio. The staff were helpful and friendly. Pizza was good and delivered hot and fresh to our campsite. Pool felt great in the hot temps. The park needs updated badly and the main road in has some pretty big pot holes that need worked on, but overall, this was a great KOA. We had a nice time!
Aug 30, 2021
Great place to spend the weekend with my grandkids.
Aug 28, 2021
We stayed in a cabin ! It was clean, the bed was comfortable. This was our first time in any KOA .The hosts were very friendly and helpful. .Our grandchildren enjoyed the pool, mini-golf and the play area !The grounds were also clean. The location was easy to find . Over all we were very happy with the KOA in West Omaha. My biggest concern was entering and exiting the camp ground onto the highway
Aug 27, 2021
It was great! There was only one thing: I woke up early and went to the restroom to take a shower. Someone was sleeping on an air mattress in the last shower stall! Maybe the bathrooms need to have a code to enter.
Aug 22, 2021
I really like the laid back atmosphere of the campground and staff. I love that there is a safe path to walk my dogs and a place to potty them. I used to stay at hotels while at towns for dogs shows. Many of the hotels do not have sufficient space to walk dogs. I like to stay on the first floor and a lot of times a hotel doesn't have that available. And the smell at hotels…UGH…not always go
Aug 16, 2021
My grandson enjoyed the cabin and the play area. Was disappointed with the up keep of the miniature golf area. The cabin was great , and very clean. Staff was very helpful.
Aug 16, 2021
We stayed in a very small 3 bed kabin when we arrived the ac felt fine left for dinner and returned ac was fine in the course of the night the ac quit and got my buddy's bag all wet and ruined 2 of his new shirts... was told I'd get a refund but nothing yet almost a week later... if I do not receive my refund I'll never stay there again!!!
Aug 14, 2021
I've used maybe 20 different KOA sites and this is by far the nicest. Good setting, lots of amenities and friendly staff!
Aug 13, 2021
Mattresses in cabin are ridiculous! You should put a little bit more money into them so guests don't feel like they are sleeping on a rock! Bathrooms are clean. Staff very nice.
Aug 10, 2021
Staff was very friendly and attentive. We stayed in a deluxe cabin which was very cozy for my family of 6. We will definitely be back!
Aug 09, 2021
Excellent staff. Very friendly and welcoming.
Aug 09, 2021
Just ok. Cabin #6 is getting run down. The picnic table in particular was truly disgusting. I felt uncomfortable serving a meal on it. The cabin was ok, but needs some repairs (screens, roof, butt disposal bucket). It also had a smell. For $80/night I expect a cabin with no bathroom or kitchen to be in better condition. Playground fun but needs updating. Bathrooms were nice and clean.
Aug 09, 2021
our stay was great!
Aug 09, 2021
Very Satisfied and will definitely stay many times more! Staff was very nice and helpful. The only thing that could use a little improvement was cleaning under kabin beds and cobwebs around windows and ceiling! We did really enjoy it and will be back!!!
Aug 07, 2021
Staff was very friendly and supportive. However, the site in general did not seem maintained at all. There was plague of crabgrass everywhere. The gas grill was left so dirty and disgusting to the point of not being safe to use! Cabins were literally right next to each other -- no privacy whatsoever. I've been to many KOAs, but this one was by far the worst experience. There's much to be desired..
Aug 07, 2021
Cabin and campsite was clean. Bath house was clean. I would recommend.
Aug 07, 2021
Absolutely wonderful! The staff is incredibly kind and there were a ton of options for fun activities. My family and I have decided to get a KOA membership and make this our new "spot"!
Aug 06, 2021
Great location and a really fun family friendly environment. The staff was welcoming and helpful. We loved the pool and the pizza delivery ro our site.
Aug 05, 2021
We really enjoyed our stay. Campground was lively during the day and quiet at night. The staff were super friendly, cabins were very clean and nice. Only feedback would be adding more storage shelving in the cabins. We had 6 people, but no place to put clothes or toiletries. And the queen bed in the cabin was so loud if you moved at all.
Aug 05, 2021
Great place for relaxing and spending time with family or alone
Aug 04, 2021
The cabin was great and the staff was wonderful. The only issues were the playground and pool area were in need of some updating, but it still provided a great time for our family.
Aug 02, 2021
Stayed in a deluxe cabin and it was a wonderful experience. With 2 adults and 4 kids we all had plenty of room. The cabin was very clean and had everything we needed for our stay. We normally camp in our ice castle but this was our favorite camping experience. We will definitely do it again.
Aug 01, 2021
Clean, friendly, attentive. Lots of great activities for kids.
Jul 31, 2021
Cabin was quaint & clean inside. Loved kid-friendly activities and welcoming atmosphere! Bathrooms were not kept as clean as I hoped - there was a used band-aid in the same shower several days in a row and TP pieces on the floor or poop/pee on toilet rims. One women's shower didn't have a rope latch and I watched someone get walked in on. Gravel dust was excessive in Cabin #1.
Jul 31, 2021
Incredible! Amazing staff that goes above and beyond!! Very clean bathrooms! Perfect little cabins that helped us beat the heat and humidity and so many wonderful amenities. We already cannot wait to come back!
Jul 30, 2021
We stayed in a cabin with my grandson. He loved all the different things to do at this campground. The bouncy pillow and the zip line was his favorite But we also rented pedal bikes, played giant connect 4 swam at a 9 ft deep pool that was wonderful and played at the park. Close to the Omaha zoo. This was our 2nd trip here and the cabins and bathrooms were very clean. Plus a friendly staff
Jul 28, 2021
Friendly, neat and tidy. Pleasant campground and the Deluxe cabin was very comfortable. Have, and will return.
Jul 27, 2021
One of the best KOA's for families I've been to. They cater to your every need and frankly I feel spoiled lol. Everyone was nice and not ornery like some of the KOA staff can be at other sites. Everything is located in close vicinity as well.
Jul 26, 2021
Friendly, helpful staff. Pizza was great.
Jul 21, 2021
We have stayed at this KOA several times. The campgrounds are always very clean and the staff are very friendly and helpful. When we had a problem with the grill at our cabin, the staff quickly took care of it and provided a different one for us to use. The people here are wonderful! We don't stay here when traveling through this area, we specifically go here to stay for a vacation.
Sep 18, 2021
Very quiet...new spots in the back are bigger but you hear more of the interstate traffic. Best cable we've had on our 2 month trip!
- Lynn Hampton on Google
Sep 14, 2021
Super fast wifi!!!!!! Great stay, friendly hosts, a dog park with grass and Hunts pizza delivered piping hot to your door in 20 mins.
- Trays O'Reilly on Google
Sep 11, 2021
Great for stops lots of stuff
- Ivan Tchesnokov on Google