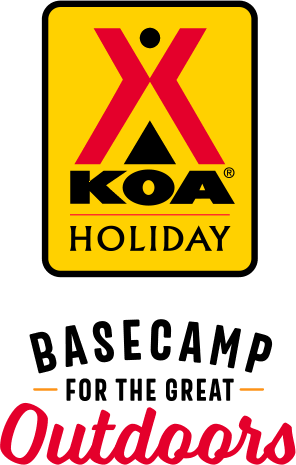 KOA Holiday Campgrounds
Whether you're exploring the local area or hanging out at the campground, KOA Holidays are an ideal place to relax and play. There's plenty to do, with amenities and services to make your stay memorable. Plus, you'll enjoy the outdoor experience with upgraded RV Sites with KOA Patio® and Deluxe Cabins with full baths for camping in comfort. Bring your family, bring your friends, or bring the whole group – there's plenty of ways to stay and explore.
KOA Holidays Feature:
RV Sites with a KOA Patio®
Deluxe Cabins with full baths
Premium Tent Sites
Group meeting facilities
Directions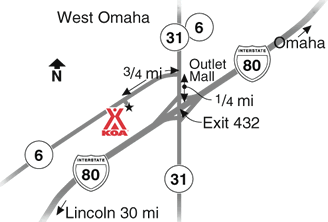 12 miles west of Omaha on I-80: Exit 432. North 1/4 mile, then west 3/4 mile on US Hwy 6. 
GPS: N41.095075, W96.264106
Get Google Directions
Sep 09, 2021
Huge breakdown after leaving after one night stand. They got us back in after repair for another nite! Helpful and friendly office staff, good pizza delivered to your door after a long days pull was great! Ice cream and camp store was really nice. Great stop!
Sep 09, 2021
Please change my response for Laramie Wyoming. I confused it for West Omaha. Laramie numbers should be 8 and 4. It was this KOA that lacked functional activities.
Sep 08, 2021
Nice campground but that entrance!���
Sep 08, 2021
Spent one night when passing through on a road trip. We stayed in a rustic cabin. Accommodations were clean and included air conditioner. Bathrooms were very clean. Staff were friendly. Convenient location right off the highway. Would visit again!
Sep 08, 2021
Had a great time! Very friendly and helpful staff! Would highly recommend!
Sep 08, 2021
Would have given 5 but I thought the showers could have been sprayed and scrubbed at least once a day. Everything else was so clean. Showers need to be scrubbed
Sep 08, 2021
The outside staff (in golf carts) made a joke about us wearing masks. Not appreciated. Whatever our reason, no need to comment. The inside staff great & helpful. Campers next to us did NOT observe quiet hour & had on LOUD music until 11:45 pm. Music was still on quietly at 2:30 AM. With staff+ standing around at 7 pm, why not stagger some on until midnight to enforce quiet for all?
Sep 08, 2021
Good overnight spots tight
Sep 07, 2021
We always enjoy our stay! Friendly staff makes us feel right at home.
Sep 07, 2021
Need to put longer campers on bigger pads
Sep 07, 2021
Our granddaughter had fun in the playground but had told we would have a fire and have s'mores. However when we got there only certain spots had fire rings. A little disappointed in that and wasn't aware that was the case. Facilities were clean and staff very friendly.
Sep 07, 2021
Stay was okay. However, when I arrived a little early, before 2:00PM, I was told there would be a $10/hr charge for the time before 2:00 or I would have to leave and come back. There is nothing in the emails I received or on the web sites about this charge. If I had known, I could have easily delayed my arrival. I had to leave the park and find someplace to park my RV for 1 1/2 hrs.
Sep 07, 2021
Awesome stay, kids always have a great time!!
Sep 07, 2021
The staff was awesome. The amenities were great. Absolutely no complaints.
Sep 07, 2021
Nice campground, friendly staff. Long pull through site, great wifi. The site was very unlevel
Sep 07, 2021
Some of the kids activities were run-down/not available (jumping pillow, basketball court, volleyball court). These weren't a deal-breaker for us, but made the experience feel cheap. Just FYI though. We enjoyed our stay!
Sep 06, 2021
Not my favorite KOA. Site was muddy. Roads washed out. Dangerous turn getting into and out of park off of highway. Sites in the far back need some landscaping/trees.
Sep 06, 2021
Nice clean park. Was noisy due to a Chatty Cathy next door. Inconsiderate camper not the park's fault. Staff was friendly and helpful.
Sep 06, 2021
It was excellent. The trees provided shade on a generous camp site. Lots of upgrades with my favorite the expanded WiFi coverage - I got great signals all day long. I'd stay here anytime.
Sep 06, 2021
We were surprised how nice it was.
Sep 06, 2021
Very nice but we could deal with the noise of the insects. Otherwise nice place.
Sep 06, 2021
Was our very first time staying at a KOA! Was not familiar with the check-in process - and thus the welcome was a bit awkward . . . the staff were not very clear (assumed I knew what to do) . . . and then two men showed up and escorted us to the site (which they just assumed I should know to follow them - rather than talking clearly). The pool was filthy!
Sep 04, 2021
It was clean, friendly and convenient to what we wanted to see
Sep 04, 2021
Not a bad overnight stop. Stayed here twice. First site was terrible. About 3 feet from a cabin where occupants looked into our camper. Second stay much better with larger site. Bathrooms could have been a bit cleaner, but not terrible
Sep 04, 2021
We only stayed for one night. Our site was conveniently located near the entrance/exit for an early start in the morning. Bath house and laundry room were spotless and located next to each other so I could easily do both at the same time. Bonus! Loved watching the kids on the Jumping Pillow. They were having a great time.
Sep 04, 2021
Layover for a 3 week cross-country trip. The campground was clean and the employees were very courteous. We especially liked the garbage pickup at the site.
Sep 04, 2021
gr8 place, friendly staff, love the no code bathroom and laundry entrance! Pizza was tasty
Sep 03, 2021
Everyone was so helpful and friendly
Sep 03, 2021
We were just in for one night with a travel trailer. Really liked the dog area. Sites were a bit small/close to each other, but adequate. Didn't use the facilities so can't comment.
Sep 03, 2021
Stayed at campground outside Omaha. Restroom clean nice laundry facilities
Sep 02, 2021
I would love to see the owners invest in replacing the entrance driveway to help eliminate the roughness and potholes throughout. I wouldn't recommend staying on the site we were on because after the rainstorm it pushed all of the rocks and gravel onto our site and left the areas off the slab muddy. I had to track through mud as I was loading everything up the next day to leave.
Sep 02, 2021
Campground had had lots of rain and the roads needed significant maintenance. The entrance was quite bad with potholes just off the highway and all the way to the checking. Staff was friendly and helpful. Site was fairly level with good hookups.
Sep 02, 2021
A plus on everything. Showers were incredible. Super location.
Sep 02, 2021
We weren't there very long, but were very appreciative of the free coffee in the morning. The campground was very clean and off the highway, which made it nice and quiet at night. We stayed in a cabin, which smelled a little like mildew, but it had a screen door, which was great to keep the mosquitoes out and air the cabin. Would stay here again and enjoy some of the many activities.
Sep 01, 2021
Couldn't of asked for better accommodations. Place was clean and extremely well organized. Possum, John, and the rest of the crew were incredible. The girls at the front desk were not only helpful, but they were personable and entertaining as well. Looking forward to my next visit.
Sep 01, 2021
Good service �
Sep 18, 2021
Very quiet...new spots in the back are bigger but you hear more of the interstate traffic. Best cable we've had on our 2 month trip!
- Lynn Hampton on Google
Sep 14, 2021
Super fast wifi!!!!!! Great stay, friendly hosts, a dog park with grass and Hunts pizza delivered piping hot to your door in 20 mins.
- Trays O'Reilly on Google
Sep 11, 2021
Great for stops lots of stuff
- Ivan Tchesnokov on Google