Watkins Glen / Corning KOA Resort Recreation
Fun for the whole family!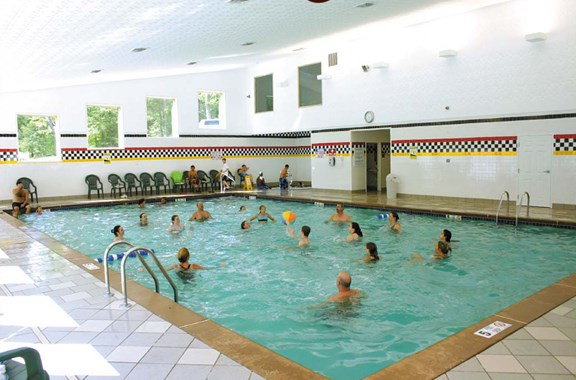 Indoor Pool & Spa
Our Indoor Pool & Spa is open for the enjoyment of our guests for the entire season--April 16 to October 31, 2021.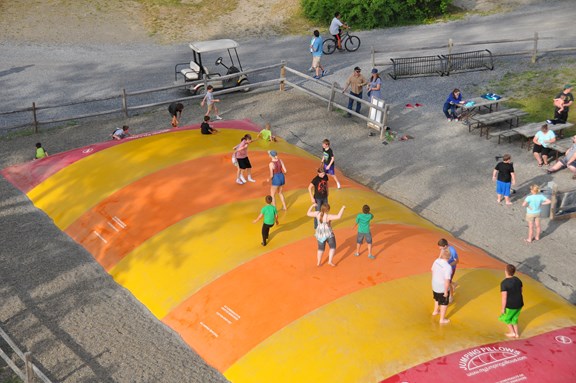 Jumping Pillow
Located down by the pond, our jumping pillow is open every day!  And it's FREE!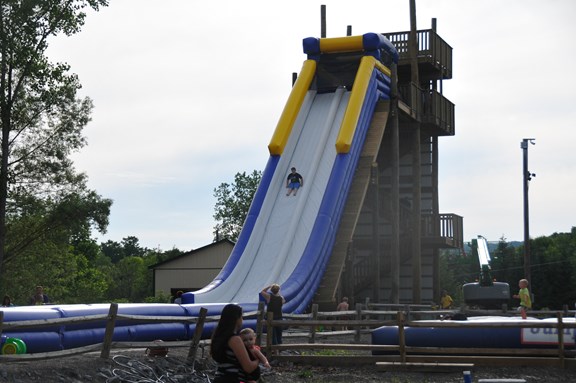 "The Plunge" - Water Slide
Great news!  As of June 19, 2021, our water slide has been re-opened!  This popular activity is open 12:30-5 pm daily, weather permitting. *Closed after Labor Day Weekend*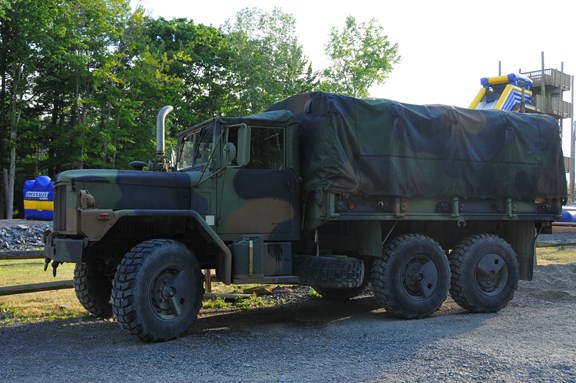 Army Truck Rides
Hop on the back of our Deuce-and-a-half Army truck for a unique ride around the campground.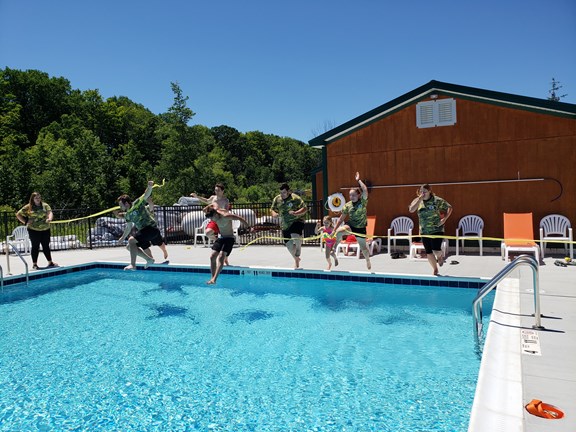 Outdoor Pool
The outdoor swimming pool is open daily from Memorial Day weekend to Labor Day weekend. The hours of operation are from 10am-9pm weather permitting. 
 This pool is no longer life guarded, which means that adult supervision will be required for all youth under the age of 16yrs.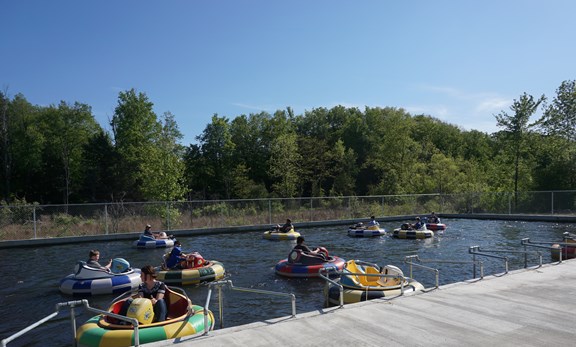 Bumper Boats
Due to New York's Response to COVID-19, our Bumper Boats will be closed until further notice. Sorry for the inconvenience!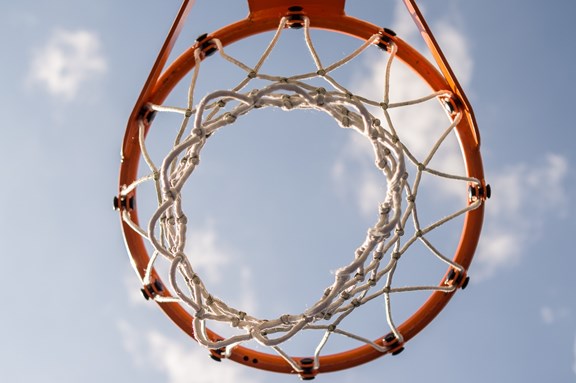 Basketball Court
Near our activities pavilion (see map), we have a half-court basketball spot. Feel free to bring your own basketballs or see if the camp store has any to sign-out for temporary use.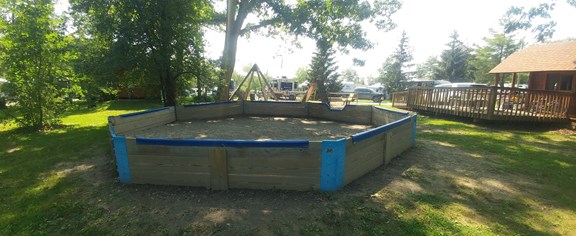 Gaga Ball
Gaga Ball is a different and more fun way to play the classic 'dodgeball', inside a hexagon shaped "gaga-pit". The game combines running, striking, dodging, and sometimes jumping, if you want to win! Instead of throwing, you can only use your arms/hands to hit the ball.
If you need to a Gagaball to play, ask the store to rent one out (free, just sign it out).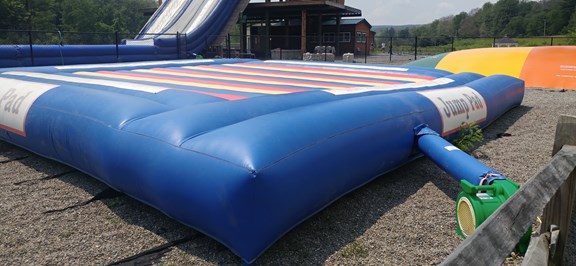 Jumping Pad
Located next to the Jumping Pillow by the pond.  Fun for all!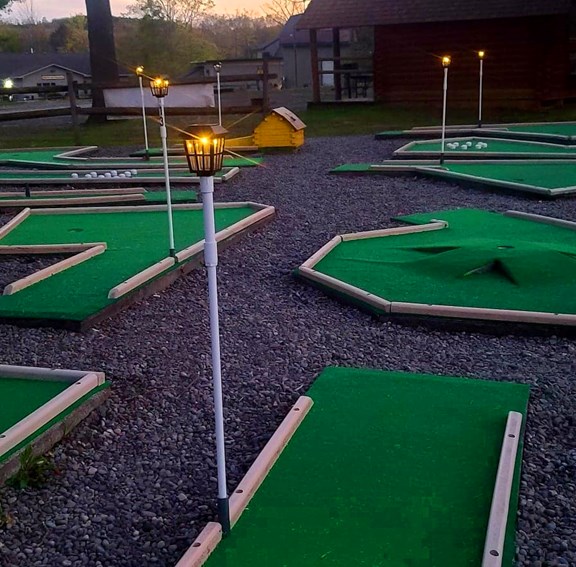 Mini-Golf
Our 18-Hole Mini Golf courses are a must try! Come to the camp store, grab a scorecard, some clubs, and some golf balls, and go play. FREE!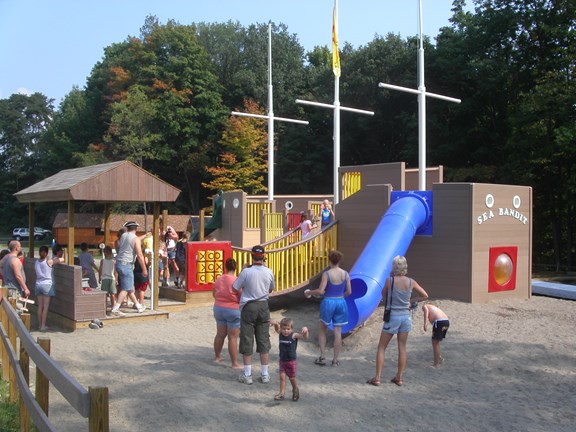 Pirate Ship Playground
Visit our giant pirate ship playground for lots of fun. Dig for buried treasure in the sand surrounding the pirate ship.  Located near Sunset Acres.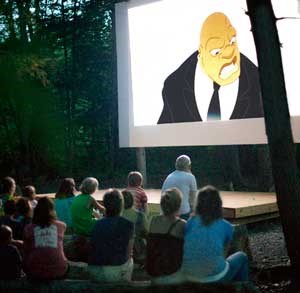 Theater in the Woods
Movies most every evening in the summer, in our "Theater in the Woods", weather permitting.  Movie showings will be listed with our activities.