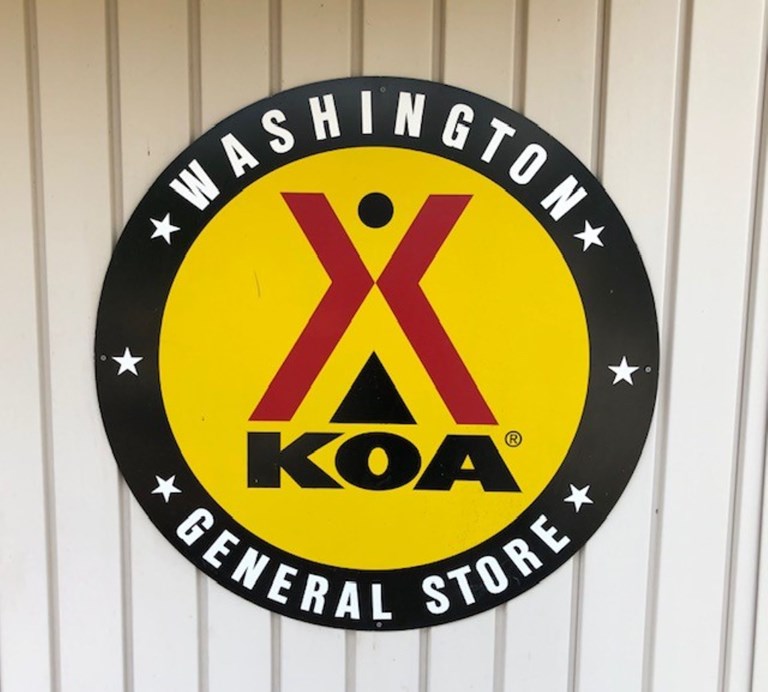 General Campground Information
Advanced Reservations discount
Make your reservations either over the phone @ 1-800-562-0254 or on the KOA.com website and receive a discount for advanced reservation!
Office/Store hours
Campground office is currently closed due to Covid-19
Reservations and walk ins should follow off-hour registration directions posted at the office. If assistance is needed, please call the off-hour number posted there as well.
Check in and Check out times
RV and Tent site check-in: 1 PM
Cabin Rentals check-in: 3 PM
Check-out for ALL: 12 PM
Pool INFO
Our swimming pool will open tentatively 5/22/20 with limited entry (no more than 10 people at a time) and reduced hours.  Guests are asked to limit their use to 1 hour max at a time so that all guests may enjoy the pool.  Pool furniture will not be provided at this time to limit the spread of Covid-19.  Guests may bring their own chairs and must practice social distancing (6 ft) at all times within the pool area.  Friday May 22nd will be a trial run for pool usage.  If cooperation is not met by all guests the pool will be shut down for the remainder of the weekend.
KOA Pet Policy
We are unable to accept the following breeds or mixes: Pit bull, Rottweiler or Dobermans. Anyone who violates this policy will be asked to leave without a refund. NO EXCEPTIONS
Aggressive dogs of any breed are not welcome at any KOA. If your dog shows behavior that is protective and unfriendly to strangers, please leave it home. If you decide to bring your dog and it exhibits this type of behavior the owner or management of the KOA will ask you to please find other camping accommodations. All dogs are required to be under the control and visual observation of their owner at all times. A 6' (six foot) leash rule is in effect whenever the animal is outside the owner's camping trailer, vehicle, kabin, or motorhome. No dog should be left tied up and unattended outside the owner's camping equipment. Allowing your pet to bark uncontrollably day or night will not be permitted and you may be asked to leave if you are not able to control your pet's barking behavior.
Firewood
We sell firewood on site. Please do not bring firewood into the campground. Thank you
Meet Your Hosts
Life is better, when you're camping!
Working for a year for no pay may seem like a crazy idea, but to Rick Leclair, it was exactly what he needed to do. Rick,Sharon and Danielle Leclair are the owners of the Washington / Pittsburg KOA. Though they traveled the country for 12 years as RVers, they were unsure whether campground ownership was for them.
Rick knew the owner of the KOA was planning to retire, and he approached him about purchasing the campground. Rather than risk owning an incompatible business, Rick chose to work for free for a year before making a decision. "I learned the business for that year, and when everything came through, we just stepped right in and took over," Rick said. "It was one of the best moves I ever made."
Rick said the allure of campground ownership is his ability to control his schedule. "It gives me a lot of freedom to do what I want on a daily basis," he said. "Really nothing has to be done today except taking care of the customer. We really enjoy the people and the work."
Their frequent RV travels make them sympathetic campground owners. "We understand when people are coming off the road and have had a rough day or are cranky," Rick said. "We try to put them at ease and don't take things to heart. Once they settle in, every one of them, they change their tune."
They feel the best part of their KOA is its beauty, especially the rolling hills. Rick said their friendliness makes them stand out.
"We really enjoy the people. That comes through when people meet us at the campground. We greet people like they are our friends, and that makes them want to come back," he said. And they have the return camper numbers to prove it.