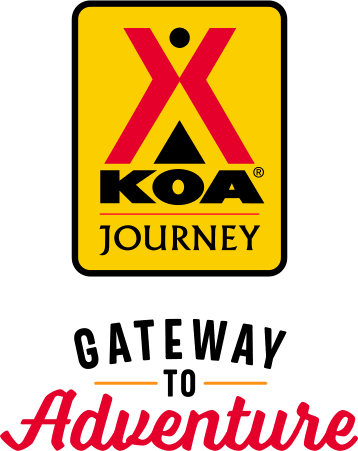 KOA Journey Campgrounds
KOA Journey campgrounds are the perfect oases after a day on the road. Whether it's along the way or a quick getaway, they've got you covered. Located near the highways and byways of North America with long Pull-thru RV Sites, they deliver convenience to the traveling camper. Pull in, ease back and take a load off.
KOA Journeys Feature:
Pull-through RV Sites with 50-amp service
Premium Tent Sites
Well lit after hours check-in service
Directions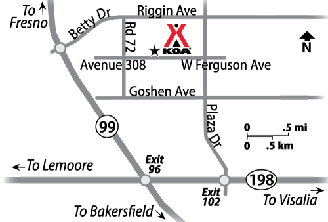 From Hwy 99: Take Hwy 198 East to Plaza Dr Exit. North on Plaza Dr to Goshen Ave, turn left. Go 1/2 mile and turn right onto N American Rd, which becomes Ave 308.
GPS: N36.349743, W119.406178
Get Google Directions
Jan 13, 2021
Stayed in a motorhome. Clean facilities and friendly staff
Jan 13, 2021

It was great.
Jan 11, 2021
Stayed her last year and happy to come back again. Nice and clean cabin, thanks for allowing dogs. Convenient to park. Good job on upkeep and new picnic tables.
Jan 10, 2021
We always enjoy our stay at Visalia KOA. We are looking forward to returning next Fall. Thanks KOA.
Jan 09, 2021
Nice park and pretty. The staff are great and friendly Fun store for souvenirs. We will come back possibly in spring. Thank you
Jan 08, 2021
It was a older KOA It had dry grass and was dusty The employees were very nice We'd stay there again
Jan 04, 2021
Facility was unkept and poorly maintained for the price of $55 for one night. I won't be back.
Jan 03, 2021
Dirty bathrooms, run down or no facilities. Not what we expected at all.
Jan 02, 2021
Park is not clean. Dog waste buckets were full the entire time. Did not enforce quite time. Too many campers there that were not well maintained. Wifi was very weak.
Jan 02, 2021
The cabins are so cute!!! I loved the plants they had around the cabins and their proximity to the pool, bathrooms, and dish washing station. It is not in the woods and a drive from the sequoias...but still a safe, clean and adorable place to stay! We will definitely come again.
Dec 28, 2020
Always friendly folks at office, nice pull throughs. Convenient location
Dec 24, 2020
This camp seems to be an old camp. It is now surrounded by residential and commercial in the middle of town. Not close to anything and very DIFFICULT to get to. Do not trust GPS to get you there streets do not go thru. We made a misguided turn and had to back up two blocks. Services at the campground were adequate once we located it, check in was quick and efficient.
Dec 23, 2020
We loved to stay here for one night. The staff was so nice! Thank you for being open in this crazy time.
Dec 22, 2020
This location is not typical of the KOA I have stayed. The majority are very nice and have a lot of services for the money. No wifi available, not convenient to freeway, shopping. I'm happy they were open and they were very friendly
Dec 17, 2020
it was mostly good. WIFI was bad but cable was good, better than most camp grounds. It was tidy, good laundry facilities and terrific employees.
Dec 15, 2020
Compared to other KOA locations we have visited, this one was quiet disappointing. Bathrooms need major update and the actual campgrounds needs some TLC as well for it to look more friendly and welcoming.
Dec 12, 2020
Nice place to stay. The staff were helpful and pleasant. Would stay there again.
Dec 11, 2020
Great stay, great staff!! Superior customer service.
Dec 10, 2020

Dec 09, 2020
no cable no internet showers were bad place needs work stayed at 50 koa,s this one not good
Dec 08, 2020
I am not a big review but we did not enjoy our stay here. Many long term residents including some tent folks. We've been to many RV parks with long term/permanent residents but here they aren't overly tidy or clean. Advertised WiFi but nothing I could even download email messages from. Located in the middle of a rougher neighborhood. Convenient freeway access, many stores nearby.
Dec 07, 2020
Definitely no Sequoias, but plenty of trees in the park. Cabin could use some spider web removal up high, but overall a good place to stay. The 2 room cabin was plenty for 3 adults and 2 dogs. We would stay here again.
Dec 06, 2020
Have stayed at a few KOA camps and have enjoyed them, but can't say that about this park. It appears to have a lot of long term "residents". Grass at the sites is completely dead. Trash in our fire pit. Cable connection was missing parts and was unusable at our site. Dog park was full of poop which was not picked up and trash cans were full and not emptied throughout our multiple day stay.
Dec 04, 2020
Staff were pleasant but placed us next to a group of some 20+ unmasked celebrants the day after Thanksgiving still enjoying their feast and games. While they were cooperative (moving their cars from our spot) anti covid rules were obviously not enforced. We stayed opposite our rig from them. Thankfully they disbanded after dark. We did not shower as we were told the water heater was out.
Dec 04, 2020
Good location for visiting Sequoia National Park. Surprised to see so many fulltime RV's in the campground.
CAMPGROUND RESPONSE / COMMENTS:
why
Dec 03, 2020
Great customer service and a wonderful location to the national park, Thanks so much for making our family feel at home :)
Dec 02, 2020
We enjoyed our stay at this KOA because it is somewhat close to Sequoia/Kings Canyon, even though it is still about 90 minutes away. There isn't much else around unless you go into Fresno. You are surrounded by agriculture, industry, and some housing. The employees are very nice and helpful. I do think they should add more gravel as it is a bit dusty.
Dec 01, 2020
Loved the place. Staff was very friendly and attentive.
Dec 01, 2020
Overall clean and kind staff will be returning
Dec 01, 2020
Nice, well-kept campground. The sites were large and very nice under mature trees. After hours check-in was very easy, but we missed the chance to get some firewood! Would definitely stay here again.
Dec 01, 2020
Good access from the highway, pleasant staff, clean, adequate facilities.
Dec 01, 2020
One night stay. All hookups available. No problems. Clean. Run by nice people.
Dec 01, 2020
Nice and clean
Dec 01, 2020
The permanent residents, including the owner/manager have a lot of junk & non-camping stuff stored around their trailers. Every back-in spot is taken by permanent residents leaving only the expensive pull-throughs for guests. Lawn sprinklers are mounted on top of the site water hookups and they all leak creating nasty conditions around the water hookups. Water hookups appear unhealthy.
Dec 01, 2020
Person who assigned campsite must have never driven a 40 ft motorhome towing a vehicle or the would have made a better site selection. Site right next to me was unoccupied and would have all me easily pull out in the morning. Made it out without incident but it wasn't easy. Will not stay here again. Thank you for asking for feedback. Hope feed back helps for the next person.
Nov 30, 2020
Very friendly and knowledgeable staff. Check in was quick and easy. Very neat and clean campground and laundry room. Just needs a little sprucing up. We will stay here again.
Nov 29, 2020
Nice clean park with a little store with gifts and necessities. Friendly staff, and friendlier camp cat, and easy to pull in spots. We enjoyed our stay and had a nice drive out the the Sequoia National Park. Easy access off the freeway. Mostly quiet except at night there is a train and lots of cars tend to drive down the road next to the park. It is a Journey KOA so nice place to pit stop.
Nov 29, 2020
Standard KOA cabin, no complaints compared to other KOA cabins. Campground is surrounded by residential neighborhoods right off the highway, in an industrial park. Restrooms need updating, are co-ed and only 2 locations for the whole facility. Staff is very nice and helpful. Location is still at least an hour from the Sequoias but is near restaurants/breweries in town.
Nov 28, 2020
Horrible WIFI. Unkempt park site! There were tons of dead leaves all over, the picnic table had trash on it plus it appeared to not have been cleaned in forever.the lady at office seemed perturbed I called. When they showed up to clean, he wouldn't even acknowledge me!!! Won't ever recommend this place!!
Nov 26, 2020
Very nice people. Clean park
Apr 14, 2021
Nice quiet park. Several trees, so there are birds to listen to.
- Kathy Bramer on Google
Apr 14, 2021
Had a great time
- Robert Bramer on Google
Apr 11, 2021
It is in the middle of a residential neighborhood but seems secluded.
- Jerry Antoine on Google