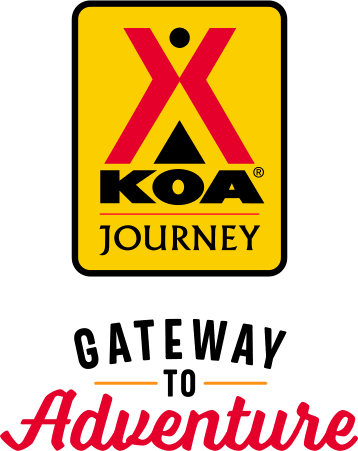 KOA Journey Campgrounds
KOA Journey campgrounds are the perfect oases after a day on the road. Whether it's along the way or a quick getaway, they've got you covered. Located near the highways and byways of North America with long Pull-thru RV Sites, they deliver convenience to the traveling camper. Pull in, ease back and take a load off.
KOA Journeys Feature:
Pull-through RV Sites with 50-amp service
Premium Tent Sites
Well lit after hours check-in service
Directions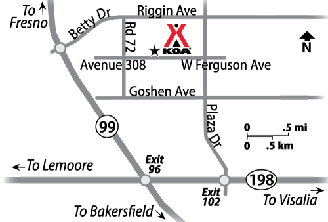 From Hwy 99: Take Hwy 198 East to Plaza Dr Exit. North on Plaza Dr to Goshen Ave, turn left. Go 1/2 mile and turn right onto N American Rd, which becomes Ave 308.
GPS: N36.349743, W119.406178
Get Google Directions
Apr 01, 2021
the hot water in the bathroom by the dumpster was not working... the store should have more supplies.
Mar 29, 2021
Horrible management team
Mar 28, 2021
Worst experience of my life! Was humiliated singled out threatened n robbed by mgmnt Desy, Bill threatened my gf when she was alone w violence n aggression! Got kicked out n didn't get money back. Paid full week n got thrown out on the 4th morning before 11. Tried reasoning w mngmt but she was drunk n yelling. Sheriffs were called. Please contact me for further details. NEED MY MONEY BACK!
Feb 27, 2021
Very nice cabins, very clean and well maintained. Specially coming from previous night in Benbow KOA which was a total nightmare. Service was great, very nice and genuine, fire pit and gas grill were great. Used laundry, machines are perfect and no coins needed, they give you a card with credit at check in. Very easy. Thank you
Feb 09, 2021
Calvin was very dirty the bands were disgusting there was no frying pan people living there.
Feb 09, 2021
Great customer service they make us feel at home, super clean place heated to make the night super warm we loved it.thank you we definitely recommend it and will come back again;))
Feb 05, 2021
Front desk was very kind. We arrived early to check into our cabin, but wasn't given the keys until 15 minutes after the time we were allowed to check in because of housekeeping. Facilities were clean. The cabin reeked of smoke and it truly made me sick. The back room and the beds smelled like smoke. Was there an option for non-smoking? Other than that, we had a lovely stay.
Jan 15, 2021
First time staying at a Koa, very fun experience. Only thing I would recommend to bring more blankets and things to keep warm because I made the rookie mistake of just bringing a sleeping bag. The main lady Debbie in the front was very sweet and polite. Totally would stay again and very affordable.
Jan 11, 2021
Stayed her last year and happy to come back again. Nice and clean cabin, thanks for allowing dogs. Convenient to park. Good job on upkeep and new picnic tables.
Jan 02, 2021
The cabins are so cute!!! I loved the plants they had around the cabins and their proximity to the pool, bathrooms, and dish washing station. It is not in the woods and a drive from the sequoias...but still a safe, clean and adorable place to stay! We will definitely come again.
Dec 15, 2020
Compared to other KOA locations we have visited, this one was quiet disappointing. Bathrooms need major update and the actual campgrounds needs some TLC as well for it to look more friendly and welcoming.
Dec 07, 2020
Definitely no Sequoias, but plenty of trees in the park. Cabin could use some spider web removal up high, but overall a good place to stay. The 2 room cabin was plenty for 3 adults and 2 dogs. We would stay here again.
Dec 01, 2020
Loved the place. Staff was very friendly and attentive.
Dec 01, 2020
Nice and clean
Nov 29, 2020
Standard KOA cabin, no complaints compared to other KOA cabins. Campground is surrounded by residential neighborhoods right off the highway, in an industrial park. Restrooms need updating, are co-ed and only 2 locations for the whole facility. Staff is very nice and helpful. Location is still at least an hour from the Sequoias but is near restaurants/breweries in town.
Nov 11, 2020
Great staff. We enjoyed our visit, especially the cats hanging around the cabins.
Oct 18, 2020
Everyone was very friendly, especially Sydney (we called her smiley, because she always had a big smile on her face!).
Oct 07, 2020
We loved our stay at the KOA at Visalia/Sequoia National Park! The cabin was spotless, the bathrooms and grounds were clean and well maintained. The pool was perfect and the people were the best. Thank You!
Oct 02, 2020
I have stayed and different KOA's and this was not what I expected, Cabin had spiders, the campsite looks neglected, their are RV's that clearly live there and I didn't find advertised that KOA can be rental property. I was more disappointed with neglect of the campsite. I do realize that KOA have 3 different types I just didn't expect it to be this uncomfortable, I couldn't wait to com
Sep 28, 2020
It was good thank you
Sep 24, 2020
It was clean beautiful staff was friendly.
Sep 12, 2020
I've stayed at several KOAs and many other campgrounds/RV parks. This one felt the most neglected. I stayed in a cabin and it was full of prominent spiderwebs in every corner inside, between the bed frame and the floor, on the windows, and on the porch. The bathrooms were also run down. Just get some cheap new toilet seats at least. Those things are nasty. Also, the WiFi didn't work.
Sep 12, 2020
Koa good everything but I wish koa in sequoia less dangerous. I like koa smile
Sep 04, 2020
Quiet and relaxing, nice accommodation. This was exactly what we were looking. Thanks, really enjoyed.
Sep 01, 2020
My stay was excellent. The cabin provided the camping experience and also the comfort of home. The staff was great and accommodating.
Aug 30, 2020
Great stay, the bathrooms were a bit strange due to the fact of being male/female. showers & bathrooms were both male/female at the same time. wife did not feel safe going by herself.
Aug 29, 2020
Very nice campground. We stayed in cabins from Arizona to California and we love KOA campgrounds.
Aug 23, 2020
The entire staff from the young ladies watering the plants to the front office and those that maintain the grounds are all extremely kind and friendly.
Aug 14, 2020
Just such a kind and friendly atmosphere ��
Aug 10, 2020
Cabin had many cobwebs we had to clean out inside and outside Seemed poorly kept
Aug 05, 2020
Cabin was not as clean as other KOA's we stayed at. Cabin was at the back of the property and the portable trailer with bathroom and showers was disgusting. Managers were not as friendly and attentive as the previous KOA we stayed at. Rope lights on the cabin on all night and the curtains were thin so it was bright sleeping. Window and AC unit had visible dust on them.
Aug 04, 2020
Stayed for two nights. Person that checked us in was very friendly and we felt welcomed. Everything was clean and well maintained.
Jul 31, 2020
Everything went great and we enjoyed our stay, staff was friendly. The 4 star is based more on location, shade, and a comparison to other Kamping Kottages/ Lodges/proximity that we have stayed at before, but we had no complaints. I would like a recycle bin to be included with the cabins.
Jul 30, 2020
I like the attention from the front desk, very polite. The only thing is that the people who clean the rooms after other people should clean more throughly because under the bed there was alot of garbage. Thank you
Jul 29, 2020
My only complaint is about the temperature in our cabin. It was very hot there and the air conditioner was not able to keep up.
Jul 28, 2020
My biggest issues with my two days stay was the huge amount of cockroaches seen outside the cabin and around the ring fire.
Jul 26, 2020
It was a pretty good stay. It was about 30-40 minutes from Sequiolla Entrance but about 1.5 hours to the Sherman Tree. Locks in the bathroom did not lock and it was unpleasant for me and other KOA guests. Customer service in the front desk was helpful and friendly. Was able to let me check in early for me and my family. Good place to stay if you want something pretty close to Sequoia.
Jul 25, 2020
good price to stay
Jul 23, 2020
The facilities are great but far from the Seqoia Natl Park and the area where they are located is an industrial one so you receive the smells from factories near by. So. the location isn't great but everything else was great!
Jul 22, 2020
Overall, I give you guys 5 stars. Wasn't crazy about the neighbors. I was trying to enjoy my weekend with my son and they were a bit too noisy. Friday's visitors and Saturday's.
Jul 21, 2020
So happy to have air conditioning in the cabin. Nice, quite location. Bathrooms were not all that clean, but otherwise a great experience.
Jul 21, 2020
Very disappointed and feel very taken advantage Horrible staff they do not how to treat costumers. Old couple living On the House Inside de property
Jul 20, 2020
I did not feel comfortable with the bathroom situation. I would not allow my pre teen/teenage girls use the bathroom or showering, without adult supervision knowing that adult men or boys could be in the same room at the same time. The bathroom was clean however.
Jul 17, 2020
Quiet, everything working of course cova 19 impacted morning coffee but everyone friendly bathrooms clean, restful.
Apr 14, 2021
Nice quiet park. Several trees, so there are birds to listen to.
- Kathy Bramer on Google
Apr 14, 2021
Had a great time
- Robert Bramer on Google
Apr 11, 2021
It is in the middle of a residential neighborhood but seems secluded.
- Jerry Antoine on Google