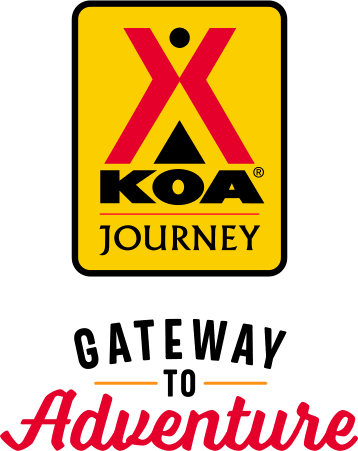 KOA Journey Campgrounds
KOA Journey campgrounds are the perfect oases after a day on the road. Whether it's along the way or a quick getaway, they've got you covered. Located near the highways and byways of North America with long Pull-thru RV Sites, they deliver convenience to the traveling camper. Pull in, ease back and take a load off.
KOA Journeys Feature:
Pull-through RV Sites with 50-amp service
Premium Tent Sites
Well lit after hours check-in service
Directions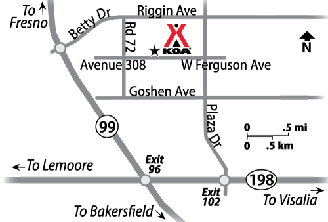 From Hwy 99: Take Hwy 198 East to Plaza Dr Exit. North on Plaza Dr to Goshen Ave, turn left. Go 1/2 mile and turn right onto N American Rd, which becomes Ave 308.
GPS: N36.349743, W119.406178
Get Google Directions
Feb 17, 2021
This is rated a Journey KOA but I have stayed at much nicer. The grounds needs work I worked in a Park system for 18 years this KOA needs a good grounds keeper. "NO INTERNET" this is a must as far as we are concerned everything uses internet these days. Next to a train track and runs all night and smack in the middle of a neighborhood aka housing track. Not really close to anything of interest.
Feb 16, 2021

The staff was very friendly and the cabin was better than what I expected! Good rates for a decent place! Would highly recommend again. Also very close to Sequoia. Nice getaway.
Feb 16, 2021
It was a very quiet and relaxing weekend, just what we needed!
Feb 16, 2021
Everyone we worked with was friendly and helpful
Feb 15, 2021
Stayed in B8 through February 13, 2021. Next to me is a blue and white camper with a kennel in front that some other camper brought for the dog; he was confined to a small crate with no cover. The dog stays in the kennel almost all the time. This dog is a German Shepard mix. The person living in this camper does not take care of the dog and is abusive to him. Don't like long term messy camps
Feb 14, 2021
Very friendly staff.
Feb 12, 2021
It's a nice quiet place to stay
Feb 09, 2021
Calvin was very dirty the bands were disgusting there was no frying pan people living there.
Feb 09, 2021
Great customer service they make us feel at home, super clean place heated to make the night super warm we loved it.thank you we definitely recommend it and will come back again;))
Feb 08, 2021
Could notconnect to WiFi. Grounds were ugly and close to the highway. Lots of traffic noise.
Feb 06, 2021
Super nice staff, quiet camping.
Feb 06, 2021
Great staff! Helped us out when the site we reserved didn't work for us. The park was clean and manicured. The only down side was the showers- the biggest one needs a new shower head and the middle stalls pressure was so high it was painful to stand in.
Feb 05, 2021
Front desk was very kind. We arrived early to check into our cabin, but wasn't given the keys until 15 minutes after the time we were allowed to check in because of housekeeping. Facilities were clean. The cabin reeked of smoke and it truly made me sick. The back room and the beds smelled like smoke. Was there an option for non-smoking? Other than that, we had a lovely stay.
Feb 02, 2021

This KOA wasn't as accommodating as the others we've stayed at. The grounds could use some upkeep along with the store and offerings. There isn't much to do around the neighborhood, so more to do even during COVID would be helpful.
Jan 26, 2021
Bathrooms could have been cleaned more often especially during C19
Jan 17, 2021
Thank you for changing my date for my reservation.
Jan 16, 2021
Another great KOA site. Hope to stay with them again.
Jan 16, 2021
Park is ok. Wifi is terrible
Jan 15, 2021
First time staying at a Koa, very fun experience. Only thing I would recommend to bring more blankets and things to keep warm because I made the rookie mistake of just bringing a sleeping bag. The main lady Debbie in the front was very sweet and polite. Totally would stay again and very affordable.
Jan 14, 2021
Very welcoming staff, clean and well kept easy location. We enjoyed our visit �
Jan 13, 2021
Stayed in a motorhome. Clean facilities and friendly staff
Jan 13, 2021

It was great.
Jan 11, 2021
Stayed her last year and happy to come back again. Nice and clean cabin, thanks for allowing dogs. Convenient to park. Good job on upkeep and new picnic tables.
Jan 10, 2021
We always enjoy our stay at Visalia KOA. We are looking forward to returning next Fall. Thanks KOA.
Jan 09, 2021
Nice park and pretty. The staff are great and friendly Fun store for souvenirs. We will come back possibly in spring. Thank you
Jan 08, 2021
It was a older KOA It had dry grass and was dusty The employees were very nice We'd stay there again
Jan 04, 2021
Facility was unkept and poorly maintained for the price of $55 for one night. I won't be back.
Jan 03, 2021
Dirty bathrooms, run down or no facilities. Not what we expected at all.
Jan 02, 2021
Park is not clean. Dog waste buckets were full the entire time. Did not enforce quite time. Too many campers there that were not well maintained. Wifi was very weak.
Jan 02, 2021
The cabins are so cute!!! I loved the plants they had around the cabins and their proximity to the pool, bathrooms, and dish washing station. It is not in the woods and a drive from the sequoias...but still a safe, clean and adorable place to stay! We will definitely come again.
Dec 28, 2020
Always friendly folks at office, nice pull throughs. Convenient location
Dec 24, 2020
This camp seems to be an old camp. It is now surrounded by residential and commercial in the middle of town. Not close to anything and very DIFFICULT to get to. Do not trust GPS to get you there streets do not go thru. We made a misguided turn and had to back up two blocks. Services at the campground were adequate once we located it, check in was quick and efficient.
Dec 23, 2020
We loved to stay here for one night. The staff was so nice! Thank you for being open in this crazy time.
Dec 22, 2020
This location is not typical of the KOA I have stayed. The majority are very nice and have a lot of services for the money. No wifi available, not convenient to freeway, shopping. I'm happy they were open and they were very friendly
Feb 19, 2021
One of our first KOA experiences and was really nice.
- Heidi Calder on Google
Feb 16, 2021
Really enjoyed my stay. The staff was more than friendly and close to Sequoia. We stayed in a cabin and the pricing was great for what we got! Would recommend.
- Sabrina Brannen on Google
Feb 06, 2021
Friendly service, clean showers and laundry facilities. Would i return 🤔. Yes!
- Cindy Reed on Google