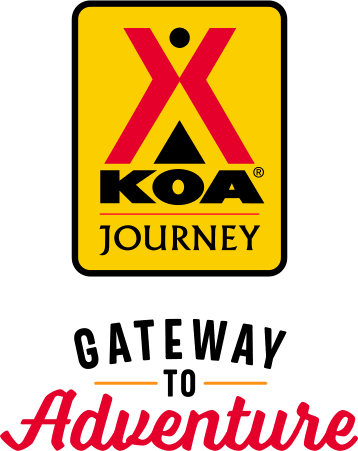 KOA Journey Campgrounds
KOA Journey campgrounds are the perfect oases after a day on the road. Whether it's along the way or a quick getaway, they've got you covered. Located near the highways and byways of North America with long Pull-thru RV Sites, they deliver convenience to the traveling camper. Pull in, ease back and take a load off.
KOA Journeys Feature:
Pull-through RV Sites with 50-amp service
Premium Tent Sites
Well lit after hours check-in service
Directions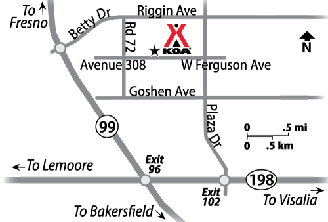 From Hwy 99: Take Hwy 198 East to Plaza Dr Exit. North on Plaza Dr to Goshen Ave, turn left. Go 1/2 mile and turn right onto N American Rd, which becomes Ave 308.
GPS: N36.349743, W119.406178
Get Google Directions
Apr 06, 2021
Was nice, but didn't have WiFi, pool was closed and it was hot, bathrooms were outdated and some not working,
Apr 05, 2021
The campground was not well maintained, weeds (not grass) were overgrown. We had to use the public restrooms. The woman's restroom was dirty and smelled! The shower head was awful - it literally almost cut my nipple because the pressure was so powerful and it's an old shower head! I would never stay here again and I would expect someone to reach out to me. 80% of park, long termers.
Apr 04, 2021
The park was nice clean and quiet for the most part. I was a little put off by it's actual distance (hour drive) to Sequoia and it being located smack dab in the middle of a housing community. Given the name I expected it to be closer and surrounded by trees.
Apr 04, 2021
We made reservations online and apparently I reserved a site with pwr and water only and no hook up we were told that's what we reserved and the counter person made no attempt to try and move us to a site with dump even though in morning there were spaces available. A little disappointed as we have stayed here before
Apr 02, 2021
Quiet and nice location. Staff friendly. Great dog park.
Mar 31, 2021
After reading some reviews we wondered if we made the right choice. Upon our arrival we knew we had, our site it was great, we had plenty of room. We enjoyed our stay.
Mar 31, 2021
This review has been removed by KOA due to profanity.
Mar 29, 2021
very enjoyable
Mar 28, 2021
We stayed almost a month, we enjoyed our stay - staff were great would stay again.
Mar 28, 2021
Disappointed the cable TV hook up did not work at our site.
Mar 27, 2021
Our stay was interesting. Dogs run loose at night owners don't pick up after them, we were there 6 days restrooms were dirty:( they were cleaned maybe on 3rd day there were some shorts in the shower floor for 3 days table at site dirty spider webs under:( not the workers fault. Not trained properly.
Mar 27, 2021
Friendly staff, clean camping area.
Mar 26, 2021
Not easy to find, and I prefer concrete parking pads, but other than that entirely satisfactory.
Mar 25, 2021
We have golden retrievers and they thought the dog park was wonderful � long and green, great for tossing the ball for them.... everything was clean.... the store needed some stocking, but all in all we had everything we needed .
Mar 25, 2021
Noisy, but I know that there is nothing you can do to stop the trains, and the car racing about the area.
Mar 24, 2021
Very low key, felt like someone's own homes backyard.. it was in a residential neighborhood.
Mar 24, 2021
Very convenient to have the market as we needed to purchase water since our reservoir would not fill!
Mar 24, 2021
Most campers are permanent and not a camping experience. Works for an overnighter
Mar 23, 2021
Clean well managed. Great rv park
Mar 23, 2021
We were very disappointed by this KOA, The grounds are messy, muddy and weeds were everywhere. Not the usual KOA standard. We would not stay here again.
Mar 18, 2021
Nice folks, pretty quiet camp. It's a resl COVID shame that most amenities were closed. Wifi very wrsk.
Mar 15, 2021
The neighborhood is very, very noisy! Bands playing and roosters crowing, really, a rooster crowing!! At night! After a long day on the road, very frustrating. A not so considerate neighborhood has grown up around them.
Mar 15, 2021
Disappointing.....and overall overrated. We probably got one of the worse sites in the park because of our later arrival...thank god we only were staying the night. Please....Don't advertise that it is nicer than reality. Do some property upgrades....WIth just a little effort your KOA could be much nicer. AND Do not let full timers junk it up and so it becomes a "trailer trash" park.
Mar 14, 2021
Every time we have visited everyone is friendly helpful the park is clean and friendly I give it 10
Mar 14, 2021
Quick overnight after long drive from Death Valey—heading to home to Sacramento next day. Easy off-freeway access, nice property, and helpful staff. So grateful to have a place to stay on short notice—thank you!
Mar 13, 2021
Liked the quiet, but: The mud and large puddle at the entrance of the dog park were bad. Very hard to walk both dog and myself around deep puddle at the gate without getting wet. Standing water at site. Sewer connect pipe has no threads to connect our pipe to. Saw that neighbor put a rock on his to hold it down.
Mar 12, 2021
Friendly staff, easy in and out, we will be back!
Mar 11, 2021
Well cared for park and friendly, helpful staff.
Mar 10, 2021
Super Friendly Staff! Well kept grounds. On the older side but all working amenities. Our spot however had a broken cable line for tv hookup. We didn't need it, but would have like to get local channels.
Mar 10, 2021
Just an overnight stay but was a nice clean park
Mar 09, 2021
We enjoyed our stay. The staff was very helpful and the four nights we stayed were relaxing and comfortable.
Mar 07, 2021
Just an overnight, but totally acceptable
Mar 02, 2021
I'm just stating the facts 1) Long term residents commingled with vacationers, not fun for either party. 2) Long term residents sites were not tidy. 3) Car with front end jacked up, being worked on. 4) No security and no number listed on Welcome flyer. 5) Unfortunately we had to make multiple call to 911 for a domestic dispute. 6) Front desk staff not following Covid protocols.
Apr 14, 2021
Nice quiet park. Several trees, so there are birds to listen to.
- Kathy Bramer on Google
Apr 14, 2021
Had a great time
- Robert Bramer on Google
Apr 11, 2021
It is in the middle of a residential neighborhood but seems secluded.
- Jerry Antoine on Google