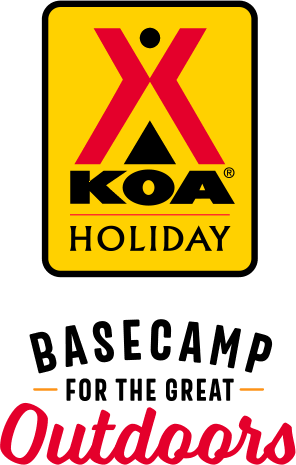 KOA Holiday Campgrounds
Whether you're exploring the local area or hanging out at the campground, KOA Holidays are an ideal place to relax and play. There's plenty to do, with amenities and services to make your stay memorable. Plus, you'll enjoy the outdoor experience with upgraded RV Sites with KOA Patio® and Deluxe Cabins with full baths for camping in comfort. Bring your family, bring your friends, or bring the whole group – there's plenty of ways to stay and explore.
KOA Holidays Feature:
RV Sites with a KOA Patio®
Deluxe Cabins with full baths
Premium Tent Sites
Group meeting facilities
Directions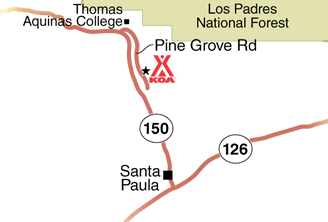 From 101 freeway: Head east on 126 freeway.
From I-5: Head west on 126 freeway. Take 10th Street / Hwy 150 exit. Go 5 miles toward Ojai. Take first right past Steckel Park on Mupu Road. Follow signs.
Get Google Directions
Sep 24, 2021
We had a great time with friends and family in Alder Circle. The staff were very helpful and accommodating when we wanted to stay an extra night.
Sep 23, 2021
Friendly helpful staff, beautiful, fun campground.
Sep 22, 2021
Loved it there. Beautiful relaxed place with lots of stuff for the kiddos! The cabin (#14) was amazing- perfect for what we needed. The fire pit was in a little odd place though. The pool was maybe a bit too cold. The jumping pillow was definitely fantastic! Good for kids and adults alike! The gem panning was super cool activity. Just wish the slides were fixed, the rock wall and tie dye was open.
Sep 21, 2021
We had such a great time , vary relaxing
Sep 21, 2021
Very nice, clean, everybody respect the rules, the employees helped me with a smile �
Sep 21, 2021
It seems most KOA's (at least the ones I've visited) are very dusty. More gravel or bark would be nice instead of the fine dirt that gets everywhere. I had booked a different (private resort) location near Lake Tahoe, but, due to the fires, our plans changed... Ventura Ranch KOA had room for our group, even at the last minute, and for that I am grateful!!
Sep 20, 2021
Best hot showers in a campground ever. Stayed there for proximity to Ventura Harbor, so we did not get to play at KOA.
Sep 20, 2021
Great for my son, great people work there.
Sep 19, 2021
We loved the large RV sites, the friendly staff and the beautiful surroundings as well as the lovely peacocks. We both wanted to stay longer but we were at the end of our getaway and had to return back home. Great place!
Sep 18, 2021
The most beautiful RV park anywhere! Wonderful staff. The surroundings are fantastic - mountains,trees, river, pool and more. You're not in a concrete lined, squeezed into a space, noisy place. So quiet and beautiful. Our favorite park . Can't wait to go again!
Sep 18, 2021
It was okay the staff does not respond quickly and cleaning not get done good.. over all is okay. The staff is not do their job.
Sep 18, 2021
Very clean park, lots of fun things to do, very nice people in the office and on golf carts.
Sep 17, 2021
enjoyed our stay, Large clean sites.
Sep 16, 2021
It was super everything was nice and clean and I thank you
Sep 15, 2021
We had a terrific time at Santa Paula KOA. My family stayed in one of the cabins along with my dog for a quick weekend vacay. Only negative was the shower did not drain quickly. It was obviously clogged. Other than that, the kids enjoyed the jumping pillow, bonfires and playground. We didn't spend time at the pool, but will for sure next time. I'd recommend this KOA. Thank you for the memories.
Sep 15, 2021
Everything is well maintained and clean, All of the staff are energetic, kind and helpful, there's a overwhelming amount of activities to keep the adults and the kids busy...we thoroughly enjoyed our stay and are looking forward to many more camping vacations there...Thank you for all your hard work and dedication to your wonderful campgrounds, all of you should be very proud.
Sep 15, 2021
Un lugar muy tranquilo y divertido para los niños
Sep 15, 2021
The cabin we stayed in was very quaint and comfortable. I just wish they hosted activities on Sunday though. By the time we could check in on Saturday, the activities were over. Overall, it was a nice stay.
Sep 15, 2021
Love KOA ! This one has to be one of my favorite! Great customer service everyone nice and helpful . Camp grounds clean and gorgeous lots to do with my grandson . We will be back next time cabin �
Sep 14, 2021
The staff is very friendly and helpful. Neighboring campers were all kind and polite. My son enjoyed making new friends, swimming at the pool, riding the BMX bike trail and participating in the gem mining activity. We are looking forward to the next trip! Our only recommendation is that the bathrooms are in dire need of deep cleaning and cleaning maintained after that.
Sep 14, 2021
I would say we'd come back. Due to the pandemic we didn't feel comfortable using the pool area as there was no occupancy limit. The bathrooms were also frequently clogged. Other than that a good time!
Sep 13, 2021
We have visited here for the last 5 years in different cabin types, before and after the fire and during covid restrictions the views are beautiful and the cabins are great. I was very disappointed because our cabin had a bug infestation with ants and spiders with webs in each room. Windows, walls and floor were all dirty like it hadn't cleaned all summer.
Sep 13, 2021
We enjoyed our stay at the Ventura Ranch KOA very much, however we were very disappointed that sewer service at each RV site was not provided, especially when we were charged $89 a night to stay there. In our view, this is a very serious deficiency, that should be corrected as soon as possible. Thank you.
Sep 13, 2021
we had a very great stay, many things to see and do. We made reservations to stay again in January.
Sep 13, 2021
Bathrooms are rather difficult to get to when staying in birch or Any of the sites near by
Sep 13, 2021
It was wonderful. Loved the jumping pillow and playground for the the kids!
Sep 13, 2021
Camp ground itself is nice and I would love to return but there were no staff to monitor the guests..? our neighbors were smoking and another group campers were loud and partying past midnight.. it wasnt a pleasant camping experience.
Sep 13, 2021
Exceeded our expectations. Staff was friendly, welcoming and friendly. We stayed in a glamper and it was so much fun! Clean and well put together. Other campers were quiet at night and followed KOA rules. Activities on site were so much fun!!! We can't wait to go back.
Sep 13, 2021
Top notch camping spacious campgrounds friendly staff and wonderful amenities for the whole family
Sep 11, 2021
Office staff was very courteous and accommodating in changing my site from an electrical/water site to a full hookup site for my Class A motorhome. Entire campground was beautiful and clean. The trees and shrubs that lined each site was very pleasing and divided each site for privacy. Sites were large enough to setup the outdoor living areas and room for vehicle parking even for a guest car.
Sep 11, 2021
we had a very very good time thanks
Sep 10, 2021
We enjoyed our stay, it was very quiet in the Pine campground!
Sep 09, 2021
Nice campground, lots for kids to do if you have kids, ant problem most likely do to heat
Sep 09, 2021
No water at camp area very inconvenient
Sep 08, 2021
Friendly staff. Excellent customer service. Very knowledgeable and courteous. Clean and quiet camp.
Sep 08, 2021
Camp sites reasonably well separated into three loops at different elevations. Site amenities such as picnic tables in poor condition and very dirty. Bathrooms not conveniently located; had to climb up a considerable hill to get to them. Bathrooms not well maintained; there was no running water in the sink in the men's room. Doors left open with sand blowing in. Overall, pretty shabby.
Sep 07, 2021
LOVED it, but would have liked the shower to have hot water and the A/C to work in the bedroom! Apart from that, we loved it!
Sep 07, 2021
AMAZING! We went with a group of families and had the BEST time! The zip line people were so wonderful with our group! The cabins were cute and fully functional (with A/C!). The environment is woodsy and beautiful - helped by the sightings of roaming peacocks! We are already signing up to go again next year. Thank you!
Sep 07, 2021
This place is wonderful for kids! So much to do and the cabins were great for adults.
Sep 23, 2021
Great KOA personal very nice, and helpful. Park is clean and well maintained.
- Scott Guffey on Google
Sep 18, 2021
Our favorite RV park. Surrounded by mountains, and trees. There's a river, a great pool, wonderful staff and TONS of things for a family to do. No concrete pads - just open space. Can't wait to go again.
- Dennis Cooper on Google
Aug 31, 2021
So relaxing. Sires are clean and spacious. Staff very friendly and helpful. So glad they are back.
- Margaret Harrison on Google