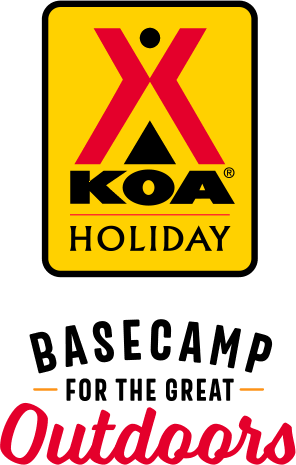 KOA Holiday Campgrounds
Whether you're exploring the local area or hanging out at the campground, KOA Holidays are an ideal place to relax and play. There's plenty to do, with amenities and services to make your stay memorable. Plus, you'll enjoy the outdoor experience with upgraded RV Sites with KOA Patio® and Deluxe Cabins with full baths for camping in comfort. Bring your family, bring your friends, or bring the whole group – there's plenty of ways to stay and explore.
KOA Holidays Feature:
RV Sites with a KOA Patio®
Deluxe Cabins with full baths
Premium Tent Sites
Group meeting facilities
Directions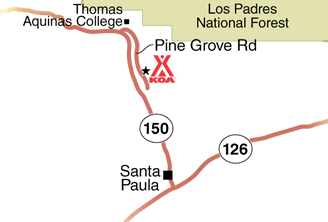 From 101 freeway: Head east on 126 freeway.
From I-5: Head west on 126 freeway. Take 10th Street / Hwy 150 exit. Go 5 miles toward Ojai. Take first right past Steckel Park on Mupu Road. Follow signs.
Get Google Directions
Jan 17, 2021
I was assigned a campsite that was not at all level. I was ver concerned if I could level my truck/camper. I called front desk & they assigned another site..... that was filthy, in particular there was a pile of cigarette butts & other butts scattered about. I was told there were a few bathrooms open, but I couldn't find them. $75.?? Definitely not worth it.
Jan 14, 2021
STAFF HELPFUL AND FRIENDLY. STAY WAS DURING COVID AND FELT LIKE THE 10 DOLLAR A NIGHT COFID FEE WAS RIDICULOUS. DID NOT SEE ANY EXTR EFFORT FOR THE ADDITIONAL CHARGE. ONLY ONE BATHROOM AND SHOWER OPEN AND DID NOT APPEAR TO BE CLEANED DAILY. THE SITES ARE GREAT AND WE APPRECIATED THE "HONEY WAGON" SERVICE.
Jan 08, 2021
Great location, perfect weather, gorgeous peacocks and peahens all around the property. When our reservations (Pismo Beach, Steckle park and Hobson Beach) were canceled on us Ventura ranch KOA took us in. We were then able to visit family over Xmas and News years. Thanks KOA
Jan 04, 2021
The staff were very welcoming and kind. It was a great experience for our family to stay here.
Jan 04, 2021
Cabins and camp are were clean, staff was friendly. Zip course SO MUCH FUN! We'd love to return.
Jan 04, 2021
Friendly staff and nice location. Washrooms could use some updating....in busy times I can imagine that one shower doesn't cut it in the tenting area. Tent sites are expensive...Ventura was $25/night more than the other KOA we stayed out during the same week.
Dec 31, 2020
This is one of our favorite campgrounds. We travel and camp all over the country all year and we love to stay at the Ventura Ranch KOA. They have worked really hard to rebuild after the devastating Thomas Fire and it is heart-breaking that they have had to close due to Covid-19. 2020 was a rough year. We are praying for everything to be better in 2021! We will be back as soon as we can!
Dec 30, 2020
This KOA provides a nature atmosphere without being too far from town or high up on elevation. Amazing beauty, that's not including the colorful peacocks roaming the property. Lots of site privacy. Hoping to plan family reunion here. Their play area is extensive for all ages and includes Zip lining!!!
Dec 30, 2020
We loved our stay at Ventura Ranch, super nice and friendly staff, lots of space and places to walk around, beautiful nature surroundings. We will defiantly come back.
Dec 28, 2020
Facilities and staff top-notch.
Dec 24, 2020
This park is very nice, peaceful, and with an outstanding staff. Pool and bathrooms are very nice. Once they can reopen fully from Covid 19 protocols it is a great facility with lot's to do for adults and family's. We are looking forward to returning to this great park.
Dec 22, 2020
This time we give it a 4 star. We feel it was to pricey with nothing being open so you could enjoy the full KOA experience. But we loved the peacefulness and the tranquility of the park. And don't forget the peacocks, we enjoyed them too! We will come back to stay again.
Dec 16, 2020
the staff was friendly but the grounds were not maintained and clean. the tent site had old trash and sharp items in it, broken grill in fire pit, old fire wood everywhere, bathrooms made to stay open, bathrooms not freshly cleaned, no space for tent cleared, hard to tell which campsite was which, wifi did not work, hugh holes in the car dirt road to campsite, old, old trash in full trash cans
Dec 15, 2020
We stayed during December and a Covid stay home order so nothing was open. The zip line looked really cool and the pool area was beautiful so we'll have to visit when things are back up again. Our stay was fine and the weather was nice so we were able to enjoy a couple of campfires. The peacocks were pretty cool too!!
Dec 11, 2020
1s time RV camping. It was awesome. Staff was very professional, personalbe and friendly.
Dec 09, 2020
Charged xtra $$ for each night due to covid. OTHER KOA'S DO NOT. SHOULD REDUCE RATE CONSIDERING THEY NO LONGER HAVE TV CABLE, A STORE N WEAK WIFI SIGNAL
Dec 08, 2020
The staff was extremely friendly and welcoming. Campgrounds were well maintained and clean. Will definitely be going back.
Dec 08, 2020
Excellent place to visit. Great for kids, looking forward to returning soon!!!!
Dec 08, 2020
Staff is welcoming beautiful grounds my first time doing all the activities gem mining and ornament making.. peacocks were beautiful cabin cozy love it
Dec 08, 2020
We love it here always so beautiful!!
Dec 08, 2020
First timer with a trailer... everyone was super helpful and friendly. KOA Ventura was clean beautiful. We loved it!!!
Dec 07, 2020
GREAT AS ALWAYS..
Dec 07, 2020
We had a blast! The site was so clean and the area is beautiful. Great to sit and relax. Awesome for kids too with activities, playground, creek & the peacock sightings are pretty cool!Can't wait to go back.
Dec 07, 2020
I have commented before about your not having cable. For the prices you charge that is unforgivable. And your COVID surcharge of $10 per day is a ripoff. I continue to come there because you are in close proximity to my home but with your prices I come about a third of the time that I used to. Your people that work there are very pleasant and helpful so that is a plus.
Dec 07, 2020
I really loved the ladies in the office. They were super helpful, warm, and kind. I really appreciated the COVID-19 response with masks, social distancing protocols, and the little ways that made the entire experience feel safe. The fall leaves on the trees were beautiful and the little stream kept my kids happy for hours.
Dec 07, 2020
My site was nice and fairly level but I saw several sites that were so uneven that in order to be level tires were raised off the ground. For the price per night I would expect a fairly level site with full hook ups including sewer.
Dec 03, 2020
What a surprise this campground was! The one staff member we worked with could not have been more friendly. Our beautiful site was just perfection, large and quiet. And the biggest surprise? PEACOCKS! They were so fun, not afraid of people and just wandering everywhere, loved them! We will for sure be coming back to this campground!
Dec 02, 2020
We visited Ventura Ranch KOA in August and then again in November. We can see that improvements and renovations from the Thomas fire have been continuing at a good rate. The showers and toilets near the Clubhouse were kept clean. I wish the toilets above the A loop were open. Maybe in the summer. I highly recommend this campground.
Dec 02, 2020
I was great staying at Ventura ranch KOA. The staff is always friendly and they help with any issues you may have.
Dec 01, 2020
The stay was good But you need to upgrade your WIFI, especially since you don't have cable now.
Dec 01, 2020
Easy to book. Very kind staff. Sadly, didn't know that ALL amenities were closed till we checked in. Very unfortunate and unfair at the price we paid.
Nov 30, 2020
Overall we enjoyed our stay - it was quiet and peaceful. Because we could not have fire due to the Red flag conditions, it would have been nice to have better internet.
Nov 30, 2020
Love Ventura Ranch. Already booked our sites for July and November next year.
Nov 30, 2020
Everything was wonderful about the campsite. Miguel is awesome and very helpful. We would come back just to get his service again.
Nov 30, 2020
We stayed in the Penthouse unit 2. It was definitely luxurious as far as quality mattresses, kitchen, and bathroom. The down side is that the patio and back patio was filled with peacock droppings. They would gather on our back patio daily. We couldn't take advantage of the patios. This unit's outdoor space is tiny. The decor and furnishing is not kid friendly. We kept hitting our legs on the bed.
Nov 30, 2020
The staff in the camp are very nice. The reason for the 3 stars is because we stayed in hidden point and the bathrooms were never cleaned the three nights that we were there. There was toilet paper on the floor the entire time. I think bathrooms should be cleaned at least twice a day, especially during Covid! I will be back for sure, it's a great place to camp and walk the trails...
Nov 30, 2020
It was extremely disappointing. It says on the website that the place is 100% open. We arrived for 2 nights and nothing was open but the playground. The kids had nothing to do... The place is very nice but I feel like we overpaid just for a place to sleep. The disappointment on my kids faces looking at all the closed activities and trying to explain why everything is closed was so frustrating.
Nov 30, 2020
Just amazing!!! Staff were so friendly. The area was just blissful, our spot could not have been any better! I can't wait to go back!
Nov 29, 2020
They handled COVID very well and as a few amenities are closed for this reason, the addition of arts and crafts was so much appreciated and loved by my kids. We really enjoyed our time here and will be back, for sure.
Nov 29, 2020
Greeted upon arrival by most friendly staff. Campground clean, quiet and very well maintained.
Nov 29, 2020
Your staff are all so gracious, kind and patient. Just wonderful! Campsite is well maintained: but don't sell grass tent pads on line if you don't have any grass - that will help with setting accurate expectations and my planning on bringing more padding!!!
Nov 29, 2020
We had a great time something we closed due to COVID-19 which is not there fault. The covered wagons were an absolute hit with the kids. They are still recovering from a wildfire a couple of years back. I can't wait to come back and try the zip line/rope course.
Nov 29, 2020
The cabin was great! The location was peaceful and we enjoyed our stay. The reason for 4 stars was because of when we arrived the code to the cabin was not working. We called the after hours emergency phone several times with no response for almost and hour and half. The manager showed up eventually to let us in. I expected to receive a response or at least return our call in a timely manner.
Dec 10, 2020
Great weekend get away with with children and as a group. Heard reservation requires months away.
- Arthur Yoon Real Estate on Google
Dec 09, 2020
The workers here are wonderful! They are very nice, friendly, and helpful. The campgrounds are kept clean. The views are good. It is so quiet and peaceful very easy to relax and have a great time. I would recommend this place to anyone.
- Kim Weaver on Google
Sep 17, 2016
Large sites. Salt chlorinated pool (easy on the eyes). Activities. No road noise (away from Hwy.unusual for a KOA)..NICEST KOA I've stayed at.
- Peter LOCKE on Google