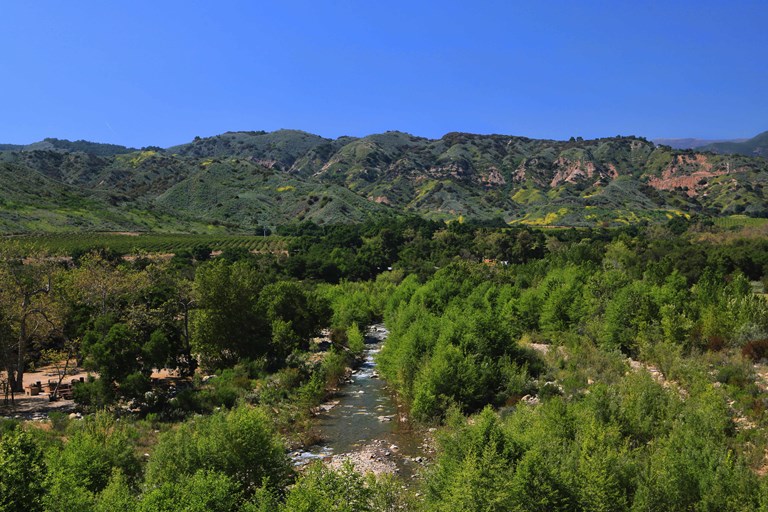 General Campground Information
Office Hours
Monday 9:00 am - 6:00 pm

Tuesday 9:00 am - 6:00 pm

Wednesday 9:00 am - 6:00 pm

Thursday 9:00 am - 6:00 pm

Friday 9:00 am - 8:00 pm

Saturday 8:00 am - 8:00 pm

Sunday 8:00 am - 5:00 pm 

Tent site maximum
One tent per site in original cost. Second tent $10.00. 4 to 6 people registered guests.
Amplified Music
Ventura Ranch KOA strictly enforces the "No Amplified Music" rule.  Boom boxes and large screen tvs are not allowed.
General Policy
This is a non-smoking facility
You must be a registered guest to enjoy the park facilities
The maximum number of overnight registered guests is 4-6. No exceptions
Our store is under construction and does not offer items at this time
The speed limit throughout the park is 5 MPH
Tents are not allowed to be set up in RV sites, or by cabins, TiPis or Conestoga Wagons. Tents only allowed in designated Tent Site.
Cable TV
We do not have Cable or TVs at this time.
Pet Policy
Ventura Ranch KOA does allow pets on premises in RV Sites and Tent Sites. 
We have 1 6 person Teepee, and 3 cabins that are pet friendly. 2 Studios, 1 One bedroom. Please call for reservations for these cabins. A security deposit of $150 is required and a charge of $25 per nite per pet.
We
 DO NOT 
allow pets inside any of the other Cabins, Safari Tents, Teepees, or any of our other accomodations. 
All pets are to be kept on a leash at all times, and we ask that you please also pick up after them.
Pool Hours
Our pool is open 10:00am to 5:00pm. Social distancing is required on pool patio area. Pool will be limited to number of guests allowed. Anyone entering the pool area must have a wrist band.