What to do with Thanksgiving leftover Turkey?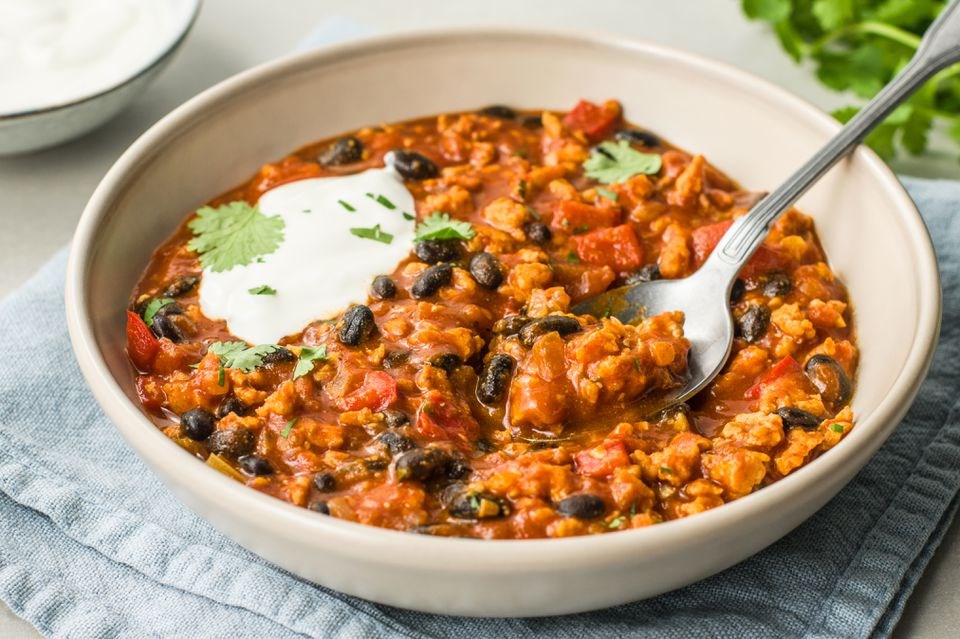 Well there is nothing like a hot bowl of chili to warm you up this time of year whilst gathered around a camp fire at night with new and old friends. While this classic cowboy stew got its start in the American southwest, we heard that Texas was responsible, but don't hold us to that, it has become a cornerstone of camp cooking all over America. Visit any campground in the US and there'll be at least one person cooking up a pot of chili.
Now, there are a million and one ways to make chili; nearly every "devoted chili enthusiast" has their own unique secret recipe. So for us, by adding in any leftover Turkey from Thanksgiving makes this chili easy to make, ready in minutes, loaded with flavor, and with an extra spicy kick.
Notes: If adding Beer to your recipes are not on your most favorite list, then substitute this for your broth of choice.
Equipment needed: Dutch oven if cooking on a fire; or a Slow Cooker if you have one, or a large saucepan if cooking on your stove. Cutting board and knife. Can opener, Wooden Spoon, measuring spoons, mixing bowl and utensils for serving.
Serves 4 hearty appetites (people)
Ingredients you'll need:
1 medium onion chopped
1 tablespoon olive oil
14 oz. can black beans drained
14 oz. can red kidney beans drained
14 oz. can diced tomatoes with their juices
1 small can chipotle peppers in adobo sauce seeds removed
12 oz. can beer preferably lager (substitute for broth of your choice)
2 teaspoons sea salt
1 teaspoon garlic powder
1 teaspoon cumin
Unlimited amount of your leftover cooked Turkey meat.
INSTRUCTIONS
1. Begin by prepping the chipotles. Most of the heat in the peppers are housed in the seeds and ribs, so we strongly recommend scraping out all of the seeds before adding the peppers to the chili, especially if using the entire can. Using a fork, remove the desired number of peppers from the can. Reserve the adobo sauce. Slice them open, and then using the back of your knife, scrape out and discard the seeds & ribs. Roughly chop the peppers and set them aside.
2. In a large Dutch oven or preferred cooker, heat the olive oil over medium heat until shimmering. Add the onions and sauté until they begin to soften and turn translucent. Add the drained kidney and black beans, tomatoes and their juices, chopped chipotles and the adobo sauce, beer, salt and spices. Stir to combine.
3. Cook the chili until thickened to your liking, about 20 minutes, but check along the way as your cooker may be different.
4. Add your leftover cooked Turkey meat. You can add as much or as little as you like. Cook for a further 5 minutes. Serve immediately with your choice of toppings (cheese, avocado, green onions, etc.) and cornbread on the side!