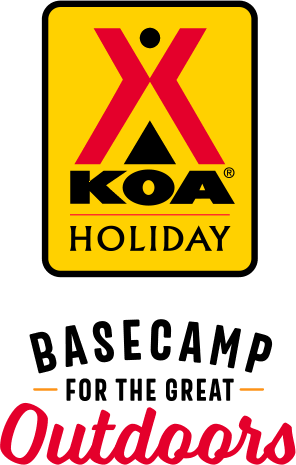 KOA Holiday Campgrounds
Whether you're exploring the local area or hanging out at the campground, KOA Holidays are an ideal place to relax and play. There's plenty to do, with amenities and services to make your stay memorable. Plus, you'll enjoy the outdoor experience with upgraded RV Sites with KOA Patio® and Deluxe Cabins with full baths for camping in comfort. Bring your family, bring your friends, or bring the whole group – there's plenty of ways to stay and explore.
KOA Holidays Feature:
RV Sites with a KOA Patio®
Deluxe Cabins with full baths
Premium Tent Sites
Group meeting facilities
Directions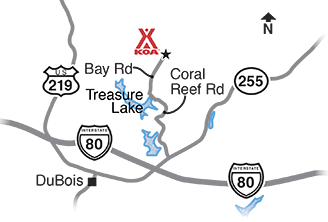 Directions to our KOA:  Please make sure to use 95 Coral Reef, DuBois, PA 15801 when using GPS.

Traveling PA I-80, Take exit 101 for PA-255 toward DuBois/US-219.

Turn left onto PA-255 at light for one mile.

Turn left onto Coral Reef Road at the Treasure Lake sign.

Check in at Security Building to receive welcome packet.

Get Google Directions
Apr 02, 2021
New family cabins are very comfortable.
Jan 04, 2021
Dubois/Treasure Lake is a great campground. Our site was level and clean. We plan on returning next year !
Dec 01, 2020
Overall, the cabin was nice. There was an odor of sewage from the bathroom, which was not pleasant. Also, we found a dead mouse under the coffee table. Since it was November, the campground was very quiet. Appears that the campground could use a little upkeep. Overall it was a pleasant, quiet stay.
Dec 01, 2020
The water wouldn't get hot and the heater kept running non stop. Either way I still love staying at the TL cabins
Nov 26, 2020
It's a 5 star place, except my cabin was not cleaned well. Found previous tenants things left in fridge, bathroom, and bedroom floor and pills on the floor under kitchen table and on living room carpet. We tend to stay again with hopes for a clean cabin. Thank you
Nov 14, 2020
This KOA is in a beautiful area. The campground was not crowded and very quiet. Due to Covid reasons, we did not utilize the rest rooms so cannot comment on them. But we really liked the area and drove through the forest/parks and took walks. Will definitely return again when this Covid situation is gone as there was much more that we could have done had it not been for the virus....
Nov 13, 2020
My children and I don't recall the last time we have seen so many stars! What a beautiful treasure indeed. The park and the surroundings were all so beautiful And this has to be the largest KOA area we have visited. Beautiful lakes and golf courses that we look forward to hopefully making a summer trip to visit! The people who work here are all so kind!!!!
Nov 08, 2020
Very nice campground, very flat sites with gravel pads. We stayed for a wk in mid Oct so campground was nearly empty thru wk but got fuller on weekend. Restrooms were clean. There was no lighting within the campground except for a light on each bathhouse. VERY DARK! Long 5 mile drive back to campground after entering gate. Campground is very much out in the woods! Very isolated. Camp store closed
Nov 03, 2020
Extremely friendly staff. Clean campsites and facilities. Highly recommend
Oct 28, 2020
Everything was great.
Oct 26, 2020
very clean and well maintained
Oct 26, 2020
Cabin was nice. People managers were really friendly
Oct 26, 2020
Had a great stay. Nice sites. Clean, quiet, spacious. Good value.
Oct 26, 2020
need more full hook up sites.
Oct 25, 2020
Rented a cabin for family and they loved it!
Oct 23, 2020
overall good. lack of wifi a negative (still waiting for a tower) and poor cell service.
Oct 22, 2020
The campground was very clean. The restrooms were spotless. The pull-thru sites were VERY long and easy to get into.
Oct 21, 2020
was surprised it was tucked away deep inside of a gated community. very large campground in a wooded mountain community. very quiet for a good nights sleep. only stayed one night. security at the front gate was exceptionally friendly guiding us to the campsite and then to the tavern at the golf course.
Oct 20, 2020
Great but the person that cleans up the firepits took my wood that I left in the fire pit and also my lighter that I left by the fire was gone. Please next time make sure the people are checked out before you clean up.
Oct 20, 2020
Pleasantly surprised the campground was really nice. It seems like they are fixing it up, and making nice big sites.
Oct 20, 2020
Friendly staff large sites very very quiet far away from highway easy access from highway well marked street/roads
Oct 19, 2020
Nice and quiet. Two negatives were 1. Almost nothing in the camp store. 2. I wasn't allowed to camp in the spot I wanted to, even though most of the campground was empty.
Oct 19, 2020
This KOA is OK... pros and cons. Pro, they are upgrading sites and making improvements; it is quiet. Cons, it is VERY far off the highway (about 15-20 minutes); it isn't the most attractive given lack of trees amidst camping area; no local diesel pumps that accommodate trailers; and it is VERY expensive for what you get (basic site). Even off-peak is double other KOAs. Just not worth it IMO.
Oct 19, 2020
New and it didn't have internet or cable tv, also pretty far to get to it. It's a nice place once you get there, hopefully it will get finished.
Oct 19, 2020
The cabin and amenities were perfect for our stay. So thankful that there are pet-friendly cabins, too! The perfect combination of cabin "glam" and country serenity!
Oct 18, 2020
Very nice park!
Oct 15, 2020
Great stay just wish they had cable hookups other than that will stay again
Oct 15, 2020
We didn't like the sites at all. We had full hook up in the center with no trees or privacy we would not recommend. Also we drove through the permanent sites and they we run down campers some just looked like they were in a junk yard.
Oct 15, 2020
Very nice and quiet location. The bathrooms were clean and the campsites were spacious! I would visit this KOA again.
Oct 14, 2020
friendly staff, very clean, beautiful campground, deer included
Oct 14, 2020
staff was friendly, sites were well maintained and easy to back into. we'll be back
Oct 14, 2020
the cg is beautiful, especially in the fall when the leaves are turning. it could have been the time of the year but there was not much going on as far as activities and the store seemed fairly short on supplies.
Oct 13, 2020
Enjoyed the patio and masonry fire pit! Love the table and chair arrangement instead of the picnic bench. Was our final camp for the season and wanted it to be special! Made the difference!
Oct 13, 2020
very nice campground, large sites.
Oct 13, 2020
Was good. Need more wifi.
Oct 13, 2020
Very nice campground. Bathrooms, showers could have been a little warmer but very clean. The only thing and not their fault was people do not clean up after their pets. Staff vet helpful and friendly.
Oct 13, 2020
Beautiful campground!!! Camp store could be stocked with more items. But maybe it was just the time of year. We loved the campground!!
Mar 18, 2021
Let me start by saying this place rocks! The cabins are clean beautiful and very comfortable! Brandy and Molly in the office are knowledgeable and very friendly! They helped me with all accommodations that I needed and even went above and beyond by making sure I was aware of all the activities and fun stuff they had going on! This campground is like a family all the way around! The grounds keepers Ray,Dave, and Doug were out and about early shoveling a path through the snow or taking my garage without even being asked! They make this place feel like a second home more than a vacation spot! The effort this group makes to make all renters feel welcome is second to none! I have traveled all over and stayed at a few KOA's and other campgrounds etc. treasure lake is by far my favorite because of the staff and the way I was treated here not to mention the cleanliness and tranquility of the spots are great! The deer and wildlife is amazing and the amenities are wonderful! Thanks everyone for a remarkable experience! I will for sure be back and recommend your cabins and campground to all! Thanks for the good times and fun!
- Jen Fitzgerald on Google
Oct 01, 2020
Friendly staff. Very Helpful. Clean camp. Beautiful surroundings.
- Joseph piccirillo on Google
Oct 24, 2020
We averaged $52 per night for E50/W with our KOA discount ($58 without). Our gravel pull thru site had a lot of space between other sites, was unshaded, and was very level. The interior roads were easy to navigate. The site and others nearby were unbelievable large - a full 200 feet!!!! (No exageration as I paced it off!!). Nobody in our group had seen a site this large or understand why other than perhaps in the future they will divide it into multiple sites. There is no Verizon cell phone service from the campground though you don't have to drive far to have access. The campground is just off I-80 at the back of the Treasure Lake plan so it takes about 20 minutes to reach it from the entrance off Rt. 255. Our group stayed here to see the elk in Benezette about 30 miles away. They are in rut in October so we saw many up close. The best time for viewing is 2 hours before sunset and 2 hours after sunrise. Definitely take binoculars and a camera. The leaves are also beautiful that time of year.
- Philip Petraglia on Google