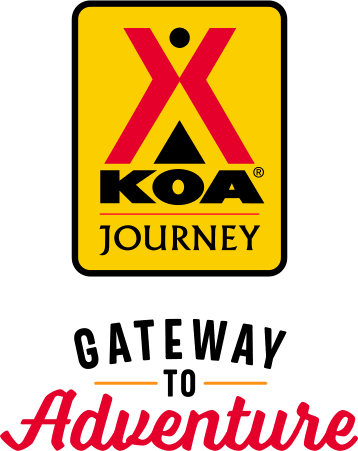 KOA Journey Campgrounds
KOA Journey campgrounds are the perfect oases after a day on the road. Whether it's along the way or a quick getaway, they've got you covered. Located near the highways and byways of North America with long Pull-thru RV Sites, they deliver convenience to the traveling camper. Pull in, ease back and take a load off.
KOA Journeys Feature:
Pull-through RV Sites with 50-amp service
Premium Tent Sites
Well lit after hours check-in service
Directions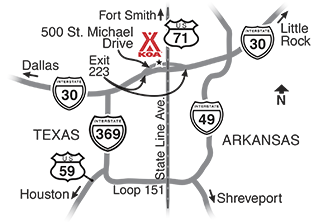 GPS coordinates: N33.470916, W94.046913
From Dallas: I-30 Exit 223, go left on turn-around lane, turn right into KOA entrance.
From Little Rock: I-30 Exit 223, drive west through stoplight, turn right into KOA entrance.
From Houston: Hwy 59 to I-30 Exit 223, go left on turnaround lane.
From Shreveport: Interstate 49, go  west on I-30 to Exit 223, drive west  through stoplight, continue west on St. Michael Drive, turn right into KOA entrance.
Get Google Directions
May 08, 2021
Meh...it's kind of noisy between the highway and train. Good for an overnight. Not real hospitable employees.
May 08, 2021
Convenient on and off the expressway, however site was littered with cigarette butts, egg shells (large pieces) and bones from meat. Told management but nothing was done about it. Small playground, some equipment was broken
May 08, 2021
Quiet. Easy access. A bit hard to find if one is not used to the Texas freeway frontage road system (Siri couldn't figure it out!). The Park seemed very nice.
May 08, 2021
We stay frequently at the Texarkana KOA when visiting our daughter and her family or as a starting point for travel when headed East. Simply a nice, comfortable and scenic place to stay.
May 07, 2021
Poor location very loud
May 06, 2021
Staff unfriendly, cramped spaces, traffic from hwy was loud would not recommend anyone stay here. Save your money and drive by.
May 06, 2021
Nice and clean campground and facilities. Easy to get in and out.
May 05, 2021
There was no one in the office to switch us to a different site. There were plenty of ones I could have been moved to. C28 had no cable to hook up to and cement pad for fire ring was under the picnic table but no fire ring. Bathrooms and showers were clean. Too bad we couldn't move!
May 05, 2021
It was ok. Space was ready when arrived. Could use an up grade on spaces.
May 05, 2021
No cable service. Internet couldn't be accessed. No one to ask for help.
May 04, 2021
Great help from staff, they were friendly and welcoming. If the opportunity to stay there again happens we would do it no matter what.
May 04, 2021
Very clean, easy to find. Nice facility,.
May 03, 2021
At first I wondered where's the staff, where's the . . . . Then I read the definition of KOA JOURNEY. It was a perfect stop-off place. Showers and laundry very clean. If you needs lots of amenities, Journey probably isn't for you but if you need a place that is convenient, clean and safe for overnight or a few days, this Journey is for you. Right off the interstate, near a hospital and a ma
May 03, 2021
Very clean, pull through sites , easy check-in
May 03, 2021
Great overnight stay for your travels. We stopped to tent camp on our way home. There was a storm in the forecast so they put us up in a kamp Kabin. Really nice hospitality!
May 03, 2021
Told manager about possible sewer backup. Nothing was done. In the morning the black tank drained ok but the gray tank over flowed the sewer connection. We were in site B15
May 02, 2021
Very tight turn into the A row from the street. Not too bad otherwise.
May 02, 2021
Nice place to stay overnight but lots of traffic noise
Apr 29, 2021
Good park, we arrived late without a reservation and the owner was really helpful in getting us in as well as recommending a place to get ribs for dinner. Would stay again when in the area.
Apr 28, 2021
Would stay again. Very noisy near interstate and railroad traffic.
Apr 27, 2021
Excellent service. Very helpful workers. Great attitude!
Apr 27, 2021
Nice location off I-30. Some complain about highway noise, but that's what you get when you camp next to a highway. Overall the noise wasn't a problem. For some reason the cable didn't work at my site, but since I was only there overnight, no biggie.
Apr 27, 2021
Only one night but third time we stayed here. Great place and great staff
Apr 27, 2021
a little noisy but a nice place to stay
Apr 23, 2021
Easy on off. Nice comfortable park. Friendly staff. We gave it 4 stars.
Apr 22, 2021
Nice Park, clean, easy access, road traffic noise is all to complain about, but would not keep us from staying there again.
Apr 22, 2021
For the price, I'll find something else next time thru. Didn't learn the first time but second was a reminder that I won't forget
Apr 22, 2021
We did not unhook our 5th wheel since this was just an overnight stay. Some scum bag stole our back leveler shoe while we slept. Too bad people are can't work for what they want & they have to steal from those of us who did. We may be senior citizens, but we are not rich.
Apr 21, 2021
The manager was very helpful and friendly but the park itself was not like a normal KOA.
Apr 21, 2021
We were greeted so warmly by the camp host! He was great. It was loud during the night so close to the highway but of course that's exactly what made it such a convenient place to spend the night for an early start heading northeast 1500+ miles away. We'll be back.
Apr 20, 2021
Very noisy with road traffic. I was told to come to my site and never was contacted by anyone.
Apr 20, 2021
Very nice, employees were very helpful. Clean restroom. Camp sites just a little too close together. Not much privacy.
Apr 20, 2021
Traveling. Easy to get to. Clean and friendly
Apr 20, 2021
very loud highway noise, nice grounds
Apr 20, 2021
Didn't appreciate the up-sell phone call. I booked a 30 amp site. I received a check-in call where I was told "I'm going to upgrade your site". I didn't bite and was told the asphalt on the site I was given was all broken up. The cost for the upgrade wasn't FREE..but an additional $5. I kept my original site and the asphalt was fine. I doubt wed stay there again.
CAMPGROUND RESPONSE / COMMENTS:
I was not upselling the site, but merely offering the opportunity for a better site. The difference in price was moving from a 30 amp site to a 50/30 am site. We do no contact registration and the purpose of the call was to direct you to your site. the offer to upgrade was incidental.
Apr 18, 2021
We stayed in a pull thru site, just long enough for our travel trailer and pick up truck, It had full hook up and we only stayed one night. Small campground, directly off the highway.
Apr 17, 2021
Nice KOA clean well taken care of a lot of road noise
Apr 17, 2021
Stayed one night pleased with service. Easy in and out.
Apr 17, 2021
It was a beautiful KOA settled in a forest setting. Super clean and maintained. It was so nice
Apr 16, 2021
Office not open. Had to ask for map. Had to show him that I was charged for 2 reservations not just one. Went looking for trail & never found it. Very noisey
CAMPGROUND RESPONSE / COMMENTS:
Our main office is always open from 8am -6pm. Our rv art gallery and store are open on request. we do no contact registration and direct campers to site. Due to a software glitch charges for 2 reservations were discovered and the error refunded. Portion of trail closed due to utility easment work.
Apr 15, 2021
We just loved how clean it was and how friendly the staff is, we will deffently stay again
Apr 15, 2021
Nice spot if you are traveling along I-30. Easy access on and off the highway. Jerry at the front desk was very accommodating and the pull thru he put us in was great.
Apr 15, 2021
LOUDEST KOA I'VE EVER STAYED AT. COUPLE HUNDRED FEET FROM EXPRESSWAY. NICE BATHROOMS
CAMPGROUND RESPONSE / COMMENTS:
Thank you for the compliment on the bathrooms! We know that some campers are sensitive to the road noise. Whenever possible we offer back in sites further from I-30, I regret we could not accommodate you.
Apr 13, 2021
Narrow sites, tree limbs to low hit the top of RV. Do not recommend except an overnight stay!!