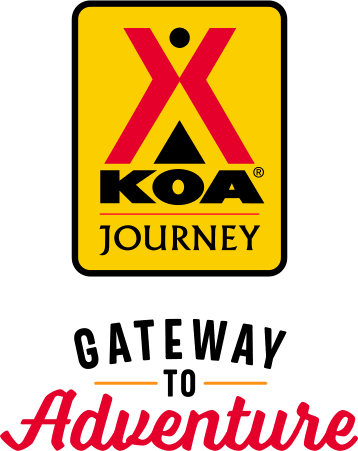 KOA Journey Campgrounds
KOA Journey campgrounds are the perfect oases after a day on the road. Whether it's along the way or a quick getaway, they've got you covered. Located near the highways and byways of North America with long Pull-thru RV Sites, they deliver convenience to the traveling camper. Pull in, ease back and take a load off.
KOA Journeys Feature:
Pull-through RV Sites with 50-amp service
Premium Tent Sites
Well lit after hours check-in service
Directions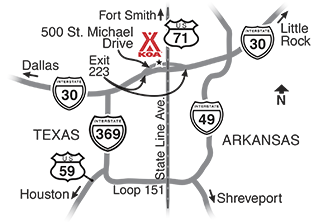 GPS coordinates: N33.470916, W94.046913
From Dallas: I-30 Exit 223, go left on turn-around lane, turn right into KOA entrance.
From Little Rock: I-30 Exit 223, drive west through stoplight, turn right into KOA entrance.
From Houston: Hwy 59 to I-30 Exit 223, go left on turnaround lane.
From Shreveport: Interstate 49, go  west on I-30 to Exit 223, drive west  through stoplight, continue west on St. Michael Drive, turn right into KOA entrance.
Get Google Directions
Sep 14, 2021
Very clean campground. Very good Wi-Fi. Very nice pool. Very nice and helpful staff.
Sep 13, 2021
This has got to be the oldest KOA we've stay at. This KOA seemed more accommodating to FULL time residentials. 3 stars since I had to ask someone to come pick up the garbage after we've been there for a week.. Not good. Place seemed outdated, water pressure really low and grounds /pet area dirty. KOA needs to revaluate this place. Internet was awesome.
Sep 11, 2021
Nice enough campground, but lots of noise from the freeway
Sep 10, 2021
Excellent stay. Friendly staff. Didn't do much. Pretty much closed up due to COVID.
Sep 08, 2021
Nice site, friendly staff, avail swimming pool, dog park, showers & laundry facilities.
Sep 08, 2021
Love our stay..Puppy was happy too
Sep 08, 2021
Clean. Well maintained. Spacious enough site. Friendly staff.
Sep 07, 2021
Very nicely kept campground, clean, no trash or clutter. First KOA I've been to that didn't have a gate or any security. There was one "homeless" person who approached us for money, two others that passed through, I assume it is because it's right off of I-30. Owners were nice in passing but didn't really talk to them, however check in and out was easy.
Sep 06, 2021
A convenient place to spend the night.
Sep 06, 2021
Evacuated here from NOLA. Were in 1 spot then moved to a better spot with shade. Thanks so much Jerry!
Sep 06, 2021
The location is a little close to the interstate, which I know you can't change but did make for a louder getaway than expected. Bathrooms were clean and we had to leave early due to my son getting sick. But customer service was great and refunded us our unused time . Will stay w KOA again just not use we will use this location again.
Sep 06, 2021
Little close to the road but we already knew that by the reviews. The showers were very nice and clean. One night stop headed north so the road noise didn't bother us. Thank you…
Sep 06, 2021
Very good. Very clean.
Sep 06, 2021
We called after hours and a helpful gentleman assisted us, gave us directions, and campground was a good location with nice amenities, thank you!
Sep 06, 2021
Great if you're just passing thru for the night. It is right off the freeway. Called at the last minute and staff was pleasant on phone and got us in on Labor Day weekend for one night. Pool, laundry room and bathrooms looked clean from the outside but we did not use any of them. Little noisy from nearby freeway and if you walk to the back side of the park it looks dumpy with permanent residen
Sep 04, 2021
Bathrooms clean They were nice to move us to a bigger site Cable did not work
Sep 04, 2021
Just stayed one night. Missed the store.
Sep 04, 2021
This review has been removed by the moderator for inappropriate or incorrect content.
Sep 03, 2021
Very nice folks. Jerry was very helpful and accommodating. Clean, nice RV spots. Our motorhome had DEF problems so our overnight stay turned into weeks
Sep 03, 2021
From the first phone call to pulling in the site...Jerry was a fantastic host...he was friendly professional and very helpful with my setting up and explaining all the amenities in the park...I enjoyed my stay.it was near the highway but, I have been impressed with the quietness and serene surroundings...see you next time...all the best...����
Sep 02, 2021
Staff was very friendly and accommodating.
Sep 02, 2021
Nice stopover while traveling. The site was sufficiently level so we didn't have to unhitch. Really friendly staff, big clean restroom and showers. Laundry there as well. Easy on and off the highway. Nice pool and dog park. Lots of long term units, but plenty for short stays.
Sep 01, 2021
First, I was checked in before I arrived!! I was told my receipt was on my phone-no paper. They didn't want to escort me to my spot. Office personnel were not friendly. I won't be back and I will tell my friends.
Aug 31, 2021
This is our second stay here! I have to say it's clean, quiet, friendly, and everything we needed for a relaxing getaway!
Aug 31, 2021
It served its purpose as a port in a storm…thanks.
Aug 30, 2021
Stayed one night lot #A15 my surge protector was reading reverse polarity was told nothing wrong with 50amp service so be cautious some road noise other than that all is good
Aug 30, 2021
Friendly and helpful staff, great facilities including showers and laundry and a nice pool. We enjoyed our stay. Thanks!
Aug 30, 2021
The location was convenient for our trip. However the cable TV was not working which was disappointing given the above average rate you pay for these types of campsites with extra amenities.
CAMPGROUND RESPONSE / COMMENTS:
We make it evident on the KOA web site that we do not offer cable tv. We advertise that Some sites are satellite friendly and that you can use your antenna to find over the air tv channels
Aug 29, 2021
Way too noisy.
Aug 29, 2021
Very nice, clean & wooded!
Aug 29, 2021
Everyone was very friendly! It was very well kept and easy in and out!!! We will come back if ever in the area!!
Aug 29, 2021
Would use your campground again, clean , good location.
Aug 29, 2021
clean and safe
Aug 28, 2021
Good for a one night stay in your traveling but not much more. There is someone who is considered long term that treats the dog park as their own fenced yard.
Aug 26, 2021
This is more of an RV park which is ok if that's what you are looking for. The bathrooms were clean. We stayed in a two-room cabin but since there was only a/c in one room we needed to keep the door open which defeats the purpose of a two-room cabin. The cabin looked like it hadn't been cleaned (dirty floor, lots of cob webs inside and on furniture, former guests' trash between bed and wall)
Aug 22, 2021
The owner and staff are very friendly. The pool and grounds are clean and well kept. We enjoyed our stay.
Aug 22, 2021
All as expected. Very pleased. Hope to be back next month.
Aug 21, 2021
Seems like it went down hill since I was there 6yrs ago. Good for an overnight stop
CAMPGROUND RESPONSE / COMMENTS:
Actually many upgrades to bath house, swimming pool, park swings and site maintenance have occcured in the last 6 years. The comments many quests validates this effort.
Aug 21, 2021
Park needs upgraded and cleaned. If you are just passing through for one night you are parked next to the highway in very small sites. Which would normally be okay if you weren't paying KOA prices.
CAMPGROUND RESPONSE / COMMENTS:
RVers was a 50 amp motorhome who selected a 30 amp site. The site is 64 ft long more than enough for t this rig and most units that true 30 amp.