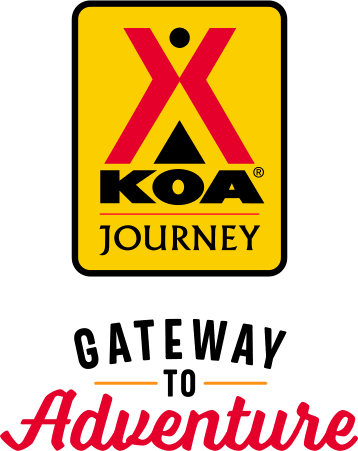 KOA Journey Campgrounds
KOA Journey campgrounds are the perfect oases after a day on the road. Whether it's along the way or a quick getaway, they've got you covered. Located near the highways and byways of North America with long Pull-thru RV Sites, they deliver convenience to the traveling camper. Pull in, ease back and take a load off.
KOA Journeys Feature:
Pull-through RV Sites with 50-amp service
Premium Tent Sites
Well lit after hours check-in service
Directions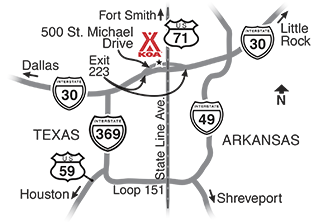 GPS coordinates: N33.470916, W94.046913
From Dallas: I-30 Exit 223, go left on turn-around lane, turn right into KOA entrance.
From Little Rock: I-30 Exit 223, drive west through stoplight, turn right into KOA entrance.
From Houston: Hwy 59 to I-30 Exit 223, go left on turnaround lane.
From Shreveport: Interstate 49, go  west on I-30 to Exit 223, drive west  through stoplight, continue west on St. Michael Drive, turn right into KOA entrance.
Get Google Directions
Nov 30, 2020
No one was in the office when we arrived and no paperwork available to register ourselves. We could see what sites had people coming, so we set up on an empty site. Luckily someone arrived at the office several hours later and we were able to register and pay. Otherwise the campground was very convenient for a one-night stay.
Nov 29, 2020
Thanks for accommodating our late entry on both occasions.
Nov 26, 2020
Not handicapped friendly
Nov 24, 2020
KOA Texarkana was a very pleasant overnight stay. The manager was VERY friendly and helpful, and she was the highlight of our visit. The condition of the hookups could use some updating and/or renovation. Otherwise, I would give this campground five stars.
Nov 23, 2020
What a lovely site! Bathhouse was spotless!
Nov 19, 2020
I was at the Texarkana KOA from November 2019 to November 2020. Mr. Jerry, the manager took great care of me and helped me find an optimal spot for my RV. This KOA is very nice, has a pool, a shower house and a laundry. It is within just a few miles of numerous restaurants and retail stores as well as Spring Lake Park which is a beautiful city park with a nice size lake, dog park, and more.
Nov 19, 2020
Very easy in and out. Great sites, a nice big bath house (I didn't need but it is very accommodating if you need it). Nice path to walk around. The staff were extremely courteous and gave comprehensive directions over the phone. I got in after dark and an employee drove past to ask if I'd found everything ok or needed anything while I was docking. My new go to place for multi stop trips north.
Nov 18, 2020
Just overnight stay.
Nov 16, 2020
Located by the highway so it's very convenient; however then you get highway noises.
Nov 16, 2020
I was was late getting to the campground. Unfortunately, I was unable to meet Jerry. He was very helpful and I enjoyed my brief stay.
Nov 15, 2020
Everything was wonderful, however there was a train that seemed to come by the tent area every 30 minutes.
Nov 15, 2020
Very convenient.
Nov 14, 2020
The campground is nice. However it right on top of the highway. Traffic noise extremely loud all night. Staff was no contact
Nov 11, 2020
Planning to stay there again
Nov 08, 2020
the people in the office are there to make you feel at home nice place.
Nov 08, 2020
Everything was fine.
Nov 05, 2020
Site was not level. New fire pit & swing onsite were nice.
Nov 05, 2020
Koas are great for vacations with the amenities and cost. But when you are traveling, off-season and just need a spot for a night, the $50 cost is a little high. ( sometimes we never hook water/sewer for quick stop) I am grateful that this camp gave a AARP discount, a lot of the others did not even ask. Thanks Texarkana!
Nov 03, 2020
Camping is expensive here and some of amenities are missing. There is no cable and the Internet is not really there either. Parked only six sites from clubhouse I couldn't get on the internet
Oct 30, 2020
Short. Just an overnight stop.
Oct 30, 2020
Easy in and out. Traffic noise was bearable. Nice prople
Oct 30, 2020
This park is easy to access and we had a site long enough for our motorhome and towed vehicle. It is convenient to a lot of businesses and Freightliner was just five miles down the road where we had maintenance done on our rig. There was a big rain storm coming in and the park let us stay an additional night, Did not use the restrooms. There was plenty of room to walk our dog and also use the smal
Oct 30, 2020
Dryers did not heat up and lots of road noise
Oct 30, 2020
Super friendly and helpful staff. They contacted us when a pull through site available became available!! Many thanks!! We got there very late and left early in the morning so we didn't really see the campground. Our site was the one closest to the highway and there was significant road noise. Fortunately after having been on the road for over 12 hours that day, it simply didn't matter.
Oct 29, 2020
Noise was problem, very sharp turns coming in and leaving site.
Oct 28, 2020
For our purposes, it's perfect. Easy on and off IH-30 and we were just passing through. Site was easy to access and egress was OK once the massive motor home pulled out of the space across from us.
Oct 27, 2020
We stayed for a couple of months and it was so great. Lawn and play ground was kept up so well. My kids loved the sand out and playing baseball in the field behind it. The pool was our favorite. It was so relaxing and I loved they made sure no random people getting in. The laundry mat and bathrooms were so clean. The staff was always so nice to our entire family.
Oct 27, 2020
Easy in and out from interstate. Hook ups were in a convenient spot and the pull thru site made it easy to navigate in the dark.
Oct 27, 2020
It is very close to an extremely loud highway. Didn't seem very safe. Constant loud motorcycle and loud vehicle traffic from the trailer park.
Oct 26, 2020
When water spigot turned on, water leaked from spigot. Excessive noise from highway and pickups parked in front of KOA reving engines. Other than that it is easy on and off highway. Facility is nice but showing it's age.
Oct 26, 2020
It wasnt bad. Would prefer concrete pads instead of gravel. Also we were under a pine tree so we had stuff falling on the roof. Overall not a bad place to spend the day or two. It is very convenient to
Oct 26, 2020
We stayed here on our way to San Antonio. It is an older KOA, but well maintained. The restrooms and laundry were clean. It was easy to find and get too, close to restaurants and stores. We would stay here again.
Oct 26, 2020
We stay at this one a lot but I think they need to change the pass code to the bath house cause anyone could come in from the back of the koa or have a lock in the bathrooms.
Oct 24, 2020
Very convenient, clean and friendly.
Oct 24, 2020
Man who met us was a little grumpy. Spaces are very close together. Nice laundry area and bathrooms. Did not use the shower area but it looked fine at a glance. Non-stop road noise from I-30. Trains rumble by a lot but no horns.
Oct 24, 2020
Just a little too close to highway. Otherwise, pretty perfect. Very caring interaction with employee And clean bathrooms.