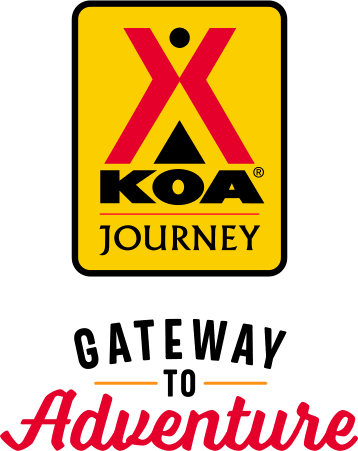 KOA Journey Campgrounds
KOA Journey campgrounds are the perfect oases after a day on the road. Whether it's along the way or a quick getaway, they've got you covered. Located near the highways and byways of North America with long Pull-thru RV Sites, they deliver convenience to the traveling camper. Pull in, ease back and take a load off.
KOA Journeys Feature:
Pull-through RV Sites with 50-amp service
Premium Tent Sites
Well lit after hours check-in service
Directions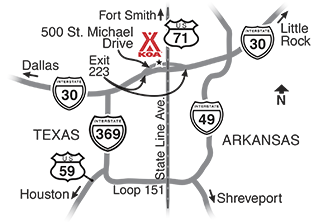 GPS coordinates: N33.470916, W94.046913
From Dallas: I-30 Exit 223, go left on turn-around lane, turn right into KOA entrance.
From Little Rock: I-30 Exit 223, drive west through stoplight, turn right into KOA entrance.
From Houston: Hwy 59 to I-30 Exit 223, go left on turnaround lane.
From Shreveport: Interstate 49, go  west on I-30 to Exit 223, drive west  through stoplight, continue west on St. Michael Drive, turn right into KOA entrance.
Get Google Directions
Jun 13, 2021
The park itself is very convenient and well appointed. The swing in the side yard is a really nice touch. I was unable to access the email instructions re check-in and wifi/restroom codes until we actually arrived. The office/store was closed by the time we arrived at 5:10 pm or so, and we were unaccustomed to all the instructions being online. All worked out.
Jun 13, 2021
Everything a camper could ask for. Very accommodating staff. Clean & easy sites. Close to everything you would need.
Jun 13, 2021
Highway is very close and traffic noise is pretty much constant
Jun 13, 2021
Quick and easy access off of the highway. My only regret is I couldn't stay longer. Fabulous grounds and CLEAN. Thanks Jerry!!!! I'll be back when we have more time.
Jun 12, 2021
Nice and clean. Liked that a lot!!!
Jun 12, 2021
We needed a pull thru site for 1 nite only as we were just passing thru. Reservation was easy online. Host called us as we were driving and gave us all info including site number, code for restrooms and showers etc. All we had to do was pulling and hookup! I would definitely recommend to someone just passing thru who needs a pull thru for 1 night.
Jun 06, 2021
The WiFi was off most of our stay otherwise very friendly and helpful staff.
Jun 06, 2021
Just the highway road noise. Great laundry and restrooms. Very close to great restaurants
Jun 05, 2021
Was a nice little park right off the highway. Was a little noisy but to be expected. Was good for a nights stay.
Jun 05, 2021
Really nice facility. Comfortable night.
Jun 04, 2021
So close to the highway - easy on and off but lots of noise.
Jun 04, 2021
It was okay...
Jun 04, 2021
Only were passing through, but still easy to access and front office were great.
Jun 04, 2021
Everything was great except the overnight noise. The highway noise was extreme making it hard to sleep
Jun 04, 2021
I was put in a trailer park without a picnic table or a grill. There were mobile home and campers that has been there for years. One camper behind me had a pig in a cage that has been there since November. My husband and I was very, very disappointed. We can not recommend this KOA to anyone. We even left a day early, due to the fact we could not cook out.
CAMPGROUND RESPONSE / COMMENTS:
We were completely full for Memorial Day weekend and unfortunately the sites with a picnic table and grill were all gone before this reservation. We apologize about the pig, we are trying to get the pig and those campers out of the park, as they have said they are finding a place outside the city.
Jun 03, 2021
Level site with all utilities in good condition. Nice space between sites.
Jun 03, 2021
Park was great and staff were very friendly and helpful. Very clean. Lots of activities for families. Will definitely add this camp to my favorite places.
Jun 03, 2021
Amenities were lacking.long term "guests" area looked ill kept Needs updating
Jun 02, 2021
Meh. Average KOA. Manager tries to do everything over the phone - site assignment and directions. Doesn't work. Needs to get more involved in greeting guests.
CAMPGROUND RESPONSE / COMMENTS:
The majority of camper love directions to their site and being checked in early. If campers need something they can always come to the office and talk to staff. After hours phone call are forwarded to managers cell phone
Jun 02, 2021
No cable or internet and no one cared
CAMPGROUND RESPONSE / COMMENTS:
We do not have cable tv and we tell campers in advance and our web page states we do not have cable. Yes internet was down for 3 days because a provider believed modem was working when it was in fact not working. We worked for three days trying to fix it, the idea that we don't care is without meri
Jun 02, 2021
This is a terrible rv park, giving KOA a bad reputation. Terrible location. Noisy, next to two freeways. Terrible restroom and laundry room. Noy cable. Too expensive says general Mgr. They shut off water early one morning to do a repair. Didn't bother to tell us. Wifi didn't work. Lots of motorcycle noise. This is why KOA's are not my first choice of RV parks.
CAMPGROUND RESPONSE / COMMENTS:
We had a water leak that we repaired in an hour, broadband provider was responsible for no wifi, we got it fixed This camper had a satellite dish that worked. We list on our web page no cable tv. Bath house is clean, read the other reviews. This camper stayed a week he hated it so much.
Jun 02, 2021
No cable and even local channels faded in and out. WiFi impossible to get on even after they said they fixed it. Very very noisy as next to interstate. Grass in dog area at least eight inches tall. Grass around rigs needed to be mowed. This looks like old mobile home park that they have put spaces up front for overnight but would not stay here again.
CAMPGROUND RESPONSE / COMMENTS:
We don' offer cable and we list that on the web site in numerous pages. Broadband provider gave us misinformation on modem and we worked 3 days with wifi provider when all we needed was new modem. Rained almost every other day, we could not mow this site when occupied for a week, sour grapes review
Jun 01, 2021
Sites could use mowing. Traffic did not bother us. Picnic tables were in need of repair. Hook ups were fine. Bathroom could use deep cleaning rather than just surface clean. Jerry was very nice and friendly. Opened the art gallery but seemed limited, nice prints by local artist. No groceries, snacks, etc which seemed a shame. Walked around park many stay full time, yards not kept neat & need repai
Jun 01, 2021
Very nice pull thru site with full hookups. Easy access to highway.
Jun 01, 2021
Everything was what you expect from KOA.
Jun 01, 2021
This was our first time out in our new motorhome. The staff was excellent and assisted us in getting set up. The kids enjoyed the pool and play ground. The bathrooms and showers were always clean. We had a great time and will definitely come back again. Thanks everyone!
Jun 01, 2021
Restrooms were clean, campground nice and beautiful. Peaceful ans safe.
May 31, 2021
Nice campground and perfect for an overnight stay.
May 31, 2021
Easy to access, clean, quiet, helpful and courteous staff
May 31, 2021
We have stayed there before and are always pleased with the site and friendliness of the host. we will be back
May 31, 2021
The only difference between this KOA and a truck stop are the hook ups No store The owner checked me in by phone because there is not a formal reception. He needs to go visit other KOA and see how it's done.
CAMPGROUND RESPONSE / COMMENTS:
The overwhelming majority of guests love that we register them and direct them to their site without having to stop at the office. We are in the center of Texarkana,3 grocery stores 5 minutes from the campground. The comparison to a truck stop is without merit. All sites occupied Holiday weekend.
May 27, 2021
Two phone calls to move me around at the campground to accommodate others, then I arrive with someone in my spot and no one around or paperwork to show the site assignment, go to another vacant spot to set-up for our supper, but after setting up have to tear down and move to a different spot because the extra long rig showed up, AND charged an extra $4 over my initial reservation for all of that.
May 26, 2021
It is a very nice campground, we will definitely be coming back! Would highly recommend!
May 25, 2021
Good service , clean restrooms and shower stalls, good location , road noise not as much a factor as a previous stay
May 25, 2021
Liked everything about your park except the highway( TRUCK) noise. Loud traffic noise at times.
May 25, 2021
This koa is on the highway with significant road noise. Check in was by phone call by the park while we were on the road. We never received the rest room/shore entry codes. We were notified by email that we never received. However the park was clean, convenient access and briefly spoke with the friendly manager.
May 25, 2021
Sites are poorly marked for location in limited light. Site was not level. Park is clean and well maintained. Advance check in was a positive.
May 25, 2021
Jerry was very helpful in helping me plan my rt to Florida after getting hung up by the Memphis bridge dilemma
May 24, 2021
First time stay at this park. Everything was in order and in good condition.
May 23, 2021
Was an easy in and out on our way our west.
May 23, 2021
The person in the office was very rude. The campsite was not up to KOA standards. I did not feel welcome or safe Will not visit this site again