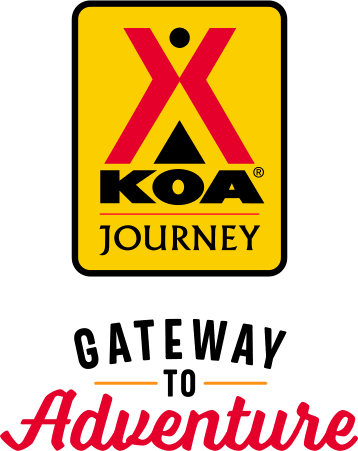 KOA Journey Campgrounds
KOA Journey campgrounds are the perfect oases after a day on the road. Whether it's along the way or a quick getaway, they've got you covered. Located near the highways and byways of North America with long Pull-thru RV Sites, they deliver convenience to the traveling camper. Pull in, ease back and take a load off.
KOA Journeys Feature:
Pull-through RV Sites with 50-amp service
Premium Tent Sites
Well lit after hours check-in service
Directions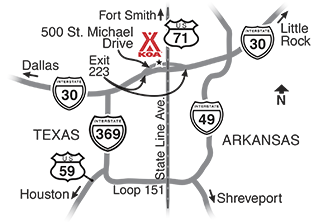 GPS coordinates: N33.470916, W94.046913
From Dallas: I-30 Exit 223, go left on turn-around lane, turn right into KOA entrance.
From Little Rock: I-30 Exit 223, drive west through stoplight, turn right into KOA entrance.
From Houston: Hwy 59 to I-30 Exit 223, go left on turnaround lane.
From Shreveport: Interstate 49, go  west on I-30 to Exit 223, drive west  through stoplight, continue west on St. Michael Drive, turn right into KOA entrance.
Get Google Directions
Feb 14, 2021
It was very good
Feb 10, 2021
We ended up having to stay super last minute and I couldn't be happier with the park. It was easy to get to, very well kept, and the person I spoke with was super accommodating. It truly made for some peace on our stressful journey home.
Feb 06, 2021
Very helpful manager. Super clean facilities. Only down side it highway traffic sounds. Very convenient location.
Feb 04, 2021
Everything wen well. Called in advance for reservation and everthing was as expected.
Feb 02, 2021
NO STAFF ON DUTY. ENVELOPE LEFT WITH SITE NUMBER TO PARK. AREA WAS CLEAN BUT NO HELP AVAILABLE FOR ANYTHING. CABLE TV ADVERTISED BUT NO SERVICE PROVIDED NEXT TO BUSY INTERSTATE ON ONE SIDE AND A RAIL ROAD ON THE OTHER. NOISY ALL NIGHT. LOW FREQUENCY ELECTRICITY LOST POWER IN MIDDLE OF THE NIGHT.
Feb 01, 2021
Could have been more warmly welcomed even during Covid. No stores open or office. Don't like no code to get into women's restroom. Didn't feel safe. My husband had no problem. Once your in laundry area anyone can walk in to restrooms. Sites were level, clean area and very few RV that night. Road noise was loud but our fan took care of it
Feb 01, 2021
People were very pleasant and we had a lovely site with view of the pond. Easy on and off the highway.
Jan 31, 2021
Just a one night stay on the way back home. Good site and never saw anyone except a worker. He was pleasant and gave me a tip on dinner. Good stop overnight.
Jan 30, 2021
Very noisy. Intense road noise all night. Airplane noise, too. The back section of the park felt sketchy. There one to greet us at the registration office - the site map for us was left outside the door. Generally unkempt.
Jan 28, 2021
Very clean...nice folks!
Jan 26, 2021
Within one minute of hooking to 50 amp service, we heard a loud pop from our fuse box and white smoke began to fill our trailer. I called the office to let them know and their staff person told me it can't be a problem with their pedastal. We had no power at all. We're in Waco now. Everything works. Spent $125 on RV tech who told us "you're fine, KOA pedestal must have had a probl
CAMPGROUND RESPONSE / COMMENTS:
You had the same problem when we moved you to another site. I offered to come up to investigate however when you had the same problem at second site, you called me and said I didn't need to check and that the problem was with your RV. Other RV's have occupied the site with no problems since.
Jan 20, 2021
Just an overnight, everything was fine. Dog park was not easy to find in the dark
Jan 20, 2021
Overnighter next to interstate. That's ok because we chose that. My shower stall had 2 dried hair wads that weren't recent. Nice desk guy, but feels like owners wringing every dollar without great upkeep. Sites could be nice but need work. Good pull-thrus & mostly level site, but feels shabby. Most of the park is permanent residents but those are in separate area further back. Fine overnighter
Jan 17, 2021
We only stayed one night on our way to San Antonio. Our site was nice. Exit was right off interstate so you did hear a little traffic noise but not bad. Would stay again if driving thru.
Jan 17, 2021
Noise from highway was loud.
Jan 14, 2021
Dirty bathroom, no tp, cabin not as described on koa app when booking, the only koa rep i came in contact with was a jerk, pretty sure it was the owner. Worst of all my koa experiences by far!!
Jan 09, 2021
We were placed in a muddy site when other sites were available that did not have as much mud. This KOA is to close to the highway, so the traffic noise is also a factor.
Jan 06, 2021
Nice clean sites- easy in out off Hwy-
Jan 06, 2021
Level sites. Traffic and roads really confusing. A lot of traffic noise. Was in A16 within 100 yds of interstate sounded like train tracks real close.
Jan 03, 2021
Great stop when heading south for the winter. Close to the interstate. Easy to get off and back on.
Jan 03, 2021
Very clean, shaded campground. The person who assisted me was m=very accommodating
Jan 02, 2021
Checked in late New Years Eve, hooked up in the pouring rain. Easy in/out, close to a lot of food places.
Dec 31, 2020
Host wasn't wearing a mask & came up to us in the vehicle talking into the window.
Dec 29, 2020
Veen there before. Clean easily accessible. Close to everything.
Dec 27, 2020
Very close to road, so a little bit noisy
Dec 26, 2020
We only stayed one night. There was only one other RV when we arrived. Our spot was right next to an electrical transformer and the dump station. Not sure why we we're assigned that site. KOA was convenient but very close to highway and could here trucks go by all night.
Dec 26, 2020
We are pretty easy to satisfy and this KOA met all our expectations.
Dec 24, 2020
No television and didn't tell us when we made reservation. Just a stop over, but it would have been nice to have something to watch while there.
Dec 19, 2020
Basically a trailer park, loud music late at night, and shady characters, would guess drug dealing with the different people in and out all hours. Was given a monthly rate and checked out a week early and was given an additional $158 charge, " apparently they charge daily rate if full month isnt used" very rude owner. Camper was unplugged one day, spoke with manager didn't seem to care.Horri
CAMPGROUND RESPONSE / COMMENTS:
This camper signed a service agreement that specifies all charges and the charge if he were to leave early. Agreement discussed with this camper before he occupied the site. The manager listened to his concern about being unplugged, and drug dealing, customer angry and rude when paying bill.
Dec 16, 2020
Great place to stay no matter what time of year.
Dec 16, 2020
Great location for overnight stop. Easy on/ off on I-30.
Dec 16, 2020
Stayed only one night but it was great. Jerry was very helpful.
Dec 14, 2020
Excellent clean campground. Very large, level sites . After hour checking was very easy.
Dec 10, 2020
Everything was fine accept at the end when longtimers moved behind me and allow their dogs to use it (#1 & 2) under my slide out and the path to the trash can. Not to mention their loud vehicle. I don't feel that's a refelection on the campground but just people that don't care about other people space. And for the record I did not advise management of the issue.
Dec 07, 2020
Nice place, welcoming and clean
Dec 06, 2020
Hard to find at night, located close to busy commercial intersection. If you miss it in first pass, be prepared to drive around in circles, on and off Interstate. Other than that, it was fine for a one nighter.