Current Status of Amenities/Compliance with COVID-19 Safety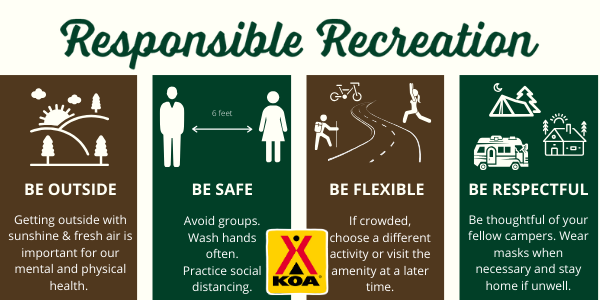 JULY 30, 2020
We are open!
Status of campground amenities may change by your arrival date, but the following is the status as of today.
New Online Express Check-In is now available for a contactless check-in. You will get an email 24-hours before your arrival.
GUEST REGISTRATION AND STORE HOURS:
Daily: 8:00 am – 5:00 pm
POOL: OPEN
We are so happy our pool is open so our camping guests can enjoy swimming. During busy times, such as weekends, there will be a sign-up list at the front desk so that guests can reserve a designated block of time to enjoy the pool and be safely socially distanced.
CLOSED:
Playgrounds
Jumping Pillows
Bike Rentals
Recreation Programs
CLEANING AND SAFETY PROTOCOLS
Our staff has been trained in our safety and hygiene protocol that includes a multi-point cleaning protocol of guest and staff spaces by disinfecting multiple times throughout the day, including restrooms, front desk, doors, and countertops.
Social distancing for guests and staff at the St. Louis West KOA is in place with signage to help clearly communicated 6-feet of distancing. Additionally, there are limits to the number of guests allowed inside buildings at any one time. In accordance with state and local mandates, guests should wear masks in all common areas and inside buildings, but masks are not required at their campsite.
Our camping cabins and deluxe cabins have always maintained the highest-level of hotel cleaning standards and continue to do so with PPC gear for cleaning staff, a multi-point cleaning, and disinfecting protocol.
All bike rentals are available and are cleaned between use.
Our pool is open and we are adhering to local health department guidelines for a safe experience. This includes removing pool furniture and limiting the number of guests during peak times of use.