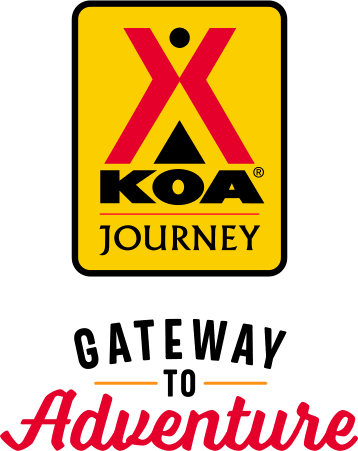 KOA Journey Campgrounds
KOA Journey campgrounds are the perfect oases after a day on the road. Whether it's along the way or a quick getaway, they've got you covered. Located near the highways and byways of North America with long Pull-thru RV Sites, they deliver convenience to the traveling camper. Pull in, ease back and take a load off.
KOA Journeys Feature:
Pull-through RV Sites with 50-amp service
Premium Tent Sites
Well lit after hours check-in service
Directions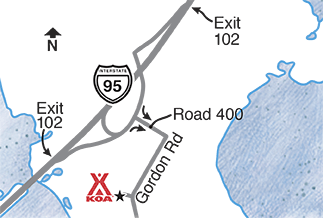 Exit 102 from I-95: Turn onto Road 400. Go 500 feet; turn right on Gordon Road. Santee Lakes KOA is straight ahead.
Get Google Directions
Oct 13, 2021
We really enjoyed our stay, one of our favorite spots!
Oct 13, 2021
The staff provided a level of excellence service not easily found these days. Keep up the good work. Thank you
Oct 13, 2021
It was great beautiful weather, friendly people.
Oct 12, 2021
Campsite was best if all our experience. Lots to do. Staff was great.
Oct 12, 2021
Staff was helpful, campground was clean and location was convenient.
Oct 12, 2021
Beautiful camping and fishing area.Beautiful setting, clean, lovely lakefront campground. However the area around offers Nothing for Miles..no bars, music, or restaurants,& groceries are limited, no organic food around
Oct 11, 2021
We had a blast! The grounds were very clean and the staff was amazing. Huge kudos to Michael for accommodating us and helping us make amazing memories!
Oct 11, 2021
Was fantastic being first time RV campers the staff was excellent in helping us set up. We will be back. Thanks
Oct 11, 2021
Very nice campground. Beach area was well kept. We really enjoyed our stay.
Oct 11, 2021
Convenient to interstate. Reservation by email and check-in went perfectly. Overnight pull-thru site worked well. Park seemed to be managed well. We'll probably stay there again. I do believe the price was a little on the high side for what you get.
Oct 11, 2021
Nice location on the lake
Oct 11, 2021
The staff was very helpful and friendly. The facility was clean. Pretty views of the lake!
Oct 10, 2021
Nice campground with shaded sites. Very clean and the staff is friendly and accommodating.
Oct 10, 2021
A location on a beautiful lake with so much potential. However ownership chooses to not invest in the property. Dirt/uneven sites. Tired old KOA.
Oct 10, 2021
Sites too close. Hate being jammed in like a sardine. Too expensive for that kind of experience.
Oct 09, 2021
Pull though site was perfect
Oct 09, 2021
My wife and I thought this KOA was overpriced for the amenties we received. We paid $69 for one night and only water, electric and sewer. The wifi was accreptable. Our site was mostly dirt and not level. The bath near our site was closed for some reason. The plus for this campground is that it's right on Lake Marion. We decided that we would not stay here again for the above reasons.
Oct 08, 2021
Well maintained with friendly staff. On site pizza was a plus. Nice camp K9 area. I didn't use the other facilities. Great little beach. Would definitely stay here again.
Oct 08, 2021
Wonderful, clean, friendly service, beautiful location by lake Marion with a dock and sandy beach.
Oct 07, 2021
Love the view of the lake, easy to get to.
Oct 07, 2021
Appreciated the no contact check-in, escort to site. Nice campsites, well spaced. Definitely a place to stay again and suggest to fellow traveling friends.
Oct 07, 2021
Outstanding!
Oct 05, 2021
It was a layover to and from Florida. Very relaxing and beautiful beach area
Oct 05, 2021
One night stay enroute to Florida; then again another night stay coming back North. Nice place!
Oct 05, 2021
Love this place and the people and the pizza!
Oct 05, 2021
Return customer. Great place (except for the mosquitoes) which management is working on to reduce or eliminate these pests.
Oct 04, 2021
It was a pleasant peaceful weekend! Very efficient staff!
Oct 04, 2021
Site C-9 was level, not a lot of shade in that particular site though. Beach and swimming area was great. All employees were awesome! I will return.
Oct 04, 2021
Very well-kept campground. Considerate and helpful staff. Will definitely stay there again.
Oct 04, 2021
WE LOVE STAYING HERE EVERYONE IS SO NICE AND VERY HELPFUL
Oct 04, 2021
Very pleasant
Oct 03, 2021
Everyone was so nice and friendly. It's a beautiful facility and even though we were only there one night, we loved every minute. If we're ever passing by, we would most definitely stay again.
Oct 03, 2021
Mini golf needs updating. Little tiny ants were abundant but it is a campground. Otherwise, it has great sunsets from their beach/lake and very relaxing atmosphere. A great one nighter if you need a KOA near I-95.
Oct 02, 2021
This is our 3rd time here. Plenty of things to do. We love the beach. It's always so relaxing sitting by the water. Campground is always clean and the staff are very friendly and helpful. We can't wait to stay again.
Oct 02, 2021
Everyone was very courteous helpful. He showed us to our campsite and explained everything to us that was perfect. Thank you very much.
Oct 02, 2021
You are my half way to fla. We stop every time we come south. See you in a week on our way back
Oct 01, 2021
Well run campground, friendly helpful staff and very appealing view of lake Marion
Oct 01, 2021
Very nice spot with a lake view and private. We will stay here again and request the same spot. They deliver pizza and firewood and are very helpful.
Sep 30, 2021
We had a wonderful time there the lake and the history of the underground city and graveyard were very interesting. the last night we got some wonderful pictures of the sunset and the orbs by the lake. We met up with friends there and it was great.Restaurant next door was very good and great service.We will return. Only downfall one camper that felt he had to fly a Confederate flag.
Oct 03, 2021
They met us at the drive and led us right to our site! Beautiful campground on the shores of Lake Marion. Very nice sunset vistas over the lake. A little traffic noise at night, but not too bad.
- David DuGay on Google
Sep 28, 2021
Beautiful RV Campground. The sunset off the lake is a must see.
- Virges Pearson on Google