Amenities Status/COVID-19 Safety Compliance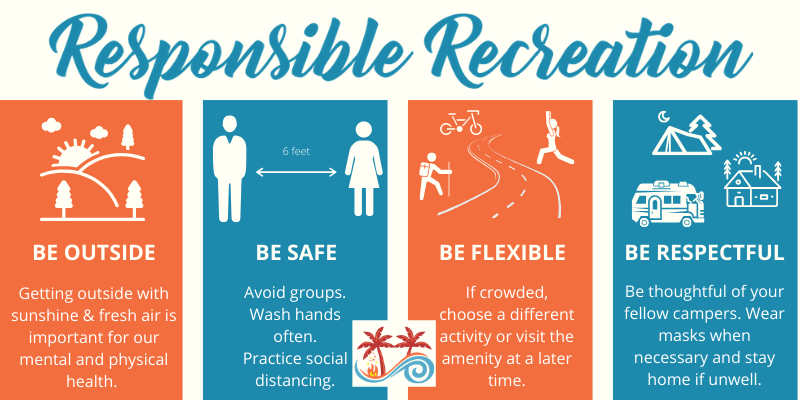 JULY 18, 2020 -
We are open for camping.
Status of campground amenities may change by your arrival date, but the following is the status as of today.
We are open for all kinds of camping at the San Diego KOA and are continuing to follow county and state-issued Covid-19 guidelines, which have some of our recreation and other amenities temporarily closed.
NEW FACE MASK REQUIREMENTS:
All guests (with the exception of children under 2) are required to have a facemask with them at all times. All guests are required to wear facemasks:
Inside of all buildings.
In common areas, while participating in activities.
Guests are not required to wear masks while on their own campsite.
Guests will maintain social distancing while out walking around the campground. Guests do not have to wear a face mask while walking/riding bikes, but must have face mask with them and use it if they stop and congregate with other guests or cannot maintain social distance.
Facemasks are available for purchase in the gift shop.
*Additional guests or campground visitors are not permitted during this time.
GUEST REGISTRATION AND STORE HOURS:
Sunday-Thursday: 9:00 am – 6:00 pm
Friday & Saturday: 9:00 am – 8:00 pm
SANDCASTLE CAFE:
Open for Take-Out and Alfresco Dining.
Monday- Wednesday 8:00am - 3:30pm
Thursday -Saturday 8:00am-9:00pm
Sundays 8:00am-11:30am
RESORT POOL:
Our pool is open! On busy days guests can reserve a 2-hour slot to ensure social distancing. The pool will be closed between each slot so that the pool area can be cleaned. Reservations can be made at the pool starting at 8:30 a.m. for same-day reservations. Guests are not required to wear their face mask while in the pool area, but do need to have their face mask with them
SPECIAL RECREATION:
We've created special 'social distancing' recreation packages for you to enjoy in the privacy of your campsite. With games, crafts and even a treat from the cafe, we know it's not camping as usual, but we hope to bring you the joy of fresh air & sunshine along with safety in these unusual times. *See the link below.
CLOSED:
Spas
Playgrounds
Jumping Pillows
Game/Activity Rooms
ADDITIONAL CLEANING AND SAFETY MEASURE FOR GUESTS & STAFF:
We're committed to keeping you safe while enjoying the outdoors with a rigorous cleaning protocol, health protocol for staff and distancing policies in place to protect our guests and staff.
For the safety of our guests and staff, all staff members undergo temperature screening before work and wear face coverings. Our staff has been trained in our safety and hygiene protocol that includes a multi-point cleaning protocol of guest and staff spaces by disinfecting multiple times throughout the day, including restrooms, front desk, doors, and countertops.


Social distancing for guests and staff at the San Diego KOA Resort is in place with ground markers to help clearly communicated 6-feet of distancing. Additionally, there are limits to the number of guests allowed inside buildings at any one time. In accordance with state and local mandates, guests should wear masks in all common areas and inside buildings, but masks are not required at their campsite.


Our camping cabins, deluxe cabins, and eco-tents have always maintained the highest-level of hotel cleaning standards and continue to do so with PPC gear for cleaning staff, a multi-point cleaning, and disinfecting protocol. And now the interior cleaning protocol includes a final,

Bioesque

® surface disinfectant before each guest's arrival.


All bike rentals and pool furniture are also treated with

Bioesque

® surface disinfectant applied with a ULV Aerosol Generator between each guest's use.