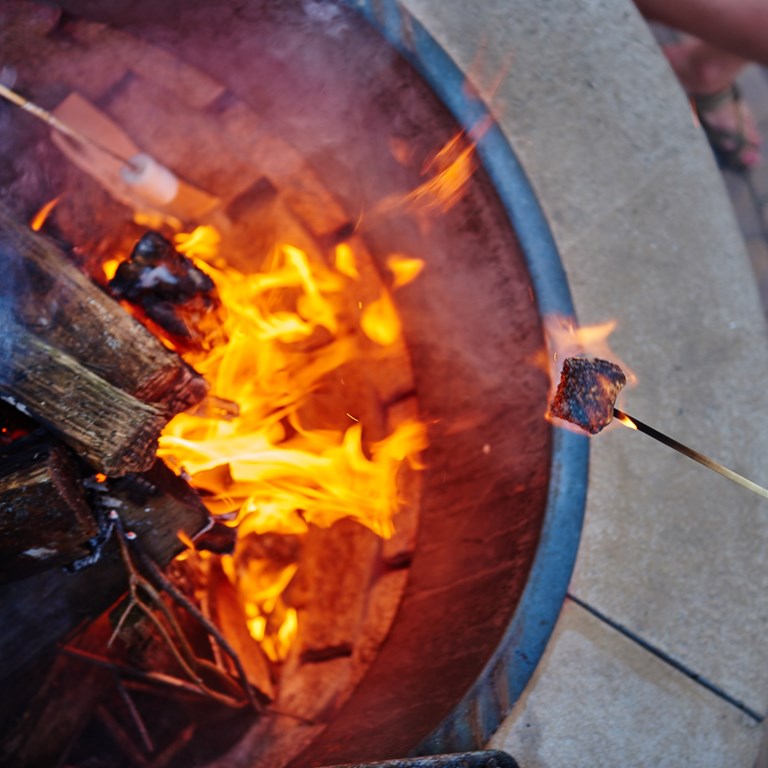 Lebanon KOA on Salmon Falls River Reviews
Book your fall escape today!
Directions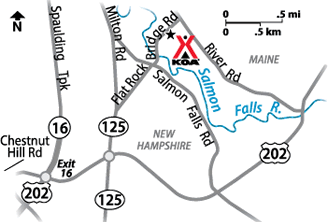 From Boston: Take Route 95 North to Portsmouth, New Hampshire. Go left at the split (Exit 4), which will put you on the Spaulding Turnpike (Route 16 North) toward New Hampshire. Follow the Spaulding Turnpike to Exit 16 and follow the signs to Route 125 North toward Milton. Go one block and take your first right onto Flat Rock Bridge Road. At the stop sign, cross Salmon Falls Road and continue driving straight over the bridge to the campground entrance.
Get Google Directions
Sep 17, 2020
It was amazing because of all the activities and meeting new friends! The staff was very supportive and provide a positive camping experience!
Sep 14, 2020
Staff was great and bathrooms and facilities very clean. We were hoping for a little more seclusion and woods. We felt very close to other campers and in an open space that did not have a lot of trees.
Sep 10, 2020
Waited in line for 25 mins to not get pool time wasn't worth the money to not be able to use the pool
Sep 08, 2020
Unbelievably loud. I am a lifetime camper, I understand partying with friends while camping, so if the campground had even a semblance of enforcing quiet time it'd be acceptable. Literally the only time this campground was quiet is between 3-5am and I'm talking loud music being allowed to play all night. 3 stars bcuz The amenities were nice for kids who get bored easy and no mosquitoes at all.
Sep 01, 2020
This is the 2nd year we checked in, and our original site was given to someone else. The wait time to get another site, takes a long time. The slide attendee was on his phone the entire time, and did not pay attention to the children going down the slide. The pool seemed to never be skimmed, and you swam through bugs. The same attendee "skimmed" the pool. The rest of the staff were wonderful.
Aug 31, 2020
The staff were very friendly and helpful. Campground was pretty clean and updated. Upon arrival we found that the site we booked was switched back to the wrong site, the site we did switch to was already taken by another camper so we were stuck with our original booked site. The shower pressure is awful even with nobody in the bathroom, the second pool was closed, hot tub was closed with no notice
Aug 26, 2020
Jess Was AMAZING ! Our Family had a wonderful time!
Aug 24, 2020
Great camp ground! Even during covid! Yes you needed a slot for the pool but the river was fun too!! The bathrooms could of used a little more cleaning, my husband used the bathroom all the way in the back and said there was no where to put clothes or towel. Over all will defiantly Love to come back next year!
Aug 22, 2020
The service and amenities were great, however, we did not care for the site we were assigned to. It was a little small and was so dusty everything and everyone was covered after only a 2 night stay. It was also very rocky and had a lot of roots right where the tent had to go. So for us that sleep directly on the ground it was a bit rough.
Aug 20, 2020
Nice place but waterside was closed and didnt seem organized took me an hour and 15min to check in.when we tried to make reservations to do the ropes coarse they told us to wait until someone is out there we asked when that would be and the office told us they didnt know. The cites have so much lose dirt it was hard to keep anything clean. I do have to say they keep the bathrooms very clean here.
Aug 19, 2020
We love to stay at Salmon Falls KOA, lots of fun, family friendly activities. With all the Covid-19 happenings in the world, we felt very safe and clean in the facilities. Great job
Aug 18, 2020
We weren't able to use the pool or the ropes course we were told all different times for sign up seems like not a single person knew the same thing You go to the ropes course and ask names for time slots they had not a clue what names were signed up You look at the pool and see 6 people yet it's fully booked Tried to get in with 15 people in the pool and still denied Cornhole bag shredded JOKE
Aug 17, 2020
Will probably be back but most everything was broke the slide and pool heater and other pool was down also. The reservation times for pool were not offered to late arrivals we got their at 8pm and found out my kids could not use pool Saturday. Then they had it Sunday morning but it was 62 degrees. Definitely should not have added rope course or mini golf.
Aug 17, 2020
The amount of amenities at the campground are great- a ropes course, mini golf, 2 pools, arcade, the river. You will not be bored. The comfort stations were clean. But the sites are too small and too close together. In some sites, your tent or RV is barely off the road. My family's nickname for this place became "Tent/RV City". "Quiet hours" seemed to be more of a suggestion, than a r
Aug 14, 2020
Great site. Glad to see the mini golf open. Lots on the schedule to do throughout the week. Having hot water in the shower was definitely a plus. It is too bad the pool was limited but understandable. Too many people using the lazy river as a swimming hole. All in all a very good stay. Will be back again.
Aug 13, 2020
This is a great campground to stay at with kids! The staff is very friendly & let kids be kids! Cleanest campground bathrooms I've ever seen & great water pressure. There are so many activities included with your stay! My kids were having so much fun we paid the small extra fee to stay until 5pm on your checkout day to enjoy all the amenities.
Aug 11, 2020
This place is so cool. Not only is it very kid oriented, but they do great providing fun for any age. So much to do. One of the pools was down, but that didn't prevent us from having a great time. My kiddos were super thrilled to sit in a theater to watch a movie, something taken from us recently. With everything going on in the world today, this is a great place to escape reality! Great!
Aug 10, 2020
Lots of fun. Lots to do! I came with 2 other moms and between us all we had 5 15 year olds. Not one ever said they were bored. Thanks for a great time.
Aug 10, 2020
My family and I had a great time all around.
Aug 10, 2020
It's been years since I e camped here and I love all the upgrades! Great family place!!
Aug 06, 2020
If you're looking for a great place to bring your kids, I would recommend this KOA. If you don't have kids, they have some fun things to do, but they're usually overrun by children/teenagers. Social distancing was hard here at many places. Overall, this is a nice campground and I would probably go again.
Aug 06, 2020
I love this place. I have been camping here since it was Kings and Queens. This was first time since it became KOA. I love the changes. I was injured and took me few years to heal, that's why I haven't been in few years. I was very impressed with the changes. Going to look into renting clamping tent. They r beautiful. Thank you
Aug 05, 2020
Lights should be on over the pool at night. My stay was Sat-Monnday an was unhappy we could not use the pool on Sunday. Decided not to go to pool on Saturday because of the crowd and opted to enjoy the water slide on Sunday after the campground cleared out. Because a couple had too much fun after hours in the pool, the pool the slide was shut down.
Aug 04, 2020
Pool was closed on one of the hottest days of our stay that wasn't pleasant. The water slide hours could be better as regards one of the reasons we stayed for the kids to play.
Aug 03, 2020
Like that you have a lot of activities to do for kids and adults. Don't like that the sites are so close together and bathrooms are quit far from E campsites
Jul 27, 2020
The only sugestión or complain have nothing to do with the staff or that management, is the water pressure from the showers, staff and management were very nice and polite.
Jul 27, 2020
We loved everything about it. The staff was friendly, the grounds are clean and nice, and there is a ton to do! We will definitely be returning, and are even looking into doing a seasonal rental there. Thank you, can't wait to come back!
Jul 21, 2020
We've been coming to the campground for many years (2 owners ago). Our children were young and there was plenty of activities for them. There was some great new things this year and we were excited to use them. I think it would be wise to inform people at check in that you need a reservation for the ropes course. One pool was closed (green), the other jammed packed, cloudy & buggy. Filte
Jul 21, 2020
Garbage everywhere, rude staff, campsite was dirty when we arrived, throw up and bugs all over bathroom on east side. Pool was dirty with garbage wrappers floating in it.
Jul 17, 2020
Was an awesome stay! Just the loud and crude people next to us was a little sketchy (management did take care of it).
Jul 14, 2020
It was a nice clean campground with lots to offer for fun for families. The staff are friendly and around. I do think the sites are a little too close for my liking as I feel as though there wasn't much privacy.
Jul 14, 2020
Very accommodating and reasonable rates. Lot of fun for whole family.
Jul 11, 2020
Water pump next to the river was loud as heck but other that that good
Jul 09, 2020
Overall we had a great time. There was a couple things that were frustrating. Lack of fire wood available and employees not knowing when more was coming. At the dog park, move the rules sign to the front fence. Can't read it from the entrance gate. Also it needs a dog waste barrel. Having to carry the poop bags over to the bathroom when you're wanting to float in the river is a pain.
Jul 08, 2020
We had a blast! Only thing I would suggest is to bring back the schedule with all the activities for the kids, kickball games, movies, etc..
Jul 08, 2020
I have been charge for an early check in fee but when I was looking at the paperwork it's stated that there was no early check in fee.I haven't received a refund yet. Overall the camping experience was good
Jul 06, 2020
The manager and assistant manager along with all of the staff were so nice. For a big company owned place the staff really gives it a personal feeling. I've been camping there for over 20 years and I'm very impressed! The staff was very accommodating after an incident with loud neighbors. I can't wait to return with my family and loved the new place hopefully eventually will return as season
Jul 06, 2020
Too crowded and right on a main rd. Staff very friendly and helpful
Aug 27, 2019
I had camped here many times in the past and was surprised at how downhill this campground has gone. We had so many issues during our stay, there is not enough space here to leave all of my comments but you can read a full review on tripadvisor. My overall concerns were misleading booking info, poor maintenance, cleanliness, staff attitudes, and safety/ security. I will not be staying here again
CAMPGROUND RESPONSE / COMMENTS:
Weve been working hard on making this a great campground we know we still have more to do and we have plans to do it all. Hope you would give us another opportunity to show you how great we can be.
Aug 23, 2019
It was obvious that management has been trying to address some of the feedback from past guests. The staff was very courteous. The bathrooms should be cleaned more frequently than they are currently cleaned, especially with the limited facilities & number of guests. Management needs to check & clean sites of food between guests. Preset closures should be posted so guests can better plan activities
CAMPGROUND RESPONSE / COMMENTS:
Thanks for your comments, glad to hear you and the family had a great time. We still have more in store for you in the future and we cannot wait to see you again.
Aug 12, 2019
Had another wonderful time! We were with a group and one of our group was a street over, you happily moved them closer and we appreciated that!
CAMPGROUND RESPONSE / COMMENTS:
Thanks for taking the time to comment on your stay. Our staffs main concern in the satisfaction of our guest and we want everyone that entrust us with their valuable free time to enjoy it to the max. Give us a call before your next trip and well make sure we have you just where you like.
Aug 01, 2019
Check in went ok. Our site was nice, shaded and not root bound like some others. Bathrooms were dirty at one point, alerted staff and they seemed to get right on it. Very large facility overall, many types of sites to choose from. River tubing was super fun and relaxing. Pools were nice. Grounds were in decent shape, some tent sites very root bound but trees are very mature bound to exist.
CAMPGROUND RESPONSE / COMMENTS:
Thank you for you comments. We try to provide a unique setting for all our happy campers. Glad you enjoyed your stay with us, and we cannot wait to see you again.
Sep 14, 2020
It a fun camp ground i made lot's of friends there and everyone there is very friendly
- Andrea WallSanchez on Google
Sep 06, 2020
Great facilities and the new management is doing an excellent job!
- Damian Watson on Google
Sep 05, 2020
We LOVE this campground and have come back the last couple years. We are foster parents in NH and they partner with an organization called FARE each year to support us by offering discounted rates. We cannot express how amazing it is for us and our kids to have time to reconnect and check-out of the day-to-day stress. THANK YOU!
- Erin Faith Page on Google

Lebanon KOA on Salmon Falls River
Open July 1 - October 12
21 Flat Rock Bridge Road
Lebanon, ME 04027
Check-In/Check-Out Times
All Sites
Check-in: 3:00 pm, Check-out: 11:00 am
Lebanon KOA on Salmon Falls River
Get Google Directions

© 2020 Kampgrounds of America, Inc.