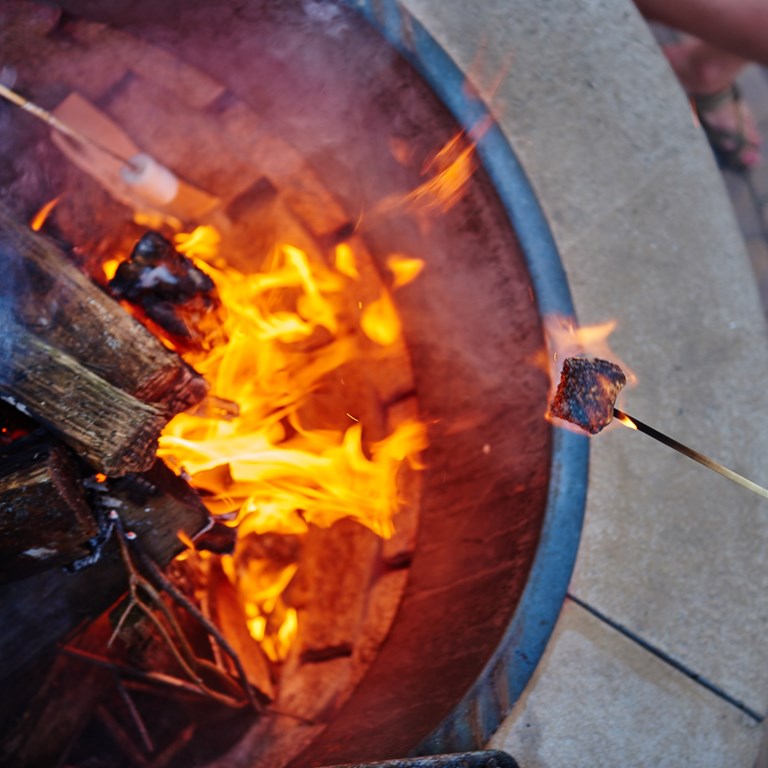 Lebanon KOA on Salmon Falls River Reviews
Book your fall escape today!
Directions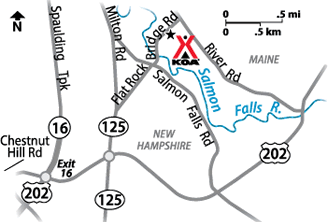 From Boston: Take Route 95 North to Portsmouth, New Hampshire. Go left at the split (Exit 4), which will put you on the Spaulding Turnpike (Route 16 North) toward New Hampshire. Follow the Spaulding Turnpike to Exit 16 and follow the signs to Route 125 North toward Milton. Go one block and take your first right onto Flat Rock Bridge Road. At the stop sign, cross Salmon Falls Road and continue driving straight over the bridge to the campground entrance.
Get Google Directions
Sep 21, 2020
We were met by welcoming and helpful staff. There were fun activities for adults and kids. The only down side is that it was very dusty due to drought conditions- so only by nature. The site was thoroughly raked clean prior to our arrival.
Sep 21, 2020
I wish more information was given up front on the check in process and securing of pool time. We could have saved a lot of time and misunderstanding. Otherwise, no issues.
Sep 21, 2020
WE loved the place, but did not like our campsite. We were placed on the corner and had a very hard time putting out camper there. It was too small and the cable did not work. I would not recommend that site for our size camper. We loved the activities, but only problem was our site.
Sep 21, 2020
Clean and comfortable and frieldly staff
Sep 21, 2020
Overall pleasant stay. However on my last day I was treated in a way that may make me reconsider a return. I was never told a check out time and slept in on my last day. I was awoken to a knock and a very rude employee telling me I was trespassing and they had left me multiple messages. I would have happily paid to stay had I known, but was never told and upon check-in I had only missed one call.
Sep 19, 2020
Great campground especially the west side, but no WiFi at the sites and no propane refills available
Sep 19, 2020
Back in full hook up site was pricey at $70/night. Had 50 amp but i didn't need it and the site was really too small for a 5th wheel or class a. Amenities were good and staff was friendly. Campground has several odd sites, such as 50 amp where big rigs can't fit, 20 amp full hook up, and sites that don't match up to the map etc.
Sep 16, 2020
The first site we were put on was very tight for my 38 ft RV and had an underground water leak. They moved us to a better site with sewer which the first site did not have. The people here were very friendly and worked with us to make everything so much better.
Sep 16, 2020
Randy was exceptional with our son on the ropes course.
Sep 14, 2020
very clean well cared for grounds, great group of staffers. Major issue with campground is location between a fairly busy and very loud street. Noise from cars and bikes pretending it was a drag strip... unfortunate since campground was very nice overall.
Sep 14, 2020
Great Spot with Patio. Bathrooms in the area could use a face lift
Sep 12, 2020
Overall was very nice had a decent site, the only thing holding back a higher rating was the internet access was sporadic at best
Sep 11, 2020
Had a great stay and would come back. The only issue was the pool, crazy lines, and it was really dirty. So when the pool as shut down for cleaning, it didnt seem like the pool got cleaned at all. It was really dirty for our 100 visit and our 300 visit. Water blurry so chemicals were out of balance and overall not skimmed at all. Other than that everything was great!
Sep 09, 2020
Great amenities for kids and families. Our site was near the road. Super noisy with cars and motorcycles speeding by.
Sep 09, 2020
Would like to see a better process to reserve pool & waterslide time. We weren't able to get any time at all.
Sep 09, 2020
Very disappointing, very RUDE staff in office. I know covid plays a part but overall poor. The advertisment looks great but in reality not so much. One pool was closed for repairs, and has been all season, other pool is by reservation and could not get a reservation because all time slots were taken. Fishing pond was dried up. Would not go back.
Sep 09, 2020
We went for a quick getaway a few hours from home. Our site was big and very clean Staff was amazing!! Thank you for a great weekend
Sep 09, 2020
We Could Only get a pool time at 5pm Monday. The next day we swam for about 45mins and then it closed for Another clean. The other pool was closed. Not enough amenities to Keep The kids occupied. The slide never worked When we were there. Apparently i need two People To operate slide. For A KOA I felt The staff did Not put any effort in at all.
Sep 08, 2020
Saddened that we were not able to use the pool/slide due to others signing other sites up than they had. We stood in line for 45 minutes, 2 days in a row, with less than 30 people in front of us, only to get to the door and be told that they have no spots remaining. My family was very disappointed as that was the main reason we came to this campground. Not happy campers.
Sep 08, 2020
Sites are awkward there's nothing in the showers to put your stuff on
Sep 08, 2020
It was a nice visit! The roads in the campground should be one way roads....to much traffic by the camp sites. Thanks
Sep 08, 2020
Nicole took care of a situation we had with an over zealous pool attendant with great poise and respect. I'm so glad I spoke up and didn't walk away upset. Very nice campground and really fun stay. Thank you Nicole and staff.
Sep 08, 2020
Children loved the new ropes course, new mini golf ... Having to sign up for the pool was disappointing. I understand Covid rules, however, those that were able to swim should have a time limit. Perhaps one hour. Most that were in, stayed for the day. That was not fair to those waiting. Overall, we love Salmon Falls. Have been camping there for years!
Sep 08, 2020
Site had a lot of small trash, cigarette butts all over, and old dog poop...the turn handle for the water was broken ..i informed a staff member who said would be back to fix it ...never came back and it stayed broken all weekend. On top of all that the site was a dust bowl everything was completely covered with dirt and sand by the end of stay and the river had a rotten trash smell. $100 per nigh
Sep 08, 2020
I understand this year was a crazy year with Covid and all, and I'm sure you did the best you could with all the restrictions. The campsite my family and I were put on this past weekend was horrible, and probably shouldn't have even been a site! Paying $100 a night I feel like the site was unacceptable. Not level, campers all cramped in 1 area and pretty much on top of a seasonal site!
Sep 08, 2020
well our site was all dirt, with septic tubes and water line all out in the open. our site W60 was not cleaned prior to us checking in as there was dirt everywhere. one pool was closed do to a liner issue but an email was sent saying it was due to covid. our section was very loud at night with no one from the KOA making rounds to tell them to quiet down.
Sep 08, 2020
staff member taking pool reservations was extremely rude to us and I did tell someone in the office the next day but I felt like I was just brushed off. Also the pool was filthy. I would love to have someone send me an email address because I intend to send a detailed email and hope it gets to the correct person.
Sep 08, 2020
Our campsite was fine except for our cable. That didn't work. I wish we were told that some of the amenities weren't available BEFORE we booked. I was told that one of the pools wasn't open but the lady doing the reservation was new and didn't know which one was out of commission. The hot tub was not working, the fishing pond was almost dried up and the river was so low we couldn't tube it.
Sep 08, 2020
We had a great time here, due to COVID we could not enjoy the pool as the lines were too long to sign up. We liked our site and the staff was friendly and nice. Lots and lots of golf carts driving around, and I felt the campgrounds were walkable, not sure why everyone needed a gold cart. The river was nice and it appeared clean. For a Holiday weekend it was quiet during the quiet hours.
Sep 08, 2020
We were disappointed that only one of the pools were open and we had to sign up each day for the pool/water slide due to the 50 person limit. Out of the 3 days we were there, we only got to enjoy the pool/waterslide one day for an hour and a half. I ended up standing in line for almost an hour just to sign up. We drove over 2 1/2 hours to get to camp, which is further than we normally travel.
Sep 08, 2020
The pool maintenance could have been better. Lots of grass and bugs in the water ! Extra skimming could of helped. One day there was a lot of rough housing and pushing in the pool area. The pool attendants were to busy ogling one another rather than taking care of the situation. Was not relaxing. Otherwise, our stay was fun! the kids enjoyed the ropes course, jumping pillow and mini golf! So fun!
Sep 08, 2020
Lack of supervision for kids was terrible. No one i at jump pillow. Kids running into each other on slide because person at top kept telling them to go before other person was off slide. I will say that Kathy and Ryan working at the pool were fantastic. Activity director (I think Heather was her name but not sure), was very rube and should not be in that line of work, dealing with paying guests.
Sep 08, 2020
We stayed at campsite E5, it was a nice big site. Carolyn at check in was very nice and informative. The only thing that wasn't good was 4 guys on a rental golf cart number 40 kept going by very fast. We reported it and they did slow down. Enjoyed our stay.
Sep 08, 2020
Already wrote into corporate. Still no response. Terrible experience.
Sep 07, 2020
Worst experience. We left the morning after we arrived. It was dirty, people unhelpful and pool was impossible to get time for.
Sep 06, 2020
Impressive activities offered, but the down side was the slots were always filled making the activity unavailable.
Sep 04, 2020
We had a wonderful time ! The staff is super. The amenities are outstanding! We are hoping to become seasonal campers there!
Sep 03, 2020
This was the 8th year at the campground and there were many positive improvements this year. The ropes coarse and miniature golf were great. Sadly the staff wasn't overly friendly. My only real complaint was that after 8 years the waterslide pool has never really been clean, the water has always been cloudy and dirty. Either the chems are off or the filter is too small for the size of the pool.
Sep 02, 2020
Me and my family had a great time will tell other people to go there. The staff and the camp ground was great.
Sep 02, 2020
Lebanon KOA did a great job accommodating guests while following Covid protocols and guidelines. Next year I hope to get there sooner when the river is flowing and tubing fun can be had!
Sep 14, 2020
It a fun camp ground i made lot's of friends there and everyone there is very friendly
- Andrea WallSanchez on Google
Sep 06, 2020
Great facilities and the new management is doing an excellent job!
- Damian Watson on Google
Sep 05, 2020
We LOVE this campground and have come back the last couple years. We are foster parents in NH and they partner with an organization called FARE each year to support us by offering discounted rates. We cannot express how amazing it is for us and our kids to have time to reconnect and check-out of the day-to-day stress. THANK YOU!
- Erin Faith Page on Google

Lebanon KOA on Salmon Falls River
Open July 1 - October 12
21 Flat Rock Bridge Road
Lebanon, ME 04027
Check-In/Check-Out Times
All Sites
Check-in: 3:00 pm, Check-out: 11:00 am
Lebanon KOA on Salmon Falls River
Get Google Directions

© 2020 Kampgrounds of America, Inc.