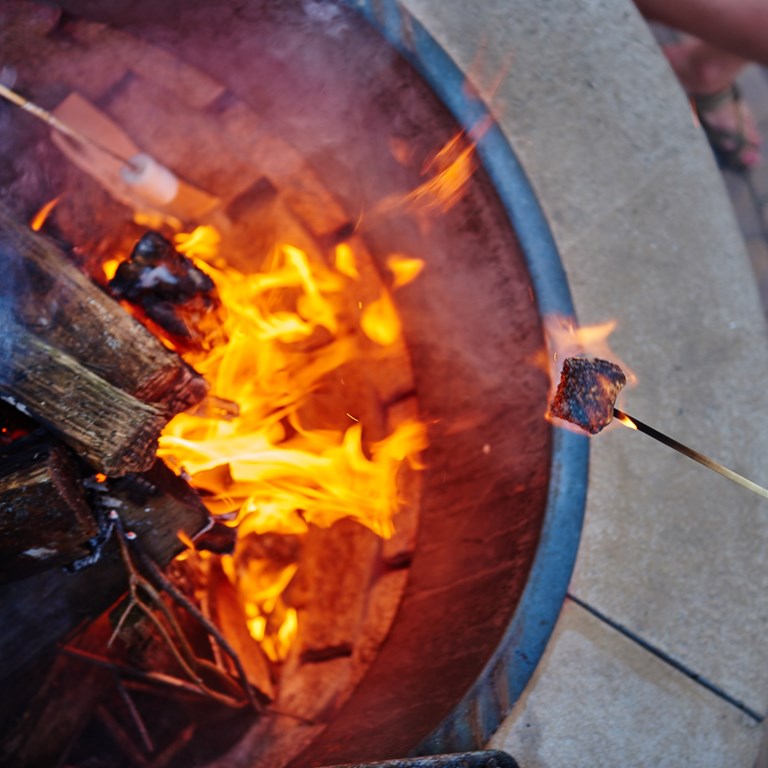 Lebanon KOA on Salmon Falls River Reviews
Book your fall escape today!
Directions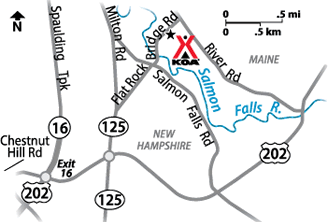 From Boston: Take Route 95 North to Portsmouth, New Hampshire. Go left at the split (Exit 4), which will put you on the Spaulding Turnpike (Route 16 North) toward New Hampshire. Follow the Spaulding Turnpike to Exit 16 and follow the signs to Route 125 North toward Milton. Go one block and take your first right onto Flat Rock Bridge Road. At the stop sign, cross Salmon Falls Road and continue driving straight over the bridge to the campground entrance.
Get Google Directions
Sep 18, 2020
There wasn't a lot of activities planned for the homeschool week for the kids, especially 10 and over age group. The pool slide wasn't open until after 4pm during the week which it was cold out by that time. The RV we rented needs a lot of repairs. The staff themselves were courteous. Seems very disorganized!
Sep 18, 2020
Everyone and everyone was great! Ryan and Conner and the 2 girls up at the water slide/pool were great. Very polite and helpful. Justin the maintenance guy nc7 was extremely helpful, especially when I found out the cabin that was book for me was not what I thought I had. The only negative was Katherine I think her name was she didn't where a mask.Very rude to our group but the manager Rectified
Sep 15, 2020
Unaddressed septic issues cause a septic leak on our campsite. The septic truck arrived and the septic hose blew off the truck causing raw sewage to be sprayed all over the site and my vehicle. My vehicle was damaged due to flying debris. Staff handled it well after it happened but it never should have happened. Strafford koa was a great experience, Lebanon koa seems to always have issues.
Sep 14, 2020
This was our 3rd year here, obviously this year was a little different but we still had a great time. We rented one of the campers this time, which was very clean and updated but definitely too small for a family of 3 with a dog! The only thing I would like to see different, would be more monitoring of areas that people should be wearing masks, like the bounce pillow for the kids and pool area.
Sep 14, 2020
The staff was very friendly and helpful. We rented a trailer and it was overall very nice. We did have an issue with the heat that was quickly resolved. The trailer could have been cleaner. It appears that all of the dirt is swept into the floor vents and the deck was covered in old food and what appeared to be sticky marshmallows. We already booked our trip back, but will bring our camper.
Sep 08, 2020
First time in an RV, great experience. Camp staff was great as well
Sep 08, 2020
Great place just wish there was a better process for booking pool time. We waited in line for 35 minutes to be told all time slots were filled. This happened all weekend so we did not get to use the pool/slide. There were also activities listed that did not occur. Volleyball and softball were two that did not happen. Staff also did not know where or who was running the activities that did happen.
Sep 08, 2020
We were uncomfortable with our neighbor who was a seasonal across from us. I believe it's w21 we were T9 he made several sexual harasser comments and was rude to us.
Sep 08, 2020
The camp was in a nice area and had many great amenities for families and friends however much maintenance needed to be done, ( lights around the site, the toilets, pool etc.). They seemed to be understaffed and communication was lacking amongst the employees. One day I could ride with my kid on the slide the other I couldn't, and when asked why there was much confusion.
Sep 07, 2020
We rented one of the trailers. Loved it. The only tiny thing that was mildly disappointing was that on the one night it rained, we were gonna go the movie house to see the film and for whatever reason (on the schedule it was to start at 8) it had started an hour early at 7 - so much of it was over by the time we got there. But - everything else was great!
Sep 02, 2020
the pool very cold, the RVs with some spoiled things, no activities
Sep 01, 2020
Stayed three nights in an RV rental. Enjoyed ourselves, only downside was the beds were rock hard. Would recommend letting people know so they can bring air mattresses.
Aug 31, 2020
I stayed in a delux cabin. The cabins are nice but I will say that the pull out bed in the living room is the most uncomfortable thing I have ever slept on. It's so thin and the springs dig into your body everywhere. It was horrible. Also since they moved the cabins around to face a different directions the decks are so crooked and barely attached that it doesn't even look stable. Very poorly
Aug 31, 2020
We loved our stay! Only complaint is bathrooms were not kept up with! Girl product disposing things were overflowing and not changed the entire time we where their
Aug 30, 2020
its was lovely the trailer was very clean as was all of the bathrooms buildings activities etc great job, all of the staff was very helpful and friendly! my only concern is that but there were many stumps in the ground, it was very hazardous causing us to trip getting in and out of our trailer and car. my daughter got a very nasty cut on the top of her toe, actually slicing the top skin off,
Aug 29, 2020
It was good. Hope the other pool gets fixed.
Aug 28, 2020
Pool girls at the giant slide need to brush up on customer service skills- Justin(groundskeeper) is on top of the game with customer service and goes out of his way to help- All in all we would definitely make a return trip to your park-
Aug 28, 2020
I loved it and so did my family ! It was a bit annoying that we had to make reservations for about every other activity but it's obviously not there fault. The staff was always friendly and the community there is awesome I wish I could live there forever ! I hope to make it back next year to add to memory Lane �
Aug 27, 2020
This was our first time visiting and I was unsure how things would be during the pandemic. I have to say that we were pleased at how all of the restrictions were handled. Most of the staff were very friendly, there were a few teenagers who were working that could've used a little more training, but all in all everyone was great! Everything was clean and we look forward to coming back!
Aug 26, 2020
The RV we rented was dirty and smelled bad. I'm pretty sure it was not cleaned thoroughly after the last occupants left. We tried to sign up for a slot to use the pool and were unable to use the one open pool due to other campers reserving multiple slots through out the days we were there. Very unfair system and should be offered to all campers at least once through out their stay.
Aug 26, 2020
Really enjoyed our stay and to learn the lay out of the land! Jessica Brewington is a great pioneer with all visions she had for this campground and so excited to see what is to come in upcoming years. The property has improved so much just over past 2 years I would continue to come back.There is plenty of natural landscaping along with the river to keep you from the heat and give the camping fe
Aug 25, 2020
The stay was good even with the covid 19 restrictions. The only complaint I had is the teenage staff were not helpful - answered with I don't knows or they don't tell me those things instead of finding out the answer Nicole the event coordinator was awesome. My kids really enjoyed the ropes course, mini golf and slide/pool. Not really any kid activities going on this year but thats covid
Aug 25, 2020
Hard he large pool wawn't open and you can only book the small pool/waterslide once per day, though I do understand covid restrictions and appreciate trying to keep everyone safe. We got caught in the river tubing in a thunderstorm. The shuttle was no where to be seen. There was a team member driving a golf cart in the "pit" and never even offered to get us out of the rain with our 3 small kids.
Aug 25, 2020
The pool manager was very friendly and upbeat.. The staff running the slide was not, and on her phone most of the time, Also, the pool could have been better maintained. Why isn't it being skimmed? There is so much stuff floating in there. The river was fun. but there is a lot of garbage at all the entry points. I suggest a garbage bin that is regularly emptied to fix that problem.
Aug 25, 2020
So much to do and everyone was very friendly!
Aug 25, 2020
Our stay was amazing! The safari tents were wonderful!! Bed were very comfortable. They provided a small coffee maker, refrigerator, bedding and a small fan. We brought an extra fan and a griddle to help cook. Can't wait to make it an annual trip!! Thank you again Lebanon KOA for an amazing weekend and memorable weekend trip. We will see you next year!
Aug 24, 2020
We booked a 4 night stay in a rental trailer. Upon arriving, we noticed the bathroom had a foul odor. We had an employee try to correct the problem and couldn't fix it. The 2nd day we started to notice ants. By the 3rd day the bathroom was infested with them. We had notified the office and they sprayed. We ended up leaving a day early. The staff was great but the stay was unpleasant.
Aug 24, 2020
The staff was very friendly and helpful, beautiful campground with lots of activities
Aug 24, 2020
It was a good and bad stay some things were disappointing and others were great.. having the big pool, and hot tub closed should be advertised you can't be charging people full price.also the river needs to be cleaned weekly a staff member needs to clean river entrance and exit and pull the tires out of the river if your going to push floating as part of an attraction. Golf and ropes are awesome.
Aug 24, 2020
this was the worst camping experience i have ever had!! we went so my kids would have things to do and that did not happen. by the time we checked in on friday there were no slots open on the roaps course. Pool slots were also full and down to only one pool. i paid extra to stay in a cabin next to a so called fishing pond that was dried up and nothing more than an west nile breading grounds
Aug 23, 2020
I am giving you a 4 based on the fact that I've been there in previous years, during normal times. This year was very different because of covid. Rules changing daily, and lots of amenities closed because of lack of staff. We tried making the best of it, but were disappointed at times. Overall, the kids had fun but the lack of activities was a let down. Hope things are back to normal soon!
Aug 22, 2020
We rented the same RV we had last year and found it very clean and well stocked for our needs. T2 needs some other steps to get into the camper. We are seniors and the cement blocks were quite a challenge. Sites N2 or N3 are right in front of our sites and blocking our view of everything and our "yard" is their yard. Streets were very dry and dirty flying everywhere. No watering down of roads
Aug 22, 2020
You guys did a very good job at maintaining social distancing, especially with the pool, it was unfortunate we were unable to use it more than once a day but we need to stay safe! Thank you we had a blast! See you next year (& maybe even next month!)
Aug 21, 2020
I was so very saddened by my stay, and the 3 other families I encouraged to join me. We ran into issue after issue and then finally, 3 days prior to our departure. We were threatened by a seasonal patron and harrassed there after. While they did address us, nothing was done to make us feel safe afterwards and essentially our visit was cut short. I was too afraid to let the kids go and play.
Aug 21, 2020
Had a great time.staff was friendly sites were clean and there was always something fun going on
Aug 19, 2020
Visited with family- we stayed in an RV rental by the river, while our family tented on the playground side. Our side was quiet, however the tent area was very noisy, even well beyond quiet hours. We enjoyed the many amenities, especially the lazy river, and the RV was outfitted with all we needed. We were able to take advantage of the locals discount, which was a nice perk. We'll be back
Aug 18, 2020
Some of the staff where unprofessional. Our trailer was not cleaned properly or cleaned at all. We had to clean it. As in wiped and senatized all areas of the trailer, dishes where dirty. Portch and outside furniture where filthy. Our trailers septic was cleaned out twice properly by only one staff thats did his job correctly. We think his name was (Terry) guy with curly hair. Hopefully this helps
Sep 14, 2020
It a fun camp ground i made lot's of friends there and everyone there is very friendly
- Andrea WallSanchez on Google
Sep 06, 2020
Great facilities and the new management is doing an excellent job!
- Damian Watson on Google
Sep 05, 2020
We LOVE this campground and have come back the last couple years. We are foster parents in NH and they partner with an organization called FARE each year to support us by offering discounted rates. We cannot express how amazing it is for us and our kids to have time to reconnect and check-out of the day-to-day stress. THANK YOU!
- Erin Faith Page on Google

Lebanon KOA on Salmon Falls River
Open July 1 - October 12
21 Flat Rock Bridge Road
Lebanon, ME 04027
Check-In/Check-Out Times
All Sites
Check-in: 3:00 pm, Check-out: 11:00 am
Lebanon KOA on Salmon Falls River
Get Google Directions

© 2020 Kampgrounds of America, Inc.