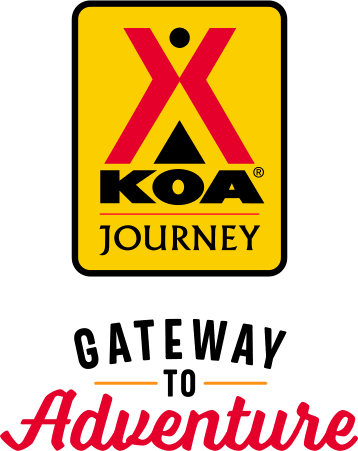 KOA Journey Campgrounds
KOA Journey campgrounds are the perfect oases after a day on the road. Whether it's along the way or a quick getaway, they've got you covered. Located near the highways and byways of North America with long Pull-thru RV Sites, they deliver convenience to the traveling camper. Pull in, ease back and take a load off.
KOA Journeys Feature:
Pull-through RV Sites with 50-amp service
Premium Tent Sites
Well lit after hours check-in service
Directions
Exit 99 on I80... Then East 1 Mile on Foothill Blvd ( Parallel to I80) .... GPS: N41.568310, W109.293274
Note: GPS may not show 1/4 mile short of our entrance. Keep going along Foothill Blvd until you see our KOA sign.
Get Google Directions
Apr 06, 2021
Office staff was very friendly and fun! Thanks for a great night! Even the wind ticked us to sleep!
Apr 06, 2021
Great place to stay. Friendly staff, stayed in full service spot and had privacy area. Only thing I would like is the missing gate put back on the pet area. Would stay there again. PS: correct your directions. They send you down to a bridge that is under construction (closed).
Apr 04, 2021
Thank you, Dion and Mandy!
Apr 03, 2021
I'm here for about a month for a job at the power plant. All the cabins were rented for the month already, but they were about to accommodate my needs. The staff is very friendly. Thanks Alex, Jo, Brittany and the rest of the staff for making my stay pleasant.
Apr 03, 2021
Nice stay. I understand the convenience to you, but with a campground so empty, I was a little disappointed that someone was right next to me. I am not upset and I understand, but maybe if there is a possibility of more spacing.... Very clean.
Apr 03, 2021
Super clean and friendly. All wore face masks!
Apr 03, 2021
Great place for an overnight. Pull through gravel sites with water, sewer, electric, and cable TV. Very nice water setup - pipe is electrically heated and there are two spigots - one for drinking water and one for black tank flushing (handle painted red). Great wifi! Bathrooms are a bit dingy. One short out of three out of service with due to shower pan repairs. One sink drains very slowly.
Apr 02, 2021
Stayed for over a year. The weather isn't great, but the KOA is lovely. Great dog park, clean heated pool, gym, laundry, and a play ground for kiddos. Plus, the sites are huge!! The staff are super friendly too with a great attitude. I'll miss it there.
Apr 01, 2021
Stayed for 2 nights, it was clean and quiet with good facilities
Mar 31, 2021
Was very nice and clean.
Mar 26, 2021
Was passing through going to Kansas City MO very convenient stop.
Mar 22, 2021
Clean lovely place! Wish we would have been there longer!
Mar 20, 2021
Like I say on all of our KOA stays this past month. If only KOA had pads and not gravel they would be great. In NM and AZ it was the terrible dust brought in by gravel and wind. In Rock Springs it was mud brought by melting snow. I was told Journey are your top of the line so we targeted for those, but even those did not have pads. Covid has brought a new generation of campers. Lets upgrade!
Mar 19, 2021
Good for a one nighter. Dog poop in our site.
Mar 13, 2021
Arrived after hours at 8 pm but easily found our assigned spot. Convenient to clean restrooms. Convenient location to I-80.
Mar 02, 2021
Park was clean, people were friendly and helpful, site was clean and prepared. Only negative was no water at the sites but That was understandable because of the weather.
Feb 15, 2021
Well, I ran outta propane at 515 in the evening. I knew the office was closed, but called anyways. Young lady was able to get some help to deliver the propane. It was only -11 degrees last night... Very grateful for there service, and the people who work here. THANK YOU
Jan 31, 2021
We stayed here for one night when driving cross country and were trying to be as Covid safe as possible. Was a great choice; we got there late but they left instructions, map etc. out for us. The bathroom was amazingly clean - amazing. I had a question about where it was okay to sleep in our car (yes) and they responded quickly. Would love to come stay here on an actual vacation!
Jan 27, 2021
Wonderful! Very kind and helpful staff.
Jan 25, 2021
Bathroom very clean
Jan 12, 2021
Came in after hours and it was extremely easy to check-in Thanks... see you soon
Jan 02, 2021
It was one of the worst ones I have ever been to When I called I specifically wanted make sure that it was Ada Compliant however when we arrived they were not open. I Expected more from a Koa when we got there.was no one there to help us out. We found a reservation slip on the ground with all of our perfect info on it. I will go there again.
CAMPGROUND RESPONSE / COMMENTS:
We are ADA compliant and have easy access to our restrooms and after hours check in. We are one of the few campgrounds open year round. the only personal info we put on our after hours books is the last name the reservation is under. possibly reviewed wrong location.
Dec 23, 2020
Very nice set up with privacy fences, convenient hook ips and easy let's night check in. This was our second time staying there and not our last.
Dec 18, 2020
It was just an overnight stay. The park looked appealing, the staff member was friendly.
Dec 17, 2020
Friendly and helpful staff! Would recommend this KOA!
Dec 14, 2020
Very nice and clean RV Park. Love KOAs.....
Dec 08, 2020
Open all year a big plus. Thank you for allowing the money I had on the books to be used after I had problems with rv and had to cancel original reservation
CAMPGROUND RESPONSE / COMMENTS:
Happy to accommodate. We hope you will return!
Dec 05, 2020
Far enough from the Interstate that noise wasn't too bad. Very friendly and thanks for being open in the winter! Clean showers too.
Dec 05, 2020
clean and warm bathrooms. some dog owners are not cleaning up poop.
CAMPGROUND RESPONSE / COMMENTS:
Thank you for your review. We really appreciate those who clean up after their own pets. Thank you!
Nov 30, 2020
No issues checking in. Arrived around 8pm. Found my spot. Very Very Cold. Next to a Pioneer Pipeline Co. Short stay in and out less than 12 hours. Benefit of the doubt that the park is a decent and well run park. (due to late check in and early departure). Looked nice from what i saw.
Nov 30, 2020
Loved the tent sites since they had fences for privacy and to cut down on the wind. The campground also backed up to some nice places to hike and enjoy the sunset.
Nov 28, 2020
enjoyed our stay
Nov 27, 2020
Effortless. We warned them we be arriving late. The have this great board with our name on it. Detailed map and instructions to our site. Using the app to make the reservation and payment really helped. No contact needed. The only issue I had was the 6am dump pick up as we were assigned next to the dumpster.
Nov 26, 2020
We were only here for 24 hours but it was clean!
Nov 26, 2020
The place was really muddy. Plus you can hear the traffic from the freeway. They did not have any water. This place needs a face lift. Very old
CAMPGROUND RESPONSE / COMMENTS:
We do have sites with water that are set up to handle freezing temperatures. The rest of the campground does get winterized for the winter. We do have posted at our night registration which sites have water and if you arrive during office hours we do ask if you want water. please call with any issue
Nov 24, 2020
basically a good experience. The door handle was very tight, a pain to open the door. Otherwise comfortable stay. We arrived and left in the dark, so did not notice what the place is like in daylight.
Nov 18, 2020
Way too expensive for an open, dusty, muddy mess. Sites are very close. We only stay here because there is no other parks in Rock Springs.
Nov 18, 2020

Rock Springs/Green River KOA is easy to get to. The baths are clean. We will be staying here again when we are in the area
Nov 17, 2020
So very stark, so very bare. Lots of long-term stayers, lots of RV storage (and one boat). We stayed an extra night due to exceptionally high winds (sustained 40 MPH, gusts to 60 MPH), which aren't uncommon. Our Patio site included a 6 ft picket fence along both sides of the campsite; those were a nice windbreak. There's no "there" there, but if you're there, it's a fine overnight stop.
Nov 17, 2020
Good stop on a long road. Tent sites have privacy fences/wind breaks, and the tent pads are very comfortable with bathroom showers a three minute walk away. Owners were friendly and flexible. Recommended, and I would stay again.
Nov 16, 2020
The campgrounds was well maintained.
Apr 03, 2021
Quiet and clean. The dog park is nice but needs a gate
- Forrest Watkins on Google
Nov 04, 2020
Has trails behind it, dog run and very friendly service.
- Sharon on Google
Mar 16, 2021
So glad they were open, nice place, very few RV parks are until April. Downside, very muddy, but not their fault.
- Terry White-Shaw on Google