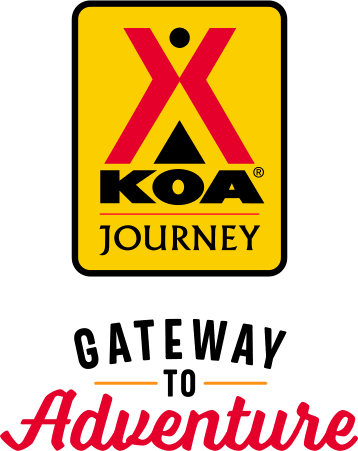 KOA Journey Campgrounds
KOA Journey campgrounds are the perfect oases after a day on the road. Whether it's along the way or a quick getaway, they've got you covered. Located near the highways and byways of North America with long Pull-thru RV Sites, they deliver convenience to the traveling camper. Pull in, ease back and take a load off.
KOA Journeys Feature:
Pull-through RV Sites with 50-amp service
Premium Tent Sites
Well lit after hours check-in service
Directions
Exit 99 on I80... Then East 1 Mile on Foothill Blvd ( Parallel to I80) .... GPS: N41.568310, W109.293274
Note: GPS may not show 1/4 mile short of our entrance. Keep going along Foothill Blvd until you see our KOA sign.
Main Phone 307-362-3063 Secondary Phone 307-209-3386
Get Google Directions
Jan 18, 2023
Snow, snow, snow. It's Jan. Will stay again in late Feb.
Dec 31, 2022
We were not impressed. First off, we didn't get the KOA discount (we checked in and left outside of office hours), and to make it worse, the emailed receipt showed cash back, which we didn't receive. My guess is it went into the pocket of whoever was in charge. Second, the rates were full even though it was winter weather (-11F in the morning) and the site hadn't been plowed recently.
Dec 20, 2022
Very good place to stay Staff are super friendly
Dec 20, 2022
Just passing through on the way to Utah. They offered a discount to stay an extra night, so we gratefully accepted! The showers in the bath house desperately need to be cleaned, but otherwise the site was well maintained.
Dec 07, 2022
Very friendly and efficient staff
Dec 05, 2022
Very nice RV park. Large pull throughs. The staff is excellent. I will stay there again.
Dec 01, 2022
Unfortunately we stayed on a very cold and windy night so our impression is not totally reflective of the campgrounds. The bathrooms were exceptional, and the wind barriers between sites were very necessary
Nov 24, 2022
I only give it a 4 because the bathrooms weren't clean. The front desk girl was great and welcoming.
Nov 22, 2022
Traveling across country in winter can be brutal, so when we landed at Rock Springs KOA at Green River we were happy as clams, great hot showers and Ben & Jerry's ice cream in a great little store. Very accommodating and courteous staff, Rachel was fabulous!! We'll be back, and maybe next time in the spring or fall to enjoy being outside �
Nov 17, 2022
The woman at the front desk (both on the phone & then in person) was friendly & helpful. The site is near the freeway, but pleasant & well maintained. However, after I arrived I went into the Men's restroom & one of the toilets was absolutely disgusting. I reported it to the front desk. But later that day, & then the next morning, it still hadn't been dealt with. That was concerning.
Nov 14, 2022
Check in was easy, as we arrived late after hours, the cabin was as expected, however, VERY cold, no wall heater, and no space heater to make up for it, no amount of "bring your own linens" would have kept us warm overnight. The bathrooms at 5am were rough looking, toilet paper strewn across the floor, dirty sinks/toilets unflushed. The hot makeshift showers were a pleasant surprise.
Nov 12, 2022
it was a stay we had to get because of a snow storm, I was so happy they had full hook ups, everyone there helped us so much and was so friendly. we loved how level the spot was for us, THANKS FOR A GREAT STAY!
Nov 10, 2022
We've stayed at this KOA last year and were so pleased we didn't hesitate to reserve again. Our little brown dog loved the dog park. During our overnight stay we found the park to be very quiet, very clean, and easy off/on to the freeway. As with our previous stays, the bathroom/shower facilities were spotless clean, warm, and comfortable. Wouldn't hesitate to stay again, & highly recommend KOA.
Nov 07, 2022
Our last stay of the trip-7000 miles cross country and you had the cutest and nicest spot we stayed in. Thank you!!
Nov 06, 2022
Clean, well kept kampground. Very pleasant check in.
Nov 06, 2022
Great shower! Nice and hot for a 15 degree night. Easy in and out.
Nov 05, 2022
We stayed at this location for just one night, however we found it to be very nice! The facilities were very well maintained, and the staff very friendly and accommodating, even when we needed to move our stay up by one night on short notice. We'd definitely stay here again if in the area.
Nov 05, 2022
Everyone was very helpful. Thank you
Oct 27, 2022
Very clean and quiet. Was welcome overnight rest for a long road trip.
Oct 25, 2022
Have stayed at this park several times. Clean park & patio sites are nice. Staff always helpful & friendly.
Oct 25, 2022
Clean secure bathroom. Appreciate campground open year round to meet need of travelers.
Oct 25, 2022
The girls in the office were so sweet and helpful.
Oct 24, 2022
Enjoy staying at this KOA Friendly, quite,super staff.
Oct 23, 2022
We stopped for a quick overnight. The staff was very nice, the campsites were in very good shape, and the facilities were very well maintained. Will stay here again when we are back in the area.
Oct 22, 2022
Campground was nice and clean, very well kept. Bathroom and shower facilities good. Got in late and the staff left info for me to make the stay flawless.
Oct 19, 2022
Filthy restrooms. Big gravel parking lot. School buses drive through it early in the morning. Noisy due to being next to highway. Never again will we stay at this location.
Oct 19, 2022
Way too expensive! It's hiway robbery. At least double what we pay anywhere else. Not a bad park if you like gravel and no trees. Pool was closed in Sept and again in Oct.
Oct 18, 2022
I was treated like family... and made comfortable and at home... very pleasant experience all the way around...
Oct 17, 2022
I greatly appreciated that they did not need my credit card to hold my place as I was driving. The space was clean, including the bathroom. I had a restful sleep. Thank you.
Oct 16, 2022
Just stayed one night. But found this to be very clean, quiet, safe and nice rv sites.
Oct 16, 2022
I asked for only water and electric, and I was surprised to be put in the front row, but I had a 70 foot parking space that was really easy to get in and out of. Very impressive. I will return.
Oct 15, 2022
This was a hunting trip, the three of us had plenty of room. This cabin gave more privacy, unlike a hotel room, room to store our hunting gear.
Oct 15, 2022
Only a one night stay in mid October but the weather was clear and dry. Nice and clean, staff very pleasant and helpful. The park is all dirt and dusty. There are full time residents who live in the back who drive through one side for what appeared to be work and their vehicles kicked up a lot of dust. The K9 park was well secured & a nice size. Wish everyone would pick up their dog's poo though.
Oct 15, 2022
It was easy to access from freeway, people were friendly and it was very clean. Had a lot to offer in options
Oct 15, 2022
Rock Springs has earned its name. This place is all rock!!! No grass. Not my kind of place.
Oct 15, 2022
Clean campsites and friendly staff
Dec 03, 2022
Everything is good and cleaned
- Jason Touchet on Google
Nov 14, 2022
Very friendly and helpful old koa
- Kevin Greniger on Google
Oct 10, 2022
This is a great, well maintained campground. We just stopped overnight because it's very conveniently located off the interstate. Close to super market and restaurants. We did the patio site which had a fire pit, table, and privacy fence. The fence was a great touch because sites are pretty close together. The tent sites looked really great with small level grass pads for tent and fencing around them. Not a lot of shade but a great place to stop for a night or two.
- Kristie Gable on Google