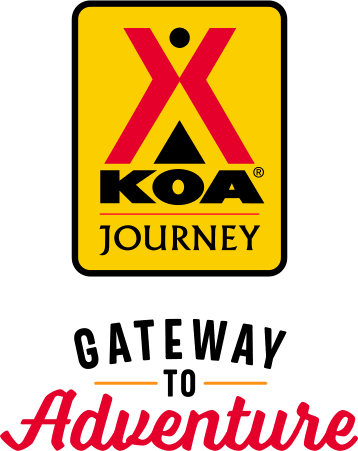 KOA Journey Campgrounds
KOA Journey campgrounds are the perfect oases after a day on the road. Whether it's along the way or a quick getaway, they've got you covered. Located near the highways and byways of North America with long Pull-thru RV Sites, they deliver convenience to the traveling camper. Pull in, ease back and take a load off.
KOA Journeys Feature:
Pull-through RV Sites with 50-amp service
Premium Tent Sites
Well lit after hours check-in service
Directions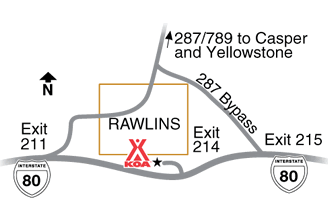 From I-80: Take Exit 214.  Follow the blue highway signs with the KOA logo to the campground along the north frontage road.  
From Highway 287: Take a left onto Southbound Highway 287 Bypass (Higley Blvd.), at stoplight turn left to I-80 westbound, then take Exit 214 and follow the blue highway signs with the KOA logo.
Get Google Directions
May 26, 2023
The owners of this KOA are friendly and helpful. It was windy in Rawlins--often is--so be prepared for that if you have a tent (we were glad for upgraded tent stakes). This is a comfortable place, I'd recommend it.
May 04, 2023
Weather ran us out had to get a motel
CAMPGROUND RESPONSE / COMMENTS:
Unfortunately we had a thunderstorm come through the night of your stay. It was a pretty bad hour of weather very tough in a tent. I hope the weather is nicer next time.
Oct 07, 2022
Beautiful sunrise! Campground is much better appreciated in daylight. We arrived late in the evening and had some difficulty finding our tent site - black letter and number on brown colored fence. Gravel surface was comfy and easy to pish my stakes in.
Oct 01, 2022
Loved the pavilion as it rained almost non stop on my trip. A place to get out of the rain and wind as I was tenting. Nice clean, warm bathrooms and friendly staff.
Sep 22, 2022
Staff very friendly. Campsite well groomed. Needs for shade in tent areas. Showers and restrooms need to be improved so all available and functioning.
Sep 15, 2022
This KOA was horrible. We arrived at 5 o'clock local time and the check in office was closed. We found the after hrs check in and got to the tent site. This was very disappointing with rocks and mud for the base. Our group ended up getting a hotel in the area and not stay at this KOA. Rawlins KOA is a never going to stay again KOA.
Sep 09, 2022
Very helpful staff when my arrival was delayed!
Sep 08, 2022
Nice clean facilities and shower room. Friendly staff
Aug 31, 2022
We arrived late, but could see that this KOA had slots for all kinds of camping. It's arid in the area, so don't expect grass - you're in the true west! The facilities were clean and communication was good!
Aug 20, 2022
Lovely hosts
Aug 11, 2022
Unfortunately, bad weather slowed us down earlier in the day, so we did not get to arrive early and get to really know your kampground. We put up a tent and promptly fell asleep. We were up early the next day and back on the road to continue our travels. I must say, I really did like the idea of the kamper kitchen! I'd have loved that if we could have stayed longer!
CAMPGROUND RESPONSE / COMMENTS:
Thank you for the warm comments. We are proud of our little kitchen and all of our little park. We would love to have you stay with us again and longer if possible.
Aug 03, 2022
Enjoyed my stay at Rawlins. I originally scheduled a two night stay but due to complications in my plans my stay was stretched to four nights. The staff accommodated my requests quickly and efficiently, I thank them for making the changes easy and without fuss. I would stay again without hesitation when my travels bring me this way again.
Jul 30, 2022
There was a drunk man that was harassing me and I had to leave. I did not feel safe
CAMPGROUND RESPONSE / COMMENTS:
We moved you to the site farthest from him and right next to the managers house so people would be near you at all times. The situation was your word against his. We heard him use language that was not nice and asked him to stay in his cabin while talking on the phone. He complied to every thing.
Jul 16, 2022
Very happy with my stay. Would stay again.
Jun 28, 2022
Not a bad KOA. Just seems to need a bit of upkeep all around. Pretty basic and good place to stop for the night. Bathrooms and showers were very clean if slightly small. The people who worked there were very nice and helpful.
Jun 25, 2022
Was a nice camp, liked the wind blocks they had in the camp sites they made it a little better in the wind
Jun 21, 2022
Tented here. Clean and good spot. It is crowded for tents as are most KOAs these days. Bathrooms and showers good.
Jun 15, 2022
Stayed one night, ~6 hrs. Easy on and off freeway. Gas/store close by. Nice campsite. Clean restrooms. It was nice they highlighted on the map where my campsite was since I arrived around 9:30 pm.
Jun 12, 2022
Noisy, between the freeway and apartment complex. Seems like it hasn't been well groomed. Staff were awesome, bathroom clean, loved the available outdoor kitchen!
May 27, 2022
The checkin experience was smooth and the amenities well-maintained, but the campground itself is quite desolate and unwelcoming. It's not suitable for tent camping. Some trees would help.
Oct 14, 2021
Clean facilities. Easy after-hours check in. Very near the interstate - which is good for a rest stop during a longer trip.
Sep 25, 2021
You were kind enough to make my stay happy. Your lovely family was impressive to me.
Sep 08, 2021
3 of 5 showers were out of order, bathrooms were clean. Right off highway so it was a bit loud but once we fell asleep we all stayed asleep so that ended up okay. Kids enjoyed the playground. Easy stay right off the highway.
Sep 04, 2021
Check in was easy. Got in late and since we booked online our site information was left upfront.
Jun 04, 2023
The mosquito's live here. Be mindful, wear plenty of clothes when outside. Otherwise everything was very nice, friendly staff, Kids park, dog park, restrooms, separate private shower rooms. Our site was level. Just did an overnight. Many bites, still Grateful for this convenient and safe location. Would stay again.
- Stephanie Amos on Google
May 19, 2023
We stopped here for the night. Check-in was easy, and they email you prior to your stay so you are kept informed. The staff was really nice. It is a gravel drive, and sites are also gravel. There is a green area where your picnic table is located. Bathrooms are really clean. They have a splash pad for the kids and a nice play area. There is a nice pet area as well. The tent sites are very nice. The location is right off the frontage road, and the highway noise is loud. There are apartments that back up to the campground by the tent sites. The RV sites are nice, and you have plenty of room for your slides. We had a Pull Thru site and we only used the electric. The campground is very quiet. This was a great stop, and we will stop here again.
- Donna Smith on Google
May 17, 2023
Really cute cabin. Staff was very nice and friendly. Only issue was highway noise. Fan helped to drown that out.
- Lisa Winkler on Google