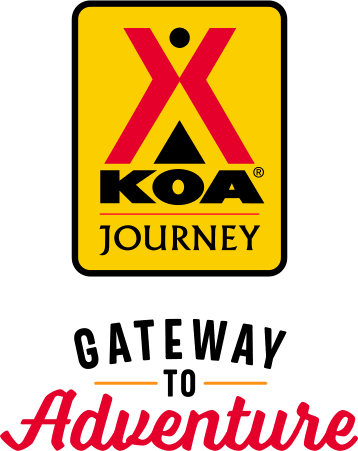 KOA Journey Campgrounds
KOA Journey campgrounds are the perfect oases after a day on the road. Whether it's along the way or a quick getaway, they've got you covered. Located near the highways and byways of North America with long Pull-thru RV Sites, they deliver convenience to the traveling camper. Pull in, ease back and take a load off.
KOA Journeys Feature:
Pull-through RV Sites with 50-amp service
Premium Tent Sites
Well lit after hours check-in service
Directions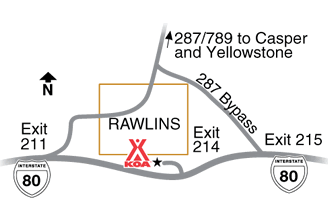 From I-80: Take Exit 214.  Follow the blue highway signs with the KOA logo to the campground along the north frontage road.  
From Highway 287: Take a left onto Southbound Highway 287 Bypass (Higley Blvd.), at stoplight turn left to I-80 westbound, then take Exit 214 and follow the blue highway signs with the KOA logo.
Get Google Directions
Jun 04, 2023
This Journey KOA is a great overnight stop. The staff was very friendly and helpful. Well maintained and very convenient off the interstate. Side note; visit the old Wyoming State Prison, it's close and worth the hour tour. Intriguing and disturbing at the same time.
Jun 04, 2023
The pad that I was assigned, for my registration was unusable. I had to switch to another site which was not a full hook site. The general condition of the premises are run down. I am sorry I stayed there.
Jun 04, 2023
I upgraded to a small cabin because my tent was soaked from the previous night of camping in KS. They were so friendly and helpful and got me a cabin. It was super close to town so I was able to go out and explore the area. Everything was clean. I would definitely stay here again.
Jun 04, 2023
Good one night staff excellent!!!
Jun 03, 2023
Great place very friendly and helpful!
Jun 03, 2023
It's a good stop when on a long road trip. Staff were friendly and the amenities were good. The area might be challenging for those with asthma, since the highway smog seemed to linger (maybe due to the altitude?) When driving to this site, DO NOT use GPS, since it will take you to a different location. Use the KOA app instead to navigate here.
Jun 02, 2023
Easy access and staff member who checked us in was super friendly. Small showers. The pool was being filled up. Restrooms clean.
Jun 02, 2023
I tried several times to cancel the reservation well in advance but I was still charged for the stay.
Jun 02, 2023
We found this KOA to be very basic but adequate. The staff were wonderful but the sites were tight if you had a larger rig. Nice for an overnight with easy access to the highway.
Jun 02, 2023
Not sure why they are a Koa
Jun 02, 2023
Great location and nice accommodations.
Jun 02, 2023
Helpful staff. Clean bathrooms/ showers.
Jun 01, 2023
Easy on/off I 80. Clean park. The staff was very friendly and helpful!!
Jun 01, 2023
It was a one night stopover on the way to Mt Rushmore. Very friendly and helpful staff. Very clean restrooms!
May 31, 2023
Great staff. All was very nice. Arrived late, and left early with no problems. Thank you for agood overnighter.
May 31, 2023
Great pull in space for over night. Staff friendly. Showers were nice and Wi-Fi good. Will be back.
May 30, 2023
Just an overnight on the way to Michigan.
May 29, 2023
dirt and weeds.
May 29, 2023
The KOA is undergoing renovations so I couldn't give it top marks. Our site had recently been worked on and wasn't very level. Management was very friendly and the showers were clean.
May 28, 2023
This review has been removed by KOA due to profanity.
May 28, 2023
We were surprised that out of 47,000 plus Rewards points, we were not allowed to use a $50.00 credit as requested.
May 27, 2023
Our site was just long enough for our 40' motorhome and tow. This KOA is perfect for an overnight stay. I80 road noise isn't too bad.
May 27, 2023
It was a first trip for the season so we stayed close to home one night we found the place clean all utilities worked great everyone was very friendly and helpful great place!!!!!
May 27, 2023
Came in a 35 ft motorhome. Checkin easy. Our only complaint for this overnight was the loud noise from the freeway and frontage road very close to the camp. Nothing they can do about that, so a quick over nighter w easy access to freeway and gas and we were good. Don't forget your earplugs!!
May 27, 2023
Not a bad place to stay. The parking spot was sufficient for our big rig, but why so expensive? There really aren't any special features or amenities to warrant paying that much! We stayed at a KOA in another similarly small town with a similar off-freeway location and the price was only $46. I'm shocked at how much some of these places are charging just because they're "KOA" - so the si
May 27, 2023
Great location and staff.
May 27, 2023
Very friendly family owned site. Good level pitch and neatly laid out.
May 26, 2023
Great place to stay, been there many times. Staff is always friendly and helpful.
May 26, 2023
The owners of this KOA are friendly and helpful. It was windy in Rawlins--often is--so be prepared for that if you have a tent (we were glad for upgraded tent stakes). This is a comfortable place, I'd recommend it.
May 26, 2023
Nice staff great overnight but needs some TLC.
May 25, 2023
We just stayed overnight but our stay was very nice. The place was well maintained and very pretty,
May 25, 2023
Lovely park, enjoyed our time there, love all the friendly waves and hellos!!!
May 25, 2023
Our site was in need of some grading it had chucks if dirt. Made it a llitle unsafe to walk out if the RV
May 25, 2023
The RV park is clean and right off the 80…perfect if you're looking for a short stay. However, it's the owners and staff who really make it a nice place to stay. Can't say enough about how friendly and accommodating they were. We will definitely stay here again!
May 23, 2023
Abby went out of her way to help us out with our vacation. We appreciate her professionalism and the Rawlins KOA.
May 23, 2023
Nice for the area. The staff is very pleasant and works hard to kee the KOA in good condition. Very nice handicap shower.
May 23, 2023
Stayed at Rawlins KOA 2 times in a week and was very happy with our overall stay. New owners, Good luck!
May 22, 2023
The faux fences are a great improvement to break the wind
Jun 04, 2023
The mosquito's live here. Be mindful, wear plenty of clothes when outside. Otherwise everything was very nice, friendly staff, Kids park, dog park, restrooms, separate private shower rooms. Our site was level. Just did an overnight. Many bites, still Grateful for this convenient and safe location. Would stay again.
- Stephanie Amos on Google
May 19, 2023
We stopped here for the night. Check-in was easy, and they email you prior to your stay so you are kept informed. The staff was really nice. It is a gravel drive, and sites are also gravel. There is a green area where your picnic table is located. Bathrooms are really clean. They have a splash pad for the kids and a nice play area. There is a nice pet area as well. The tent sites are very nice. The location is right off the frontage road, and the highway noise is loud. There are apartments that back up to the campground by the tent sites. The RV sites are nice, and you have plenty of room for your slides. We had a Pull Thru site and we only used the electric. The campground is very quiet. This was a great stop, and we will stop here again.
- Donna Smith on Google
May 17, 2023
Really cute cabin. Staff was very nice and friendly. Only issue was highway noise. Fan helped to drown that out.
- Lisa Winkler on Google