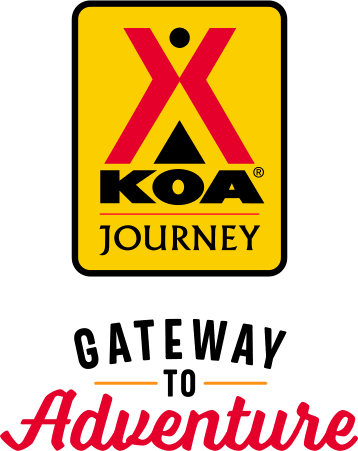 KOA Journey Campgrounds
KOA Journey campgrounds are the perfect oases after a day on the road. Whether it's along the way or a quick getaway, they've got you covered. Located near the highways and byways of North America with long Pull-thru RV Sites, they deliver convenience to the traveling camper. Pull in, ease back and take a load off.
KOA Journeys Feature:
Pull-through RV Sites with 50-amp service
Premium Tent Sites
Well lit after hours check-in service
Directions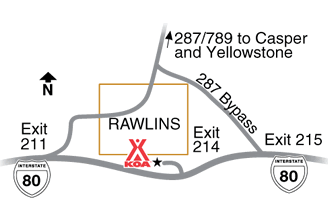 From I-80: Take Exit 214.  Follow the blue highway signs with the KOA logo to the campground along the north frontage road.  
From Highway 287: Take a left onto Southbound Highway 287 Bypass (Higley Blvd.), at stoplight turn left to I-80 westbound, then take Exit 214 and follow the blue highway signs with the KOA logo.
Get Google Directions
May 09, 2021
Bleak looking place. However, saw newly planted trees. Utilities need upgraded.
May 09, 2021
Great little cabin to stay in. The owner let us charge our electric car overnight at a 50 amp rv site. We slept in warm cozy cabin and car was fully charged next morning. Thanks
May 08, 2021
Very helpful staff. Good follow up by them when we had a question about redeeming reward points . Thank you.
May 08, 2021
Overnight stop. Not much to remark about on this location.
May 07, 2021
We spent one night, early May. The campground was clean. There aren't trees for shade so it would be very hot in the Summer. The sites could use more gravel because the hook-up area was very muddy. The lack of cable was inconvenient but our antenna picked up a few channels. The wifi isn't strong enough to stream TV or movies. We were happy the campground was there for us though.
May 07, 2021
Very nice camp ground with good amenities. The cable was the only down fall As we only had 10 channels rather than the 35 they advertised.
May 06, 2021
Nice people, nice campground!
May 06, 2021
One night. Only used the restrooms. The campground is spacious and accommodating for small and large RV's. The restrooms were very clean. The host was helpful and friendly.
May 05, 2021
One of the cleanest KOAs I've seen it also had the comfiest beds in the cabins
May 03, 2021
Very friendly staff. The park was well maintained and bathrooms were excellent.
May 02, 2021
Nice KOA, as most all are. Very helpful Love the golf cart taking us to our sight!
May 02, 2021
Excellent Customer Service,Very Accommodating. Thank you!!!
Apr 30, 2021
Nice campground. Sites are a good width. Level. Everything is dirt & gravel. It is after all the plains of Wyoming. Desk is great. Bit close to I80 so semi noise. We are 65' and just fit the site.
Apr 29, 2021
We stayed one night while driving through. The host was extremely helpful and nice. We had a change of travel plans due to cold weather and he changed our reservations without an additional fee.Thanks! The whole campground was very clean. Spaces are close, on level gravel and there's a picnic table to use with lawn space to use between campers. The bathroom & showers are separate, very clean!
Apr 29, 2021
Nice park, just a gravel lot but ok. Nice staff.
Apr 29, 2021
Pulled in for an overnight and enjoyed the staff and stay!
Apr 28, 2021
The employees are very helpful
Apr 28, 2021
Very nice family style campground feeling. They were very accommodating to our needs. Clean and well kept facility.
Apr 26, 2021
We came in during a snow storm and the whole campground was plowed. Thanks for taking good care of us.
Apr 25, 2021
Too much traffic. VERY hard to sleep
Apr 23, 2021
It was great. Right by the bathrooms was nice. The internet worked well. Will stay again!
Apr 22, 2021
No one to greet us when we checked in. If you're open, should be someone there. Price was too high for no more than what we got.
Apr 22, 2021
The owner was very nice and helpful. We would stop there again when passing through for the night.
Apr 19, 2021
Restrooms where amazedly clean
Apr 17, 2021
Very nice campground. We stayed only 1 night but it was pretty quiet.
Apr 17, 2021
The friendliest people around!! So kind and helpful will stay again!!
Apr 14, 2021
Super clean. Staff was helpful, efficient and friendly.
Apr 09, 2021
Great overnight stay. The new owners are great! We'll be back!
Apr 03, 2021
The owner was friendly and helpful.
Apr 02, 2021
Just there a shot time but owner was very nice and helpful
Mar 30, 2021
Nice facility, easy access to Interstate, friendly staff.
Mar 27, 2021
Jacob was extremely friendly and helpful. He even offered to drive back to the property to give us quarters if needed for laundry. Superb customer service, facilities clean. We would stay here again.
Oct 16, 2020
Very nice staff, clean facilities and I would stay here again if in the area. Thank you for the last minute reservation!
Oct 15, 2020
Was a clean site & had a great price. Direction of getting to sites not the easiest to understand. No additional signs showing site one way direction and/or showing signs of site numbers (ex. Left for sites 1-10). Also need after hours emergency/contact number. My paperwork was missing & had to just take a site hoping it wasn't taken. Super hard to call KOA site directly during office hours.
Oct 13, 2020
Very friendly, nice location for our overnight stay.
Oct 12, 2020
If you love to level your RV with Lego blocks this definitely is the place for you. Our site was 4.5" out of level side to side. I expect better from a KOA.
Oct 12, 2020
Good campground very convenient location when traveling
Oct 12, 2020
Dreary/dismal, like state prison close by. Fridge smelled mildewy; wasn't plugged in. Didn't work even after I plugged it in. Told owner (Marilyn;) she acted like I was lying. Owner so undfriendly she was almost hostile. Never once smiled; unprompted, warned me her dog was a" guard dog," (as if she thought I was a burglar. Dog park rocky/full of thorny weeds. Dog's paw hurt today.
Oct 12, 2020
Very friendly over the tôp. Had rv equipment That i needed. Marilyn and Joe were Awesome
Oct 12, 2020
This is a great spot for an overnight stop! But if you're wanting to stay longer it could use some improvements. The pads are Gravel and a bit uneven, there is no grass and if there is it's just a little bit. The Wi-Fi was good. Front desk was nice. So if you find yourself here definitely check out the Thai restaurant In town because it Was the best tie I've had since Germany!
Oct 11, 2020
Very nice park. Reservation was ready upon arrival. Clean showers and restrooms.
Oct 10, 2020
Nicely maintained. Clean sites. Nice place to stop for an overnight stay. For being so close to the highway it was pleasantly quiet. I would definitely stay there again.
Oct 10, 2020
Easy on and easy off. The management was very accommodating.
Apr 01, 2021
Nice little camp ground! New owner was very friendly and talked about improvements he plans to make. Had all the amenities needed!
- Sandra Pecor on Google
Feb 25, 2021
Enjoyed our stay.
- Roman Covarrubias on Google
Feb 09, 2021
It's a good place to park when 80 freeway closed...
- Cory Draper on Google