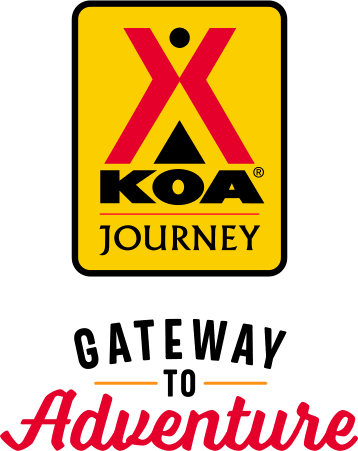 KOA Journey Campgrounds
KOA Journey campgrounds are the perfect oases after a day on the road. Whether it's along the way or a quick getaway, they've got you covered. Located near the highways and byways of North America with long Pull-thru RV Sites, they deliver convenience to the traveling camper. Pull in, ease back and take a load off.
KOA Journeys Feature:
Pull-through RV Sites with 50-amp service
Premium Tent Sites
Well lit after hours check-in service
Directions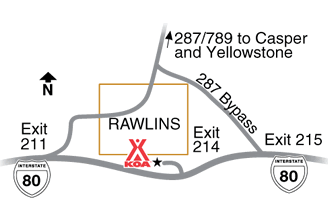 From I-80: Take Exit 214.  Follow the blue highway signs with the KOA logo to the campground along the north frontage road.  
From Highway 287: Take a left onto Southbound Highway 287 Bypass (Higley Blvd.), at stoplight turn left to I-80 westbound, then take Exit 214 and follow the blue highway signs with the KOA logo.
Get Google Directions
Sep 24, 2022
Just an overnight stay.. so close to the highway that the noise can be pretty bad.. the site was just dirt and a plant. Having said all that it was still a welcome place to stay when you are traveling and getting in after dark. The reservation was easy and we appreciated having a place to stay. I prefer when there are managers on site but there did not appear to be any here.
Sep 24, 2022
Helpful friendly owners Easy access from highway, but of course some highway noise
Sep 24, 2022
Very accommodating! Nice park!
Sep 24, 2022
Park needs some serious updating to make it worth the premium price charged.
Sep 23, 2022
Hosts were very nice but the campground pads were terrible and uneven. Too close to the freeway noise.
Sep 23, 2022
Very friendly staff, and the grounds are clean and well kept.
Sep 23, 2022
On the plus sides, it was clean and the WiFi worked. Otherwise, the traffic noise from I-80 was relentless, like being parked next to the highway and onramp, which we basically were. I had forgotten about our first experience staying there but won't make that mistake again.
Sep 23, 2022
Easy on, easy off the highway as most KOA's are. I wish this location would book site specific! We had a site that normally would be okay, but our door-side overlooked an apartment complex. I would never have booked this site on my own doing as I compare each campground and site on Google maps images. Nice staff, good price but do t think I'd stay again.
Sep 22, 2022
Just here for an overnight on our way to Yellowstone. Great location off I80. Friendly family owner. Loved the rocking chairs & table on our cement patio.
Sep 22, 2022
Rawlins KOA - arrived at 5:30, office was closed. Terrible site - their electric sewer & water are all forwards the mid point, Really had to maneuver just to hook up the electric & water. Windswept. Will not be returning!
Sep 22, 2022
Staff very friendly. Campsite well groomed. Needs for shade in tent areas. Showers and restrooms need to be improved so all available and functioning.
Sep 22, 2022
Windy no protection
Sep 22, 2022
Nice campground conveniently located near highway. We made this an overnight stay on our road trip. Great communication from owners made this stay a breeze.
Sep 21, 2022
Windy �
Sep 21, 2022
Very convenient stop. Only spent one night. This is a well kept, clean location. I would come back.
Sep 21, 2022
Definitely not up to KOA standards. Office only open 5 hours, dump station non functional, no bags at dog park for cleaning up after pet. But, young man who checked us in was very polite and took us to our site.
Sep 20, 2022
Very nice place, it was easy setting up and leaving.
Sep 20, 2022
The grounds are not kept up. Probably the worst RV park we've ever stayed at as far as looks go. It is a one nighter for sure.
Sep 20, 2022
Very nice KOA. Very organized and check in is very quick and efficient. Bathrooms and showers were very clean. We would definitely stay here again.
Sep 19, 2022
No problems. Like the wind breaks. Site was small, but ok. Excellent dinner in town at Ichibon Japanize Steak House.
Sep 19, 2022
Site too small for our 42 ft MH towing a truck. Had to unhook just to get in site. RR ties separating sites had large spikes sticking up. We would have never gotten out hooked up as there were fences and posts on the way out that we could barely maneuver around with just the coach. Maybe I missed the description but this park is not big rig friendly. Fine for small campers and trucks though.
Sep 18, 2022
Cabin A/C smelled strongly of urine. Someone had urinated off the side of front porch and on the porch, too. I texted the front office and got no response. Shower drains were clogged with hair and didn't drain properly. One stall out of order in ladies restroom, another was out of toilet paper. Change machine in laundry broke, had to wait for office to open to get change. Dirty disrepair.
Sep 18, 2022
Just a stop for the night and arrived after 5:00 so the office/store was closed. Clear directions on getting to site were left for us in after hour registration. Site was clean and fairly level. Bathhouse was clean. Site was close to I-80 so did have a lot of truck noise through the night. Good for what we needed - safe clean place to spend the night while passing through.
Sep 17, 2022
Very nice family that owns this KOA - teaching their children the business - middle-school-aged son was very professional and looked me in the eye when speaking to me - very impressed.
Sep 17, 2022
Gravel parking lot, close to the interstate, on a grade, semi's using jake brakes. Only on tree in the campground, over hangs the site, rubbed on the motor home.
Sep 17, 2022
It's was at the right place at the right time when we needed to stop for the night. A clean bathroom and a shower are always a plus!
Sep 16, 2022
Great little camp for an overnight stop. Restrooms were very clean. Campgrounds were clean as well.
Sep 16, 2022
easy in, easy out, can't ask for more
Sep 16, 2022
Stayed overnight- great campground! Very clean & owners were awesome. Had to fill propane tanks on way out. Very convenient & fair prices! I would stay there again!
Sep 16, 2022
We stayed one night as we were traveling through WY. The campground & facilities were clean, but lacking in attractiveness. Some trees or even just boulders & fencing would enhance the appearance. Also, the traffic noise from I-80 was loud & unpleasant.
Sep 16, 2022
We were passing through so didn't use any amenities. The staff texted us before arrival and seemed friendly. However, the areas between campsites and the dog area were just dirt with a few tufts of grass and weeds. They need to do some landscaping. The site we were in may have been meant for a different type of RV. We had to pull forward to dump in the sewer hookup.
Sep 15, 2022
Great park Great location Friendly staff Close to area attractions
Sep 15, 2022
This KOA was horrible. We arrived at 5 o'clock local time and the check in office was closed. We found the after hrs check in and got to the tent site. This was very disappointing with rocks and mud for the base. Our group ended up getting a hotel in the area and not stay at this KOA. Rawlins KOA is a never going to stay again KOA.
Sep 15, 2022
Ok for a one stay....lot of road noise and very windy.
Sep 15, 2022
Park needs some TLC...
Sep 15, 2022
GREAT FAMILY RAN CAMPGROUND!!! THEY WERE VERY NICE, FRIENDLY AND RETIRED MILITARY AND I WAS ECSORTED TO MY SIGHT BY A SWEET, GOOD LOOKING WOMAN!! (:
Sep 15, 2022
We arrived after office closed but communication about where our reservation info would be was excellent.
Sep 15, 2022
Nice hosts, but too too narrow for our Big Rig pulling our Jeep with bikes. We barely made the turns from our site to the exit. We could see where other rigs took out the fence, even though rocks were there to protect the fence.
Sep 15, 2022
Great staff. Very helpful.
Sep 15, 2022
Interstate noise was horrendous. Qe finally got up T 4 am and just left because qe could not sleep because of the nouse.
Sep 14, 2022
Great rv Park alittle close to the noise of I 80 but a great Park. Thank you
Sep 14, 2022
Had a slight issue when we arrived and all was quickly resolved. Nice private sites with nice furniture.
Sep 14, 2022
stopped over for one night and found the staff friendly and helpful. Campground clean and quiet. Nice place for a break in traveling.
Sep 14, 2022
It was very short, but sweet. They were great to let us extend our check out time by 2 hours. Very clean facilities and wonderful staff
Jun 04, 2023
The mosquito's live here. Be mindful, wear plenty of clothes when outside. Otherwise everything was very nice, friendly staff, Kids park, dog park, restrooms, separate private shower rooms. Our site was level. Just did an overnight. Many bites, still Grateful for this convenient and safe location. Would stay again.
- Stephanie Amos on Google
May 19, 2023
We stopped here for the night. Check-in was easy, and they email you prior to your stay so you are kept informed. The staff was really nice. It is a gravel drive, and sites are also gravel. There is a green area where your picnic table is located. Bathrooms are really clean. They have a splash pad for the kids and a nice play area. There is a nice pet area as well. The tent sites are very nice. The location is right off the frontage road, and the highway noise is loud. There are apartments that back up to the campground by the tent sites. The RV sites are nice, and you have plenty of room for your slides. We had a Pull Thru site and we only used the electric. The campground is very quiet. This was a great stop, and we will stop here again.
- Donna Smith on Google
May 17, 2023
Really cute cabin. Staff was very nice and friendly. Only issue was highway noise. Fan helped to drown that out.
- Lisa Winkler on Google