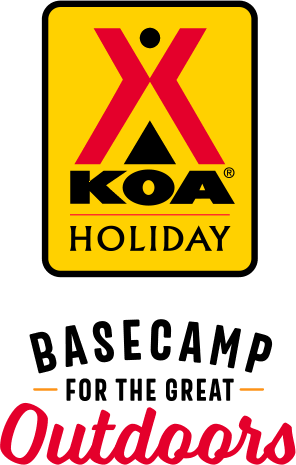 KOA Holiday Campgrounds
Whether you're exploring the local area or hanging out at the campground, KOA Holidays are an ideal place to relax and play. There's plenty to do, with amenities and services to make your stay memorable. Plus, you'll enjoy the outdoor experience with upgraded RV Sites with KOA Patio® and Deluxe Cabins with full baths for camping in comfort. Bring your family, bring your friends, or bring the whole group – there's plenty of ways to stay and explore.
KOA Holidays Feature:
RV Sites with a KOA Patio®
Deluxe Cabins with full baths
Premium Tent Sites
Group meeting facilities
Directions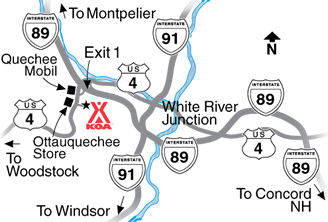 From I-89 north, take Exit 1 Route 4. Take left at bottom of exit ramp, go 0.75 mile to KOA on the left.
From I-89 south, take Exit 1 Route 4. Take left at bottom of ramp, go .3 mile to KOA on left.
Get Google Directions
Nov 04, 2020
We just stayed one night, but it was easy in and out and very friendly people.
Nov 02, 2020
It was our first experience - we rented a cruise america camper. The staff helped us hook everything up and gave us tips throughout our stay. We had so much fun being a part of the Halloween festivities and the staff put so much work into making it safe and fun for everyone. We already booked for next year!
Oct 29, 2020
Wonderful people, wonderful campground! Everyone at the campground was very welcoming, helpful and friendly. The campground is close to covered bridges, a river gorge, Sugarbush Farm, & the town of Quechee. Great seasonal decorations and a good campground store that made the property a fun place to be. Clean and comfortable restrooms and showers. I look forward to camping at Quechee again!
Oct 24, 2020
On short notice Cindy and Mike were able to provide us with site for our 42' 5th wheel. They were very accommodating and KOA Staff were super helpful during our stay. Looking forward to our next stay at Pine Valley, Thank You!
Oct 22, 2020
Quechee is my favorite KOA! The owners take a lot of pride in the CG, It is well maintained and always clean. Every person who works there is friendly, helpful, and goes out of their way to make sure everyone is enjoying their visit. We were there for Halloween and there were so many events for kids to enjoy. Sites are large, level, have stones for any possible wet area and have bushes for privacy
Oct 21, 2020
Excellent Halloween weekend again! Great staff, clean and well maintained grounds. Would recommend better WiFi especially now with more adults and students needing to be online.
Oct 21, 2020
Stayed for the night of Halloween parade and trick or treat with the other families. Very quiet at night even though there was a haunted trail for campers to participate in that night. Will definitely keep this campground in mind for future camping.
Oct 20, 2020
Cindy and mike are just the best. Your stay is like coming home. They treat you like family. They great you with a big hello and so glad to see you. Pine Valley is our favorite campground to go to. There is always something exciting going on in camp. Our 2 favorite weekends are balloon festival and the Halloween weekend that is geared to all ages. Great place for family to make mempries!�
Oct 20, 2020
Halloween activities were great and the kids had a blast. We will definitely be back next year.
Oct 19, 2020
We love closing out our season with you! We'll be back next year!
Oct 19, 2020
Great place to relax...
Oct 19, 2020
If I could give this campground 10 stars I would. Super friendly and helpful staff. Clean campground and they did a fantastic job for Halloween! Lots of effort and it showed! We will be back numerous times. AAA +++
Oct 19, 2020
We always love going to the Quechee KOA. Cindy and Mike are fabulous owners. Halloween weekend is really the best and our kids enjoy participating in pumpkin carving, candy-bar bingo and trick or treating.
Oct 19, 2020
It is our family's favorite campground! Mike and Cindy are amazing hosts!
Oct 19, 2020
Cindy, Mike and the whole staff at Quechee KOA is the very best place! We love it there!
Oct 19, 2020
Beautiful.campground and very well maintained. Friendly staff. We will be back.
Oct 19, 2020
The grounds were beautiful and facilities were so clean. Staff could not have been nicer. Already booked for next year. Can't wait to go back!
Oct 19, 2020
Wonderful stay at Quechee KOA! It is clean, beautiful, wonderful staff. We had to stay longer than we originally planned and the staff worked with us and adjusted with us. We are very grateful and would highly recommend staying at this beautiful KOA
Oct 19, 2020
Great Only reason I only gave it 4 stars, I thought over $40 was high for a tent site with no hook ups
Oct 19, 2020
Could not ask for a better run park!
Oct 19, 2020
Halloween weekend is a must weekend for us now. Staff great and friendly during all our stays there. grounds are spotless and clean.
Oct 18, 2020
Great Campground! sites and bath house are clean.
Oct 16, 2020
What a nice campground!! All the staff were very friendly and nice, The only downfall is the size of the sites.
Oct 16, 2020
We had an amazing stay! The cabin was comfortable and clean, the staff was responsive and very friendly. I did have trouble figuring out where to park the first night because we were at 87 and the parking spot is labeled 86 so I worried about taking someone else's spot. It would also be helpful to have metal grill tools for the grill. These are minor things. Thanks so much for your hospitality!
Oct 16, 2020
Staff at the front desk was fantastic
Oct 16, 2020
Sites are great; spacious and level! Staff members are very friendly and welcoming and responsive to all your needs. Had a great short stay. A perfect fall getaway!
Oct 16, 2020
water/ electric sites very small but level stone not muddy in rain. Area is beautiful. Would return put it on our list.
Oct 16, 2020
Two day stay, Staff very friendly and helpful. I do fell like the wood price for what you get is way too high. That is the only thing about all the KOA's I have been frustrated. Makes camping a lot less fun. Started camping in August, have gone to 3 KOA's only so far.
Oct 16, 2020
Great place, great people. I really like the fact they didn't mow down all the trees to pack in as many campers as possible. Very picturesque area and close to Quechee Gorge for hiking.
Oct 16, 2020
everything was excellent
Oct 15, 2020
Love all of the fall and Halloween decorations.
Oct 15, 2020
Excellent campground! Staff is very helpful regarding any questions. We loved our spot so much we asked if we could stay 2 more days and they were very accommodating. The area is beautiful and only a short drive to attractions. We will definitely be back!
Oct 15, 2020
This was the 2nd time we were there and getting ready to book next year love a place excellent staff very clean and friendly
Oct 15, 2020
I contacted the campground about something that made me uncomfortable. The issues were that a group across from me had 3x8 political banners hanging at their campsites and the people in the campsite next to us had a television outdoors so loud that we couldn't sit outside and enjoy the evening. I got a reply that bordered on rude. We won't be back.
CAMPGROUND RESPONSE / COMMENTS:
Your concerns were not relayed to us until you departed and they bordered on ridiculous. Our reply to you was polite and direct. However, your intolerance towards others is unacceptable. At our campground we welcome all people, even those who hold differing political views.
Oct 14, 2020
Very accommodating and friendly as always
Oct 14, 2020
Arrived on Friday, left on Tuesday.. As always, great experience and the team running the campground were the best.
Oct 14, 2020
The staff is super friendly, the campground is neatly groomed and well kept and they have the BEST Halloween decorations around. The price is reasonable. Love the location!
Oct 14, 2020
quiet , clean, staff super attentive,
Oct 13, 2020
We love K.O.A. campgrounds, and have camped at Quechee , Pine Valley KOA, for the last, maybe 10 to 15 years. on Columbus Day, weekend. It always looks so festive, beautifully decorated, and clean, the staff is great, friendly, and very helpful. We have no complaints, and have reserved again, for next year. It is our favorite Fall campground. Just love it.
Oct 13, 2020
The staff is always so friendly. The place is check very clean. One of my favorite places to camp.
Oct 13, 2020
Wonderful!! Very nice owners and helpers:)
Oct 13, 2020
fifth year coming and love this campground - would love it even more if the group of 5 campers could be together instead of spread out. sites 11 - 14A would be perfect!!
Oct 13, 2020
One of our most favorite campgrounds, and we go all over New England and NY. We go here twice a year. Thanks Mike and Cindy you always do an outstanding job. �