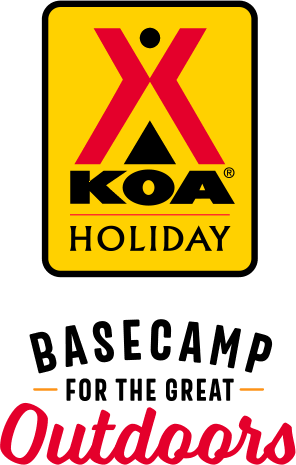 KOA Holiday Campgrounds
Whether you're exploring the local area or hanging out at the campground, KOA Holidays are an ideal place to relax and play. There's plenty to do, with amenities and services to make your stay memorable. Plus, you'll enjoy the outdoor experience with upgraded RV Sites with KOA Patio® and Deluxe Cabins with full baths for camping in comfort. Bring your family, bring your friends, or bring the whole group – there's plenty of ways to stay and explore.
KOA Holidays Feature:
RV Sites with a KOA Patio®
Deluxe Cabins with full baths
Premium Tent Sites
Group meeting facilities
Directions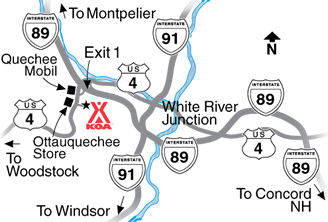 From I-89 north, take Exit 1 Route 4. Take left at bottom of exit ramp, go 0.75 mile to KOA on the left.
From I-89 south, take Exit 1 Route 4. Take left at bottom of ramp, go .3 mile to KOA on left.
Get Google Directions
Jul 26, 2021
Cabin 70 is a little unlevel. The camp store should have more dairy products. Otherwise things were good.
Jul 26, 2021
This is our go to place for our annual river tubing weekend. This year many of us stayed for a full week enjoying the local sights. Very clean campground with some extra services such as trash pickup and site delivery for wood, ice, etc. Very friendly staff. We definitely recommend this KOA.
Jul 26, 2021
Very clean, quiet and the hosts were very friendly and accommodating. We will definitely be back.
Jul 26, 2021
Absolutely beautiful CG with friendly helpful staff. Highly recommend this CG & area to visit. If we knew how much we would have loved this area then we would have reserved more than 3days.
Jul 26, 2021
Definitely a place to stay for those that want to be off the grid. As business owners, the phone lines for T-Mobile and internet were lacking our needs. Very nice group of folks working there, doing their best being understaffed as most places are. Sites and buildings are well maintained.
Jul 26, 2021
This place is a must stop! The staff are so friendly and busy keeping this place immaculate!! It is a perfect location to check out the quechee gorge. Thank you
Jul 26, 2021
Clean, quiet and excellent service! We loved it!
Jul 26, 2021
very nice staff, great price,, We 've been out there twice this summer, hope to make it three times..
Jul 26, 2021
I would have given you a five star if your country store had more provisions such as milk, eggs, cream, etc. just some basic essentials that we tend to always need when on the move. Otherwise a very nice place.
Jul 25, 2021
Very clean and well run campground.
Jul 25, 2021
Very conveniently located for our needs. The staff was extremely friendly. We didn't really use the facilities much as we were on the road sight seeing alot. The bathrooms were clean.
Jul 25, 2021
Wonderful campground…beautiful and clean! We had a great stay….up until our last 30 minutes before checking out. We were finishing up our packing when a camp host came by and let us know that there was someone anxious to get on our site. We were made to feel very rushed, and sadly, not as important as the person that was coming to our site.
Jul 25, 2021
Very nice campground and the staff was extremely helpful and friendly.
Jul 24, 2021
Nice, well kept sites with excellent internet, which made my kids very happy.
Jul 24, 2021
We were pleasantly surprised how nice the facilities were at Quechee Pine Valley KOA. Just getting back in to camping because of retirement and we will definitely come back. The staff was helpful, friendly and attentive. The bathrooms were excellent except for one cold shower which is probably from taking one after everyone else. A few of our neighbors were loud until 12:30AM but mornings �
Jul 24, 2021
Beautiful, well-kept campground in a gorgeous area of Vermont. We had a full hookup pull-through site that was amazingly level, despite being gravel. I loved that you could text the front desk with questions or to order firewood. The staff was friendly & welcoming. If you have a dog there's plenty of places to walk and a huge Kamp K-9 fenced in area. We didn't use the pool but it looked inviti
Jul 24, 2021
Friendly staff,clean campsite, had a bad storm come thru the staff had the all the downed trees and blocked roads cleaned up in less the a 1/2 hour what a great show of teamwork
Jul 24, 2021
We had a very enjoyable stay at this site. The staff are very friendly, helpful, and accommodating.
Jul 23, 2021
Great friendly staff and very nice campground .
Jul 23, 2021
Great office staff. We arrived early and although our site was not ready, we were moved to a pull through site up the hill. I have to say, If we were at our 1st assigned site (19) I would have been disappointed. The sites in the lower section are way too close together. We were in site 88. Wonderful site with grass. I would request this site again. Overall, a very nice experience.
Jul 23, 2021
Your campground was well managed with very respectful and attentive staff! It was a quiet campground and very clean!
Jul 23, 2021
We were completely satisfied.
Jul 23, 2021
Very helpful and friendly staff. Great location close to interstate 89 and 91. The campground is very clean and well maintained. Good Wi-Fi some convenient pull through sites. The swimming pool was nice and clean and warm as well. The trash and recyclable pickup at your site was a good perk. I definitely would recommend this campground to all of my family and friends.
Jul 22, 2021
We stay here every year, usually multiple times throughout the summer. Amazing campground with amazing staff who make you feel like family, like you've known them forever. Highly recommend!
Jul 22, 2021
Very well run park, friendly staff, helpful and caring. They really do try to make your stay quite enjoyable. If I am back in this area I will stay here again. A great place to spend a day searching the covered bridges.
Jul 21, 2021
Friendly staff and the campground is very well maintained.
Jul 21, 2021
Staff is very friendly and helpful! Cabin was so adorable and cozy! The banana bikes were so much fun!! I think this is probably my new favorite Campground and I can't wait to return again with my kids!
Jul 21, 2021
We love staying here. When we opened the cabin door it smelled like bleach and that's a wonderful thing to know the place your about to stay in clean. The staff are helpful and kind and the campground is clean and cabins are well spaced. We've stayed in a cabin without a bathroom on another trip and the public bathrooms and showers are very clean. We stay here at least once a year. LOVE this K
Jul 21, 2021
Lovely facilities and we enjoyed our stay despite the rain!
Jul 21, 2021
My husband and I loved cabin 56! It was super clean & roomy. The fire pit surrounded by Adirondack chairs was so nice and the Weber gas grill was fantastic. The staff were so nice! The gentlemen that checked us in and delivered firewood were amazing as well as the woman in the office. Such nice people!
Jul 21, 2021
The best and prettiest KOA we have ever been to.
Jul 20, 2021
Had a great time even though it rained all weekend.
Jul 20, 2021
Although it rained almost the entire time, we still loved the campground and local surroundings. The KOA was so thoughtful to text a list of local activities for a rainy day! Would definitely revisit.
Jul 20, 2021
This was the cleanest campsite we ever stayed at. The stafff was so very friendly and helpful. We will definitely return again to camp here!
Jul 20, 2021
Very nice park and the owners were so helpful! We really enjoyed it.
Jul 19, 2021
Everyone was so friendly. The facility was clean and well maintained. We felt safe and had a lot of fun. My teenage daughter lost her wallet with $40 cash and all of her gift cards from Christmas and birthdays. She was so upset until she went to the office and asked if anyone turned in a wallet. We were all beyond happy that an honest neighbor turned in her wallet. We �ϋ� Quechee KOA!
Jul 19, 2021
The bathrooms are spotless and very well cared for. All the staff was pleasant and attentive to all of our needs. The kids had such a wonderful time on the playground, riding bikes and renting banana bikes. We didn't rent the canoes this time, but the kids have enjoyed that in the past as well!
Jul 19, 2021
Great time with family. Kids had a blast. Can't wait til next year!
Jul 19, 2021
Clean sites. Quiet campground. Pool is heated. Great staff!
Jul 19, 2021
Everyone is so nice and helpful. The cabin we were in was spotless and had everything we needed. Very comfortable. Lots of things to do in the area. Highly recommend.
Jul 19, 2021
Amazing VP, exceeded our expectations and helped us with our extra request for an added night Will highly recommend this campground Thank you Jordan
Jul 19, 2021
Stayed for the weekend. Staff very helpful,friendly and great to deal with.