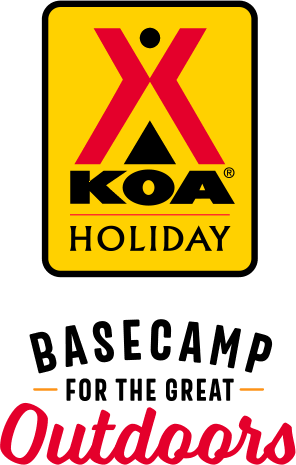 KOA Holiday Campgrounds
Whether you're exploring the local area or hanging out at the campground, KOA Holidays are an ideal place to relax and play. There's plenty to do, with amenities and services to make your stay memorable. Plus, you'll enjoy the outdoor experience with upgraded RV Sites with KOA Patio® and Deluxe Cabins with full baths for camping in comfort. Bring your family, bring your friends, or bring the whole group – there's plenty of ways to stay and explore.
KOA Holidays Feature:
RV Sites with a KOA Patio®
Deluxe Cabins with full baths
Premium Tent Sites
Group meeting facilities
Directions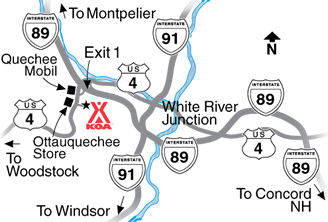 From I-89 north, take Exit 1 Route 4. Take left at bottom of exit ramp, go 0.75 mile to KOA on the left.
From I-89 south, take Exit 1 Route 4. Take left at bottom of ramp, go .3 mile to KOA on left.
Get Google Directions
Oct 20, 2021
It was wonderful the cabin was cozy and everyone was friendly. My son and I had a great time
Oct 20, 2021
Mike and Cindy are the best! Staff is friendly and in point. Quechee KOA is the cleanest and most organized campground we have been to. Super convenient as it's right off the highway and close to all the Vermont shopping and attractions. The sites are completely level and well maintained with stone and patios. It's no wonder they have won so many awards! The Howling Halloween is a must!! Nic
Oct 19, 2021
This KOA is always clean and the staff is very friendly. One of the best camp grounds I have stayed at.
Oct 19, 2021
We had a wonderful two weeks at Pine Valley. The campground staff and owners, Cindy and Mike, were friendly and gracious as always. It was terrific fun decorating and participating in the Halloween festivities. This is our favorite KOA campground. We will be returning for two 2 week trips next year. Can't wait!! Thanks, Cindy and Mike
Oct 19, 2021
Quechee KOA is the best KOA! Staff and owners are AMAZING! You will never find a more friendly or helpful staff/owners anywhere. Sites are spacious - campground spotless. We stayed for Halloween weekend and it was so much fun. Most sites decorated and had such a festive feel in the air. Talking with fellow campers everyone feels the same - we LOVE Quechee KOA
Oct 19, 2021
Cindy and Mike run a great place! We've been going for 11 or 12 years and it's where we always begin and end the camping season!
Oct 19, 2021
Best Koa Thank you��
Oct 19, 2021
The best campground ever! The staff is amazing, the campground is clean and immaculate. Love this place - highly recommend. The only suggestion would be for more doggy waste disposal containers around the campground.
Oct 19, 2021
The staff are wonderful and they made it a great, fun family weekend.
Oct 19, 2021
Wonderful stay with wonderful people!
Oct 19, 2021
Very busy but very nice. Excellent staff and very well maintained, even though at the end of the season. One of my favorite KOAs!
Oct 19, 2021
Staff very friendly and helpful. campground was very clean.
Oct 19, 2021
We love it here and plan to come back each year, thank you for having such a wonderful campground and employees to help assist!! You guys are the best KOA EVER!!!
Oct 18, 2021
Great Team and weekend !!!
Oct 18, 2021
Love Quechee koa. Mike and Cindy are the best. Wonderful park.
Oct 17, 2021
Very nice campground. Great attentive staff, friendly and always willing to help. Grounds kept very nice. Enjoyed our stay.
Oct 16, 2021
Our stay was great. Grounds were well kept and staff friendly. All facilities were kept very clean. Site was level and services were in good shape. We plan to come back. Thank you very much. MAGA
Oct 16, 2021
The staff was awesome! Thanks to Sue for helping me work out our reservation which was a little complicated. The staff then called and let me know that the cabin I had was open for one more day which we gladly accepted. The Halloween decorations were great. Best KOA ever!
Oct 16, 2021
Third stay at Quechee/Pine Valley. Site and facilities are pristine. Staff is so friendly and helpful. They make everyone feel especially important and welcome. We've traveled camping for more than 20 years and this is the absolute best campground we have ever seen. Nothing is overlooked from the most simple thing as trash collection to bathroom maintenance. Checking in is easy and flawless.
Oct 16, 2021
Great Camp. Sites are large and flat. Bathroom showers are large and very clean. Staff was always cleaning the grounds.
Oct 16, 2021
We are travelers and don't sit in campgrounds long! However this campground was so friendly, great fall decor and extremely friendly staff AND we wish we could spend a few days here!!!!
Oct 15, 2021
Three days and nights, out leaf peeping during the days, quiet nights. Hosts did a great job decorating for Halloween!! Have not seen anything like it elsewhere.
Oct 15, 2021
I brought my parents camping for the first time in 42 years, they loved it!! we had a very enjoyable stay and the hosts were friendly and very helpful.
Oct 15, 2021
Cindy, Mike and Jordan have created a wonderful environment for the best camping experience! This is our favorite campground and we come as often as we can. The Halloween decorations were spectacular and we had a wonderful visit. Looking forward to being there again next year!
Oct 15, 2021
Fabulous, everyone was very friendly they take you to your site & everything was clean and very well organized.
Oct 14, 2021
We had an enjoyable time. The staff were friendly and the campsites are spacious, providing a great atmosphere to spend your downtime. We would definitely return to this campground.
Oct 14, 2021
Great service !!!!!
Oct 14, 2021
We were only there a couple of days but were very impressed that if we needed wood or ice it could be delivered right to our site. Every staff member I spoke with was very accommodating. Absolutely loved the time and attention to all of the Halloween decorations - great fun!
Oct 13, 2021
Great campground! The campground was nicely decorated and the staff was very nice.
Oct 13, 2021
We love it there. Just would like a pull through spot. We started out with a 30' travel trailer. Now we have had a 42' fifth wheel in that spot for the past 3 years. A little tight
Oct 13, 2021
The friendly effective service level of the owners and staff at Quechee/Pine Valley KOA is just over the top! In so many small and large ways they exceed what we experience elsewhere. Have been making it our end-of-season camping trip for several years now. The foliage is outstanding and each year there's something new to find at Pine Valley. Thank you, Thank you!
Oct 13, 2021
Best campground and awesome hosts!!
Oct 13, 2021
The staff and the campground are both wonderful.
Oct 13, 2021
Staff was very friendly! Camp was clean and neat, decorated nicely for fall. We have stayed here several times and would stay here again when in the area.
Oct 13, 2021
It was our first time camping with an RV. The staff were helpful and the place was immaculate. It was quiet at night but lively and festive during the day. We had a great stay.
Oct 13, 2021
Friendly and helpful, unfortunately we had to leave.
Oct 13, 2021
We only were able to stay one evening but we will be back. Special thanks to Mike for helping us out with the cable connection. Mike went over and above to help get us connected and that was very much appreciated. The property was beautiful and we really enjoyed being there even for a short time. Looking forward to returning. Thanks for the great hospitality.
Oct 12, 2021
This is one of the better maintained campgrounds out there. There is a big difference between Privately owned KOA's and corporate run KOA's, and the owners of this one Mike and Cindy do a fantastic job, they cater to the camper, it's always so well maintained and clean.
Oct 12, 2021
This has to be the best campground there is. Check in was easy, the staff is great and the sites are the right size for what we want.
Oct 12, 2021
Very family friendly and clean. Helpful and friendly staff as always.
Oct 12, 2021
We love it there. Love the campground, the weather, the decoration, always so festive, and staff is very friendly, and makes you feel at home. We are very satisfied and have no complaints. Looking forward to next year.
Oct 12, 2021
All I can say is this was the best camping weekend this past season. Weather was perfect and all the staff went above and beyond to make sure the campground was decorated for Halloween. Great family and friends weekend. Thank you!