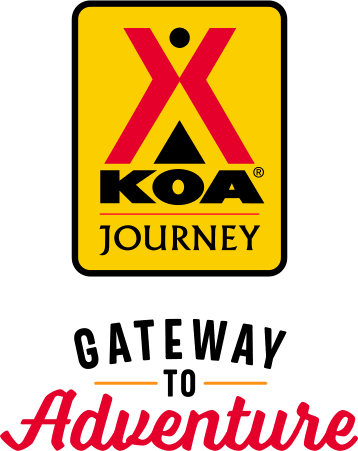 KOA Journey Campgrounds
KOA Journey campgrounds are the perfect oases after a day on the road. Whether it's along the way or a quick getaway, they've got you covered. Located near the highways and byways of North America with long Pull-thru RV Sites, they deliver convenience to the traveling camper. Pull in, ease back and take a load off.
KOA Journeys Feature:
Pull-through RV Sites with 50-amp service
Premium Tent Sites
Well lit after hours check-in service
Directions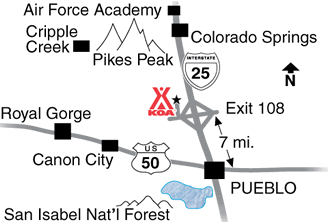 7 miles north of Pueblo at Exit 108. Take road next to Southbound exit ramp. Do not rely on GPS to find us.  Call or use these GPS coordinates: N38.40952, W104.61642
Get Google Directions
Nov 04, 2018
Nice stay again. Owner's we're adding stone to drives. Bathrooms/shower's very clean/warm. Nice few of Pikes Peak. Private patio is a nice touch if traveling with pets. Thanks again!!!
Nov 04, 2018
I was a little disappointed. We reserved at Pueblo KOA South but the GPS led us to a dead end road so we called them and they said we had passed the exit by about 11 miles. They offered to forward our reservations to the Pueblo North KOA; however, when we arrived no reservations had been forwarded. When we called them the next morning they said they had called KOA North but no reservations made.
CAMPGROUND RESPONSE / COMMENTS:
We are sorry you had a problem with the Colorado City/Pueblo South KOA. GPS frequently will direct campers to a wrong location. I'm glad we were able to accommodate you. But giving us a bad review because of another campground's negligence is not fair. Hopefully in the future you will make your reservation with us first.
Nov 02, 2018
We had a patio site at the campground which was fantastic! Our site and the KOA were clean and well kept. I would strongly recommend this KOA to others as well as recommending the patio site!
Oct 30, 2018
Nice place. The only concern is the limited access to and from the NB I-25. The tunnel has a 13 ft 3 inch height limit. Large rigs must go to the next off ramp and turn around. This is the fault of the state and not of KOA, but should be mentioned.
Oct 30, 2018
Great campground. Great for pets. Friendly staff.
Oct 28, 2018
Not our first stay at this KOA & it won't be the last. We're always pleased with the amenities & the staff.
Oct 22, 2018
Great staff, clean and quiet.
Oct 20, 2018
I loved this park. The sites are not on top of each other. This was my second time here. Love the sites with fenced in patio. Have dogs so was nice to let them have freedom off the leash. Huge fenced in dog area. Nice trails. Clean bathrooms and park. Staff was wonderful. Came to our site to warn us to unplug water as it was freezing temps at night. Pizza on site was great.
Oct 18, 2018
I love this park. They have sites where you are not on top of your neighbor. They have a huge dog run a short walk out of camp. My dogs could run with out being bothered by other dogs. Have the option of having pizza delivered to your site. Park is well maintained and clean. Staff and employees were easily accessible and very helpful. I have stayed there twice and would definitely stay again
Oct 18, 2018
Needs heat in shower and bathroom area it's freezing in there the other location has heated bathrooms
Oct 18, 2018
The office staff was very pleasant and cooperative In helping work out some issues caused by our change in travel plans. Thank you
Oct 17, 2018
Loved the spot we were in. Liked the trash and propane bottle pick up. Gear walking area on frontage road. Some of the help could have been a little more friendly.
Oct 17, 2018
Stayed in one of the cabins with a view of Pikes Peak in the distance. Was one of the best places we have stayed. Extremely friendly campers and hosts.
Oct 17, 2018
Great place to stay. Clean, nice place. A little expensive.
Oct 17, 2018
Had a great time.
Oct 16, 2018
I enjoyed my stay. The place is well organized and clean and the staff was very friendly. I'm sure if I'm in that area again I will stay at this KOA.
Oct 12, 2018
Campground was in flux during fixing things. Pet area is too far away from sites. Had to tramp thru mud to get to it. Even if it was dry, it is way too far from the rest of the park.
Oct 10, 2018
Very nice park. Would stay there again if in the area
Oct 10, 2018
All workers are kind and very friendly and work hard and we had a wonderful time in a huge space with patio. Dog park is 8000 sq. ft. and our dog had a good time. Pizza was also delicious. Thank you for your hospitality.
Oct 09, 2018
Great place, we got the "private yard", large privacy fenced rock yard, fire pit, covered deck, table /w chairs, gas grill, own trash can! Great view. Nice staff.
Oct 09, 2018
In my opinion camping anywhere near the mountains is never going to be bad...weather permitting. The location was good as there is something in every direction. We ordered a fire pit and wood for $8 only to make some smores and it took awhile for it to be delivered but they left it the following night. The Bishop castle is close and it ROCKED! The cabin was fine for my family unit of 4.
Oct 08, 2018
Need to fill in the bump coming into the property.
Oct 08, 2018
Convenient on north side of Pueblo
Oct 06, 2018
This was our "maiden voyage" with our fifth wheel. We had big hiccups with leveling and hookup to the truck when we left. Both times we received help with staff. Shout out, two thumbs up to Dereck and Tom. Many thanks
Oct 06, 2018
not happy fire pits not available unless willing to pay for one I do understand paying for wood
Oct 05, 2018
Overnight stay, management was exceptional. All facilities were very nice. Will here again�����
Oct 05, 2018
Very nice people that work there.
Oct 04, 2018
Staff is incredible.
Oct 04, 2018
Enjoyed our stay
Oct 03, 2018
It is a good place to pull in for the night. In comparison to other KOA we have stayed at it is average.
Oct 02, 2018
Nice campground being updated, I would have given it 5 stars but not one blade of grass around.
Oct 01, 2018
We love this park. Very clean, quite and convenient to Pueblo and surrounding activities.
Oct 01, 2018
We stayed in one of the Deluxe Patio sites. It was awesome! Huge site, lots of room. Will recommend to everyone!
Oct 01, 2018
This campground is conveniently located near Interstate and I would not rate it much as a campground but more of a safe overnight parking place.
Sep 29, 2018
Very friendly staff and spacious sites!
Nov 11, 2020
Clean and clear environment. All the staff were polite amd respectful. Would definitely go camping here again
- Jasper Pollentier on Google
Nov 04, 2020
(Translated by Google) This very cozy place has a very mule view and is observing everything in the fresh air and you eat well and there are bathrooms it is very good (Original) Este lugar muy acogedor tiene una vista muy bura y esta observando todo al aire puro y comes ha gusto yhay baños está muy bien
- Beatriz Elena. Floeres Benavente.719 on Google
Oct 24, 2020
Great KOA! Very nice people. There were so many amenities!
- Christina Fluty on Google